Sony Cyber-shot RX10 IV Review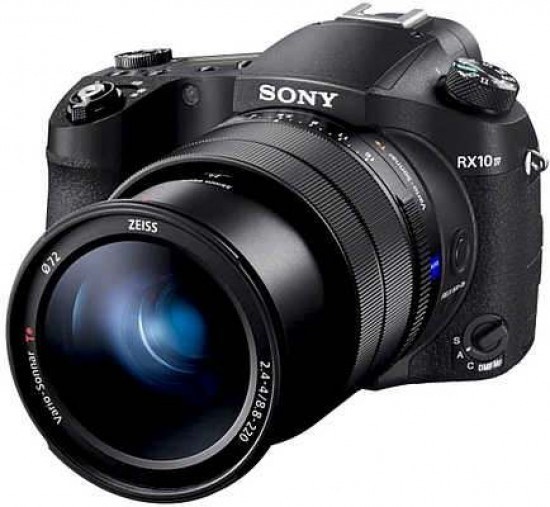 Introduction
Let's get straight to it. The Sony Cyber-shot RX10 IV is a bridge camera (super-zoom) in a league of its own. These all-in-one cameras are designed to cover just about every eventuality and we have not come across one before that does the job so effectively.

The camera pairs a 20.1MP, 1in sensor (which is very large for a bridge camera) with a 24-600mm f/2.4-4 lens. The versatile lens impresses us greatly. It has a decent minimum close focusing and the most useable telephoto settings in a bridge camera so far, thanks to its fast aperture, improved autofocusing and built-in image stabilisation. 

You get a class leading 24fps high-speed shooting mode with full time AF, and the burst lasts for up to 10 seconds. No other DSLR, mirrorless or bridge camera matches that performance. 

The RX10 IV shines in the video department too. You get slow motion videos at up to 1000fps, 4k videos with no pixel binning, plus microphone and headphone ports. 

Wide angle landscapes. Macro. Long-telephoto wildlife. High-speed action. Filmmaking. There is very little that the RX10 IV cannot do.

Naturally, the RX10 IV sets you back a fair whack. We never thought we'd see the day that a bridge camera retails at £1,800. Other RX10 models aside, that price is more than 3x the nearest competition. But, as we say, the RX10 IV is no ordinary bridge camera. Let's take a closer look.

The Sony Cyber-shot RX10 IV retails for £1799 / $1699.
Ease of Use
As the name suggests, the Sony Cyber-shot RX10 IV is the fourth model in the RX10 series. For us, there have been marked improvements each time. This time around the overhaul has happened on the inside with faster processor and improved autofocus among other things. We'll touch more on this later.
Where the RX10 III and RX10 IV are similar is on the outside. The cameras appear nigh on identical, being the same size and dimensions and featuring exactly the same lens. 
Bridge cameras tend to be just like mini-DSLRs, like the Canon EOS 200D. However, the RX10 IV is one chunky exception - the extra bulk is needed to host the large sensor and fast aperture superzoom lens. 
Weight and size-wise, we'd compare it more to a mid-size DSLR with compact 18-55mm lens attached. However, the RX10 IV is much more compact than a DSLR with comparable lens attached, such as the Tamron 18-400mm superzoom.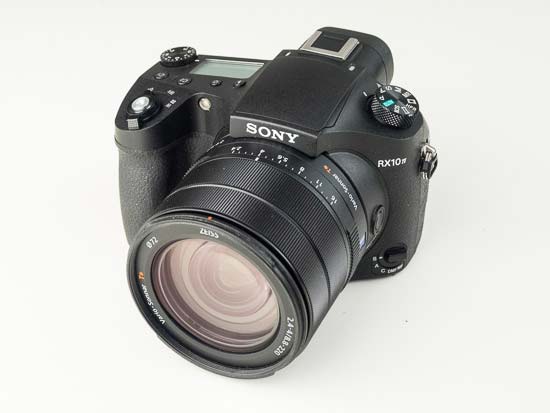 Front of the Sony Cyber-shot RX10 IV
The Sony Cyber-shot RX10 IV does sit really well in the hand thanks to its large grip, while its signature faux-leather finish looks great. Its weather-sealed body is evidently high-end. 
DSLR users will be right at home with the RX10 IV. The only really difference design wise is that the viewfinder and built-in flash sit flush in the body, making the RX10 IV shorter than a DSLR. 
Most camera controls are at your fingertips. An exposure compensation dial commands prime spot next to your thumb, as does a rear control dial whose tiny form is consequently a little fiddly to rotate. 
You get a top LCD plate which displays the key camera settings and can be illuminated for clear viewing in dim conditions.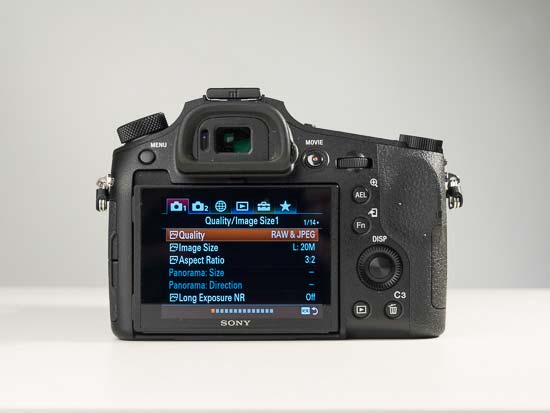 Rear of the Sony Cyber-shot RX10 IV
A primary concern in a superzoom camera is how well the zoom function of the lens works. In the Sony Cyber-shot RX10 IV you get two choices; the zoom switch on the camera body and the lens zoom ring itself. The two zooms operate at different speeds, yet both provide a wonderfully smooth and dampened zoom with no jumping. Further precision is added for smooth video zooming.
What has impressed us the most in the RX10 IV is just how useable the 600mm telephoto setting is. Most bridge cameras struggle at their telephoto settings. Yet here, the fast f/4 aperture, superb autofocus system and built-in optical image stabilisation ensure it's possible to get sharp shots, even in low light. It's mightily impressive. 
Aperture is changed via the lens. The maximum f/2.4 value at 24mm decreases to f/4 when you hit 100mm, which is then maintained all the way to 600mm. Aperture values are changed by clicked 1/3EV values, though the ring can be set to click-less operation via a switch under the barrel. 
We would like to have an ND filter built-in, which would make those wide apertures much more useable in bright light when shooting videos. The alternative is to buy a threaded ND filter, which attaches to the lens via the 72mm thread.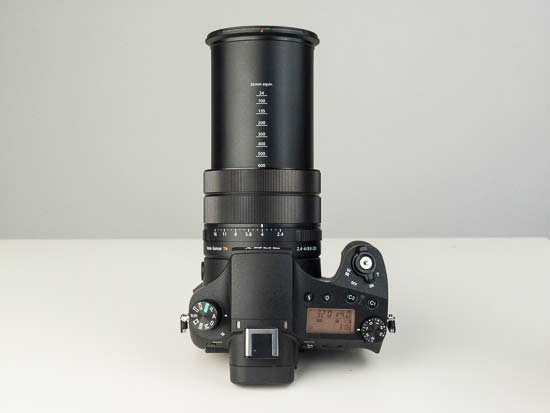 Top of the Sony Cyber-shot RX10 IV
Mechanical shutter speed is limited to a maximum 1/2000sec. However, use the silent electronic shutter - which is ideal when you want to remain discreet - and the maximum speed is 1/32,000sec. 
Image viewing wise, there is the through-the-eye electronic viewfinder with 2.359-million-dot resolution and a 3.0in LCD touchscreen with 1.44-million-dot resolution. If you're anything like us, chances are you'll use the viewfinder more often, especially when using the telephoto settings. 
That's not to discredit the LCD screen, which can be pulled away from the camera and then tilted up and down for low and high viewing, clear of the viewfinder eye cup. 
There are other touchscreens out there that offer more touch control, but this screen has some useful features. Touch focus works well and we particularly like the Touch Pad AF, where you can select the focus point by a dragged touch, all while viewing the scene using the viewfinder.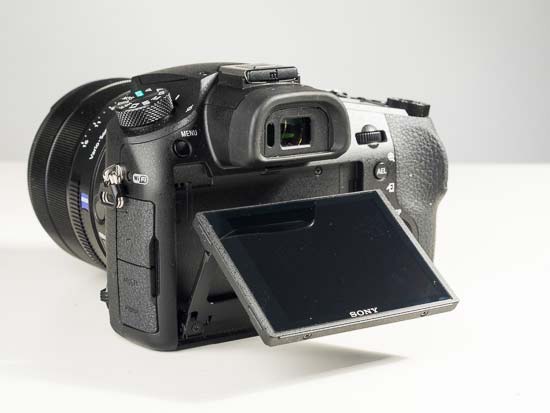 Tilting LCD Screen
We need to spend a bit of time considering the overhauled autofocus system. It's an on-chip (part of the stacked CMOS sensor) 315-point phase detection system that covers 65% of the frame.
You get face detection AF and more specifically Eye AF, with which you'll get the eyes of your subject sharp in most scenarios. 
Tracking AF works a treat especially in good contrast light. The Tracking AF points are tightly clustered around detected subjects. When in action during a sequence, they are displayed in green and continually track the subject, which is highly satisfying. 
Sony claims the RX10 IV has the fastest AF in the world, being able to acquire a sharp focus in as little as 0.03sec. We can't attest to these numbers from our testing, but certainly in high contrast light AF is essentially instant.
With great strides in AF here, we think the AF joystick as found in the Sony a9 and a7R III would be a great addition next time around.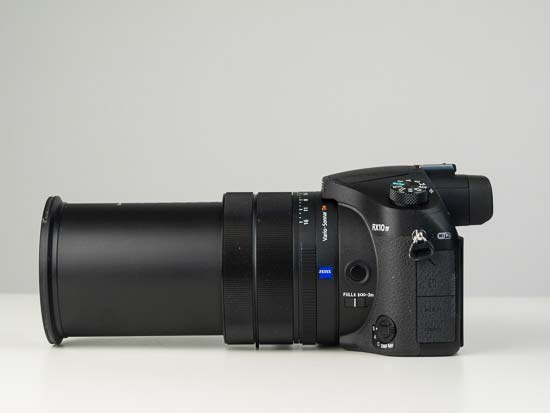 Side of the Sony Cyber-shot RX10 IV
AF is a little more limited in video recording mode. Also, the smooth focus transition at times almost goes a little too far the other way, shifting focus from one extreme to the other at pedestrian pace.
The impressive AF speed is backed up with Sony's latest Bionz X processor which will shoot up to 24fps for around 10 seconds. No other camera can match this performance. Crucially, those images are processed pretty quickly too - you won't have to hang around long before the camera is ready to go again.
Where we did experience lags is in the High Frame Rate (HFR) mode, where 250, 500 and 1000fps video sequences can be created. Of course the longest lag is after shooting a 1000fps sequence, where processing takes at least 30 seconds. 
Otherwise, the Sony Cyber-shot RX10 IV backs up those impressive headline features with a solid performance. 
Sony's in-camera menu system is complex. If you haven't customised one of the buttons on the camera for the desired function, chances are you'll be sifting through the menus for longer than you'd like to find said function. However, through My Menu it is possible to custom create a menu of your frequently used settings.