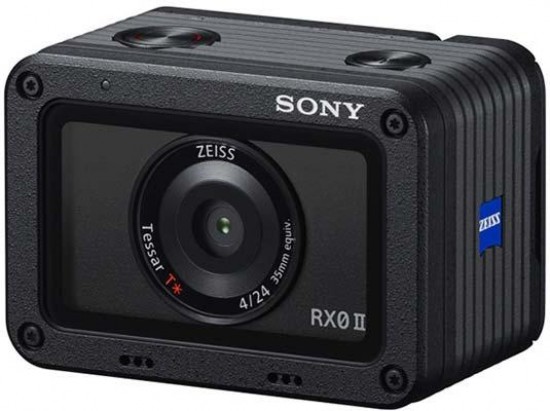 Introduction
As its name suggests, the Sony RX0 II is the second version of the original RX0 action camera that was first released back in 2017.

The updated Mark II RX0 principally adds internal 4K video recording with full pixel readout and no pixel binning, in-body electronic stabilisation when shooting video, an LCD screen that can now be tilted up to 180-degrees up and down to 90-degrees, enhanced colour reproduction for human skin, a closer focusing distance of 20cm, and an improved Eye AF mode.

Otherwise, the RX0 II retains the same core features as its predecessor, namely a massive 1-inch sensor which is around 4x the size of those in other action cameras, thereby promising to deliver much better image quality, 15.3 megapixels, fixed 24mm f/4 lens, 1.5-inch LCD screen, ISO125-12800 (extendable to ISO 80), top shutter speed of 1/32000th sec, 3.5fps continuous shooting, and 240 shot battery life.

The Sony RX0 II is available now priced at around £730 / $700.

There are also several accessories available, including a Cage (VCT-CGR1), Housing (MPK-HSR1), Filter Adaptor Kit (VFA-305R1) Cable Protector (CPT-R1), additional battery (NP-BJ1) and the new Microphone Jack and Shooting Grip (VCT-SGR1) for vlogging.
Ease of Use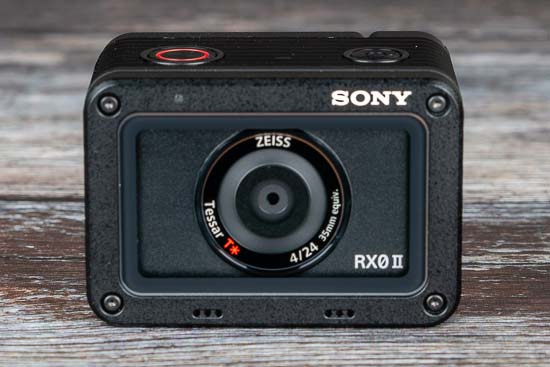 Front of the Sony RX0 II
The basic premise of the Sony RX0 hasn't changed in this Mark II version. Sony are still at pains to point out that it's not an action camera per se, and therefore not a direct competitor to the GoPro Hero 7 series, the recently launched DJI Osmo Action, or one of a seemingly endless line of wannabes.
Yet on the surface at least the RX0 II looks and feels like a premium action camera, being very similar in size and weight to a GoPro, measuring 59x41x30mm approximately and weighing a mere 132g. This is ever so slightly bigger and 22g heavier than the original RX0, principally thanks to the addition of the tiltable LCD screen (more on this later).
It's an extremely rugged camera too, with impeccable levels of build quality making it seem pretty bombproof, not to mention waterproof (down to 10m, IPX8 equivalent), shockproof (up to 2m) and crushproof (up to 200kg).
And it has the same 24mm fixed wide-angle lens as the original model, again a key feature that most other action cameras share.
When you dig a little deeper, though, and actually use it in earnest, it quickly becomes apparent that the RX0 II is a markedly different proposition to a GoPro or other action camera, just like its predecessor - nothing has changed here, with Sony choosing to refine its original concept, rather than radically alter it.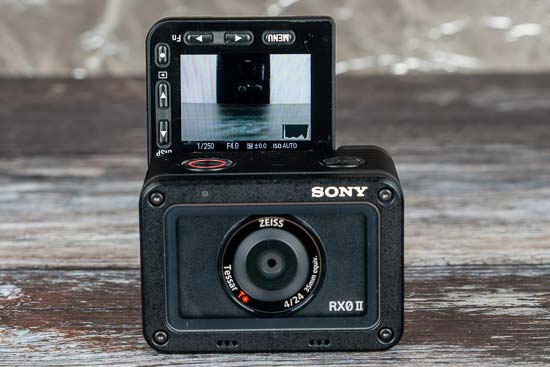 Front of the Sony RX0 II
So the RX0 II has exactly the same 1-inch, 20 megapixel sensor as the one used in the original RX0 and in Sony's extensive RX100 series of compact cameras. A physically larger sensor provides greater control over depth of field and promises to deliver better image quality, especially in low light situations where conventional action cameras with much smaller sensor sizes typically struggle.
The RX0 II's fixed lens has a focal length of 24mm (full-frame equivalent) and an aperture of f/4, which is not as wide as most action cameras that usually employ a wider-angle fisheye lens to try and keep as much of the environment and subject in the shot.
This means that you can't fit in as much into your shot with the RX0 II compared to a GoPro, but on the other hand the 24mm wide-angle lens is not affected so much by barrel distortion in the same way that a fisheye lens is.
The RX0 also has a universal microphone port to connect an external microphone for high-quality audio recording. You won't find this feature on too many other action cameras, making it an interesting proposition for other applications, including vlogging.
Especially as Sony have upped the ante and incorporated a tilting LCD screen design into the new RX0 II, making it a much more attractive proposition for vloggers. This is an up to 180-degree and down to 90-degree tiltable LCD screen that even works underwater, should you wish to try and vlog there.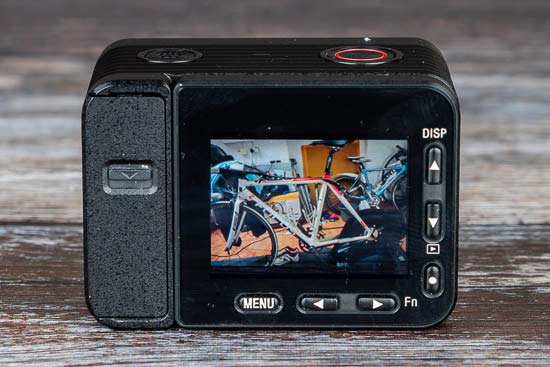 Rear of the Sony RX0 II
Sony have also improved things in close-up situations by reducing the closest focusing distance from 50cm to 20cm. This improvement again makes things a lot easier for vloggers. On the original model the minimum focus distance of 50cm was equal to approximately an arm's length, so you had to continually remember to keep the camera literally at arms length to ensure that your face was sharp. On the new RX0 II, this is much less of a concern.
Another new feature that should please vloggers is the upgraded Eye AF mode. The speed, accuracy and operation of Eye AF have all been improved compared to the previous RX0, and you can operate it with a simple half press of the shutter button to lock-on to the eye of the subject, just like on the Alpha camera range. The focused eye can also be selected (left / right / auto) in the menu or assigned to a custom button.
Finally, if you haven't got access to a make-up artist, the RX0 II offers both enhanced colour reproduction and a new Soft Skin Effect mode to ensure that you're always looking your best on-camera.
Unfortunately the RX0 still does not have image stabilisation, at least, it still doesn't have optical image stabilisation. Instead Sony have chosen to upgrade the RX0 II with electronic image stabilisation (for video only) for steadier footage, even when shooting handheld.
Although it's slightly better than no stabilisation at all, this electronic system is no match for a true optical solution, so much so that we'd still advise using another form of stabilisation entirely, such as a gimbal, just as we did with the original RX0.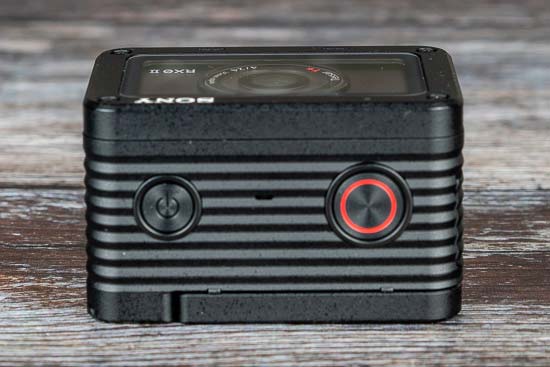 Top of the Sony RX0 II
Other ports include a micro USB for charging and mini HDMI out to an external recorder for clean 4:2:2 4K videos. Even without an external recorder, the RX0 II is now capable of 4K/30p video recording with full pixel readout and no pixel binning, an important upgrade on the previous model which could only do 1080p.
There is also Sony's HFR (High Frame Rate) modes too, which will capture short slow-motion sequences up to 960fps (with no sound). As with other Sony cameras with HFR modes, you'll need to time the start of the sequence just right, which takes practice. Once the sequence is captured, there is a wait post-capture when the camera is out of action while the video is processed.
Another neat feature is wireless connectivity to a smart device via Sony's Play Memories app. Asides from image transfer, one function of the app is the ability to control up to five RX0's simultaneously. In fact, it is possible to run up to 100 RX0's for the same shoot!
So, rather than merely being an action camera, Sony is once again pushing the RX0 II to be used in professional filmmaking productions, like in multi-camera rigs and in-car shots. Just how much the 24mm focal length restricts the camera's usefulness in tight spaces is another matter.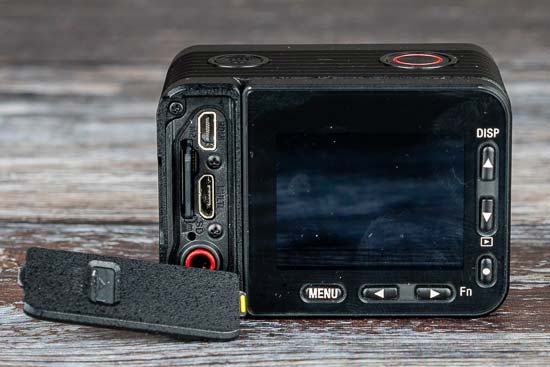 Connectivity
With the RX0 II being waterproof down to 10m, you won't need a dedicated housing to protect it from water intake. In use, water glides right off the protective removable frontage, meaning you won't get obtrusive water droplets ruining your shot so often. The same cannot be said for many other housing units.
The rear LCD screen is once again the same as on the original mode, a rather modest 1.5in display with 230k dot resolution. In bright light it is very difficult to see the display clearly. Also, the screen is not touch sensitive. Most other premium action cameras now feature larger 2-inch touchscreens, so Sony have got quite a lot of catching-up to do here.
Instead, the menus need to be navigated using the tiny, fiddly keys that are positioned at the side of the screen. It can take a little while to change camera settings, even once you are used to finding your way around the camera. Frankly, it's still a bit of a pain.
A quicker alternative is to control the camera remotely through the Play Memories App, where the basic exposure controls are to hand. It's not a comprehensive solution as understandably there are many controls not available in the app, but it does speed up the basic control of the camera, plus you get remove live view on a larger and clearer display.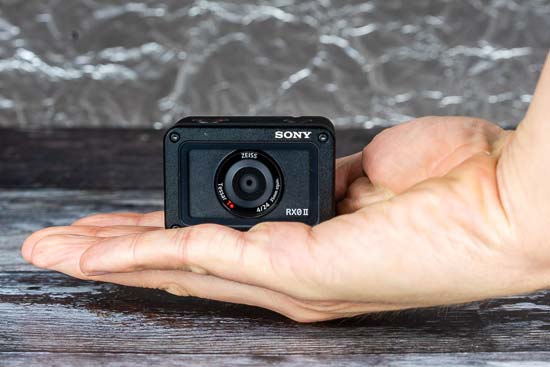 The Sony RX0 II In-hand
The RXO uses a NP-BJ1 battery unit which provides a battery life quoted at 240 single shots or up to 35 minutes movie recording time. In reality, the battery life really is quite modest and we could have done with one or two spare batteries for our test. That large sensor and fast processor are certainly power hungry.
However, the camera can at least be charged via USB. While out and about we made use of our own power bank when the battery drained. It is also possible to power the camera externally with a more powerful additional battery unit, although obviously this makes the overall package much bigger.
Optional accessories can have a major impact on how well cameras like the RX0 hold out in long-term use, and thankfully the new Mark II version can use all the same accessories as the original RX0. For example, if 10m is not deep enough for you, there is an optional waterproof housing available with 100m depth ability.