Tamron 35mm F/2.8 Di III OSD M1:2 Review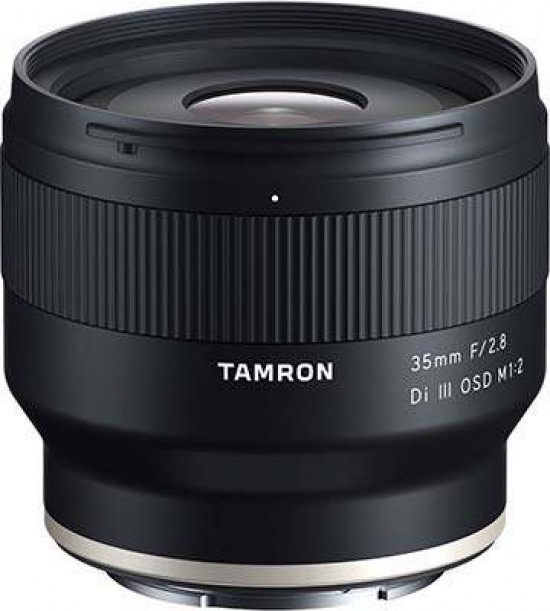 Conclusion
The new Tamron 35mm F/2.8 Di III OSD M1:2 lens for Sony Alpha mirrorless cameras is something of a mixed bag.
On one hand, it offers fantastic image quality, very useful 1:2 macro shooting, weather-proofing and a wallet-friendly price tag, all in a compact, lightweight design.
On the other hand, the auto-focusing system is fairly slow and quite noisy, the maximum aperture isn't very fast, it offers very few features, it requires a a worryingly stern twist to lock it into place, and it's actually bigger and heavier than it's main f/2.8 rival, the Samyang AF 35mm f/2.8 FE.
Image quality is a stand-out highlight, with excellent center sharpness throughout the entire aperture range and very good edge sharpness from f/5.6 onwards.
Barrel distortion is well-controlled, chromatic aberrations are virtually non-existent and flare is only ever an issue when shooting directly into the sun. The only notable optical issue is some obvious corner shading at the maximum aperture.
The ability to shoot at 1:2 at just 15cms away from your subject opens up a lot of creative macro opportunities, whilst also helping to create more pronounced bokeh effects when shooting wide-open at f/2.8. The macro capabilities of the Tamron 35mm F/2.8 Di III OSD M1:2 lens are definitely one of its key advantages over its main rivals.
Much less appealing is the auto-focusing. Tamron claim that it's fast and near silent, hence the silent bit of the OSD acronym, but we found it be anything but, especially in low-light. This isn't a lens for either fast moving subjects or video use.
The Tamron 35mm F/2.8's main rivals are the faster, optically excellent Sony FE 35mm f/1.8, the tiny, cheap Samyang AF 35mm f/2.8 FE pancake lens, and the venerable Carl Zeiss Sonnar T* FE 35mm F2.8 ZA, all of which are more than worthy alternatives.
In summary, if you want an affordable, weather-sealed 35mm prime lens that can focus really closely and deliver excellent image quality, the new Tamron 35mm F/2.8 Di III OSD M1:2 is a great choice.
For us, though, and we suspect many would-be-owners, the slow f/2.8 maximum aperture and sluggish, loud auto-focusing system would ultimately make us look elsewhere for a 35mm Sony prime lens.
Ratings (out of 5)
Design
4
Features
3.5
Ease-of-use
3.5
Image quality
4.5
Value for money
4.5