Zuiko Digital ED 14-35mm F2.0 SWD Review

Introduction
The Zuiko Digital ED 14-35mm f/2 SWD is one of only two SLR zoom lenses in the world to boast a maximum aperture of f/2 throughout the focal length range. Like the other such lens, the Zuiko Digital ED 35-100mm f/2, it is made by Olympus and is compatible with all FourThirds bodies ever made - but not Olympus' old OM line of 35mm film SLRs. The diagonal angle-of-view range of the lens is 75°-34°, so similar to that of the venerable 28-70mm standard zooms made for 35mm systems. It belongs to Olympus' Super High Grade line of lenses. For those not familiar with this manufacturer's nomenclature, modern Olympus lenses fall into one of three groups: Standard, High Grade and Super High Grade. Super High Grade lenses have a fast and constant maximum aperture and a dust/drip-proof construction, and are the manufacturer's most expensive products. High Grade lenses also offer dust/drip protection but the zooms in this class have variable - though still fairly fast - maximum apertures. These are more affordable than the Super High Grade offerings. Finally, Olympus - like all other SLR/lens makers - also market a Standard line of lenses, with comparatively slow maximum apertures, no distance scales and no weather sealing - these are the cheapest lenses made for their E-system. As mentioned above, the lens reviewed here falls in the Super High Grade group and is priced accordingly.
Ease of Use
Standard vs. High Grade vs. Super High Grade - size differences between the 14-42mm f3.5-5.6, 14-54mm f2.8-3.5 and 14-35mm f2 lenses
As seen in the illustration above, the 14-35mm f2 SWD is a hefty lens for a normal zoom, especially when you consider that it has to serve a sensor whose diagonal is only half of that of a full frame on 35mm film. The barrel diameter is 86mm, while the length of the lens is 123mm. The weight is also considerable, at over 900 grams or 2lbs. Compare this e.g. to the Sigma 28-70mm f2.8 EX DG (74x87mm, 510g), which has the exact same angle-of-view range when mounted to a 35mm film SLR. How come the Zuiko is so much bigger and heavier, when the imaging circle it has to project is so much smaller? The answer lies in the maximum aperture: an f2 zoom needs bigger, heavier and more complex glass elements, which make it, well, bigger, heavier and more complex. No wonder nobody has bothered to make one for the bigger formats.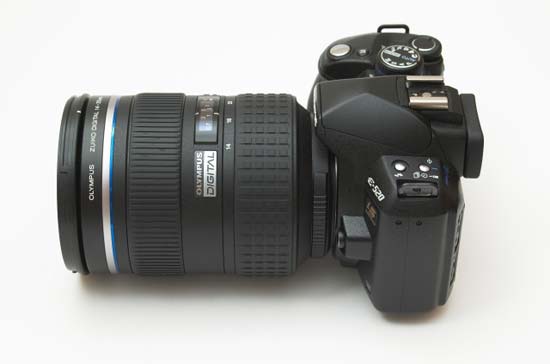 The Zuiko Digital ED 14-35mm f/2 SWD easily dwarfs the Olympus E-520, which is not even the smallest FourThirds DSLR
In your hand, the lens feels extremely robust, just as it should. The mount is of course made of stainless steel, whereas the outer shell of the lens barrel is mainly high-grade plastic. Around the front lens element there is a thread that accepts 77mm filters. The lens ships with a petal-shaped hood (LH-82B) with a polarisation filter control window. The zoom and the focusing rings are both mechanically coupled, rubberised and textured. They are neither loose nor sticky - in other words, just right. Manual focus overrride with the camera set to one of its auto-focus modes is possible, and as easy as grabbing and turning the focusing ring - there is nothing else required. Focusing is fully internal, so the front lens element does not rotate. The lens barrel features a distance scale but it is of limited use, given that the infinity sign comes right after the 2m mark. There are no depth-of-field markings.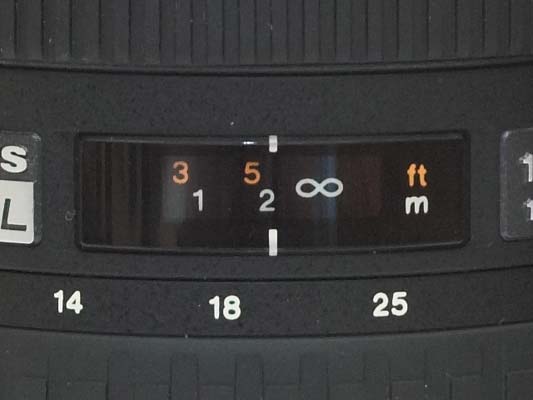 Distance scale
Zooming, however, is not internal, so the length of the lens changes somewhat depending on the focal length chosen. The lens is shortest at the zoom setting of about 20mm, longer at 14mm and longest at 35mm.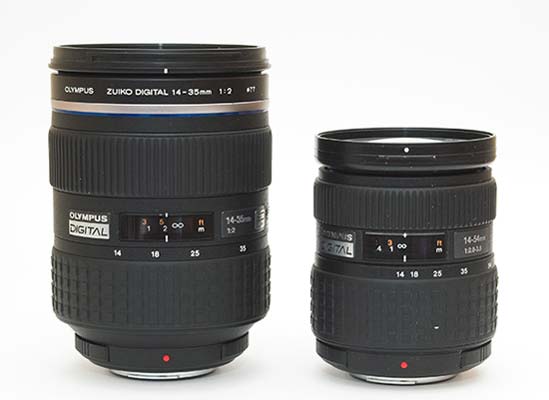 The 14-35mm lens is shortest at just above the 18mm zoom setting, but it's still longer than the 14-54mm lens at 14mm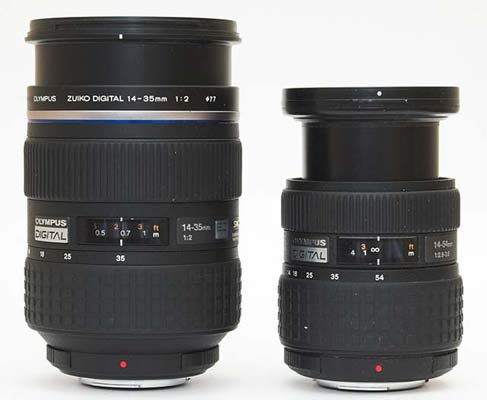 Both lenses are longest when fully zoomed in, and again the 14-35mm zoom is longer at 35mm than the 14-54mm lens at 54mm
The 2.5x zoom ratio might not sound like much, and indeed, at 35mm (70mm eq.) the lens is a bit short for things like a head-and-shoulders portrait. Fortunately, the 14-35mm f2 SWD is compatible with both the EC-14 and the EC-20 teleconverters, maintaining both auto-focus and auto-aperture control. This might come in handy when you do not want to carry a dedicated telephoto lens along.
| | |
| --- | --- |
| Field of view at 14mm | Field of view at 35mm |
| | |
Auto-focus
The SWD abbreviation in the name of the lens stands for Supersonic Wave Drive. This is similar to Canon's USM, Nikon's AF-S, Pentax's SDM, Sony's (originally Minolta's) SSM and Sigma's HSM in that it means the lens has its own "supersonic" focus motor to move the glass elements for focusing. This results in quick and whisper-quiet AF operation.
On our test sample, focusing speeds were generally fast. Low-light auto-focus was, at times, slower, occasionally taking up to 3 small adjustments in rapid succession before focus lock - but the lens always acquired focus, down to and including -1 EV with the lens mounted to an E-3, irrespective of which AF point was used. To put this in perspective, this is so dark that I barely saw anything through the viewfinder - even though the E-3's is very bright, especially with an f2 lens attached. Only at -2 EV did the focusing become less consistent and reliable - an impressive performance by anyone's standards. We are aware that some early adopters had focus issues with this lens, but we've encountered none during our extensive testing of the review unit on two different E-system bodies.
Chromatic Aberrations
Lateral chromatic aberrations, often seen as purple fringes along contrasty edges, were practically a non-issue with this lens. Where we did spot them - at 100% viewing - was not where we expected them, i.e. not at 14mm but at longer focal lengths. The following crops represent the worst cases encountered with the lens mounted to an E-3, at 18 and 25mm f/2 - again, impressive performance here.
| | |
| --- | --- |
| 25mm f/2 | 18mm f/2 |
| | |
Light Fall-off
Light fall-off is easy to spot at 14mm f/2, but the corners clear up nicely by f/4. The situation also improves upon zooming in a little.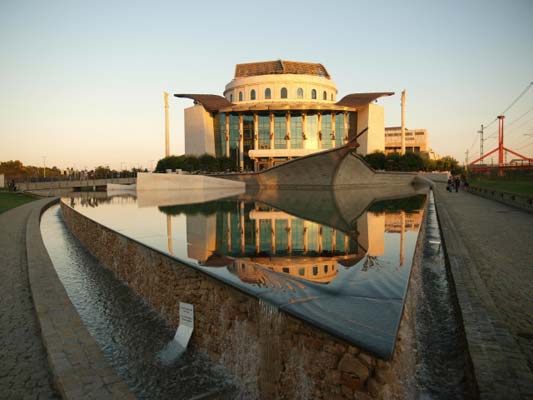 Light fall-off at 14mm f/2
Macro
This is not a macro lens. The close-focus point is at 35cm from the sensor plane, and maximum magnification is 0.12x, so you will need a dedicated macro lens for close-up work. The EX-25 extension tube is claimed not to be compatible with the 14-35mm f/2 SWD, with Olympus stating that focusing is not possible with such a setup. The following example illustrates how "close" you can get to the subject, in this case a CompactFlash card, with the lens zoomed all the way in to 35mm.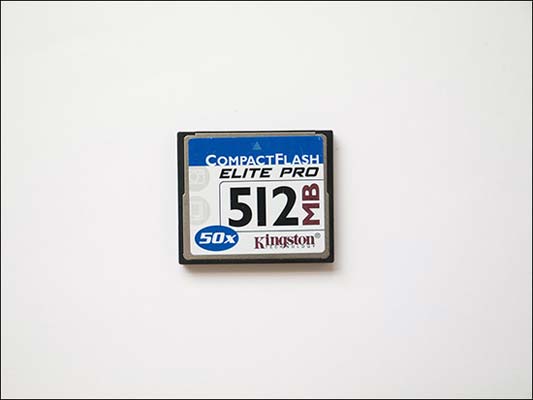 Close-up performance at 35mm
Bokeh Examples
Bokeh is a word used for the out-of-focus areas of a photograph, and is usually described in qualitative terms, such as smooth/creamy/harsh etc. If the camera-to-subject distance is short, the subject-to-background distance is great and the background is fairly homogeneous in terms of colour and tonal values, you can achieve very smooth bokeh with virtually any lens. There is not much point in testing bokeh in such ideal conditions. It is usually only when you have to make do with less cooperative backgrounds that lens design comes into play. These examples are from the out-of-focus areas of photos where the camera-to-subject distance was a couple of metres, and the backgrounds were varied. Since bokeh evalutaion is subjective, these illustrations are provided with no comments, leaving it to you to draw your own conclusions from them.
| | |
| --- | --- |
| 18mm f/2 | 21mm f/2 |
| | |
| 24mm f/2 | 35mm f/2 |
| | |
Sharpness
In order to show you how sharp this lens is, we are providing 100% crops on the following pages. The crops are from photographs taken at all apertures at focal lengths of 14mm, 18mm, 25mm and 35mm.