Interview: Panasonic Pitches Premium Compact Pair and Two New Lenses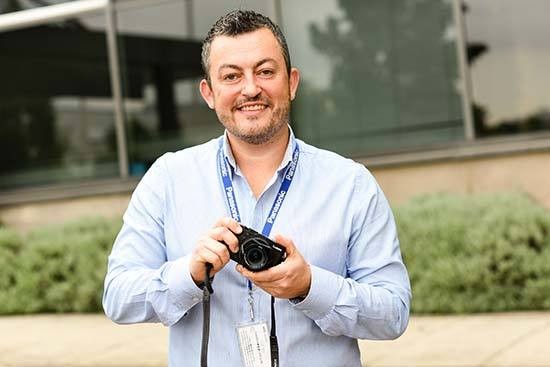 Dai Mukai:
We've two new products, but before we go into the detail we'd like to give an update on the market using some detail from Futuresource. Compared to last year we've seen a huge drop for DSLR, but CSC now appears to be growing. Over the last seven months CSC shows a 105% growth, compared with last year. We introduced the successful GH4 in May and saw our market share grow dramatically. We now have a 27% share for CSC.
Barnaby Sykes:
Looking at both GFK and Futuresource data, that puts us as the number one brand.
Dai Mukai:
Whether we're looking at volume or value, CSC shows very strong growth.
Barnaby Sykes:
The interesting trend is that after a tough period last year, DSLR is unfortunately suffering quite a lot, whereas CSC by both volume and value is now showing really strong growth.
PhotographyBlog:
Obviously you guys might claim that was down to your excellent products – but do you think there is more to it than that?
Barnaby Sykes:
A lot of manufacturers' great products are driving growth. The product that has been launched has improved the image of CSC, such as the Fuji X-T1, Panasonic GH4, GX7, Olympus E-M1, Sony R7. There are a lot more higher value products offering better quality now. That's changing people's perception of CSC and they're now seeing it as really being a viable alternative.
PhotographyBlog:
And people are obviously willing to spend, as these models aren't cheap.
Dai Mukai:
If you look at how the market has been changing from 2013 into 2014, in the last year CSC made up just 4% or 5% of the total market for cameras above £1,000 – and now it's over 20%. It looks like the DSLR market has been considerably decreasing while CSC is increasing. Sooner or later we believe it's going to be the majority of the interchangeable lens camera market. We have three of our models within the top ten.
Barnaby Sykes:
This June the GH4 was the number one value product in CSC.
Dai Mukai
Comparing the success of the GH4 on launch to the previous GH3, after launch we had good sales of the GH3 but they gradually reduced. But thanks to the 4K GH4 we have been a lot more successful on launch, and that success has continued for the past three months.
Barnaby Sykes:
We actually had more orders than we forecast for the GH4 and ran out. We got some more in from Japan and ran out again. We've just put another order in. Based on our levels of back orders, our third month after launch has been our highest sales month ever. The news yesterday of a Metabones product which allows you to attach Canon EF glass to the GH4 we think will add another layer of demand onto the GH4.
Dai Mukai:
And finally the GM5 is our new product in the line up. It's the successor to the GM1 but we will still continue to sell the GM1.
PhotographyBlog
So why jump straight from GM1 to GM5? I feel like I've missed a few iterations in between?
Barnaby Sykes:
The reason is that if we were to pick a number closer to the GM1 then people might perceive it to be a minor change. And if you're looking at it on the shelf arguably you might miss one of the biggest improvements of the GM5 – which isn't visible from the front of the camera. So the higher model number is to differentiate it from the GM1, which stays in the range.
PhotographyBlog:
You're suggesting that the GM5 is a major step on?
Barnaby Sykes:
And also we're highlighting the fact that the GM1 doesn't discontinue. If we were to do a GM2, it might give that impression.
PhotographyBlog:
Will there be a retailer exclusive model this time around? Dixons Travel had the orange GM1…
Barnaby Sykes:
There are no plans for retail exclusives at the moment, no. There will be a choice of colours however.
Dai Mukai:
With the GM1 we targeted the entry user as it didn't major on manual features or have a live viewfinder. However, with the GM5 we have incorporated the live viewfinder and are targeting more skillful users with this camera. From the front both cameras look quite similar but clearly we can differentiate between the two models.
The GM5 is available in two kits. The GM5L comes with a Leica 15mm lens and we carry black only for this model. However the GM5K zoom lens kit with a 12-32mm will be available in a choice of black and red.
Barnaby Sykes:
Ferrari red is what we're calling it, although not officially.
Dai Mukai:
There are three key features: a premium compact design yet good image quality, plus a live viewfinder for those who want to shoot with that.
PhotographyBlog:
I see the viewfinder also comes with an eye sensor – so presumably you can adjust settings in the menus so that it switches on automatically?
Dai Mukai:
Yes. So as you can see, the GM5 has an advantage in terms of its size. It's almost the same size as the GM1, but we've added a viewfinder and hotshoe, so the overall height is slightly higher. And if you look at the front, the 'step-up' design is inherited from our old LC1 model.
Barnaby Sykes:
This is going to be a new 'retro analogue' design trend for other cameras that you might see from Panasonic in the second half of the year.
Dai Mukai:
Again we've got a big sensor in a small compact design that offers expandability. As I said earlier, we are going to target more skillful users, so in order to fulfill their requirements we put the live viewfinder in the camera and also the hotshoe. Also we're bundling the FL70 flash with it in the box. Whichever kit people buy, they get the flash. Compared with a conventional DSLR with the same equivalent lens, we are just a quarter of the weight, which is a big advantage. To make the camera smaller we have fitted a shutter unit 80% smaller compared to the GX7.
Uematsu:
But compared with the GM1 it's the same.
Dai Mukai:
We also use the same sensor and engine as the GM1. We got good feedback as regards the image quality, so we kept those components. We also have a high dynamic range achieved by the large photo diode area, and also higher sensitivity and lower noise: these are the key features of our Live Mos sensor. The Venus Engine is good at reducing noise in low light conditions to ensure the photo has better details in shadow areas. Also the Venue Engine ensures smooth gradation and improved dynamic range control.
But we also have improvements compared to the GM1. The GM5 has a 240fps AF drive, and therefore AF speed is 0.06 seconds. This also contributes to the improved burst-shooting rate: AF-S at 5.8fps. The GM1 is 5fps. So there is an improvement in AF speed and also burst shooting.
We also have different types of AF focusing functions. New features include face and eye detection. And also eye sensor AF. So when people start looking at the subject through the viewfinder the camera starts focusing.
The big improvement with this GM5 is however the live viewfinder with 1166k dot resolution. Of course with the viewfinder there is 100% field of view and magnification is 0.92x.
Barnaby Sykes:
Viewfinders are a really hot trend. One of the reasons we think the TZ60 has been so successful among our compacts, is by integrating an EVF. Obviously there's a premium for including an EVF and probably our benchmark for the TZ60 was a Canon SX700, which hasn't got EVF. And, as all manufacturers do, we've had a cashback campaign during the summer peak. Our offer actually ended a couple of weeks before Canon's, but our sales haven't slowed down at all – and we think it's because the EVF is so unique that a particular type of customer is really craving it. Integrating it into the GM range could be a really unique and interesting feature. And obviously as regards the system camera, the positivity that has greeted the Olympus E-M1 and the Fuji X-T1 in terms of their inclusion of an EVF shows that they're now of a quality that people no longer dismiss them because they're not an optical viewfinder.
Dai Mukai:
Our new touch monitor on the GM5 has 50% maximum brightness. That means we can see more clear images, even under the strong sunshine. And also we are using an IPS LCD, which is what is used is used for smartphone screens to provide a wider field of view, and also lower power consumption. So, we have provided 50% great brightness yet with the same power consumption.
Another improvement is that we've combined Creative Control digital filter effects with ASM modes, which is useful for the more skillful user.
Your Comments