Interview: Panasonic Pitches Premium Compact Pair and Two New Lenses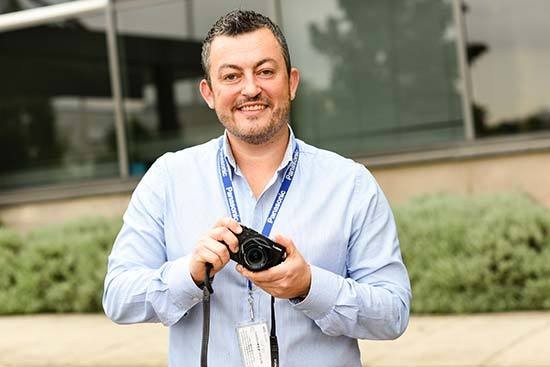 PhotographyBlog:
So do you see this camera as a possible second camera for someone who already has a GH4?
Dai Mukai:
I think so, yes. And now on the camera we have 22 filter effects and Creative Panorama. Now users can create panoramas with the use of filters. This is another improvement. The GM1 doesn't have this function. And on the GM1 for video we could record only interlaced – so 50i. But now the GM5 can record progressive video plus manual creative video is also available. All the PASM parameters can be changed in video mode and you can use Creative Control all together.
We also have Wi-Fi and NFC technology because lots of people want to share the photos after they shoot. And we believe GM5 owners will want to share pictures through facebook and Twitter. One big improvement with the GM5 is that users don't have to punch the numbers to get connected with their smartphone – the camera can generate a QR code which can be read by a smartphone and the camera can connect to the smartphone easier.
So, actually, we have a lot of improvements over the GM1. For example, extended ISO sensitivity; previously it started at ISO125 and now ISO100 is available – the faster shooting ratio, the progressive recording, and also eye and face recognition AF. Plus the camera has the live viewfinder and the hotshoe. Those features we believe give us a good advantage over our competitors' models.
At the same time we are introducing two new Micro Four Thirds system lenses, including a 35-100mm. We do already have a 35-100mm in our line up, but f-number is 2.8 throughout the focal length. The intention of developing this lens was to have the size match with the GM line up – it's a much, much smaller lens. We now have 24 lenses, the biggest line up in the CSC market. Obviously the compact size is an advantage and the focal length is 70-200mm in 35mm equivalent terms. Plus, as you have already tried, it has a retractable construction and comprises two ED lenses. It's also compatible with high-speed auto focus and HD video recording.
And then, by way of a minor change, while we have a 14mm lens in our line up we have re-vamped it in order to give the lens more premium features, such as it now has a metal finish.
Barnaby Sykes:
We've given the texture of the 14mm lens a more premium feel so that it looks more of a fit with the camera bodies that we now have.
Dai Mukai:
So GM5 sales start in November. The price is £1049 for the black kit. And for the GM5K kit, black and red, sales also start November and the price is £769. For the new 35-100mm, which will come in black and silver, sales also start November at £319. For the 14mm we have black and silver and sales start October. Price is the same as the current lens at £349.
Barnaby Sykes:
OK, so for compacts, across imaging we're very proud that for two consecutive years – 2013 and 2014 – we were voted the best photography brand by Which? But what's interesting is that it's not necessarily the awards that the camera wins that gets you this, but the reliability and satisfaction that comes with the product. That's something that we're really proud of, considering the imaging brand is only 12 years old.
In terms of the compact camera market I'm going to give you a little bit of an update from Futuresource. Comparing volume to last year compact is having quite a tough time. May was a real tough period, getting a bit better in June and July with sales at 65% and 69% versus last year. For value it was better, with a much stronger performance in July – 73% compared to last year – so 17% down. That meant the average price went up in July so that was really pleasing. As for Panasonic's market share we started the year around 18% and climbed to 20% in July, which is really strong. If we were then to look at GfK data that would show we were the number one compact brand by value in January, February, March and May.
Price is very pertinent to the product we're going to launch today. If you look at the sub segment of compacts above £300 then you would see the market is growing by value.  In June and July it was over 160%. By volume there was a big growth in July by 119% - so this is obviously the best performing area of the compact market. Panasonic's share was minimal at the start of the year but from March onwards we've taken a huge portion of this market and we think we've been one of the factors in driving the value above £300.
So there's two strands to this discussion. Our share is dominated by the TZ60, which is really positive. However there's a huge battlefield in this market above £300; that of large sensor compacts, that we want to do better in. You can talk about products such as the Canon G1 X, Sony RX100 and the Fuji X100. That's a real area that we want to focus on. We've noticed that the products that are performing well have a real point of difference: the TZ60 with its EVF, the FZ200 with its really bright lens, which are capturing the imagination of the customer. Added to this, the acceptance of 4K has taken us by surprise and we're getting some really interesting feedback regarding why 4K is becoming so important.
So, without further ado our new product is the LX100. We're not replacing any existing product in our line up. We have our LX7 and the LX100 is an addition. You'll notice in its design it's very similar to the LC1 in terms of its top plate. One of the consistent things that Mr Uematsu has been talking about on his visits is the spirit of the LX. It's about combining the brightest possible lens with the largest possible sensor. We've worked really hard to put together a killer combination for the LX100.
The target user we envisage is similar to that of the GX7 – semi professionals and camera enthusiasts. This camera allows them to take full manual control. We've also included a Four Thirds sensor.
Your Comments