Interview: Panasonic Pitches Premium Compact Pair and Two New Lenses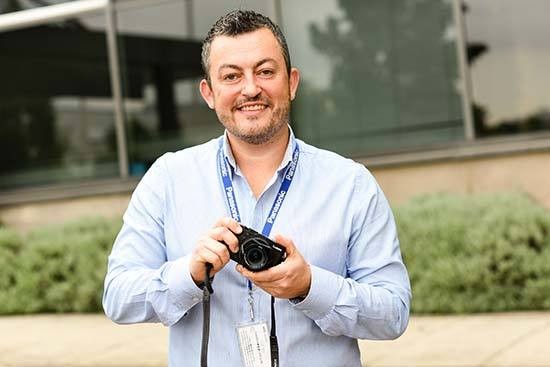 PhotographyBlog:
By offering that sensor, do you think this model will eat into sales of your CSC range at all?
Barnaby Sykes:
I don't think so – there's still that demand from customers who want the ability to change lenses. We're still seeing strong sales of our GX7 line up. Yes, the spec of this camera is very strong, but we think its customers are still going to be slightly different. So in terms of spec it's the same sensor as in the GX7 and the lens is a Leica Summilux f/1.7-2.8, with a 3x zoom lens built in. It's also got a built in 2.7 million dot EVF, aperture ring, control ring, shutter speed dial and exposure compensation dial.
The thing that struck us when we first saw the camera was that when we were looking at the reviews of some of the most highly evaluated system cameras – such as the Fuji X-T1, one of the things that the editors were commenting on the most was the manual control and the dials and the function buttons – and that's what we've brought with the LX100. It's got the same engine as the GH4 and FZ1000 – so it's our latest Venus Engine 9 – along with manual creative control, Raw development inside the camera – plus it's got 4K.
A lot of people are using 4K to capture better high def; what they're doing is they're capturing 4K and down-scaling to high def. That gives you much better colour than capturing high def natively. The other thing is the new trend in photography of being able to crop an 8 megapixel still from a movie. Mark (Baber) has been doing some work with a magazine whose front cover publishes a still extracted from video, shot on the GH4. It was the first time the photographer hadn't been behind the camera – because the fact that was he was shooting video allowed him to direct the model freely.
Mark Baber:
The feedback from the model and the photographer was that they found it quite unusual because it was different. But they got a bit more engaged with the action. Naturally the photographer wanted to go behind the camera but he knew that he didn't have to. But he did just to check the focus and stuff. I wouldn't class myself as a pro photographer, but this way I've been able to capture images myself that I would never have dreamed of previously. Effectively you've got five times more frames to choose from – yes it's a bit of a laborious task going though them – but you can do it in the camera or in post-production. You're getting pieces of the ground flying off the hooves of horses that are galloping, or facial expressions… basically you have more options now to choose from.
PhotographyBlog:
Do you think you're going to have pro photographers complaining that their post-production now takes even longer? Because they do like to complain…
Mark Baber:
Potentially, but then the excitement of what you can get is very rewarding. I've met a lot of wedding photographers over the past few months at trade shows and more and more people are interested in 4K. You could be shooting on a Nikon D810 and have a Panasonic GH4 picking up candid, natural shots of people as it's recording – and then later pick a frame out. It works brilliantly in fast moving scenarios. And you've got two things there – a video of the wedding and something that you can extract stills from. The client isn't going to complain that you're using a screengrab. The people who have started to try it are actually seeing the benefits from it and more people understand what it means. And when you throw it onto a 4K TV, with an 8 million pixel screen – say a 65-inch TV – effectively you could print at that size and still get something that mirrors what you're seeing.
PhotographyBlog:
And how are you guys looking to get that message across to the public?
Barnaby Sykes:
We're doing a huge amount of work in attending photography shows – we're a partner of PhotoLive, for example. We've been supporting the Societies at their shows and educating there. We did Rutland Bird Fair, which was hugely successful for us, and we're going to the SWPP Convention again in January 2015, as well as doing bespoke in-store training. We supported Jessops' Photo Festival week, for example, where we took one of our ambassadors, Jacob James, to do photo walks out in the cities. That was again explaining how you could use video to get better photographs – so we're doing a huge amount of labour intensive hands-on grass roots types of activity to get that message across.
Mark Baber:
And it's really rewarding. I could give you a leaflet on the LX100 and most people might just be confused. The only way that we can really bring the message to life is showing the kit. We were setting up at a show with light coming through the window and to the naked eye you couldn't pick out the dust in the natural highlights, but on a 4K television, through the GH4, via HDMI, you could pick out all the dust, which is just incredible. It's funny that we might be suggesting Full HD isn't as good anymore. We now take Full HD for granted, but this takes it a step further. It's four times higher resolution but people don't tend to understand until they see it. The level of detail is point sharp – and that's then represented in the stills and the video. It's not just using a display screen to say this looks good… actually, you can capture a still that's just as good.
Barnaby Sykes:
We spoke to an editor a while ago and they were shooting wildlife with a 100-300mm and chose to use the video method for the first time and extract the still. And once one or two photographers start doing that, the rest will follow… and that's how the word will get out.
So, other things as regards the LX100 are that it's a 16 megapixel sensor, but we are re-introducing multi aspect ratio. This was on the GH2. You'll notice on the dial on the top of the camera you can pre-select the aspect ratio. There's Power OIS, 4K, Full HD 50P, 11fps, and it has built in Wi-Fi, NFC and Focus Peaking. And there is a bundled flash that comes in the box as well. It will be available in black and silver and launch to market at around 16th October at £799. In terms of picture quality there's obviously the bigger sensor compared to the LX7 as well as our new engine. LX7 stays in the range s does the LF1.
The LX100 also has nine blade diaphragm blades, which gives you a much rounder aperture hole, and a much better bokeh effect. In terms of the design concept it's still mirroring that of the LC1 camera. And there's no PASM dial – it's all done manually between the aperture and shutter speed dial. There's a control ring and a built in EVF. In terms of EVF technology there are two types of technologies you can use – LCD or OLED. And for this camera we've used LCD because OLED is good for fast moving objects but LCD is better for colour reproduction. And we feel that's a more suitable technology for the target user of the LX100. And the colour reproduction nearly matches that of the Adobe RGB colour code. We also have Panasonic's unique focusing system that allows us to get really fast auto focus – and obviously all these focusing functions you can do on GX7, GH4 and now LX100. Some of the favourites include pinpoint AF.
PhotographyBlog:
So who is your target audience for the LX100?
Barnaby Sykes:
Creative enthusiasts – people who, like on the GX7, want to take full manual control of the camera and really tune the settings themselves – so quite an advanced user. Possibly someone who already owns something like a D810. We also have filter effects, creative panorama and 4K shooting. There is also a dedicated filter button top right of the camera.
Mark Baber:
There's also a dedicated 4K photo on/off function which optimises the highest output you can get from the camera. It allows you to shoot at the highest level without having to think about it. It optimizes it at the highest codec.
Mr Uematsu
The button is just for use in motion picture mode. We have to make compatibility with normal video mode. This means 230+ frames and also the black level is not zero but 16; this is the standard of broadcast. To make better picture quality from 4K motion picture we introduce 4K picture mode for still picture. And also shutter speed will be changed. Normally for motion picture we use a very slow shutter; for example 1/25th or 1/50th because of motion blur, but for 4K stills capture, shutter speed should be higher – higher is better to avoid blur.
Barnaby Sykes:
Other features which the LX100 has in common in G series cameras includes highlight shadow, Raw data development, silent mode, plus multi exposure as well. We've got Wi-Fi and NFC, and the ability to use a QR code so you don't have to type in ID and password every time you want to share images remotely. Obviously in Wi-Fi remote mode you can use the image app for geo-tagging too. So we think, in the LX100, we have a number of areas where we feel we're winning on spec.
Your Comments