Canon EOS R5 First Impressions

"Re-imagine mirrorless" is the official strapline for one of Canon's biggest ever product launches, as they introduce 11 new products in total today, including the hotly anticipated Canon EOS R5 mirrorless camera with its 45 megapixel full-frame sensor and ability to record 8K video.

Canon are still keen to point out that they are not stepping away from their other DSLR and APS-C mirrorless systems, just focusing on full-frame mirrorless for the next 6 months at least.

We've spent a little hands-on time with the Canon's brand new flagship camera, so ahead of our full review, check out our first impressions of the Canon EOS R5 now...
Key Specifications
45 megapixel full-frame sensor
Up to 20fps/ 12fps
In-body IS up to 8-stops
Dual Pixel CMOS AF II
ISO range 100-51,200
8K movie 30p 12-bit (full width)
5.76 million dot EVF
3.2inch 2.1 million dot vari-angle LCD
Dual card slots (1x CFexpress, 1x SD UHS II)
Top panel display and AF multi-controller
Built-in 5Ghz Wi-Fi with optional wireless transmitter (WFT-R10)
Bluetooth
USB charging and power via PD-E1
Body only 650g (738g with battery/ memory card)
Key Details
Expanding upon Canon's existing EOS R camera lineup, the EOS R5 is designed for professional applications
Features a new 45-megapixel full-frame CMOS sensor and uncropped 8K video recording up to 29.97 fps, giving users the ability to capture fast-moving objects with impressive accuracy and speed
Along with the EOS R6, it's the first camera to be outfitted with Canon's advanced Dual Pixel CMOS AF II
Offers 8 stops of 5-axis In Body Image Stabilizer, a feature that many creators have long asked for from Canon
Enhanced operating controls and accessories such as rear-dial, multi-controller and optional WFT-R10A wireless file transfer battery grip with Ethernet support
Impressive durability, including weather, drip and dust sealing on par with the EOS 5D series
Pricing and Availability
The Canon EOS R5 body only will be priced at £4199.99 in the UK and $3899.99 in the US.
It will also be available with the 24-105mm f/4L IS USM lens in the US for $4999.99.
The BG-R10 battery grip is priced at £419.99.
The WFT-R10 Wi-Fi transmitter is priced at £1349.99.
The LP-E6NH battery is priced at £114.99.
Release Date
The Canon EOS R5 will be available to buy on 30th July 2020.
45 Megapixel Sensor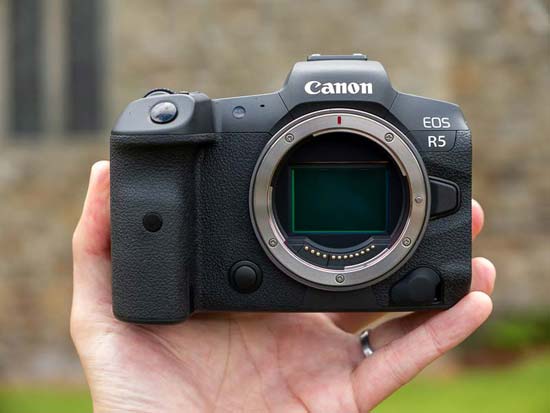 The EOS R5 is the highest resolution EOS camera ever, with its 45 megapixels producing more detail than even the 50 megapixel EOS 5DS and 5DS R DSLR cameras.
The ISO range runs from 100-51200 which helps keep subjects razor-sharp even in extreme low-light conditions.
8K Video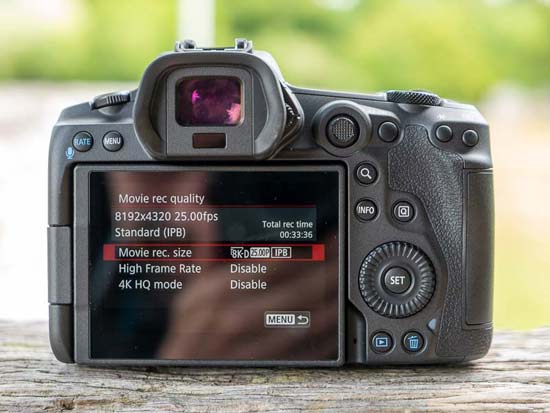 The EOS R5 is the first ever full frame mirrorless camera to be capable of recording 8K RAW video up to 29.97fps internally,12-bit (non-cropped).
That's right - the EOS R5 uses the full width of the sensor to record 8K video at up to 30p, and employing Canon's renowned Dual Pixel CMOS AF system whilst doing so.
Compared to Canon's previous implementations of 4K on their other mirrorless cameras (the EOS R has a 1.8x crop when recording 4K), this is very welcome news indeed.
It also offers 8K internal video recording up to 29.97fps (non-cropped) in 4:2:2 10-bit Canon Log (H.265) or 4:2:2 10-bit HDR PQ (H.265).
When shooting 8K video at 30fps RAW, the camera can record for up to 20 minutes before it overheats.
It also offers the ability to capture 35 megapixel frame grabs from the 8K video!
For the moment at least, the Canon R5 is the leading mirrorless camera for video, unless Sony can answer the challenge with the upcoming A7S III...
4K Video
The Canon EOS R5 can record 4K video up to 120p. It features 4K internal recording up to 119.88fps (non-cropped) in 4:2:2 10-bit Canon Log (H.265) or 4:2:2 10-bit HDR PQ (H.265) and 4:2:2 10-bit in Canon Log or 4:2:2 10-bit HDR PQ output via HDMI at 4K 59.94fps.
Photographers seeking the very highest 4K quality can use the 4K HQ mode to reproduce incredible detail at frame rates up to 30p by internally oversampling 8K footage.
When recording 4K 30p video, there is no over-heating at all, so you can record for as long as you like up to the capacity of your memory card.
As with 8K recording, the camera uses the Dual Pixel CMOS AF II system, including eye AF, whilst recording in 4K.
Dual Pixel CMOS AF II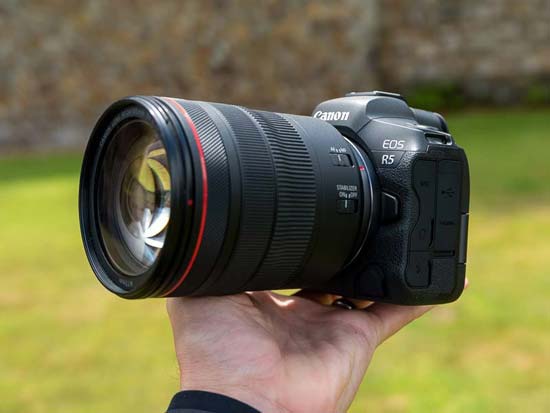 The next generation Dual Pixel CMOS AF II system on the EOS R5 offers the world's fastest AF, with the camera capable of focusing in as little as 0.05 seconds. It has 5,940 selectable AF points.
The EOS R5 can also focus in light levels as low as -6EV, with the high precision AF being effective in even poorly lit or low contrast shooting conditions.
Dual Pixel CMOS AF II only works on cameras with the new Digic X processor, so older models probably won't be able to benefit from a firmware upgrade.
The EOS R5 not only recognises the faces and eyes of humans, but also now cats, dogs and birds, in both still and movie modes.
Canon UK's David Parry was especially excited about the Canon R5's ability to track and auto-focus on birds, as well as dogs and cats, with the camera recognising everything from ostriches to sparrows.
Keen bird photographers will surely be chomping at the proverbial bit to try out the Canon EOS R5 and find out if it really can take a lot of the legwork out of what has always one of the more technically difficult photography disciplines.
8-stops Image Stabilisation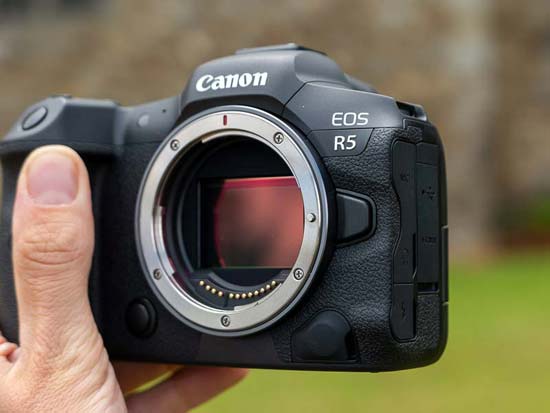 For the first time ever in the EOS series, the Canon EOS R5 incorporates 5-axis In-Body Image Stabilisation (IBIS), which has been designed to work collaboratively with the IS system built into certain RF lenses.
The solution has been engineered so that RF lenses and the sensor work to correct pitch and yaw with the sensor correcting X-Y and roll movements.
This intelligent stabilisation system corrects at up to an incredible 8-stops - the world's best image stabilisation - allowing you to hand-hold the camera for up to 4 seconds and still get sharp results.
Even better, the 54mm diameter of the of the RF Mount enables some non-IS RF lenses such as the RF 85mm F1.2L USM or RF 28-70mm F2L USM to achieve up to 8-stops of image stabilisation.
The EOS R5 can also stabilise older, non-IS lenses including any EF lens that is fitted to the R5 via the Canon EF-EOS R mount adapter. Just think of all that vintage EF glass which will instantly be stabilized when mounted on the new EOS R5!
The stabilisation system will also work with lenses from other manufacturers – you just need to input the focal length into the camera's menu system.
The EOS R5 is noticeably thicker than the EOS R when viewed from above, presumably to squeeze in the new IBIS unit, but it's not too thick.
It reminded us of the difference between the recently announced Fujifilm X-T4 and its non-IBIS predecessor, the X-T3, in that you can tell that the newer model is slightly thicker, but not objectionably so.
20fps Burst Shooting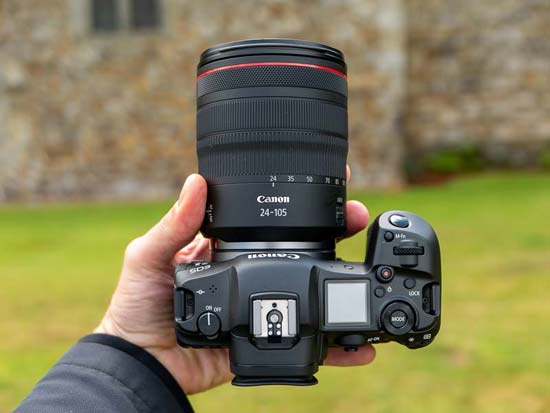 The EOS R5 offers continuous shooting at up to 20fps with the silent electronic shutter, or 12fps with the mechanical shutter, both with full auto exposure (AE) and auto focus (AF) tracking.
Dual Pixel RAW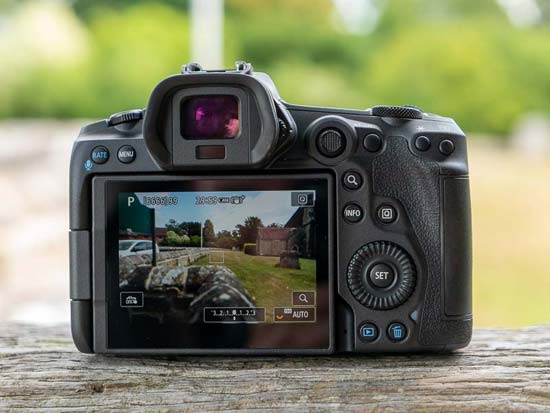 With Dual Pixel RAW supported, correction of the focus and contrast in the background using the Background Clarity mode and changing the lighting in portraits via the Portrait Relighting mode are both possible after capture, just using your finger/thumb on the EOS R5's touchscreen LCD!
Handling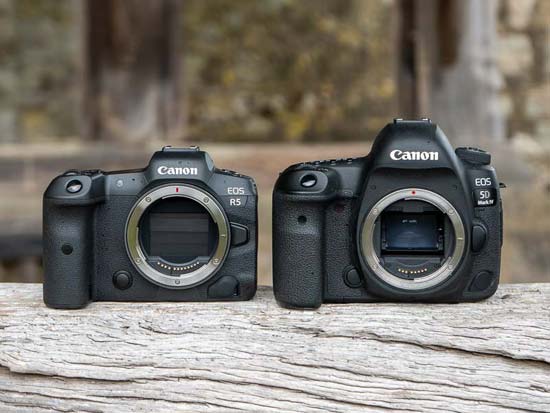 Canon told us in the past that the EOS R5 is officially a 5-series camera. It's not a direct replacement for the EOS 5D Mark IV, rather the equivalent of it in Canon's mirrorless range.
So in future, we might expect to see a more professional EOS R1 as well as the more affordable EOS R6 that was also announced today, if the DSLR naming convention is strictly adhered to.
Therefore, as with the incredibly popular EOS 5D, the new Canon R5 is intended to be an all-round camera for serious enthusiasts and pros, suitable for everything from wedding to sports photography.
Handling of the EOS R5 feels very much like a 5-series EOS DSLR camera, so 5D Mark IV owners should feel very much at home using this new model.
The top-plate is very similar to the EOS R, which now sits below the R5 and R6 in the line-up.
It actually bears more than a passing similarity to the EOS R - in fact, it's virtually identical, with exactly the same LCD status panel and control layout, just with a slight increase in thickness.
Meanwhile, the rear of the EOS R5 seems to have been lifted directly from the EOS 5D Mark IV DSLR, with an array of controls that will be instantly familiar to anyone who has used an EOS 5-series camera before, including the classic Canon control wheel.
This means that the innovative / controversial (delete as appropriate) Mfn bar that made its debut on the EOS R is only conspicuous by its complete absence on the new EOS R5, with Canon explaining that a thumb-operated joystick was more appropriate for the new model's target audience.
While this may be true, we were struck by how high the joystick is positioned on the rear of the Canon R5 - almost inline with the centre of the viewfinder, rather than where the Info button is - which seems rather too high to find easily, especially compared with most other cameras that have this key control.
The Canon R5 also benefits from both a tilting LCD screen and dual memory card slots for the first time in Canon's fledging full-frame mirrorless system.
There's a brand new Function button on the front of the EOS R5/R6 that can be customised, including controlling the auto-focus.
Weight
The Canon EOS R5 weighs 1.62 lb / 738 g body only with a battery and memory card fitted.
LCD Screen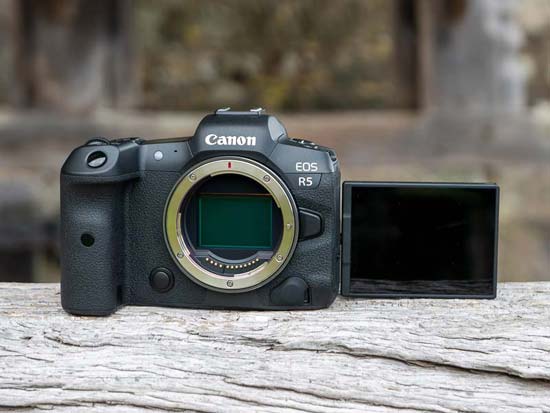 The 3.2-inch vari-angle touch screen with 2.1 million dot resolution LCD screen encourages shooting from creative angles and makes the EOS R5 ideally suited to movie-shooting.
EVF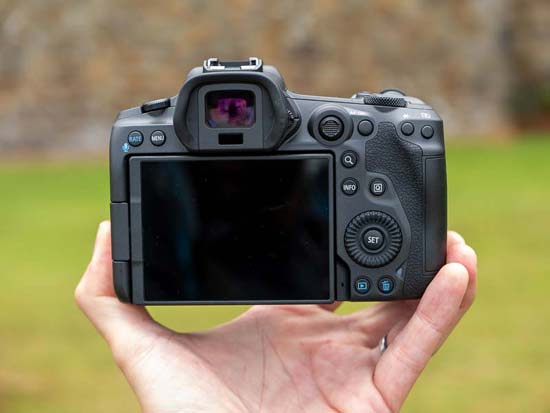 The 5.76 million dot EVF offers a realistic view of the world that's comparable to a traditional optical viewfinder. The 0.5inch electronic viewfinder refreshes at 120fps.
Build Quality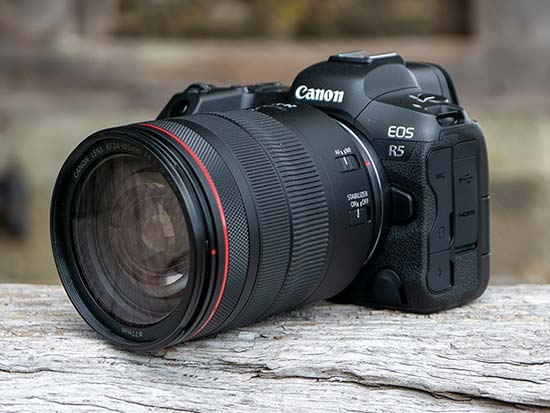 The EOS R5 has a magnesium alloy body with EOS 5D Mk IV levels of weatherproofing,so it should withstand most things that you throw at it.
Dual-card Slots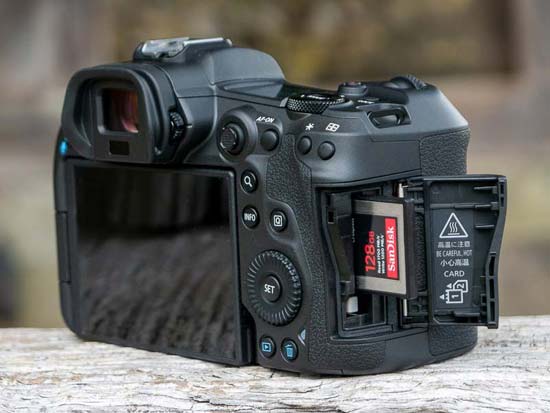 The EOS R5 supports both a high-speed CFexpress card, crucial for 8K video recording, and a SD UHS II card via dual slots.
Bluetooth and Wi-Fi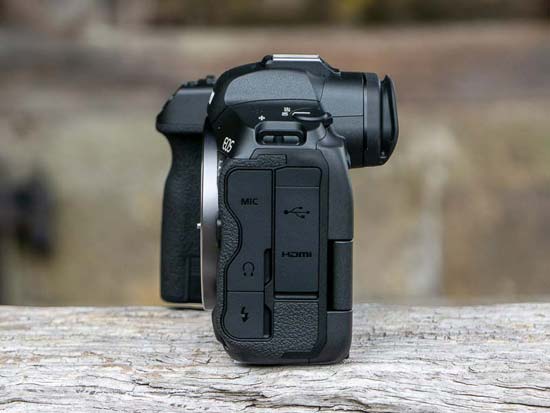 With built-in Bluetooth and 5Ghz Wi-Fi, the EOS R5 can be easily connected to a smartphone and networks, allowing high-speed file sharing and FTP/FTPS transfer.
It can also be remotely controlled using the Camera Connect and EOS Utility apps and tethered to a PC or Mac via Wi-Fi or high-speed USB 3.1.
LP-E6NH Battery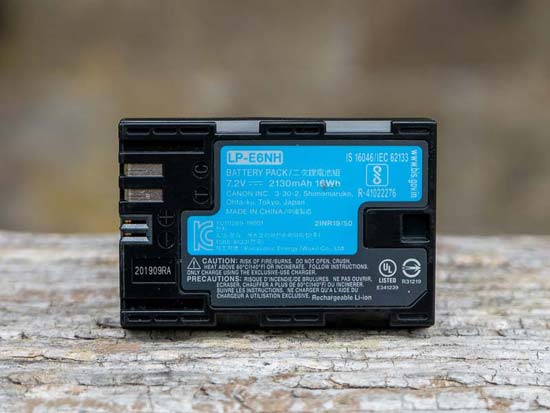 The LP-E6NH is a new longer life battery supplied with both the EOS R5 and EOS R6. It's backwards compatible with all existing cameras that use the LP-E6 series batteries. LP-E6NH replaces the LP-E6N, with an increased capacity of 14% reaching 2130mAh.
BG-R10 Battery Grip and WFT-R10 Wireless Transmitter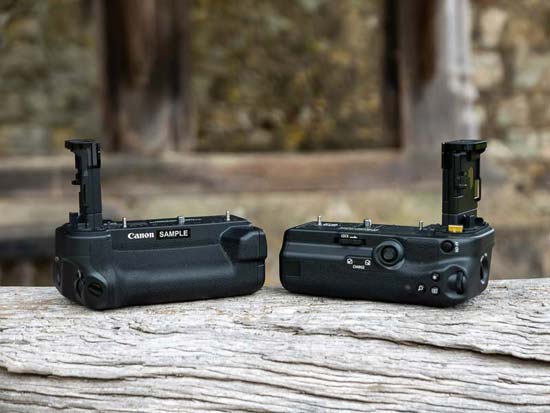 The new BG-R10 battery grip gives users the ability to power the EOS R5 using two batteries (LP-E6/N/NH) and also offers duplicate controls for easier vertical shooting. Note that the batteries have to be charged whilst the grip is fitted on-camera.
The WFT-R10 Wi-Fi transmitter features 2x2 MIMO antennas for faster and longer-range transmission, plus enhanced network processing enabling SFTP via Wi-Fi. It also includes a gigabyte speed via ethernet port. Note that this accessory only works with the EOS R5, and not the EOS R6.

Early Verdict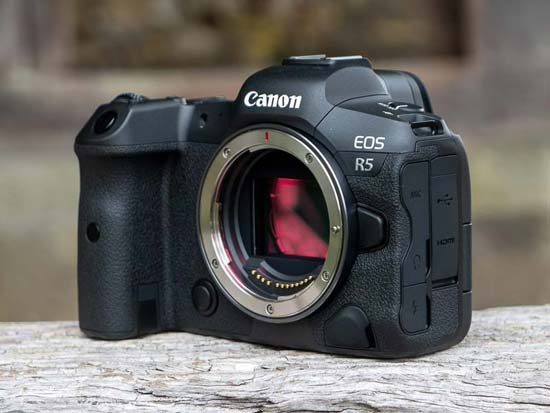 If the impressive spec sheet translates into real-world performance, it's clear that the new Canon EOS R5 will be the most capable all-round mirrorless camera on the market, satisfying the needs of videographers and photographers alike.
What do you think - is the EOS R5 the mirrorless camera that you've been waiting for? Leave a comment below!
Your Comments