Panasonic Lumix DMC-FX150 Review
Review Date: January 16th 2009
Author: Gavin Stoker
Leave a comment about this review
Image Quality
All of the sample images in this Review were taken using the 14.7M Fine mode, which gives an average image size of around 5-7Mb.
Blessed with winter sunshine, we were able to test the Panasonic Lumix DMC-FX150 under seemingly ideal conditions. Thus we were expecting much, and, for the most part we're happy to report that the camera didn't let us down. With crisp, clear and razor sharp shots being the rule rather than the exception, any instances of pixel fringing were well hidden, results vivid, colourful and well saturated when left to the camera's natural default settings. It's not all good news however, as indoors without flash and even with image stabilisation activated, results proved soft and noisy in the main. A certain amount can of course be put right in any image-editing package and, despite what we've said, good results are achievable with a little work. As it is, shots benefit from the application of Auto Levels and Unsharp Mask in Photoshop, which, in truth, you could say with regard to just about any digital compact. As for light sensitivity settings, auto ISO gets it spot on, indicating that the Panasonic Lumix DMC-FX150 may still be an option for the point and shoot brigade. More discerning users will be disappointed to learn however that readily visible noise creeps in from ISO 800, results at ISO 1600 indicating that Panasonic made the correct decision to cap proceedings there – as far as manual selection is concerned. Alternatively try out the High Sensitivity setting located among the scene modes and witness detail noticeably softened. White balance was a bit hit-and-miss when shooting indoors, our ISO test shots affected by a blue daylight colour cast. Not a clean bill of health then, but if there's plenty of light around you'll be rewarded with a surfeit of keepers.
Noise
There are 5 ISO settings available on the Panasonic Lumix DMC-FX150. Here are some 100% crops which show the noise levels for each ISO setting.
| | |
| --- | --- |
| | |
| | |
| | |
| | |
| | |
| | |
| | |
| | |
Sharpening
Here are two 100% crops which have been Saved as Web - Quality 50 in Photoshop. The right-hand image has had some sharpening applied in Photoshop. The out-of-the camera images are a little soft at the default setting ideally and benefit from some further sharpening in a program like Adobe Photoshop. You can also change the in-camera sharpening level.
| | |
| --- | --- |
| Original (100% Crop) | |
| | |
| | |
| | |
Chromatic Aberrations
The Panasonic Lumix DMC-FX150 handled chromatic aberrations excellently during the review. There's very slight purple fringing between areas of high contrast, but it's only noticeable on really close inspection, as shown in the example below.
Example 1 (100% Crop)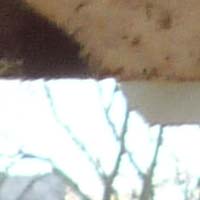 Macro
The Panasonic Lumix DMC-FX150 offers a Macro setting that allows you to focus on a subject that is 5cms away from the camera when the lens is set to wide-angle. The first image shows how close you can get to the subject (in this case a compact flash card). The second image is a 100% crop.
| | |
| --- | --- |
| | |
| | |
Flash
The flash settings on the Panasonic Lumix DMC-FX150 are Auto, Auto/Red-Eye, Forced On, Slow Syncro/Red-Eye and Forced Flash On. These shots of a white coloured wall were taken at a distance of 1.5m.
| | |
| --- | --- |
| Flash Off - Wide Angle (28mm) | Auto Flash - Wide Angle (28mm) |
| | |
| | |
| Flash Off - Telephoto (100mm) | Auto Flash - Telephoto (100mm) |
| | |
And here are some portrait shots. Neither the Auto setting and the Red-eye reduction modes caused any amount of red-eye.
| | |
| --- | --- |
| | Flash On (100% Crop) |
| | |
| | |
| | Flash - Red-eye Flash (100% Crop) |
| | |
Night Shot
The Panasonic Lumix DMC-FX150's maximum shutter speed is 60 seconds in the Manual shooting mode, which is great news if you're seriously interested in night photography. The shot below was taken using a shutter speed of 1/8 second, f/3.1 at ISO 400. I've included a 100% crop of the image to show what the quality is like.
| | |
| --- | --- |
| | Night Shot (100% Crop) |
| | |
| | |

PhotographyBLOG is a member of the DIWA organisation. Our test results for the Panasonic Lumix DMC-FX150 have been submitted to DIWA for comparison with test results for different samples of the same camera model supplied by other DIWA member sites.
Compare Prices
Support PhotographyBLOG: Buy the Panasonic Lumix DMC-FX150 from one of our affiliate retailers: