Pentax K-m Review
(also known as the Pentax K2000)
Review Date: December 1st 2008
Author: Mark Goldstein
Leave a comment about this Review
Introduction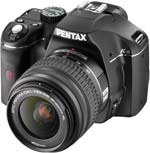 The Pentax K-m (more logically called the Pentax K2000 in some parts of the world) is Pentax's brand new entry-level DSLR camera, slotting into the range underneath the K-m model. Designed to be small, lightweight and simple to use, the uncluttered layout and aggressive price make the Pentax Km particularly well-suited to compact camera owners looking to make the step-up to a DSLR. Despite its budget leanings, the 10 megapixel K-m still offers some significant features, including a 2.7 inch LCD monitor, built-in Shake Reduction system to help avoid blurry photos, Dust Removal system to prevent dust from appearing, 3.5 frames per second continuous shooting, and an Auto Picture mode which promises to do most of the hard work for you. Auto sensitivity control up to ISO 3200, dynamic-range expansion, and a range of built-in digital filters complete the headline specifications of the AA-battery powered Pentax Km. Priced at a competitive £399.99 with the new smc DA-L 18-55 lens in the UK, and $699 with the same lens and AF200FG flash in the US, can the new Pentax K-m make its mark in the cut-throat entry-level DSLR market?
Compare Prices
Support PhotographyBLOG: Buy the Pentax K-m from one of our affiliate retailers:
Ease of Use
The Pentax K-m is outwardly very similar to its big brother, the K200D, with a couple of significant changes. When you pick the K-m up for the first time and attach the supplied 18-55mm kit lens, this DSLR actually feels quite impressive, despite its budget price-tag. Very little about the K-m build quality feels compromised - it even has a sturdy memory card door (typically a weak-point of entry-level DSLRs) and metal tripod mount. The K-m is just a little smaller than the Nikon D60 and E-420 from Olympus, but is heavier than both (particularly the E-420) - it definitely fits into the small and light DSLR category. As you'd expect at this price, and unlike the more expensive K200D, the Pentax K-m doesn't offer any form of weather-proofing. The camera has a deep, contoured handgrip on the right-hand side, coated in a rubberized compound to aid grip, that enabled me to use three fingers to hold it and my right forefinger to operate the shutter button. There is a generous contoured area where your right thumb sits, with the rest of the body finished in a textured matt black plastic. There's also a strange, thin silver rim around part of the body that in my opinion makes the K-m look cheap rather than stylish (which is presumably what the designers intended).
Just like Pentax's other DSLRs, the shutter release action on the Pentax K-m is quite loud and mechanical, something that you will either love or hate. I liked it, although it isn't great for close-up candid photography as your subject will probably hear you if you get too close. The Pentax K-m is certainly lightweight enough for you to carry around over your shoulder all day and not feel like you've been lugging bricks, even with the four AA batteries that power it inserted. Using a set of high-powered rechargeable Ni-MH batteries, the Pentax K-m was still going strong after 2 weeks of intermittent use and over 500 test shots - Pentax themselves claim a battery-life of between 1,000 and 1,650 shots, incredible for any DSLR, never mind such a cheap one. This makes the K-m a great choice for long trips away in far-flung climes, as back-up supplies can be easily found and replaced in whichever country you're in.
Less impressive is the Pentax K-m's 5-point auto focus system, which employs five sensors positioned in a cross pattern (one in the middle, two at sides, and two at top and bottom). The new system is quick to determine and focus on the subject if it's near the centre of the picture, although unusually busy scenes can cause it confusion, but the K-m did struggle a little to keep focusing on fast-moving subjects that travelled across the frame. Focusing is quite quick and consistent in good light with the new 18-55mm kit lens, and the camera happily achieves focus indoors and in low-light situations, just so long as the subject is in the centre, or you use the single AF point, focus on the subject and then re-compose the scene. The camera is also quick to get going. Flick the on/off switch that handily encircles the main shutter button and you're up and shooting in around a second, and with no noticeable shutter delay. This ensured it was rare that I missed a shot. Note that the 18-55mm lens has an annoyingly loud focusing mechanism though, and the powerful AF Assist lamp can only be used if the built-in flash is raised.
| | |
| --- | --- |
| | |
| Front | Rear |
The large 2.7 inch LCD screen is identical to the K200Ds - it's bright, clear and has a perfectly acceptable refresh rate and pixel count (230K dots). It takes less than a second to store a single JPEG image at the highest quality setting with no discernible lockup between taking shots, allowing you to keep shooting as they are being recorded onto the memory card. For single RAW images the Pentax K-m is just as fast, again with no lockup between shots. In the continuous shooting mode you can hold down the shutter button and take 3.5 frames per second for up to 4 JPEGS or 4 RAW files, or there's a slower 1.1fps mode available which allows you to shoot JPEGs until the memory card becomes full (there's still a limit of 4 RAW files in this mode though).
The K-m features the same dust removal system as the K200D. Although there may be nothing particularly revolutionary about it, the system works in three stages: first, an anti static coating on the CCD helps repel dust and other nasties, while secondly, any that do settle are shaken free by a high speed, vibrating CCD-shift mechanism. Lastly, a sticky pad at the base of the CCD collects any stray particles to prevent them from attacking the sensor a second time round. If you've had a bad experience with DSLRs and dust in the past, then the K-m offers a neat new feature called Dust Alert which is designed to show exactly where the dust is on the image sensor. A vertically and laterally correct image of the sensor shot at f/16 is shown on the LCD screen, indicate exactly where any stubborn dust particles may be lurking. While this feature won't prevent dust from getting onto the sensor, it does provide a quick and easy way of checking for it. In addition Dust Removal can be set to activate whenever the camera is turned on, and you can also use the built-in Sensor Cleaning function to lift the mirror and clean the image sensor with a blower brush or third-party cleaning solution.
Dust removal is twinned with a shake reduction feature, meaning that any attached Pentax KAF mount lens immediately becomes stabilized. Turn it on in the main menu and the K-m automatically compensates for camera shake, which is a slight blurring of the image that typically occurs at slow shutter speeds. In practice I found that it does make a noticeable difference, as shown in the examples on the Image Quality page. You don't notice that the camera is actually doing anything different when Shake Reduction is turned on, just that you can use slower shutter speeds than normal and still take sharp photos. Of course, it could be argued that the Pentax K-m's family market aren't going to be changing lenses or shooting under particularly testing conditions with any regularity, but both dust removal and shake reduction undeniably offer the camera a certain edge.
| | |
| --- | --- |
| | |
| Top | Front |
Keeping things beginner-friendly, images are saved to SD / SDHC cards, the most common media format currently available – a slot for which is accessed via the right hand side of the DSLR, if viewed from the back. The four AA batteries are stored in a separate compartment at the base of the handgrip. The main design differences between the K-m and the K200D are to be found on top of the camera. The K200d's LCD status display window has been removed from the K-m, presumably to make the design simpler and also to cut costs - instead a graphical status screen showing the main camera settings can be displayedon the LCD monitor. In its place, the shooting mode dial has been moved from left to right, resulting in an even more uncluttered interface than on the K200D. More experienced photographers will miss the LCD status display, but it probably won't even register with the K-m's target audience, as you still feel as though you can pick the K-m up and get shooting straight away, with no fiddly or strange control positioning to hamper or slow down operation.
The large shooting mode dial on top of the Pentax K-m offers dedicated modes for moving subjects, close ups and night portraits, flash off, macro, landscape and portraits – alongside the more creative likes of program, aperture priority, shutter priority, and manual. These are backed up by full auto (the Auto Pict mode) and 10 different scene mode settings. The latter includes a night scene setting, a surf and snow setting, a text mode, food, sunset, kids, pet, candlelight and 'flash prohibited' museum modes. All are indicated via the rear screen by unthreatening cartoon icons. The green Auto Pict mode has been upgraded for the K-m, now also automatically detecting scenes that require the Night Scene Portrait mode, in addition to the supported Portrait, Landscape and Macro scenes of older Pentax DSLRs with this mode. The camera automatically sets the aperture, shutter speed, white balance, saturation, contrast and sharpness, leaving you to get on with composing the scene and taking the picture. Pentax have also included the Sv mode from the K200D on the K-m. Sensitivity-Priority automatically selects the best combination of aperture and shutter speed for your chosen ISO speed. The sensitivity can be shifted instantly (in 1/2 or 1/3 steps) by turning the rear control dial. This allows you to quickly select an ISO speed, without having to access the menu system, which is very useful in rapidly changing light conditions.
Positioned next to the shutter release button is a dedicated button for aperture and exposure compensation adjustment (+/- 2EV), performed in tandem with the command dial that falls under your thumb at the back of the camera. To the right is a new Help button, which when pressed briefly explains the functions of each button, lever or option on the camera - another useful feature for beginners. To the left of the shooting mode dial is a hump that houses the built-in pop up flash, and as expected you also get a hot shoe for additional illumination via an external flashgun, should it be desired. Just behind this, and above the optical viewfinder – which in itself is large and clear – is a large slider for diopter adjustment. Note that the Pentax K-m does not have any form of Live View mode, and the K200D's Digital Preview setting has also not made it down to the K-m.
| | |
| --- | --- |
| | |
| Memory Card Slot | Battery Compartment |
The Pentax K-m's optical viewfinder is pleasant enough to use for such a cheap camera, offering approximately 96% field of view and 0.85x magnification.The 2.7 inch LCD screen offers good visibility is even in bright sunlight and the on-screen menus and icons are legible and easy to navigate. To the right of the screen are an array of four vertical buttons, including the familiar playback, info, menu, delete and buttons. Pressing 'Menu' accesses the much-improved, more logical main menu system. You're given the choice of four horizontal folders. Image record/capture mode and playback settings are displayed next to each other so you can make decisions and adjustments on the fly. The third folder contains the familiar set up options, with the fourth affording access to custom settings. A nice touch is that each folder is split into a varying number of pages, with a maximum of 7 options per page so that you never have to scroll down past the bottom of the screen. To the right again is a four way control pad with central OK button – a similar set up to that found on most digital compacts that will be familiar to those trading up. The top control for manually activating the pop up flash is now positioned to the far left of the optical viewfinder.
Once you have captured a photo, the Pentax K-m has an above average range of options for playing, reviewing and managing your images. You can instantly scroll through the images that you have taken, view thumbnails (up to 4, 9 or 16 images), compare two images, view a calendar that groups your photos by day, zoom in and out up to a magnification of 16x, and see detailed information about each image by pressing the Info button. You can also delete single or multiple images, view a slideshow, resize and crop an image, protect images so that they cannot be deleted, and set various printing options, including creating an Index sheet of multiple thumbnails.
There are also an expanded range of digital effects available which can be applied to JPEGs - Toy Camera, Black and White, Sepia, Color, Soft, Illustration, High Dynamic Range, Star Burst, Retro, Slim, Brightness, Extract Colour and a Custom mode. The K-m shows you a preview of what the effect will look like when applied, and the effect is applied to a copy of your image, thus preserving the original intact. You can even convert a RAW file into a JPEG in-camera, with 8 different parameters available - impressive functionality for an entry-level DSLR.
Importantly the Pentax K-m can display a histogram after taking a photo (just press the Info button) which is a great help in evaluating the exposure, plus any areas that are over-exposed flash on and off in the LCD preview to show you want you should be compensating for with your next attempt (you can turn this on or off). If you have never used a digital camera before, or you're upgrading from a more basic model, reading the comprehensive and easy-to-follow manual before you start is a good idea. Thankfully Pentax have chosen to supply it in printed format, rather than as a PDF on a CD, so you can also carry it with you.
In summary the Pentax K-m is an appealingly simple, no-frills digital SLR camera that offers few surprises, but also very few flaws.

PhotographyBLOG is a member of the DIWA organisation. Our test results for the Pentax K-m have been submitted to DIWA for comparison with test results for different samples of the same camera model supplied by other DIWA member sites.
Compare Prices
Support PhotographyBLOG: Buy the Pentax K-m from one of our affiliate retailers: