Samsung NV100HD Review
(also known as the TL34HD)
Review Date: December 19th 2008
Author: Gavin Stoker
Leave a comment about this review
Introduction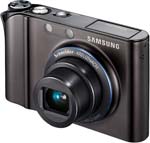 The Samsung NV100HD (also known as the TL34HD in North America) is the new range-topping model in Samsung's stylish NV compact camera series. As the initials 'HD' suggest, the NV100HD joins a small but growing number of cameras offering a High Definition 720p, 1280x720 pixel video mode, which is quickly becoming the de facto standard. Also on offer is a massive 14.7 megapixel resolution, 28mm wide-angle lens, innovative touchscreen interface via the 3-inch, 460K pixel LCD screen, ISO 3200 mode and Optical Image Stabilization. Samsung cameras are always price-competitive, and the NV100HD is no different - despite the multitude of features on offer, it only costs a recommended £229 / $329.95. So is the Samsung NV100HD more than the sum of its parts, or something of a dog's dinner? Gavin Stoker found out...
Compare Prices
Support PhotographyBLOG: Buy the Samsung NV100HD from one of our affiliate retailers:
Ease of Use
Although as a rule we either love or hate touch screens, there's a grey area in the middle where doubters can be won over if such panels actually prove to speed up implementation of functions and features, rather to be just an attention-seeking gimmick. A case in point is Samsung's slender point and shoot pocket camera, the NV100HD, which aside from flaunting a better than average 1280x720p 30fps High Definition video clip capability, further dares to be different by featuring a huge 3-inch, 460k-dot resolution touch screen, thus mounting a challenge to the likes of Sony's similarly prod-able Cyber-shot T300 model. Resolution wise, Samsung also takes on Sony's high resolution W300, Canon's Digital IXUS 980IS and Nikon's Coolpix S710 courtesy of its class leading 14.7 effective megapixel images. And at a suggested UK manufacturer's price of £229, on initial inspection, and for that level of spec, the NV100HD appears very fair value indeed.
Leaving aside the obvious question as to whether we truly need all those pixels, or indeed whether the Schneider Kreuznach lens in use is capable of resolving them all, other key features include 28mm at the wide end for those group portraits and landscape shots (though not as wide as the 10 megapixel NV24HD's class-leading 24mm). Light sensitivity stretches from ISO 80 up to ISO 3200, if with a resolution drop to three megapixels, while 13 optimised scene modes include the unusual likes of a dedicated setting for cafés alongside the more familiar portrait, landscapes and fireworks options, plus macro close ups down to 5cm and a Samsung exclusive beauty mode for zapping spots and blemishes in-camera.
| | |
| --- | --- |
| | |
| Front | Rear |
Unusually for a compact, the NV100HD's flash is of the automatic pop up variety, sunk within the top plate when not in use. This lends the camera a minimalist streamlined appearance when viewed from the front, with a small round windows for the AF-assist/self timer lamp and a further sensor for an optional remote sitting above and slightly to the left of the retractable 3x optical zoom lens (a 35mm equivalent of 28-102mm). The mix of dull silver and choice of coloured side panel and top plate lends this Samsung an almost 1950's retro look, particularly if you're examining the red paneled version. The camera itself pulls off that familiar digital compact trick of being at once lightweight yet sturdy in the palm when gripped, its construction a mix of metal and plastic.
Switch the Samsung NV100HD on via the recessed power button that sits alongside the larger shutter release and mode dial – the control layout subconsciously recalling a retro-styled Roberts radio – and the rear LCD that is your only means of composing a frame bursts more or less instantly into life, the on/off button glowing with an attractive blue light in use, a built in speaker stationed next to it.
My opinion of said LCD changed over our test period. At first I found the bright and clear screen with its obviously-designated cartoon-like icons a definite improvement over the unmarked black piano 'Smart Touch' keys of its NV-series predecessors, whereby you first had to run a finger across the controls for their purpose to be illuminated. For me, this former 'guess and press' functionality slowed operation and so served to frustrate.
| | |
| --- | --- |
| | |
| Rear | Top |
However, over time I also became frustrated with the NV100HD's on-screen control layout. By being fully featured it's also fairly cramped. This, coupled with the screen's sensitivity, means that when jabbing a finger at the glass it's too easy to accidentally select a function adjacent to the one you wanted, while a gentle brush of the thumb over the screen, as you attempt to hold the slim camera level and steady with both hands, also results in unwanted features being called up and implemented. In this way it's easy to select a shooting function without realizing and happily snap away, later wondering why the images didn't look as you expected. The fact that you have to be on your guard against this accidental activation distracts from the reason you picked up the camera in the first place: namely the subject in front of your lens.
Still, with a half press of the shutter release button the Samsung NV100HD is reasonably swift to determine focus and exposure, committing highest resolution JPEGS to memory in just over a second, the screen blanking out momentarily. In the absence of an optical viewfinder, the larger screen does come into its own for accurate framing, however it inevitably quickly becomes smeared with finger and thumbprints.
Of course touch screen operation allows for a minimal amount of physical controls, thus keeping the camera otherwise streamlined and minimalist in appearance. However, as mentioned, the NV100HD still finds room for a shooting mode dial atop the camera, the size of a halfpenny, or dime. Squeezed around this are auto mode, program and manual modes, plus video, scene, dedicated beauty shot mode (with a choice of three levels of face retouching and toning), night scene mode, plus a shaky hand icon indication dual IS mode (optical image stabilisation plus higher ISO and faster shutter speed). As you turn this dial, a virtual version appears centre of the screen, with each mode's function briefly