Sony Cyber-shot DSC-T500 Review
Review Date: March 4th 2009
Author: Gavin Stoker
Leave a comment about this review
Introduction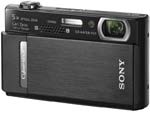 The Sony Cyber-shot DSC-T500 is a slim and stylish ultra-compact digital camera featuring a metal body, sliding front plate and folded optics. Highlights of the T500 include a 10 megapixel sensor, 33-165mm equivalent 5x zoom lens, large 3.5-inch touch-sensitive rear screen, Super SteadyShot optical image stabilisation, face and smile detection technology, ISO 3200 and intelligent scene recognition. The Sony T500 also boasts 1280x720 pixel 720p HD movie recording with stereo sound and HDMI output. Available in silver, black and red, the Sony DSC-T500 currently retails for around £289 / $399 - carry on reading our in-depth review to find out if it's worth considering.
Compare Prices
Support PhotographyBLOG: Buy the Sony Cyber-shot DSC-T500 from one of our affiliate retailers:
Ease of Use
Resembling an old-fashioned cigarette case, courtesy of its silver brushed metal front - 5x Carl Zeiss Vario Tessar zoom lens hidden by slide-open lens cover that stretches the width of its faceplate - the 10.1 effective megapixel Cyber-shot DSC-T500 continues Sony's successful run of minimalist and slender Cyber-shot compacts. Not much larger than a credit card, their ethos appears to be mainly one of simplicity. A case in point: Like the T300 we rated last summer, the T500 panders to the iPhone generation with almost its entire back plate being given over to a 3.5-inch, 230,400 dot resolution touch screen LCD. Only a thumb switch for alternating between stills and video capture modes, itself encircling the shutter release button, intrudes top right. There's obviously no optical viewfinder to fall back on. Although it also features a top mounted power button, the act of sliding open the faceplate activates the T500, so the user can be up and shooting with a similar ease to taking snaps on their Sony Ericsson mobile phone.
Boasting a list price of £289 at the time of writing, the mostly metal Sony Cyber-shot DSC-T500 feels rock-solid sturdy yet lightweight at 180g when gripped in the palm, although admittedly there are very few protrusions on this camera with which to achieve said grip. The one concession is a raised lip - grey on our silver review sample, with a stippled appearance - that forms part of the right hand side of the sliding lens cover. This provides purchase for your fingers as your forefinger hovers over the shutter release button and your thumb inevitably smears the screen at the rear with greasy marks.
Like its predecessors the T500 features Sony's double anti blur technology, which translates as Optical SteadyShot plus additional high sensitivity, the latter maxing out at ISO 3200. Also present and correct is this year's must have of High Definition video clips, here in PC friendly MPEG-4 format with use of the optical zoom and the ability to fire off a snap in the middle of filming - though the T500 boasts a maximum 1280x720 pixels video at 30fps as opposed to a full HD 1920x1080. Still, this is an improvement on the T300's standard 640x480 pixels video, and comes with stereo sound too. So what if individual clips are limited to 10 minutes duration, that's more than enough for most of us, with Sony suggesting 60 minutes of footage can be captured if opting for a 4GB removable Memory Stick Duo (or Pro Duo).
HDMI (High Definition Multimedia Interface) output is additionally offered - via a desktop docking station into which the camera slots, upright - being useful for those who already own one of the company's Bravia HD sets, though the requisite cable is again an optional extra (at £39). AV out, USB in and mains power connections complete the available ports - again these are accessed via the docking station, with the Sony Cyber-shot DSC-T500 in situ, rather than being featured on the camera itself.
Press the top-mounted power button or slide open the faceplate and the T500 readies itself for action in a second or so, the rear LCD bursting into life sound tracked by an ident-like 'sting'. With a definite halfway point you can feel when depressing the shutter release button just enough for it to determine focus and exposure, a task it achieves quickly. With maximum resolution JPEG images committed to memory in around three seconds, the screen blanks and then displays the captured image momentarily before you can go on to take another.
| | |
| --- | --- |
| | |
| Front | Rear |
Sliding down (and open) the lens cover also reveals the stereo microphone, built-in flash, self-timer lamp window plus of course the lens itself. Incidentally, as with its forbears it's all too easy for fingertips to stray into shot, the lens positioned as it is to the far right hand side (if viewing from the front). Around the front of the shutter release button is a spring-loaded switch for operating the zoom and alternating between wideangle and telephoto. This felt slightly loose on our review sample, the action of the zoom itself leisurely smooth and steady, rather than rapid.
Moving to the back of the Sony Cyber-shot DSC-T500, the central portion of the screen displays the image before your lens in 4:3 ratio, while two menu bars with white text or icons on an all-black background frame it on either side - in effect cropping the screen's full 16:9 ratio. Top of the left hand bar, in regular stills capture mode, is a means of accessing Sony's 'Home' menu with the jab of a finger. Press this lightly and the user is instantly provided with an overview of the camera's main functions - shooting, playback, direct printing, 'memory tool' (with the ability to format the media in use, copy or create new recording folders) plus a composite set up menu that includes the ability to deactivate the camera's annoyingly cheery 'bleep' that otherwise sounds at every button press.
If we've one complaint about the screen it's that if anything it's a bit too sensitive, and so those with sausage fingers (or even the rest of us in a rush to get the possible shot we've just seen) may well find themselves inadvertently selecting features adjacent to the ones they actually wanted. It's not quite as bad for this as Samsung's competing NV100HD however.
Bottom of the left hand bar is a second virtual button marked Menu. As we've remarked before, we don't know why Sony, unlike every other manufacturer, doesn't combine the functionality offered by Home and Menu. Here the latter provides access to the likes of record mode (single or continuous shooing), exposure compensation (+/- 2EV), switching red eye reduction and/or face detection on/off, or jumping straight to the set up menu that mirrors exactly what you can access via the Home button. On one hand, dividing up the functionality in this manner creates confusion for those well used to handling cameras from other brands, though, in concession, 'Home' with its very naming has a friendly feel about it; a comforting place for the uninitiated to return perhaps should they feel overwhelmed or lost.
Returning our attention to the left hand bar, between the Home and Menu buttons we find an icon providing access to JPEG image sizes and ratios via a fold-out menu that extends from left to right across the screen. Here there's everything from the full 10 megapixels in 4:3 ratio to two megapixels in 16:9 ratio (at which point the black bars left and right of screen disappear and you have its entirety at your disposal for composition), with an email friendly VGA quality 4:3 ratio option thrown in for good measure. No RAW or TIFF here.
The next icon down gives the self timer options (off, ten seconds or two seconds), while the final icon sandwiched between Home and Menu lets the user switch between auto capture, scene modes (where we also, slightly inexplicably, find the means of manually adjusting ISO alongside the more regular pre-optimised snow, beach and firework options) and program mode. Press Menu again while in the latter mode and as you'd expect there are a wider range of options at your disposal, including manually adjusting white balance, adjusting flash intensity and choosing which SteadyShot anti shake mode to use: either active when the shutter button is pressed halfway, always on or off.
| | |
| --- | --- |
| | |
| Battery Compartment | Memory Card Slot |
In Program mode a further toolbar appears along the bottom of the T500's screen, with, moving from left to right, an additional choice of focus options - multi AF, centre AF or spot, plus manually selectable ranges of between one to seven metres and infinity. Next along this bar is a choice of metering modes - the standard multi, centre or spot - plus, next again, a more literally 'to hand' means of adjusting ISO and exposure compensation.
Finally, the bar to the right hand side of the screen (in standard 4:3 ratio capture modes) features icons for turning flash on or off (along with forced flash, and slow synchro settings) plus macro on/off. Book-ending these two options are, at the top of the bar, a self-explanatory and useful 'back' button, and at the bottom a display button. This provides the choice of the default 'normal' display as described above, a 'simple' version or an image-only option, which as it sounds turns off all the toolbars and buttons (apart from display itself). In display mode users can also call up a live histogram or switch it off, plus adjust LCD brightness. Switch the capture mode from stills to video, and users have the ability - again via the left hand bar - to adjust image size and alter compression levels, plus, via the Menu button, select a normal colour, sepia or black and white mode to shoot in.
Staying with the rear screen menus and options, switch to playback mode via the top-mounted button adjacent to its on/off control, and review options are again presented left and right of screen and top to bottom. Down the left, users have the ability to dip in and out of created folders of images, select slideshows, or delete duff shots - with the 'back' button again coming in handy if you want to change your mind. Also useful is the fact that you can scroll up and down through an entire folder of images, presented on screen as a grouping of six visibly large enough thumbnails at once, which saves time. This number can be bumped up to 20 on screen at one time if your eyesight is particularly impressive.
Press Menu in playback mode and there's the ability to protect an image from accidental deletion, or earmark it for direct printing. Press the shutter button halfway at any point and the user is helpfully catapulted back into capture mode. And that's basically it. Touch screen operation is either love it or hate it - luckily the buttons and icons (not to mention 3.5-inch screen itself) are just large enough for finger operation (no alternative stylus is provided), though with the caveat it's occasionally fiddly and the conflagration of options around the screen (especially in Program mode) can be rather distracting from the central image itself.
The bottom of the Sony Cyber-shot DSC-T500 features the standard screw thread for attaching it to a tripod, alongside which is a narrow flap with lockable catch that protects the shared lithium ion battery and removable media (an optional Memory Stick Duo with a hardly worth it 4MB internal memory to fall back on). Incidentally the battery didn't last long enough for our liking - Sony suggesting a paltry 80 minutes or 160 shots - which is half as long as rivals in its class. As a result the on-screen icon was showing it was almost spent after a day and a half of occasional use, so if you're heading off on holiday you'll want to drag its charger with you.
The Sony Cyber-shot DSC-T500 is best viewed as a premium quality snapshot camera. Like a Mercedes car it's flash looking yet ultimately sensible, it functions well (for the most part) and doesn't really claim to do anything else than what it actually does.

PhotographyBLOG is a member of the DIWA organisation. Our test results for the Sony Cyber-shot DSC-T500 have been submitted to DIWA for comparison with test results for different samples of the same camera model supplied by other DIWA member sites.
Compare Prices
Support PhotographyBLOG: Buy the Sony Cyber-shot DSC-T500 from one of our affiliate retailers: