Canon EF-M 18-55mm f/3.5-5.6 IS STM Review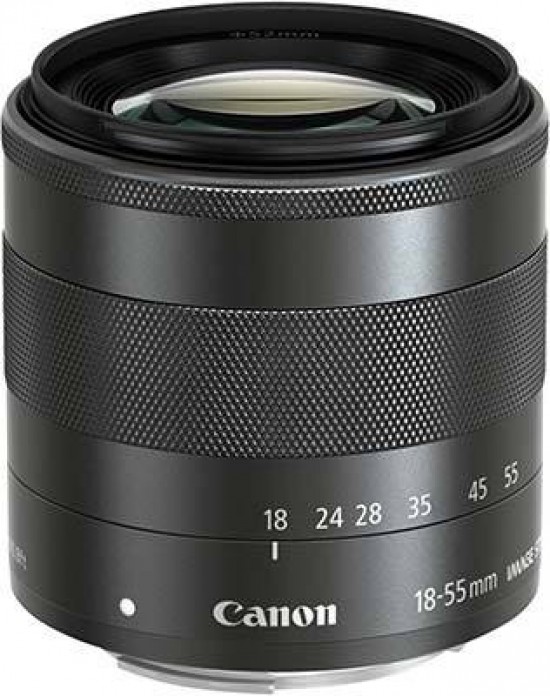 Conclusion
The Canon EF-M 18-55mm f/3.5-5.6 IS STM is a competent standard zoom lens for the new EF-M system, rather than a spectacular one.
The Canon EF-M 18-55mm f/3.5-5.6 IS STM's build quality is reassuringly good, and it's a well-suited match to the EOS M, where the focal length changes to 29-88mm. Auto-focusing is quiet and fairly quick on the EOS M with the latest firmware, with the ability to instantly manually override it via the focus ring if required proving a nice touch, although it is the slowest of the three EF lenses currently on sale.
Image quality is only fairly good, with sharpness decreasing as you move through the focal range. It's fine at 18mm, but by 35mm the edges are suffering, and at the maximum 55mm telelphoto setting you need to stop down to f/11 to get acceptanle results. Geometric distortion is high at the wide-angle focal length, there's obvious corner shading too, and and chromatic aberrations and flare are reradily apparent.
In summary the Canon EF-M 18-55mm f/3.5-5.6 IS STM very much fits the mould of a standard kit lens - small, light and offering only satisfactory image quality. On the plus side, it is well-built and usefully features image stabilisation, so is still worth considering as a do-it-all lens for the EOS M.
Ratings (out of 5)
Design
4
Features
3.5
Ease-of-use
4
Image quality
3.5
Value for money
3.5