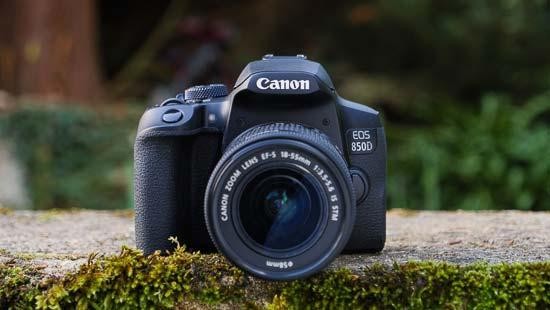 Introduction
The Canon EOS 850D (also known as the Canon EOS Rebel T8i) was announced in February 2020 and replaces the three-year-old EOS 800D as the company's upper entry-level DSLR camera with APS-C sensor, positioned above the EOS 250D and below the EOS 90D.

These days there is very little activity in this sector of the camera market and an overall sense of stagnation.

Both DSLR rivals, the Nikon D5600 and Pentax K-70, are four years old now.

Put the EOS 850D up against the EOS 800D and there is little to choose between them.

So what is new? 4K video is introduced - that's old news for mirrorless cameras but new to an entry-level DSLR. However, it's not without limitations and we'll get into that.

There's the more recent Digic 8 processor and greater AF-point array in live view mode, while the high speed shooting mode is a fraction faster at 7fps.

Overall the Canon 850D feels like a EOS 800D/ EOS M50 hybrid.

With those incremental changes the EOS 850D remains competitive, certainly for those fixed to the DSLR type.

Its feature set includes the faithful 24.1 megapixel APS-C sensor, 1.04-million-dot vari-angle touchscreen, 7fps burst shooting and Canon's legendary dual pixel phase detection AF.

If photography is the main focus then the EOS 850D is still a well-rounded choice for beginners, but for those as keen to explore video making then it lags behind mirrorless rivals.

The Canon EOS 850D / Canon EOS Rebel T8i was announced in February 2020 and is available now in black, costing £839.99 / $749.99 body only or £929.99 / $899.99 with the 18-55mm f/4-5.6 IS STM kit lens (28-88mm equivalent).
Ease of Use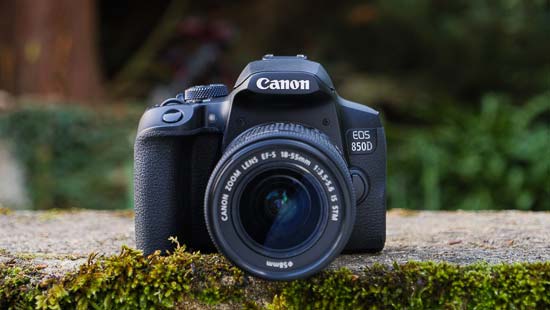 Front of the Canon EOS 850D
As an entry-level DSLR camera, the Canon EOS 850D is not the smallest around. The EOS 250D and Nikon D5600 are both smaller and lighter. Mirrorless rivals are a further percentage smaller, especially in depth and height.
However, the EOS 850D is still compact and certainly lightweight at 515g with memory card and battery inserted. It may be a DSLR, but it ain't heavy.
Being the size it is and being so lightweight exemplifies the plastic build quality - this does feel like a low-end DSLR that needs looking after.
For example, the EOS 90D is also plastic but somehow feels tougher, while the larger Pentax K-70 is made from tougher stuff.
However, like most other DSLRs, the form factor of the Canon 850D is lovely. You get a firm hold of the camera with its generous hand grip. Not quite as fitted as the EOS 90D, but it holds well.
It's complemented by a logical button layout. There's no shortage of manual controls on the body, while the on/off/ video mode switch is built around the shooting mode dial positioned next to your resting thumb.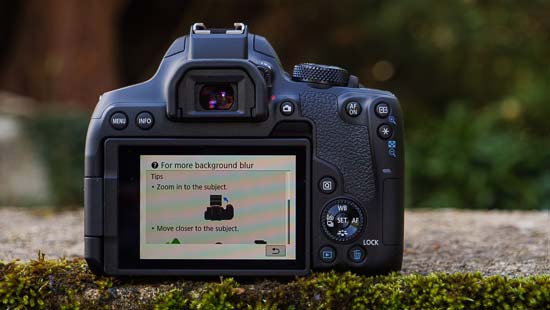 Rear of the Canon EOS 850D
One feature that locks 'traditional' photographers to a DSLR over the more modern mirrorless cameras is the optical viewfinder.
We won't get into the optical versus electronic viewfinder debate here, but we will comment on the display size.
Optical viewfinders provide a bright display. However, it's our opinion that an optical viewfinder such as the one here is less useful than those in enthusiast and professional-level DSLRs for two reasons; display size and frame coverage.
The unit here has a 0.82x magnification and the display itself appears smaller compared to those found in higher-level DSLRs, even EVFs.
Put it this way, the display does not fill your vision and feels a tad on the tunnel side, plus it exhibits chromatic aberration at times.
Also, the display is only 95% coverage of the sensor, meaning the outside 5% of a picture is not seen in the display.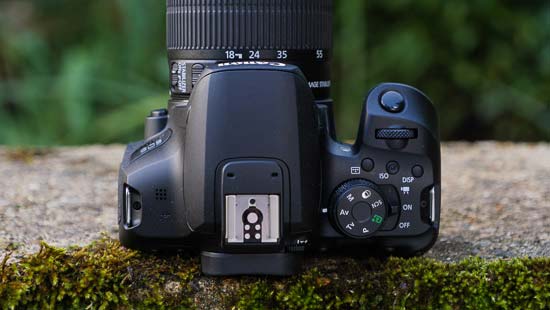 Top of the Canon EOS 850D
Larger optical viewfinders offer a 100% coverage, again even in the Pentax K-70.
Should you stick to composing images via the viewfinder, the Canon EOS 850D offers an excellent battery life of 800-shots (even though it is a tiny 1040mAh battery unit). Mirrorless rivals can't come close to this.
There is a caveat if battery life is a dealbreaker. Mirrorless cameras often offer on-the-go charging via USB - this camera does not.
Also, we gravitated towards using the Canon 850D's LCD screen over the viewfinder (we'll explain why next). With this method, battery life drops to 310-shots.
Canon sticks with the same polished 1.04-million-dot vari-angle touchscreen as found in the EOS 850D.
It's a breeze to use, offering full touch function including menu navigation, touch shutter and AF and image playback.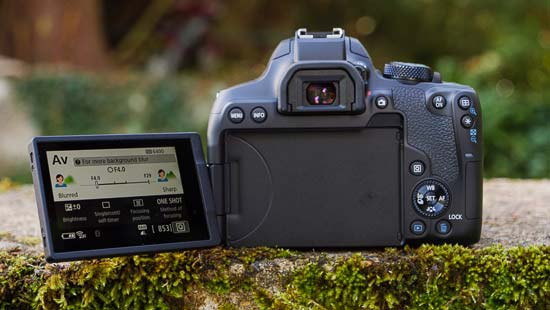 Tilting LCD Screen
With bright display, 100% frame coverage and full tilt and swivel positioning, it's an easier and more versatile display than the viewfinder.
Also, Canon's excellent dual pixel AF is as effective in liveview (screen) mode as it is in viewfinder mode.
Our choice of image display is part testimony to the effectiveness of the lovely LCD touchscreen and part to the limitation of the viewfinder.
If the viewfinder display was larger and had full coverage we'd use it more. It's a feature that could have set the EOS 850D apart from mirrorless.
As such, outside of low light shooting where the optical viewfinder is brighter, conserving battery life is one of the main reasons to use it. This type of viewfinder makes way more sense with full coverage and larger display size.
Out of the box, the Canon EOS 850D offers a 'guided' menu system designed for beginners. Its graphical user interface explains camera basics, for example the effect of aperture on background blur and additional tips on how to achieve more blur.
Memory Card Slot
In this menu, direct access to exposure changes is slightly convoluted - really (and logically) this menu is for those that stick the camera in auto and shoot away.
Once you have learnt more about photography and your skill level has grown, naturally you will switch to the 'Standard' menu - Canon's familiar DSLR menu system.
Here the access to camera settings such as exposure changes and AF mode tweaks is more straight forward. The whole approach makes total sense.
As for the buttons and controls, you have a top dial and rear control wheel for key adjustments to settings such as autofocus area and exposure.
There's also a smattering of small buttons for settings such as ISO and autofocus mode.
Two doors are built into the faux leather finish on the left side of the Canon 850D.
Inside you will find ports for microphone, wired remote, USB and mini HDMI. Unsurprisingly, there is no headphone jack.
Front of the Canon EOS 850D
And given the technology remain mostly similar to three to four years ago, this is not a data hungry device. The single SD card slot compatible with the slower UHS-I speed card suffices.
For example, we made high-speed 7fps sequences (7.5fps when using the electronic shutter) using a best-in-class UHS-I U3 card and the Canon EOS 850D managed around 55 RAW and JPEG shots before it stopped.
The buffer takes around 15 seconds to process all of those images before the camera is fully functional again. For this level of camera, that's a respectable performance, although it's no action king.
Where the EOS 850D stands tall among entry-level DSLRs is the introduction of 4K video. However, the promise of 4K video does not come without compromise. It's not oversampled and incurs a 1.6x crop.
The 18-55mm lens in use for this test has a 28-88mm (effective) focal length that with the additional 1.6x crop is 45mm at its widest setting. There are further issues that we will get into shortly.
Once you get to grips with the Canon EOS 850D, it is a responsive camera. Start up time and shutter response is rapid, as is the autofocus. It's Canon's well-regarded Dual Pixel phase detection AF that works very well for both photography and video.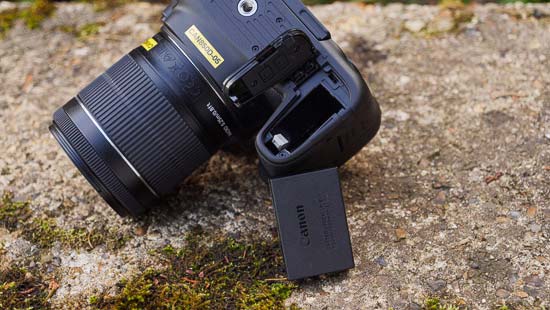 Bottom of the Canon EOS 850D
You've still got the same 45-point AF array when using the viewfinder just like with the EOS 800D. Each AF point is the more sensitive 'cross-type' and AF response and accuracy is impressive even in low-contrast light.
What's new here over the EOS 800D is the wider array of AF points in live view mode - 143 in all, just like in the EOS M50. There's also an effective Face or Eye detection AF in live view.
Sadly, phase detection AF is not available when shooting 4K videos. You're left with a slower and less accurate effective contrast detection AF. However, stick to Full HD and autofocus is very fast.
Depending on your AF mode, it can be just as easy to navigate the AF area when in viewfinder or live view mode.
We like the small Zone AF mode and changing this area using the rear control wheel where necessary via the viewfinder is a breeze. Likewise, for single point or tracking AF, the touchscreen works a treat.
We also now have a 5-axis digital in body image stabilisation (IBIS), for video only. It's effective. The 'Standard' mode is good for smooth panning shots while the 'Enhanced' option is best suited for walking with the camera in-hand videos. It's no gimbal, but it's a great option.
There is a compromise when using digital IBIS - a significant crop of the video image, both 4K and Full HD.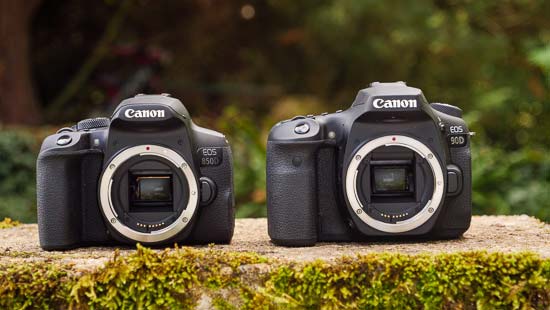 Compared to the EOS 90D
Set to the enhanced mode and the 4K image area in play is only 48% (that's two-fold resulting in a 2.2x crop), while for Full HD it is 70%.
So, with the same 18-55mm lens in 4K video with enhanced stabilisation, 62mm (effective) is the widest possible focal length, meaning something like 4K selfie v-logging is not really an option.
Sensor crop, stabilisation crop, contrast detection AF only. 4K video is not all that it is cracked up to be, unless you desire the extra reach in your shots.
On the other hand, full HD 1080p videos are possible up to 50fps and backed up with Canon's effective Dual Pixel AF. The crop factor from using image stabilisation is the only limiter.
Canon rarely implements IBIS for photography, which is instead gained through any one of Canon's lenses equipped with optical stabilisation, including the 18-55mm kit lens used in this test.
To test optical stabilisation we took a series of images at various shutter speeds and repeated this test at a number of focal lengths. Overall, we found stabilisation to be effective to around 3.5EV, although this performance may differ on other lenses.
Overall, there's certainly enough here to accommodate beginners and challenge the enthusiasts in the way that the Canon EOS 850D handles. This is no slouch, although there are some limitations depending on your use.