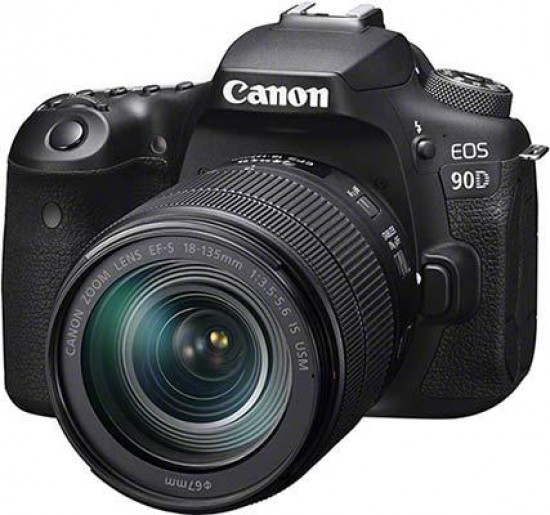 Introduction
Announced at the same time as the EOS M6 Mark II, the new Canon EOS 90D is one of just a handful of DSLR cameras announced in the past couple of years, and is the second to be announced by Canon this year.

Sitting in the middle of Canon's extensive DSLR line up, it replaces the 80D, but brings in some of the features we might normally expect to be more at home on the even more advanced 7D line. Designed to appeal to enthusiast photographers, the Canon 90D includes a range of features which are well-suited to lots of different types of subject.

There's a 32.5 megapixel APS-C CMOS sensor, the highest resolution ever found in a Canon APS-C DSLR, which is joined by Canon's latest Digic 8 processor. It builds on the autofocus system of its predecessor, the 80D, by utilising 45 cross-type AF points.

10fps shooting is available when using the 90D's viewfinder, or 11fps if you switch to shooting in Live View. In terms of video, there's 4K, which is finally uncropped which could also make the 90D potentially appealing to videographers as well as photographers.

At the time of writing, the Canon 90D costs around £1200 / $1200 body only, $1349 with the EF-S 18-55mm f/3.5-5.6 IS STM lens, or £1599 / $1599 with the 18-135mm f/3.5-5.6 zoom lens that we've been using during our review.
Ease of Use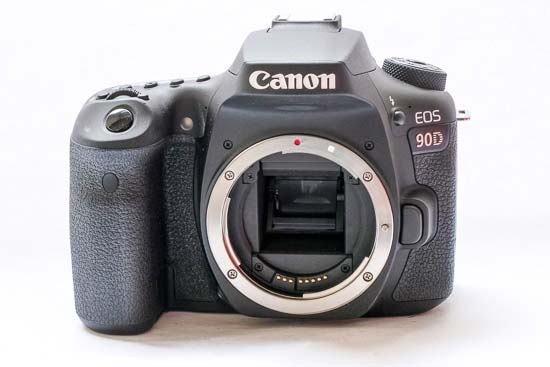 Front of the Canon EOS 90D
In terms of body design, the Canon 90D is not a huge departure from the 80D, and if you're somebody who likes the look and feel of a reasonably bulky DSLR then you'll be happy that Canon hasn't abandoned its DSLR line-up altogether.
There's a very chunky grip, while the whole body has a textured coating which gives it a high-quality feel. It's not 100% weatherproof, but it does have water and dust resistance so it should stand up reasonably well to the elements - perhaps don't leave it outside during a thunderstorm, though.
Another bonus of having a larger body than the dozens of mirrorless models which have been announced since the 80D made its arrival, is that the Canon 90D has plenty of space for buttons and dials, of which there are many to be found.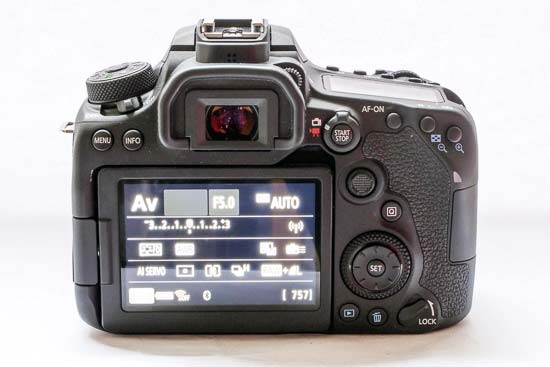 Rear of the Canon EOS 90D
On the top of the Canon EOS 90D you have a secondary LCD screen which shows you key settings at a glance, while there's also a mode dial which houses the various modes that the 90D offers.
You'll find all the usual semi-automatic and manual modes, as well as fully automatic, scene, and filter options as well as two slots for groups of saved settings, which are useful if you're often shooting a specific type of scene.
Above the secondary LCD screen is a row of direct-access buttons for certain settings, including AF operation, drive mode, ISO and metering. There's also a button for turning on the secondary screen's illumination as well as one for choosing AF point selection type (Spot AF, 1pt AF, Zone AF, Large Zone AF, Auto Selection AF).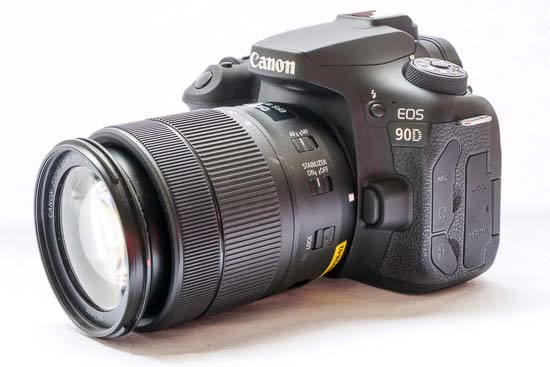 Front of the Canon EOS 90D
A dial sits where your forefinger would naturally rest which you can use for a variety of functions depending on the shooting mode you're in - for example, in aperture priority it controls aperture, while you can also use it to help navigate through menus.
Flipping to the back of the Canon 90D and most of the buttons and dials are grouped on the right hand side of the camera, which makes changing settings with your right thumb quick and easy.
A new addition for the EOS 90D is a joystick which you can use to select AF points and navigate through menus, and is a welcome improvement for helping to make quick changes.
Top of the Canon EOS 90D
A Q button takes you directly to a range of commonly used settings, such as white balance, file type, picture style and so on. You can use the physical buttons to move around both this Quick menu and the more extensive main menu, but you can also use the touch-sensitive screen - or a combination of both, whatever makes the most sense to you.
Other buttons of note include one for switching on Live View or video recording, playback button and the AF-on button. If you've ever used a Canon DSLR before, you'll be very familiar with the layout and setup - which is great news if you're upgrading from something like a 200D, or even the camera the 90D directly replaces, the 80D.
You might also consider the Canon 90D as a back-up for something like the 7D Mark II, or at a push, one of Canon's full-frame models.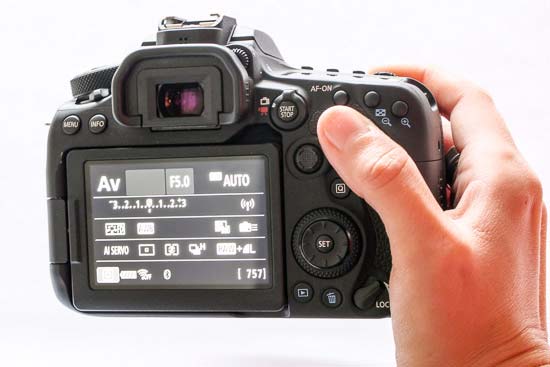 The Canon EOS 90D In-hand
The final two buttons are found just next to the viewfinder and are the menu button and the info button. The menu button is for accessing the extensive main menu is probably one you won't find you need to use as regularly as the other buttons, so it makes sense for it to be tucked out of the way here.
The info button changes the display - you can press it to activate a spirit level display, which is useful when shooting landscapes (but note you can't see it through the viewfinder as it's optical).
Speaking of the viewfinder, an optical device is one of the main reasons why some still prefer DSLRs over mirrorless. Here we have a particularly good example of an optical viewfinder as it offers 100% coverage of the scene.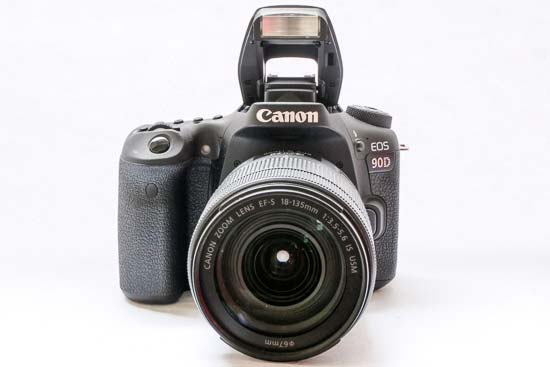 The Canon EOS 90D's Pop-up Flash
That means that you won't see any stray subjects wandering into the edge of your frame without you realising, while it gives you a bright and clear view of the scene.
If you've never used anything but optical viewfinders then you'll likely be very happy with the Canon 90D's offering, but after spending some time using very high resolution electronic options, working in this way feels a little restricted as you can't see how exposures will turn out, nor zoom in to check critical focus, or playback your images - but that's a matter of personal preference.
The screen is another way you can compose your images if you switch to Live View. The Canon 90D has a 1040k-dot 3.2-inch fully articulating TFT LCD. It's great for composing from awkward angles, as well as being useful for recording selfies and vlogging-type videos. You can also fold the screen away to protect it when not in use, which is useful.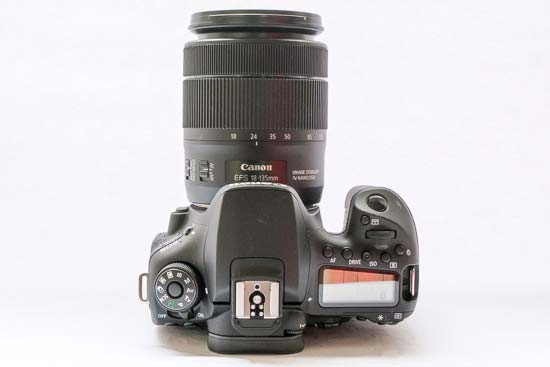 Top of the Canon EOS 90D
If you're into making videos, the Canon EOS 90D is a good option for you as it offers uncropped 4K video recording, which is another big improvement from the 80D, and sets it apart from other Canon DSLRs. There's also a headphone and microphone socket on the side of the camera which also appeals to video-makers.
Just as we saw in the 80D, the Canon 90D offers 45 all cross-type autofocus point, which are sensitive down to -3EV. All of the points are centred around the middle of the frame, so if you're trying to focus on something on the outer edges, you'll need to focus and recompose.
Since this is a DSLR, autofocusing is different depending on whether you're using the viewfinder or the screen (Live View). If it's the latter, you will have more choice over where to place the active AF point, where the excellent Dual Pixel CMOS AF comes into play. As an upgrade from the 80D, this kind of focusing is now also available while recording 4K video.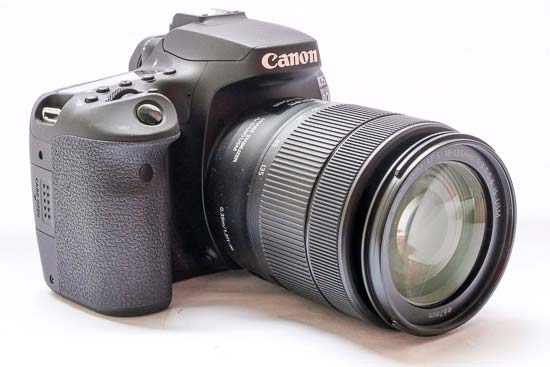 Front of the Canon EOS 90D
On the whole, when using the viewfinder, focusing is quick and accurate, especially when the light is good. In darker conditions, you might find that the lens hunts a little more - although some lenses perform better than others. The 18-135mm we've been using puts in a reasonable performance and is a good all-round lens for capturing a wide variety of different types of subject.
Tracking focus has been improved since the 80D, while there has also been a boost to the frame rate (10fps/11fps with Live View) is now available. In practice that makes the Canon 90D well-suited to photographing moving subjects, particular where the said subject is moving in a reasonably predictable pattern.