Canon EOS M6 Mark II Review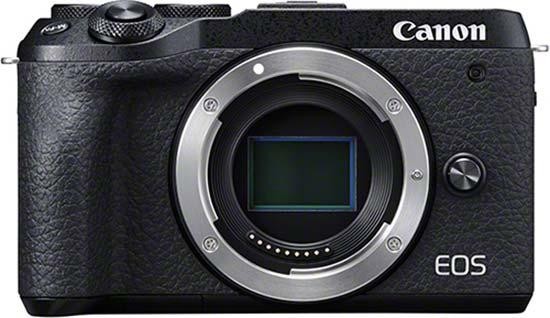 Introduction
Announced at the same time as the EOS 90D DSLR, the Canon EOS M6 Mark II is a new mid-range mirrorless camera aimed at enthusiast photographers.

It has a 32.5 megapixel APS-C CMOS sensor, the highest resolution ever found in a Canon cropped sensor mirrorless camera, which is joined by Canon's latest Digic 8 processor.

On the video side, there's 4K recording at up to 30p and Full HD footage at frame rates up to 120p. 4K is uncropped, which potentially makes the M6 II just as appealing to videographers as to stills photographers.

This is a fast camera - 14fps burst shooting is available when using the Canon M6 Mark II and there's also a special 30fps RAW burst mode with autofocus tracking.

Weighing in at just 408g including the battery and memory card, the Canon EOS M6 Mark II is small and light enough to fit in a jacket pocket.

The Canon M6 Mark II is priced at £869.99 / €1,029.99 / $849.99 body only or £1,119.99 / €1,329.99 / $1099 with the EF-M 15-45mm IS STM lens and EVF-DC2 viewfinder, and $1349.00 for EF-M 18-150mm f3.5-6.3 IS STM and EVF-DC2 kit.
Ease of Use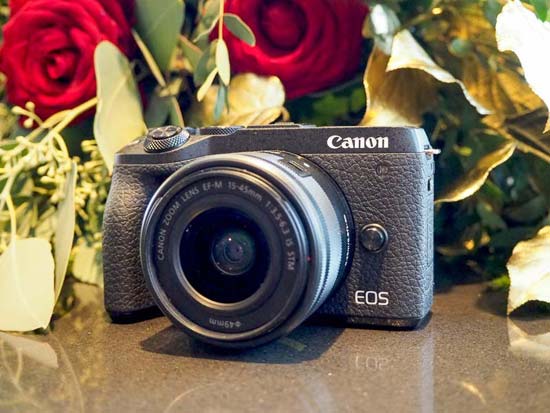 Front of the Canon EOS M6 Mark II
Canon has borrowed a quote from filmmaker John Hughes' arguably best movie Ferris Bueller's Day Off with regard to promotion of its latest EOS M6 Mark II mirrorless. Namely: 'Because life moves pretty fast…'.

However, it's fair to say that the manufacturer's EOS mirrorless series has in fact rather slowly – some would say tardily – evolved over the past few years as an increasingly credible DSLR alternative.
Although its most recent (possibly most significant) development in the EOS R full frame series aimed at high end amateurs and professionals has stolen headlines and column inches of late, the manufacturer continues however to release more obviously consumer-targeted alternatives, such as the APS-C sensor incorporating Canon M6 Mark II.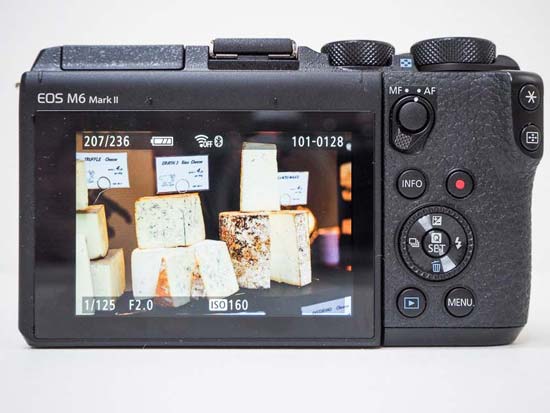 Rear of the Canon EOS M6 Mark II
It's the latter, in replacing the original M6 that has just landed on the Photography Blog test slab, following on from our 'first look' a couple of months back.
With this latest Canon costing a body-only £850 in the UK (manufacturer's suggested price), competing models in the EOS M6 Mark II's orbit include the likes of the recent Sony A6400, plus the newer sub-£1000 Nikon Z 50 and Fujifilm X-A7.
Like the above, this one is for capturing spontaneous moments – more so than a bulkier DSLR. We found it a particularly adept tool for street photography – it's not large enough to be immediately noticed by unsuspecting subjects – at least not until you raise the camera to your face; the alternative is using the unit's handily flip-up LCD screen.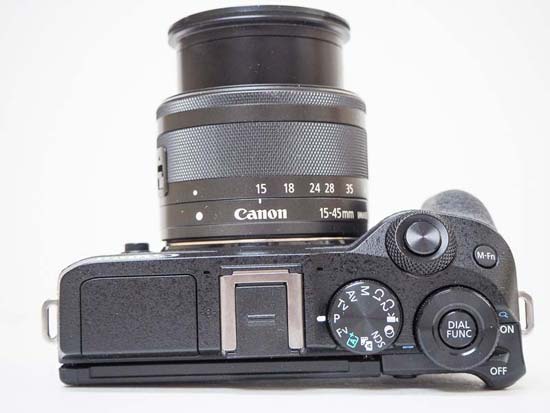 Top of the Canon EOS M6 Mark II
While its manufacturer may believe the Canon M6 Mark II is aimed at the technically savvy enthusiast, we found its handling and operation to be straightforward enough and were able to pick it up and start using it without a second thought – which is a sign of good, or at least considered, design.
Though overall the camera may be diminutive, we also found its grip is comfortably rounded – sufficiently so to make for a good and firm hold. Its maker admits though that nothing much has altered as regards this model's design, when compared with the original M6.
The latest version weighs 408g without lens, which makes it portable enough to place into a jacket pocket or bag so as to be ready for those shoot-from-the-hip moments.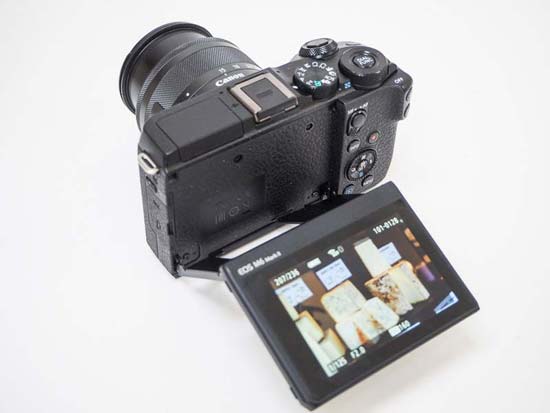 Tilting LCD Screen
We had the Canon M6 Mark II supplied with a retractable 15-45mm f/3.5-6.3 IS STM kit zoom. Though the fact that the lens is retractable helps keep camera and lens proportions minimal, and aids transportation (making the set up small enough in combination to stuff into a jacket pocket), it's a bit of a pain to have to remember to extend the lens every time you switch the camera on, prior to being able to loose off a shot. That caught us out a few times to start with and we missed the shot in question.
Fortunately, of course, there is a growing number of alternative lenses available for the EOS M system plus over 70 compatible EF and EF-S lenses if you choose to invest in a separate mount adapter for the Canon EOS M6 Mark II. So hopefully the 'M' system is one that will stand the test of time.
In terms of other accessories, there's a vacant hotshoe for adding an accessory flash if so desired. Otherwise, the integral flash pops up with a definate action thanks to a tightly wound spring – even if the crane-like construction of the flash 'arm' feels a little flimsy and exposed when fully revealed, as if a stiff breeze would knock it from its precarious perch.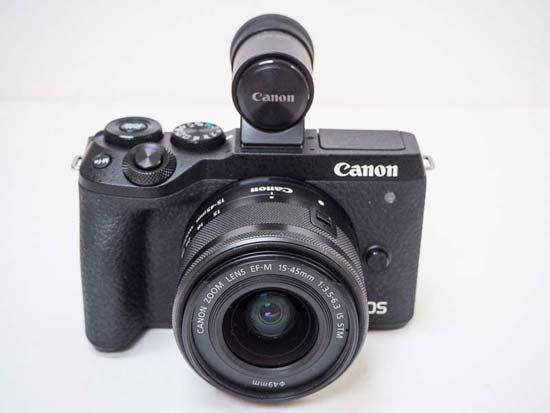 The Optional Viewfinder
While design of the Canon EOS M6 Mark II may not have changed greatly from previous generations, what's new here is a 32.5 megapixel APS-C and Digic 8 processor, while its ISO range now matches the 90D DSLR bigger brother announced alongside it.
So here we get a camera offering a core ISO range from ISO100 to 25600, expandable to ISO51200. Auto focus response is such that the Mark II is able to boast an impressively swift 14fps capture speed, plus 1/16000 sec electronic shutter.
What we found more useful on a daily basis is that there's a tilting touch screen once again, with enough of an intrinsic pivot for the screen to be faced towards the subject, or angled so the user can gaze down on it and shoot in a style that apes using a medium format camera.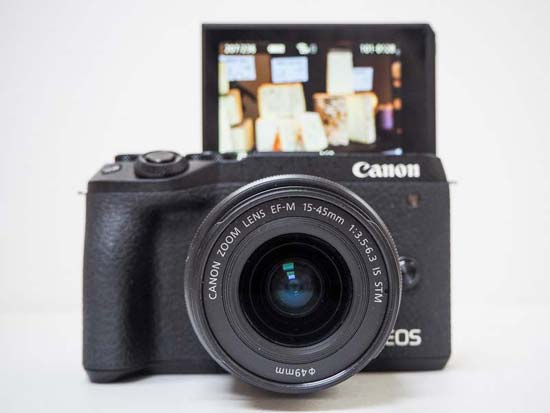 Flip-up LCD Screen
The alternative is to plump for the addition of Canon's EVF-DC2 electronic viewfinder kit, also helpfully supplied along with our review sample. There's no optical viewfinder otherwise built in here, so you'll need to budget for the EVF on top of the £850 body-only price, and whatever lens option you choose, or look for a bundle deal for best value.
Usefully the EVF features a built-in eye sensor that immediately activates it as it detects your eye. It also has a button on the side for locking and unlocking, while the view through it is as sharp and clear as we'd expect. Adding it does however increase the camera's overall dimensions and bulk, as it sits relatively proud of the camera body – which is perhaps why Canon has made it optional.
As with most modern digital cameras, when it comes to shooting video the choice here is between 4K and Full HD 1920x1280 pixels video, the former enabling captures of up to 25fps, while the latter offers up to a cinematic 60fps.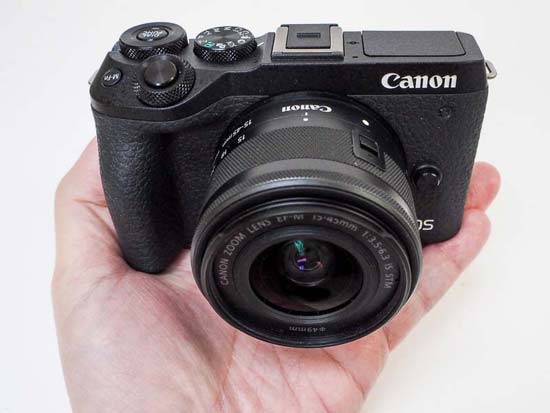 The Canon EOS M6 Mark II In-hand
For image sharing and transferal, Wi-Fi and Bluetooth transfer are offered – so as we can see this is a camera ticking most of our proverbial boxes.
While the rear screen of the Canon M6 Mark II is helpfully a touch screen, with icons sufficiently large so as to enable their selection with a fingertip, we also get plenty of physical controls, both atop the camera – including shooting mode wheel and not one but two control dials encircling the shutter release button and on/off switch – on its back plate.
This makes for an intuitive best of both worlds solution in our eyes, which we much prefer. Thus it's possible to use the manual controls and almost forget there is a touch screen option, or go for said touch screen as a short cut to functions that would otherwise involve drilling inconveniently into menu screens (such as selecting ISO, for example, which could really do with a dedicated marked button).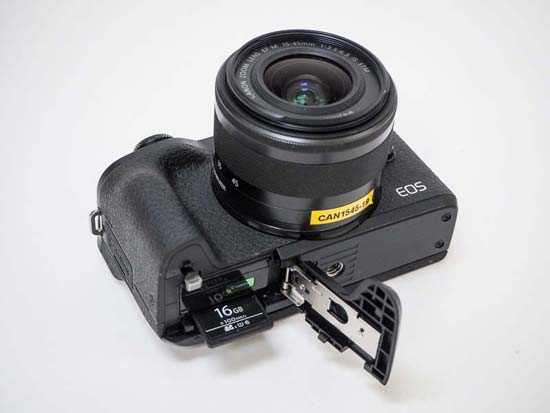 Memory Card Slot
That being said, we have to acknowledge that Canon's menu screens for us are pretty much the most logically and clearly laid out and delineated, making navigation both quick and easy.
With the LCD screen dominating just over two thirds the back plate, thumb operated buttons are ranged to the right of this. These include a familiar four way directional pad encircled by a scroll wheel, at the centre is a quick menu/ set button, and, around this a means of selecting and adjusting exposure compensation, flash options, a drive mode for selecting burst or single shot captures, plus the always handy trash can icon denoting the ability to delete images.
Ranged above this are self explanatory info and red video record buttons, while below are equally obvious playback and menu buttons. Rather than the function being provided on the barrel of the lens itself, the topper-most control on the camera back is for switching between auto and manual focus.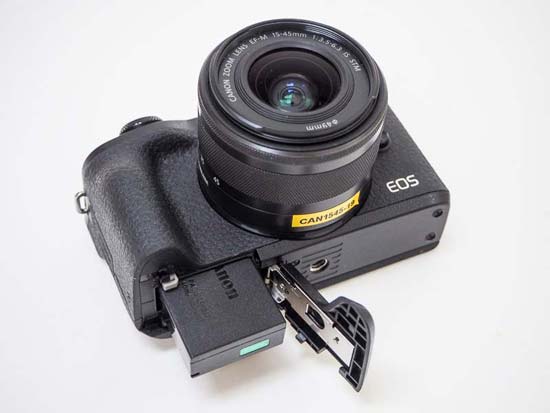 Battery Compartment
Flick this switch and adjust manual focus via the ring provided on the front of the lens, which is all pretty straightforward and intuitive, the rear LCD being large enough for the user to be able to witness said manual adjustments in real time.
While one flank of the Canon EOS M6 Mark II features a rubber flap protecting standard mini ports for both HDMI and USB leads, the other helpfully provides inputs for a microphone and a remote, with a flick-switch for activating the pop up flash ergonomically provided just above, where it falls readily under the thumb of the left hand when holding the camera.
As expected the Canon M6 Mark II's base features a centrally located screw thread for a tripod, plus a covered port housing rechargeable battery and SD card slot.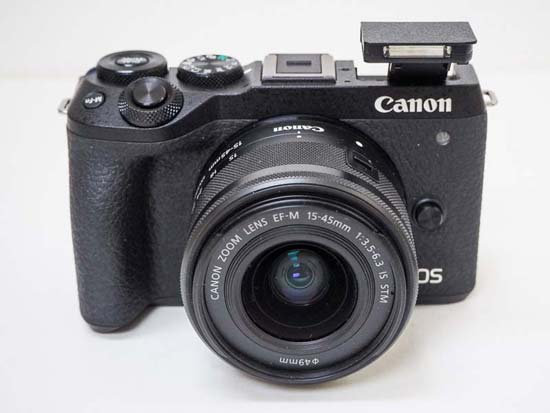 Pop-up Flash
We recharged the battery once and got several days of use out of the camera, though the official stats suggest a relatively paltry 305 shots or 80 minutes of video from a full charge, which can be bumped up to approximately 410 shots if selecting 'eco' mode.
Overall the Canon M6 Mark II is a well-constructed, well thought out camera that handles just as well as expected and which we enjoyed using over the almost two weeks we spent in its company.
The only issue for Canon is that there are a lot of cameras in the M6 MKII's price bracket that you could say the same of right now, for those not already allied to, or convinced by, Canon's own consumer-level mirrorless system.
Perhaps the images it delivers will drive a convincing wedge between this and its rivals and aid our buying decision? Read on to find out...