Canon PowerShot D30 Review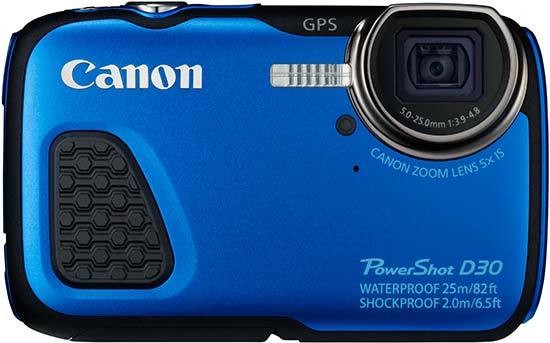 Image Quality
All of the sample images in this review were taken using the 12 megapixel Fine JPEG setting, which gives an average image size of around 3Mb.
Noise
Canon seem to be clipping their sensitivity range to ISO 1600 on the majority of their compact cameras, but, at least with the underwater cameras, they've added an extra stop of light to the ISO, taking the ratings to ISO 3200.
At ISO 100, the pictures are crystal clear with sharp edges, lots of detail in the shadows/.dark areas and not a discoloured pixel in sight. Noise does start to come in at ISO 200, but it would be unfair to criticise the Canon PowerShot D30 too much because it's only marginally noticeable at full magnification. In fact, we couldn't detect noise at normal viewing distances until we got to ISO 1600.
At full magnification, slight amounts of colour noise start to pop through noticeably at ISO 400. Edge detail is still good at this stage. Shadow detail starts to merge at ISO 800 and salt and pepper noise begins to make a nuisance of itself in midtones. The same issues get gradually worse until ISO 3200 where green colour starts to invade the midtones and fine detail is a thing of the past.
Still, when we look at the end result, our ISO 3200 test image is better than some others we've tested in the same price range and it's this kind of thing you have to look for. If flash isn't an option, then you need to use a higher ISO and that's where noise comes in as the noise to signal ratio is amplified. It seems that the HS system has been improved for the Canon PowerShot D30 and that's a welcome change.
There are 6 ISO settings available on the Canon PowerShot D30. Here are some 100% crops which show the noise levels for each ISO setting.
| | |
| --- | --- |
| ISO 100 (100% Crop) | ISO 200 (100% Crop) |
| | |
|   |   |
| ISO 400 (100% Crop) | ISO 800 (100% Crop) |
| | |
|   |   |
| ISO 1600 (100% Crop) | ISO 3200 (100% Crop) |
| | |
Sharpening
If you have a picture that was taken at low ISO, then adding some sharpening to your photos certainly helps. With a higher ISO, the noise in the picture simply exacerbates.
| | |
| --- | --- |
| Original (100% Crop) | Sharpened (100% Crop) |
| | |
Focal Range
The Canon PowerShot D30 has a 5x optical zoom lens which is image stabilised. It starts at 28mm which then means it gives an equivalent of 140mm in 35mm terms.
| | |
| --- | --- |
| 28mm | 140mm |
| | |
Chromatic Aberrations
We did find that chromatic aberrations are a problem with the lens system of the Canon PowerShot D30. It happens mostly on high contrast images, although it's easy to mistake lens flare with chroma. We managed to find it on areas without any direct light, though.
| | |
| --- | --- |
| Chromatic Aberrations 1 (100% Crop) | Chromatic Aberrations 2 (100% Crop) |
| | |
|   |   |
| Chromatic Aberrations 3 (100% Crop) |   |
| |   |
Macro
The close focusing of the Canon PowerShot D30 is 1cm from the front glass. That's a very good close focus performance and will be helpful with insects and small fish that aren't shy. There's a great deal of image drop off, so make sure you get the subject in the centre sweet spot.
| | |
| --- | --- |
| Macro | Macro (100% Crop) |
| | |
Flash
There's no vignette on the test without flash. We did get some when fully zoomed though and when flash is used, vignetting is harsh at wide-angle. It settles down a little up to full zoom, but it's still noticeable.
| | |
| --- | --- |
| Flash Off - Wide Angle (28mm) | Flash On - Wide Angle (28mm) |
| | |
|   |   |
| Flash Off - Telephoto (140mm) | Flash On - Telephoto (140mm) |
| | |
Using red-eye makes absolutely no difference if the colour red in the eye is the wrong shade. This is because it's software that removes it and it doesn't recognise that tone of red.
| | |
| --- | --- |
| Flash On | Flash On (100% Crop) |
| | |
|   |   |
| Red-eye Correction | Red-eye Correction (100% Crop) |
| | |
Night
The Night scene mode on the Canon PowerShot D30 isn't easy to find, so keep an eye out. In the Mode menu, when you get to the Movie digest option, that's actually one of many modes that you have to scroll left and right to select.
Interestingly, once you've found it, it's also not the easiest mode to use. You see, we expected to get a decent, straightforward picture when we used the night shot. After all, the Canon PowerShot D30 is designed for use in gloomy situations and is why it has the HS system sensor. Taking a picture in Night mode ramps the ISO right up to ISO 3200, whereas taking a picture in Program mode with the ISO set to auto, the camera selected 1600. That uses a slower shutter speed, but if you're using something to keep the camera steady, it doesn't matter and you'll arguably get a better result, noise-wise.  We also took a shot at ISO 100 in Program mode, to see what the results would be. The maximum shutter speed is 1sec, so when we took our shot in the early hours, it simply wasn't enough to make an effective exposure.
| | |
| --- | --- |
| Night Scene | Night Scene (100% Crop) |
| | |
|   |   |
| Night ISO Auto | Night ISO Auto (100% Crop) |
| | |
|   |   |
| Night ISO 100 | Night ISO 100 (100% Crop) |
| | |