Nikon Coolpix AW120 Review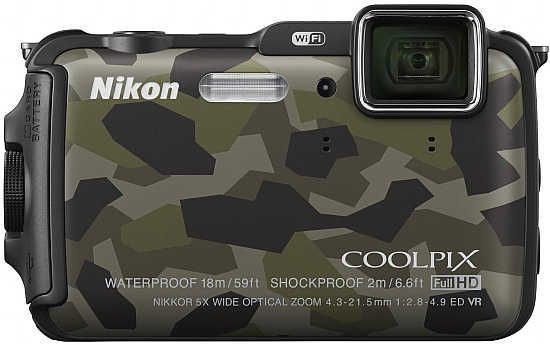 Introduction
The Coolpix AW120 is the third generation of Nikon's ruggedized Coolpix All Weather compact cameras. It replaces the AW110 and boasts a 16.0MP CMOS sensor and 5x Zoom lens with a focal length range equivalent to 24-120mm (in 35mm camera terms). But what really sets the AW120 apart from its Coolpix counterparts is that it'll keep on snapping underwater at depths down to 18-metres, or after a 2-meter drop. It's also freezeproof to -10° and packs in a host of action-orientated extras like GPS, an interactive world map, compass, altimeter and depth gauge. Add to this full HD video capture and an 8fps maximum shooting rate and the AW120 should keep pace with whatever you throw at it. All this tech doesn't come cheap though, as the AW120 commands a fairly hefty price tag of £329.99 / €399 / $349.95.
Ease of Use
Despite sporting plenty of tech, the AW120 is no harder to use than pretty much any Coolpix compact. There's no mode dial to worry about and manual control is kept to a minimum too. Just stick the camera in Smart Auto mode and it'll detect the scene you're aiming at and automatically apply optimal shooting settings. Alternatively there's a standard Auto mode if you fancy some more input to alter things like white balance or ISO sensitivity, or you can manually select one of the 19 scene modes, including an underwater setting that'll counteract colour shifts when shooting at lower depths. The AW120 is also treated to Nikon's range of creative colour effects to mimic sepia and toy camera looks, as well as a nifty Smart Portrait mode which will make your friends and family look their best with its automatic smile and blink detection, red-eye removal and skin softening.
Externally buttons have been kept to a minimum so you won't need to fumble about to find the right control when you're in the thick of the action. Only the shutter release and power button make an appearance on the top panel, with the zoom control located on the back where it takes the form of a rocker switch. Next to this is the video record button, and below that are the standard controls for setting the camera's shooting mode, as well as playback, menu and delete buttons. These flank a control dial that'll set the flash mode, self timer, macro mode and exposure compensation. All the buttons have a slightly spongy feel though, most likely due to waterproof seals beneath them. Move round to the right and a single waterproofed door covers the battery, card and data sockets. To ensure it doesn't get accidentally opened to the elements, it's double-secured by a locking dial with a push-button release.
| | |
| --- | --- |
| | |
| Front | Rear |
At the opposite end of the AW120 are two buttons, with the lower activating what Nikon calls 'Action Control'. This useful trick enables you to change basic settings by shaking and tilting the camera, so there's no need to fumble around with buttons when you're underwater or wearing gloves. Above this is a button that'll activate the camera's world map feature to display your current shooting location, along with local points of interest and up to 30 of your own personalised locations. The system works using the camera's GPS/GLONASS system, which is primarily included so you can record your location data into each photo. This works well, though the downside is a noticeable reduction in battery life, especially as the system remains active for up to six hours even when the camera is turned off. Wi-Fi image sharing and wireless camera control are present too, utilising a companion app available for iOS and Android mobile devices.
These features are nothing new though, as they're all included in the outgoing AW110. The new camera is also a dead-ringer for its predecessor and is available in the same orange, black, blue and camouflage colour options. Where the two cameras do differ – externally at least – is their monitor. They're both 3-inch OLED units, but the AW120 ups the resolution from 614k-dots to 921k. Crank the brightness to the max and it's also fairly easy to see under bright light, whilst the viewing angles are also very good.
| | |
| --- | --- |
| | |
| Front | Side |
The AW120 has received some subtle optical improvements. It now sports a wider f/2.8 maximum aperture at wide angle, helping reduce the need for higher sensor sensitivities or slower shutter speeds. Both cameras give you a 5x zoom reach, which is about all you can expect from an internally-zoomed lens. But whereas the old design had to make do with a 28mm-equivalent wide angle setting, the AW120 expands this to a more useful 24mm. Of course the telephoto reach suffers as a result, but when you're in the thick of the action, wider is usually better. Vibration Reduction is another essential feature for sharp shots when you're on the move, though the lens' relatively modest telephoto reach doesn't necessitate it as much as longer-zoom cameras.
You'll also be able to capture the action faster thanks to the camera's 8-frame per second, 6-shot continuous shooting rate, up from 6.9fps for 5 shots in the AW110. Full HD movie capture remains the same for the AW120, as does its 16.0-megapixel stills resolution, though the new camera does boast a higher maximum sensor sensitivity of ISO 6400. Battery life gets a boost too, up from 250 shots to an impressive 350 from its rechargeable Li-ion power pack. Nikon has also increased the measly 21MB of internal storage in the AW110 to a very handy 329MB in the new model, so if you forget your SD card, all is not lost.
| | |
| --- | --- |
| | |
| Top | Battery Compartment |
The new camera and its predecessor also share the same toughness credentials, but given that these figures are still up there with the best ruggedized compacts, that's no bad thing. We weren't able to fully test that 18-metre depth rating, but the AW120 survived several more modest dunks in the drink without issue. Likewise our attempts to put the camera through some rough and tumble barely caused a scratch. It's a pity this toughness isn't accompanied by better ergonomics though, as there's no front finger grip and not much for your thumb to grip on to either, making one-handed shooting feel less secure than you'd like.
The AW120 is also well up to capturing fast action. It powers up in around a second and stays on the pace thanks to a nippy autofocus system which finds its mark quickly in all but the darkest lighting. You'll also be able to focus right down to 1cm in macro mode, though annoyingly this can only be activated by manually changing out of the default Smart Auto mode and into regular Auto. Another occasional annoyance is the auto white balance, which is sometimes prone to undersaturating colours in mixed or overcast light. The camera's exposure metering is more reliable, generally striking a good balance between retaining highlight and shadow detail.