Canon PowerShot G3 X Review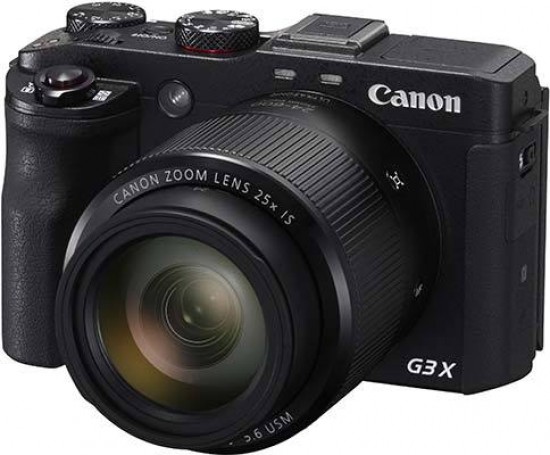 Introduction
The Canon PowerShot G3 X is a new premium superzoom compact camera with a large CMOS image sensor and a fast lens. The metal-bodied G3 X has a 1.0-type back-illuminated 20.2 Megapixel CMOS sensor, an f/2.8-5.6, 25x lens with 9-blade aperture, full manual controls, shooting mode and exposure compensation dials, 3.2-inch tilting LCD touchscreen with 1.62million dots, built-in pop-up flash and hot-shoe, DIGIC 6 processor, wi-fi and NFC connectivity, ISO range of 100-12800, full HD movie recording, 14-bit RAW image capture, 31 AF points, focus peaking function, 5.9fps burst shooting, lens control ring and a dust and drip-proof body. The Canon Powershot G3 X is available in black priced at £799 / $999.
Ease of Use
Measuring 123.3 x 76.5 x 105.3mm and weighing 733g including the battery and memory card, the Canon PowerShot G3 X features a dust and drip-proof metal body with a solid feel and sturdy construction. The G3 X feels very well made indeed, with external controls that offer just the right amount of stiffness and resistance and are large enough to be easily and quickly accessed in the heat of the action. The Canon PowerShot G3 X is most at home stored in a deep coat pocket or a small camera bag.
The Canon PowerShot G3 X features a large multi-aspect, 20.2 megapixel CMOS sensor that captures images either in the 3:2, 4:3, 16:9 or 1:1 aspect ratios whilst maintaining the same angle of view, even when shooting RAW images. The 1-inch sensor should add up to better image quality especially in low-light, greater depth-of-field, and greater dynamic range, all the things that your typical compact cameras struggles to deliver.
The G3 X has a very handy exposure compensation dial on top, although setting the ISO speed is a rather convoluted affair. The G3 X doesn't have an optical viewfinder, although you can ad an electronic one if you wish. Another grumble is that, annoyingly for such a creatively rich camera, the full user guide is still provided on CD only. In what comes across as a cursory gesture, only a very slim printed quick start guide is included in the box. Canon have also now decided to only provide their software via download from their website.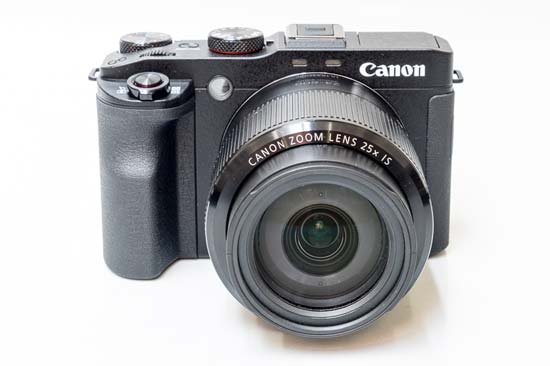 Front of the Canon PowerShot G3 X
The Canon PowerShot G3 X's unassuming-looking front plate is dominated by the 25x, 24-600mm zoom lens, with a bulb for the built-in self-timer/AF assist lamp flanking it on the left. Note that there's no thread included for fitting filters. The G3 X has a front control dial, as featured on EOS DSLR cameras, which makes changing the aperture and full Manual shooting mode very straight-forward.
You use a combination of the control ring and the rear navigation wheel to change the aperture and shutter speed, each of which can be configured to suit your particular way of working. We found the rear navigation wheel on the rear a bit too thin to use precisely and quickly. In addition, the lens ring can be assigned to various different settings, including ISO speed, focus and aperture/shutter speed.
There's a large handgrip on the Canon PowerShot G3 X with a rubberised surface, which makes it easy to steady the camera, along with a textured small pad at the back for your right thumb to rest on. We did miss having a viewfinder by default though - trying to hold the G3 X at arm's length whilst using the full extent of the 25x zoom lens inevitably resulted in some missed shots due to camera-shake.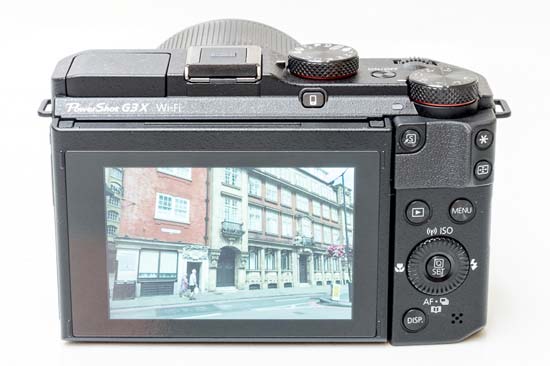 Rear of the Canon PowerShot G3 X
From left to right the G3 X's top-plate houses the folding pop-up flash, with a switch on the side for manually releasing it, a springy raised nipple-style shutter release button surrounded by a rocker switch for operating the optically stabilised 25x zoom (24-600mm equivalent on a 35mm camera), and behind this again the aforementioned control dial and a small, recessed on/off button. The fact that the lens is image stabilised, says Canon, provides a four-stop advantage when shooting handheld, while the Intelligent IS system analyses the focal length, focal distance and type of camera movement and applies the most appropriate mode from seven possible settings, and the Hybrid IS system makes shooting macros easier than before by counteracting both shift and angular movements.
The Canon PowerShot G3 X is quick to power up in a second or so, the rear LCD blinking into life with the optical zoom lens simultaneously extending from storage within the body to its maximum wide-angle setting. It starts at the equivalent of 24mm, making it very useful for those landscapes group portraits or getting the required shot in confined spaces. The G3 X's lens has bright apertures of f/2.8 at the wide-angle end of the zoom range and f/5.6 at full telephoto, plus a 9-blade aperture for better bokeh effects. As a further aid to landscape fans, a 3-stop neutral density filter option is provided among the function menu options, to be turned on or off as required, and the horizontal Electronic Level and RGB histogram can be enabled to help with composition and exposure.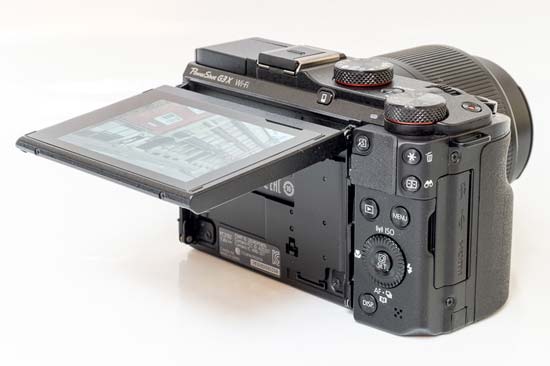 Tilting LCD Screen
The G3 X has a very good continuous shooting mode, which in conjunction with Tracking AF makes it well-suited to both slow and fast moving subjects. The Canon PowerShot G3 X can capture JPEG shots at 5.9fps with the focus point locked at the first frame, or you can shoot continuously at 3.2fps with AF tracking.
The shooting mode dial features settings for Auto capture, Hybrid Auto, Program, Shutter Priority, Aperture Priority and Manual, along with a user customisable setting, a smattering of scene modes (8 in all), Creative Effects and Creative Shot modes, and finally a video mode, activated via the one-touch movie record button on top of the camera. The Canon PowerShot can shoot 1080p HD video quality at 1920x1080 pixels at 60fps, 30fps, 25fps or 24fps, you can adjust the aperture, shutter speed and ISO, and there's manual focus peaking too. The G3 X also boasts stereo sound courtesy of tiny microphones positioned above the lens barrel, and you can use the creative filters and the 25x optical zoom when filming.
The Creative Filters shooting mode contains 10 different options to help spice up your images. The High Dynamic Range mode is probably the most useful, automatically taking three exposures of the same scene at different settings, then combining them in-camera to create a single image with greater dynamic range. Note that you need to mount the G3 X on a tripod or stable surface to avoid camera-shake.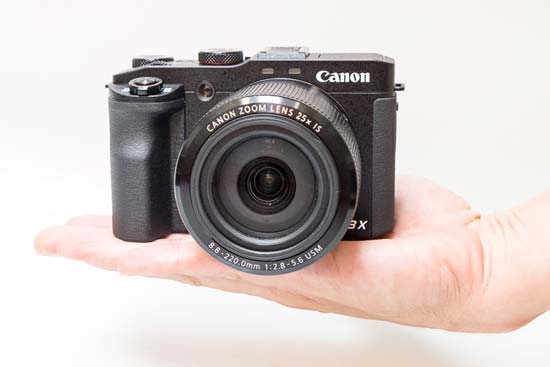 The Canon PowerShot G3 X in-hand
We appreciated the flexibility presented by the tilting LCD screen in terms of trying out unusual and formerly awkward framing. It can be tilted up through 180° for easier selfies and down by 45° for overhead shots. The LCD is a 3.2 inch monitor with 3:2 aspect ratio and a very high resolution of 1.62 million dots.
The Canon PowerShot G3 X has a touch focus/shoot option which is on by default. To switch it off, change the Touch Shutter option in the main menu. This then becomes a touch focus screen which will lock onto the subject wherever you touched, with a press of the Display button centering the AF point. In playback the touchscreen can be used to change the magnification of an image by spreading and pinching two fingers, and switch between images by swiping from side to side, just like on a smartphone. You can also adjust the LCD's touch sensitivity to your liking with Standard and High settings available.
On the rear of the G3 X is a button for quickly connecting to a previously paired smartphone or tablet. The G3 X's wi-fi capabilities allow you to share images during playback via the Up button on the navigation pad. Simply enter a nickname for the camera and five more icons then appear, connecting the G3 X to another camera, a smartphone, a computer, a printer and the Internet respectively. Setup is relatively straight-forward for each scenario, although you'll need a basic understanding of the protocols involved. Note that you need to install the dedicated and free Canon CameraWindow app to connect the G3 X to an iOS or Android device.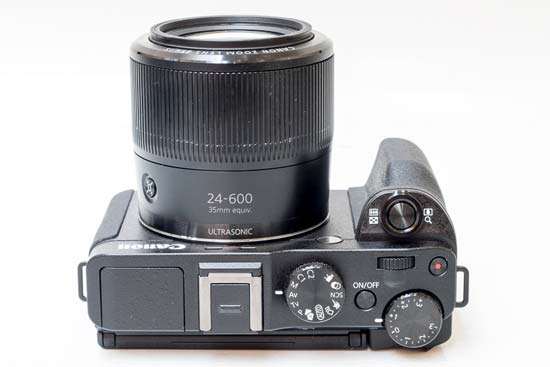 Top of the Canon PowerShot G3 X
The G3 X's wi-fi functionality is also employed to tag your images with GPS data recorded by your smartphone ( latitude, longitude, altitude and shooting time) via the Canon CameraWindow app, which effectively replaces a more conventional built-in GPS system. We actually prefer having GPS built-in to the camera rather than having to sync it with an additional device, so in this regard the G3 X doesn't compare well with rivals that offer this feature, although it does side-step the issue of negatively affecting battery life. The G3 X also features NFC (Near Field Communication) technology (the same technology that's used for mobile payments), which allows you to connect it to a compatible Internet enabled device or another NFC-enabled camera by simply tapping them together.
Returning to the rear, the Shortcut button can be configured to one of 22 different functions. To the right are the AEL and Focus Area buttons, with the Playback and Menu buttons below. A press of the Menu button brings up a trio of folders on screen, the first the Shooting menu where the likes of the AF assist beam and blink detection modes can be turned on or off, the second the Setup menu where sound options and LCD brightness can be tweaked, and the third being a 'My Menu' option for commonly used functions.
Underneath this pair of controls is the four-way selection or control pad, with, at points north, east, south and west a means of selecting the ISO speed, choosing from the on-board flash settings, toggling between the One Shot and Continuous AF modes, and activating normal or 5cm macro focus modes. The G3 X's 31-point AF system focuses very quickly for a compact camera in either good light or bad and at both ends of the zoom range, with a slight delay of around 0.15 second.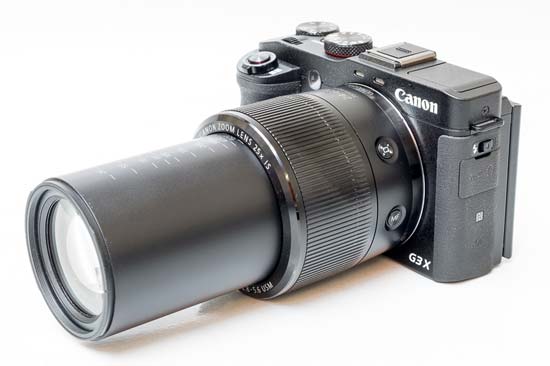 Side of the Canon PowerShot G3 X
At its centre is the Q//Set button that is again consistent with the Canon G-series. Press this button at its centre when in any of the capture modes and an L-shaped toolbar that will be familiar to Canon users appears on the screen, offering pull out toolbars with further options from the range when you come to rest on a particular setting.
On the right hand flank of the camera - viewed from the back - we find covered ports for HDMI out and a combined USB 2.0/AV out connection. On the bottom is a familiar metal screw thread for a tripod, and a sliding cover for the compartment that houses the lithium-ion battery needed for power and the SD, SDHC or SDXC cards needed for image storage. Battery life is acceptable at around 300 shots from a full charge.