Canon PowerShot SX70 HS Review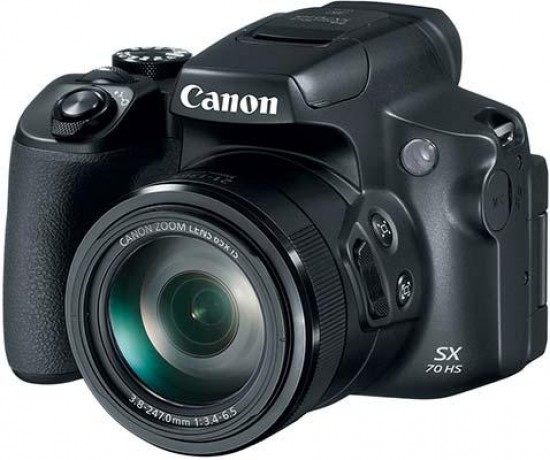 News
The Canon PowerShot SX70 HS super-zoom camera features a 65x optical zoom, 20.3 megapixel CMOS imaging sensor, high-resolution 2.36-million dot electronic viewfinder, built-in Wi-Fi and Bluetooth technology and 4K video recording.
The Canon PowerShot SX70 HS will be available for purchase in November 2018 for an estimated retail price of $549.99 / £519.99 / €599.99.
Canon USA Press Release
Zooming With Features: Canon Introduces Latest High-Power Zoom Digital Camera, The PowerShot SX70 HS
Latest Edition Provides 65x Optical Zoom, High-Resolution Electronic Viewfinder and 4K Video
MELVILLE, N.Y., September 20, 2018 – It's a common saying that good things come in small packages and today, Canon U.S.A., Inc., a leader in digital imaging solutions, demonstrates this with the introduction of the new PowerShot SX70 HS compact digital camera. Featuring a 65x Optical Zoom Lens (equivalent to 211-1365mm1), 20.3 Megapixel2 CMOS imaging sensor and 4K video capabilities, the PowerShot SX70 HS camera is an ideal fit for anyone who wants powerful optical performance in a compact package. With a minimum focusing distance of 0cm3 and a zoom up to 2730mm1 (with ZoomPlus), the PowerShot SX70 HS allows users to create beautiful close-ups and stunning wide shots without changing lenses.
"In this day and age, cameras are becoming smaller while the desired list of features continues to grow," said Kazuto Ogawa, president and chief operating officer, Canon U.S.A., Inc. "Canon continues to be committed to incorporating the latest features in our compact cameras and the new PowerShot SX70 HS is our very latest version, providing the dynamic combination of a compact body, powerful zoom and robust features that photo and video enthusiasts alike will love."
The PowerShot SX70 HS features a 0.39-inch, approximately 2.36-million dot, high-definition OLED Electronic Viewfinder (EVF) for clear, crisp representation of what the lens is seeing. This camera also features 4K video shooting and frame grabbing,4 and is the first Canon point-and-shoot camera compatible with the latest RAW format (.CR3). With the addition of a new eye sensor, the camera automatically switches to the EVF display simply by bringing the camera up to the eye. Additionally, the inclusion of built-in Wi-Fi®5 and Bluetooth®6 technology offers quick and easy sharing, making the switch from smartphone photography to the PowerShot SX70 HS camera simple and fun.
The DIGIC 8 processor enables the PowerShot SX70 HS camera to achieve five stops of IS with dual-sensing image stabilization (IS). Even during handheld shooting, IS allows users to take pictures with minimal worry about camera shake. The camera also features high-speed continuous shooting at up to 10 fps. A Zoom Framing Assist button on the side of the lens barrel enables quick adjustments of the view angle, which is especially useful during telephoto shooting. With a large grip for comfortable, stable shooting and an EOS-like user interface, the PowerShot SX70 HS will make it easy for artistic vision to come to life in the hands of photographers at any level.
Availability and Pricing
The PowerShot SX70 HS will be available for purchase in November 2018 for an estimated retail price of $549.99. To learn more information about Canon U.S.A products, visit usa.canon.com/.
About Canon U.S.A., Inc.
Canon U.S.A., Inc., is a leading provider of consumer, business-to-business, and industrial digital imaging solutions to the United States and to Latin America and the Caribbean markets. With approximately $36 billion in global revenue, its parent company, Canon Inc. (NYSE:CAJ), ranks third overall in U.S. patents granted in 2017† and is one of Fortune Magazine's World's Most Admired Companies in 2018. Canon U.S.A. is committed to the highest level of customer satisfaction and loyalty, providing 100 percent U.S.-based service and support for all of the products it distributes in the United States. Canon U.S.A. is dedicated to its Kyosei philosophy of social and environmental responsibility. In 2014, the Canon Americas Headquarters secured LEED® Gold certification, a recognition for the design, construction, operations and maintenance of high-performance green buildings. To keep apprised of the latest news from Canon U.S.A., sign up for the Company's RSS news feed by visiting www.usa.canon.com/rss and follow us on Twitter @CanonUSA. For media inquiries, please contact [email protected]
# # #
1 In 35mm format.
2 Image processing may cause a decrease in the number of pixels.
3 From the end of the lens, wide-angle only.
4 Frame grabbed images on the camera cannot be trimmed. Other than 4K movies, frame grabbing of Full HD or HD movies is not possible.
5 Compatible with iOS® versions 8.4/9.3/10.2, Android™ smartphone and tablet versions 4.1/4.2/4.3/4.4/5.0/5.1/6.0/7.0/7.1. Data charges may apply with the download of the free Canon Camera Connect app. This app helps enable you to upload images to social media services. Please note that image files may contain personally identifiable information that may implicate privacy laws. Canon disclaims and has no responsibility for your use of such images. Canon does not obtain, collect or use such images or any information included in such images through this app.
6 Compatible with select smartphone and tablet devices (Android™ version 5.0 or later and the following iOS® devices: iPhone 4s or later, iPad 3rd gen. or later, iPod Touch 5th gen. or later) equipped with Bluetooth® version 4.0 or later and the Camera Connect App Ver. 2.0.30. This application is not guaranteed to operate on all listed devices, even if minimum requirements are met.
7Availability, prices and specifications subject to change without notice. Actual prices are set be individual dealers and may vary.
† Based on weekly patent counts issued by United States Patent and Trademark Office.
Canon UK Press Release
Featuring cutting-edge technology to produce high-resolution images and 4K Ultra HD video
United Kingdom, Republic of Ireland, Thursday 20th September 2018 – Canon Europe announces the launch of the PowerShot SX70 HS, a bridge camera with a powerful 65x optical fixed lens zoom, equivalent to a 21-1365mm focal length. Featuring DSLR-style looks and handling, a 7.5 Vari-Angle LCD screen, 20.3 Megapixel sensor and 4K Ultra High Definition video, the Canon PowerShot SX70 HS is an ideal all-in-one camera, capable of handling all types of shooting scenario, without the need to carry multiple lenses.
The PowerShot SX70 HS's 65x zoom extends to an impressive 2730mm equivalent focal length with Canon's ZoomPlus functionality, ideal for capturing distant scenes from afar. With a focal length of this strength, the camera is well equipped to capture everything from a concert, graduation ceremony or even the details on a distant plane. The 0cm macro mode enables users to focus on objects that are virtually touching the lens, ideal for capturing the intricate detail of a watch face, plate of food or wild flowers in bloom. The Zoom Frame Assist Lock function helps maintain framing when taking super-telephoto images, suitable for capturing fast-moving sports or wildlife.
The classic DSLR-style ergonomics of the camera and its high-resolution OLED electronic viewfinder delivers sturdy handling and control when composing photographs, particularly helpful at popular tourist attractions or while on the move.
The power of the Canon PowerShot SX70 HS lays with the cutting-edge and superfast DIGIC 8 processor, which produces high resolution images, 4K Ultra High Definition video and a continuous shooting speed of 10 fps (frames per second). The autofocus is highly responsive and adaptive, even in low-light and continuous autofocus is possible when shooting at 5.7 fps, allowing spontaneous moments to be captured with ease.
The DIGIC 8 processor also powers the cameras 4K Ultra HD video capabilities, including 4K time-lapse and 4K frame grabs, so stunning landscapes or special memories can be captured and preserved in the highest of resolutions.
The camera's enhanced 20.3MP 1/2.3-type CMOS sensor delivers a 25 per cent increase in resolution, compared to the Canon PowerShot SX70 HS predecessor, the SX60 HS at 16.1MP, bringing a new level of detail and vividness to images. This sensor upgrade also means that large photo prints look beautiful when taken on the camera, doing justice to precious family memories as they take pride-of-place on the wall.
In addition to sharp JPEGs, the Canon PowerShot SX70 HS can capture images in RAW or compact RAW format, opening a world of professional post-production techniques, providing limitless ways to impress with optimised photographs.
It has never been easier to sync images or videos to a smart device, PC or Mac[1] via the Auto Image Sync and Transfer mode using the Canon Camera Connect app (iOS/Android), or Image Transfer Utility 2 for PC and Mac. The PowerShot SX70 HS also features Remote Live View, which enables images to be taken remotely via a smartphone[2], meaning no-one is ever left out of a family portrait.
Canon's new premium bridge camera delivers a truly portable and versatile shooting experience, capable of capturing everything from a vlog to wildlife on the African Savanna or a portrait of a loved one at a family occasion. This multi-purpose camera will get users closer to the action, when it matters.
The Canon PowerShot SX70 HS will be available to purchase from November 2018
For more information, please visit: https://www.canon.co.uk/camera...
Key Benefits:
Look and feel of an all-in-one DSLR with an easy-to-use interface
Versatile shots with a 65x superzoom and 10 fps shooting
Capture important memories in RAW and 4K UHD video
Reliable, fast autofocus even in low light
Phone and computer support via Bluetooth or Wi-Fi
What's in the box:
Canon PowerShot SX70 HS
Battery Charger LC-E12E
Rechargeable Li-ion Battery LP-E12
Lens Cap
Neck Strap NS-DC11
AC Cable (E)
User Manual Kit
Image Gallery
Click on a thumbnail to see the full version.