Canon PowerShot SX60 HS Review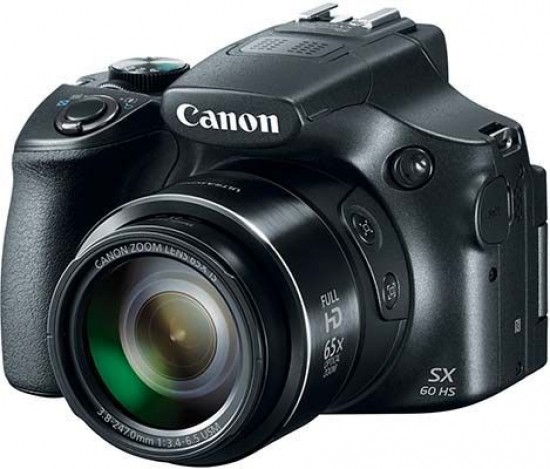 Introduction
The SX60 HS is Canon's latest and greatest addition to its PowerShot bridge camera line-up. It boasts a huge 65x optical zoom with a 35mm-equivalent focal range of 21-1365mm. It's currently the biggest zoom range you can get from any bridge camera and trumps ultrazoom rivals like the 63x Sony Cyber-shot DSC-H400, 60x Nikon Coolpix P600 and 60x Panasonic Lumix DMC-FZ72. But the SX60 HS packs more than just a big lens. Its 16.1MP high-sensitivity CMOS sensor promises excellent image quality, especially as it's paired with Canon's high-end DIGIC 6 processor. This also enables up to 6.4fps continuous shooting and Full HD video capture with stereo sound. The camera isn't short on features either, with a 922k-dot electronic viewfinder, flip-out LCD display and clever Zoom Framing Assist function. You also get built-in Wi-Fi with NFC pairing for easy image sharing and remote camera control, plus plenty of creative effects and filters, and all for an RRP of £449/$549.99.
Ease of Use
Externally the Canon PowerShot SX60 HS looks like most other high-end ultrazoom bridge cameras, which is to say it resembles a small DSLR. But considering it packs what's currently the biggest zoom range in the business, the camera isn't particularly large at 127.6 x 92.6 x 114.3mm, although its 650g ready-to-shoot weight is on the chubby side. This beefiness does translate into solid build quality though, with a rugged plastic casing that's free from flex or squeaks, to the tactile rubber coating on the finger and thumb grips.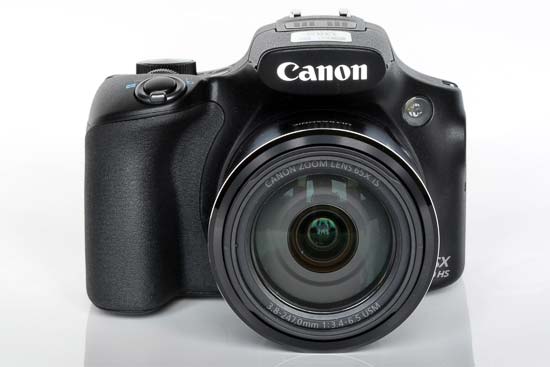 Front of the Canon PowerShot SX60 HS
Considering the SX60 HS is a feature-packed camera, its control layout is fairly simple and logical. Some buttons are more unusual though, like those positioned on the lens barrel. The upper button activates Canon's Zoom Framing Assist function. When you're zoomed in to the max, it only takes a tiny twitch of the camera to send a distant subject flying out of frame. Finding it again can be frustrating, but by pressing and holding the Zoom Framing Assist button, the camera automatically zooms out but leaves an outline of the original frame size on screen. Position the outline around your subject, release the button and the camera automatically zooms back in. The lower button on the lens barrel then helps prevent you losing track of your subject again, as pressing it enhances the camera's image stabilisation to further iron out camera shake. The effect is minimal though, however the Zoom Framing Assist feature is handy and effective.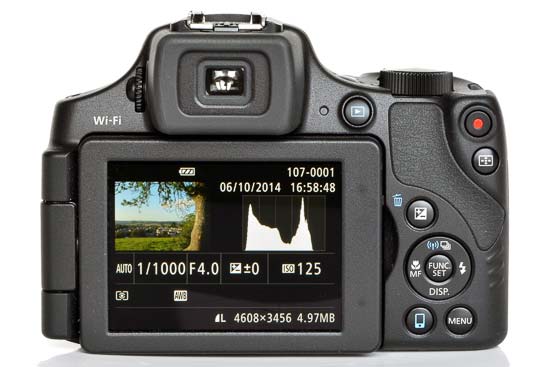 Rear of the Canon PowerShot SX60 HS
Move to the back panel and we find a couple more non-standard controls. Beneath the video record button is a control for selecting and locking the focus point, and further down sits the camera's Wi-Fi link button. Initial set-up can be a faff, requiring you to manually connect to the camera's wireless hotspot, but if you've got an NFC-equipped mobile device, you can make the connection by simply tapping it against the camera. However you connect though, Canon's CameraWindow mobile device app lets you wirelessly transfer images to a smartphone, tablet or computer, as well as print to a PictBridge-compatible printer. The app also allows you to remotely control the camera, which although initially impresses with minimal lag, soon loses much appeal as you can't remotely view or set an autofocus point.
Tilting LCD Screen
Above the Wi-Fi button sits the usual directional dial pad that doubles as controls for burst shooting, flash, macro focus and display options. The latter allows you to show histograms and other information overlays in playback mode, but it also switches between the LCD and electronic viewfinder when shooting. Alternatively you can activate the EVF by flipping the movable LCD screen into its closed position.  It's a pity the camera doesn't have an automatic eye-detection system to switch between the two though.
Thankfully the Canon PowerShot SX60 HS's LCD and EVF themselves are both good quality and easy to use. Unfortunately the 922k-dot LCD screen isn't touch-sensitive, but it does have great viewing angles which translate to accurate colour and contrast reproduction, regardless of your angle of view. The screen also benefits from being a fold-out unit, making it easy to compose high and low angle shots, as well as a good old selfie. Screen brightness is also high enough to be usable under direct sunlight, but if things get too bright, the electronic viewfinder is a useful alternative. Its 922k-dot resolution is crisp, but be prepared to squint at the small physical size of the EFF, which isn't helped by a seemingly pointless black border around the image preview area.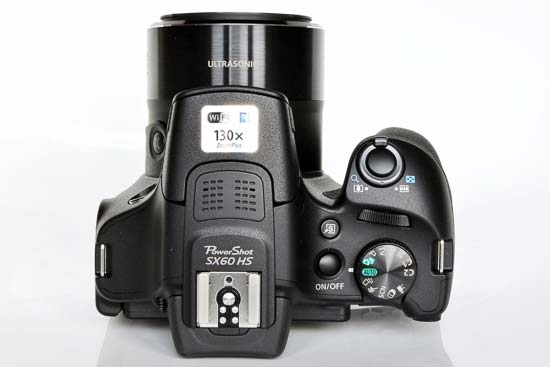 Top of the Canon PowerShot SX60 HS
On top of the Canon PowerShot SX60 HS sits a proper hotshoe mount, should you wish to connect a separate flashgun or remote flash triggering device. The camera's built-in flash has to be manually opened by pulling it upward, rather than using a typical button release. Next to the flash there's a useful customisable shortcut button which can be configured to operate one of various shooting options like white balance or exposure metering. It's a shame this control is located directly alongside the power button though, as the two can be easily confused until you're familiar with the camera.
You also get two dials on top of the SX60 HS. One is a control dial just like you'd find on a Canon DSLR, which makes it far easier to adjust common settings like exposure compensation than fiddling with buttons. The main mode dial sits behind this and provides instant selection of the camera's auto, program auto, aperture and shutter priority modes, as well as a fully manual option.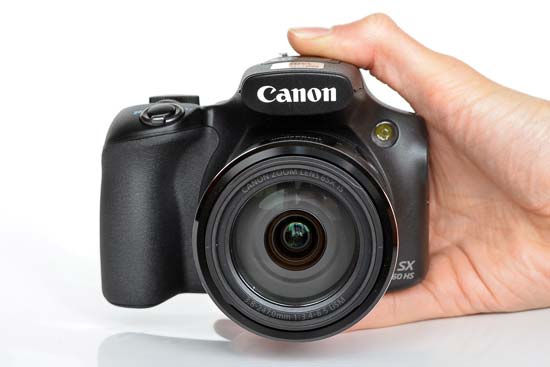 Front of the Canon PowerShot SX60 HS
Another mode worth mentioning is Hybrid Auto, which automatically captures a couple of seconds of video with each still and compiles everything into a video digest of your day. The fun continues in Creative shot mode, where six separate images are captured with one press of the shutter release, each being automatically given a funky crop and filter according to one of five different styles. Then if you switch to the Creative Filters mode, a further eight individual filter effects can be applied as you shoot. With so many shooting options to choose from, remembering your preferred settings can be tricky, but thankfully the C1 and C2 modes allow you to save two custom setups for quick recall. The only mode that's missing from the SX60 HS is an automatic panorama setting.
When it comes to shooting the Canon PowerShot SX60 HS, the camera will turn on and fire a shot in a spritely 1.8 seconds. Focussing in good light is almost instantaneous, but dimmer conditions slow things to a slightly sluggish 1.5 - 2 seconds. Zooming in to long focal lengths can also cause some focus hunting, and the system is sometimes unreliable in these situations, too. Exposure metering is absolutely dependable though and isn't fazed by high-contrast scenes.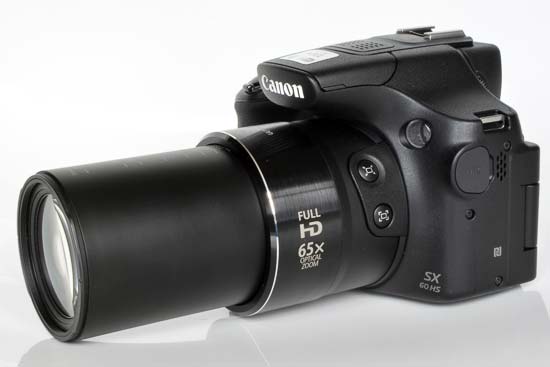 Side of the Canon PowerShot SX60 HS
Navigating the SX60 HS' menu system is a doddle thanks to Canon's tried and tested design and layout. Pressing the FUNC. SET button in the middle of the rear directional pad displays a menu overlay of commonly used shooting settings, though these do change according to which mode you're in. There are also plenty of display preferences available during image playback, including RGB histograms.
Finally, the Canon PowerShot SX60 HS's 340 shot battery life from its 920mAh rechargeable Li-ion battery is relatively good, narrowly beating the Nikon Coolpix P600 and Sony Cyber-shot DSC-H400. It's not enough to pull ahead of the Panasonic Lumix DMC-FZ72's impressive 400-shot lifespan, but by activating the SX60 HS' Eco mode, the battery life can be eked out to around 450 shots through subtle power-saving measures.