Canon PowerShot SX710 HS Review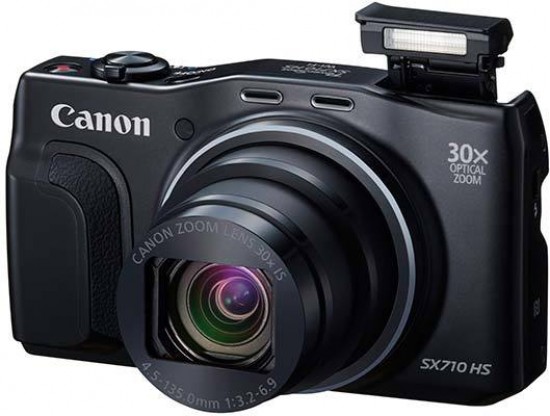 Conclusion
Virtually identical to last year's SX700 HS model, the new Canon PowerShot SX710 HS takes a few minor steps forward, namely faster burst shooting rates, more Auto Zoom options and 5-axis stabilisation for video, but one major step back, offering worse image quality than its predecessor.
The move to a 20.3 megapixel sensor has done the SX710 HS no favours, with ISO 400 already suffering from obvious noise, smearing of fine detail and colour artifacts. If you shoot mainly in good light, the SX710 HS deliver impressive detail, colour reproduction and dynamic range, but low-light shooting is disappointing. The Canon PowerShot SX710 HS's main rival, the Panasonic Lumix DMC-TZ70, has dropped the megapixel count from 18 to 12 to try and offer better image quality (review coming soon...), so unless you're swayed by the number of megapixels, that camera may prove to be a better option.
Our other main criticism of the SX710 HS is the lack of progress compared to last year's model. While it remains simple to operate and offers a lot of features necessary in this class of camera, the SX710 HS continues to miss a panorama mode, proper multi-shot HDR capture, RAW shooting, a touchscreen interface and even a viewfinder. In short, we'd have expected to see Canon make a much bigger step forward with the SX710 HS.
In summary, the Canon PowerShot SX710 HS is still a well-designed, easy to use travel-zoom camera, but the lack of new features and inferior image quality means you should really look elsewhere (or even at last years discounted SX700 HS, if you can find one).
Ratings (out of 5)
Design
4
Features
3.5
Ease-of-use
4.5
Image quality
3.5
Value for money
3.5