Canon PowerShot SX720 HS Review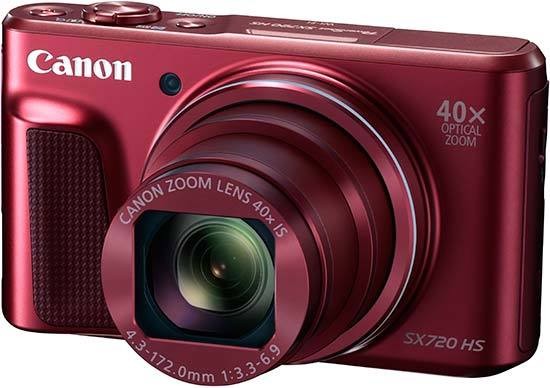 Introduction
Canon's latest superzoom travel compact camera, the Canon PowerShot SX720 HS, features a 40x optical zoom lens, which is an equivalent of 24-960mm in 35mm terms. A digital zoom (called Zoom Plus) of 80x is also available. A further digital zoom of 120x can also be used. It also has a 1/2.3-inch type back-illuminated CMOS sensor which has 20.3 million pixels. The sensor is joined by a Digic 6 processor. Other features include Full HD video recording at 1080p, inbuilt Wi-Fi and NFC and a rear 3.0-inch, 922k-dot LCD screen. The Canon PowerShot SX720 HS is a replacement for the SX710, which featured a 30x optical zoom. Its main competitor in this sector of the market is the Panasonic Lumix DMC-TZ80 which features a 30x optical zoom. The Canon PowerShot SX720 HS retails fpr £299 / $379.
Ease of Use
The Canon PowerShot SX720 HS has a slim design, which is pretty remarkable when you consider that it features a 40x optical zoom housed within a relatively small body. You can slip the SX720 into your pocket, so long as you don't have very tight jeans on.
Canon has gone for a brushed metal look which makes the SX720 look stylish, while the rounded corners of the camera body also add to an overall sleek appearance.
On the front of the Canon PowerShot SX720 HS is a rubberised grip section which your middle finger rests along. It helps the camera to fit snugly in your grip and gives you confidence that you're not going to drop it. On the back of the camera there's also a small textured area just next to the mode dial where your thumb rests naturally.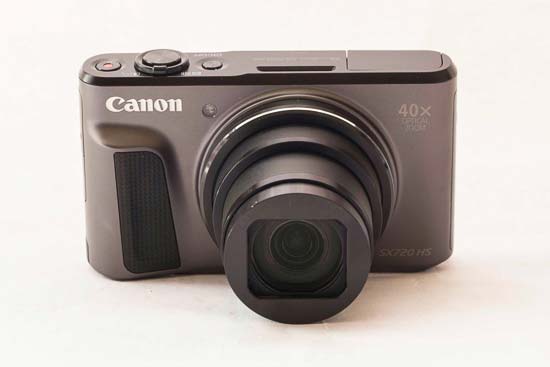 Front of the Canon PowerShot SX720 HS
The button layout on the SX720 is relatively simple and straightforward - especially so if you've ever used a Canon compact camera before. On the top of the camera is the shutter release button, which is surrounded by a zoom rocker. There's also an on/off switch, along with a video record button.
On the left hand side of the top plate you'll find the inbuilt flash, but when you want to use this, you'll need to eject it from its housing using a switch on the side of the camera. Just underneath this switch and back a little bit you'll find the Zoom Frame Assist button. This is a very useful feature, especially for a camera which features such a high optical zoom.
Basically, if you're photographing something while using the zoom (whether at the full 40x stretch or a more modest focal length) and the subject moves out of the frame, you hold down the zoom frame assist button and the lens will zoom out, allowing you to find the subject again. Release the button and the lens will automatically return to the same focal length you'd just been using - it's much quicker than using the zoom rocker switch.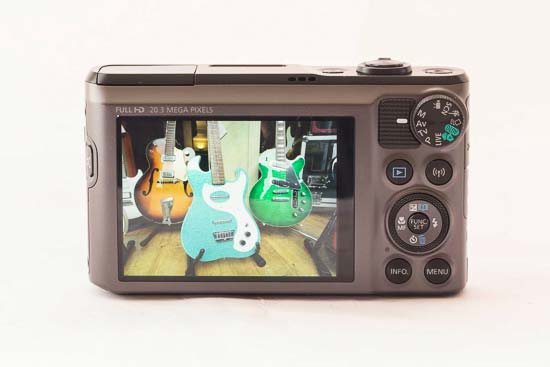 Rear of the Canon PowerShot SX720 HS
Moving to the back of the Canon PowerShot SX720 HS and there's a familiar Canon button layout. At the top of the back there's a mode dial which allows you to switch between the various exposure modes on offer. Like with the previous generation of this camera, the SX720 offers manual and semi-automatic control - you can find P/Av/Tv/M modes on the dial. There's also Auto, Hybrid Auto, Live, Scene, Creative Shot, and Movie mode. We'll go through some of these modes further on in the review.
Underneath the mode dial is the playback button and a button which you use to directly access the Wi-Fi mode on the SX720. Underneath this is a navigational pad, which has four directional keys surrounded by a small dial. Each of the keys has a specific function assigned to it, for example up allows access to exposure compensation, left is used for changing the focusing mode, down for accessing the timer (or delete in playback), and right is for changing the flash mode. The dial is used when altering a setting - for example if you first press the up button to access exposure compensation, you can then move the dial to increase or decrease exposure compensation.
The dial is also used when altering shutter speed or aperture depending on the shooting mode that you're using. If you're shooting in manual mode, you'll need to press the up key (marked as exposure compensation)to switch between altering shutter speed and aperture.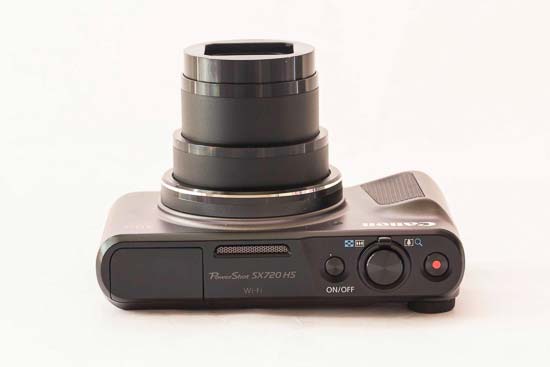 Top of the Canon PowerShot SX720 HS
In the middle of the navigational area is a function/set button. Press this while in shooting mode and a quick or function menu will appear which gives you the opportunity to change all the most commonly settings, such as ISO, white balance, aspect ratio and so on.
Finally, the last two buttons are an info button which changes the information displayed when either in shooting or playback mode, and a Menu button which gives you access to the main menu - you can use this when the quick menu isn't enough, for example if you have to change the date or time settings.
Although the Canon PowerShot SX720 HS affords you semi-automatic or manual control, you can't shoot in raw format. That's perhaps a little disappointing for this camera, but it's not that much of a surprise. It would be nice if for the next generation of the camera, you could shoot raw format though - it would be a much more appealing camera to enthusiasts looking for a travel compact camera.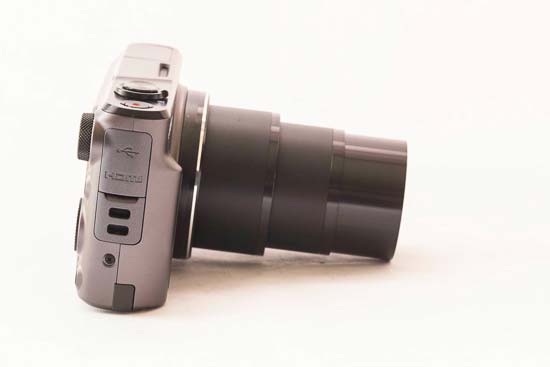 Side of the Canon PowerShot SX720 HS
Hybrid Auto is a fun mode which has been included on several Canon compact cameras before. Basically, it creates a two-second video before you take each shot (it starts recording from the moment you half press the shutter, but only saves the two seconds preceding the shot). At the end of a calendar day the camera will amalgamate all the shots together into a video - it's great for holidays, wedding, occasions and so on, as you not only have the shots you've taken, but a video clip you can watch too. However, it's not perfect - it would be nice for example if you could edit which clips end up in the final video. It would also be nice if you could switch on this video capture when shooting in manual or semi-automatic modes - just because you've taken manual control doesn't necessarily preclude you from wanting this fun video.
Creative Shot mode is a fun way to experiment with how your images will look. Move the mode dial to this mode, and every time you take a shot, the camera will apply five different crops, filters, or combinations thereof to your image. You don't have a choice over which crops or edits are made, but you can choose from groups of different options, including "Auto", "Retro" and "Monochrome".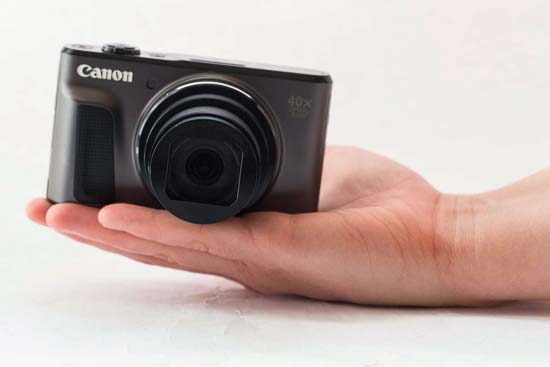 The Canon PowerShot SX720 HS In-hand
It's not possible to change the autofocus point for the Canon PowerShot SX720 HS, which seems like a bit of an oversight for something which otherwise affords such a high level of manual control. You can choose the centre point, or switch on Tracking AF or Face AiAF which chooses a spot for you, giving priority to any faces in the shot.
Focusing is quick in day (or good) light, dropping a little more when you're shooting in lower light. There's a focusing light that will assist if it's really dark, and it's pretty rare for the camera to display a false confirmation of focus.
Start-up takes a couple of seconds, possibly because of the physical limitations of extending such a long lens at speed. Shot-to-shot time is pretty speedy though, while general operational speeds are also good.