Fujifilm FinePix S8500 Review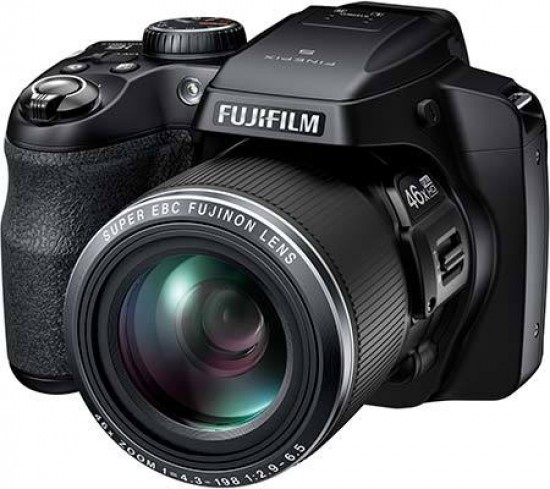 Conclusion
Despite our original reservations about fudging the line between superzoom and bridge, the Fujifilm FinePix S8500 works quite well. It gives the best features of a bridge camera such as manual control, its size, sturdiness and large zoom with two options controlling it. For the torpid among us, that may raise a smile. Along with all this, it offers more budget features such as no manual zoom ring on the lens, no raw recording and a plastic tripod bush. The latter point is of some concern given that anyone wanting to expand their photographic knowledge will want to invest in a tripod. The bush on the bottom of the camera will get a lot of use with the large zoom and a plastic type won't keep up.
Aside from that, the Fujifilm FinePix S8500 is well built. The battery door is fully lockable to ensure those AA batteries don't spring out on you if the camera suffers an accidental knock. The grip is large for carrying between shots one handed and everything is laid out in a place where it can be reached easily. The buttons are firm and the command dial needs a degree of effort which is great because you won't pop it out of it's position easily.
It's easy to look at image quality as a critical photographer, but let's remember that this is a camera under £200. The everyday sample pictures we took aren't at all bad. Sure they have noise and it degrades the pictures a bit, but that has to be expected on a sensor so small. The only disappointing part of all this is that the sensor is a back-illuminated variety. It trumps up as being the best available for low light photography. So far, we've struggled to find a compact camera that has a reasonable performance in low light. This could be the reason why Fujifilm went up to ISO 12800, but that was a mistake. They should have capped it at ISO 6400 maximum.
Colour rendition is good and the pictures are sharp. The Fujifilm FinePix S8500 does struggle with dynamic range and the best results are gained from areas where the light is flatter. There is a HDR setting on the camera and we have a comparison in the sample shots of the ivy covered post. The camera meters well enough but can struggle in harsh light. We weren't unhappy with the results from the sample tests, though.
For the money, this isn't a bad camera if you're looking to start out with an interest in expanding your knowledge. Image quality can come with more expensive equipment fitted with larger sensors. The picture quality is good for the price and the Fujifilm FinePix S8500 will afford you to learn the tricks of exposure, learn about light and decide if photography is for you before committing to a large lay out. If you enjoy yourself, that will most definitely come!
Ratings (out of 5)
Design
4.5
Features
3.5
Ease-of-use
4
Image quality
4
Value for money
4.5