Kodak PixPro AZ521 Review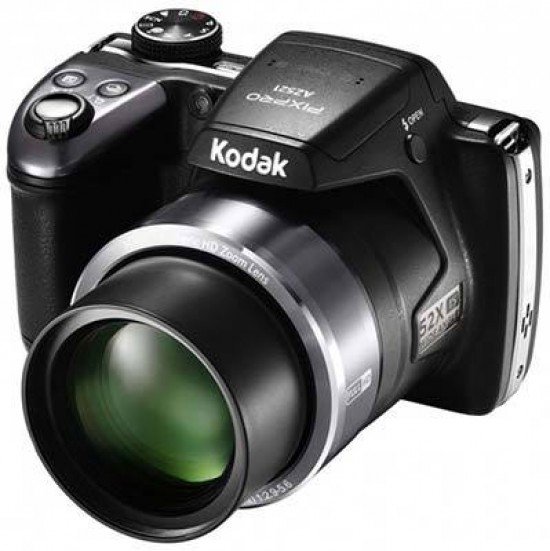 Introduction
The Kodak PixPro AZ521 is a new super-zoom camera, offering a massive 52x lens with an effective focal length of 24-1248mm. Other standout features of the range-topping Kodak AZ521 include Full 1080p HD video, a 3-inch rear LCD screen, 16.79 backside-illuminated 1/2.3-inch CMOS sensor, 360-degree panoramic shooting and an ISO range that stretches from ISO100 to ISO3200. The Kodak PixPro AZ521 is very competitively priced at £199 in the UK, and is only available from Argos and Tesco. Made under license by JK Imaging, does this new Kodak camera live up to its heritage? Carry on reading our Kodak PixPro AZ521 review to find out...
Ease of Use
So is Kodak back making cameras again? Not exactly, for the AZ521 super zoom/ bridge camera is one of the first such branded models created under license by JK Imaging, which sources its product from China, and also tells us Kodak still officially has a hand in overseeing its creations.
Outwardly though it's business as usual; we still get the familiar yellow box and red typeface, whilst the big and bold design of the PixPro AZ521, with good-sized grip and large buttons, isn't far removed from what we'd expect of Kodak itself. The long serving 'EasyShare' sub branding has been dropped however in favour of the new, more sophisticated sounding 'PixPro', despite the fact that we'd aver the AZ521 is better suited to the family user searching for a competent all-in-one super zoom rather than the professional photographer.
The main pitch of the Kodak PixPro AZ521 as far as the man or lady in the street is concerned however is bang for your buck - namely the fact that we get an almost class leading 52x optical zoom and DSLR 'lite' styling for a very reasonable suggested price in the region of £249.99. Currently the camera is available in the UK via the Argos chain - so think of this as a mass market as opposed to photo specialist device, such as the much-mooted Micro Four Thirds interchangeable lens camera, also from JK Imaging with Kodak branding which at the time of writing had yet to secure a definite release date (however we did spot a mock up in a JK promotional video).
Back to the AZ521 for now, the AZ of the name standing for 'Astro Zoom' - and indeed such is the zoom power on offer here we could indeed shoot the moon if wanted. Key features of this all-black camera with gun-metal grey lens barrel and stylistic 'accents' are a 16.38 megapixel effective resolution from a 16.79 backside-illuminated 1/2.3-inch CMOS (as opposed to CCD) sensor, whilst that whopping lens bolted onto the front offers a 35mm equivalent focal range going from an ultra wide 24mm right up to a paparazzi-like 1248mm at the telephoto (maximum zoom) end, putting it out in front of most rivals, save for Panasonic's new 60x zoom FZ72. Maximum lens aperture for the 'Kodak' is f/2.8 - pretty standard for a zoom camera.
Naturally there is optical stabilization built in, plus the handgrip here is big enough for us to be able to wrap almost four fingers around, using the left hand to cup the lens barrel. The camera measures 118.7x85.6x97.6mm, so is a little too big for most pockets, whilst it weighs a chunky 551g body only. However we found this more reassuring than weighty.
| | |
| --- | --- |
| | |
| Front | Rear |
Some might baulk at the fact that the AZ521 is a JPEG only device, but that's fine given the target audience, as is the fact that we get the option of Full HD 1920x1080 pixels video clips with the bonus of stereo sound recording. Fortunately the optical zoom can be adjusted for video recording, with auto focus naturally taking a couple of moments to catch up when doing so.
Though the camera is very light on digital effects, there's no Wi-Fi or GPS built-in, the screen is resolutely fixed, and nor is there any optical or electronic viewfinder, again this is commensurate with the affordable pricing; this is a budget bridge camera/ super zoom after all. And mainly what the AZ521 is all about is ease of use, along with almost unlimited flexibility when it comes to framing subjects; so who cares that the lens on the front cannot actually be swapped?
Its other 'credentials' are 360-degree panoramic shooting and an ISO range that stretches modestly from ISO100 to ISO3200, whilst the lithium ion battery - which here is re-charged in camera via a USB cable and suitably compatible mains plug - is good for around a stated 240 pictures from a full charge.
Handling wise the AZ521 sports the familiar (for a bridge camera) mini digital SLR shape plus a button layout that nods both to the DSLR and also the humble snapshot camera. In other words it feels instantly and reassuringly familiar. From the front as expected the lens barrel dominates proceedings. Above this sits a hump housing the camera's dual stereo microphones and spring-loaded pop up flash bulb, with a manual button provided at its right side (if viewing the camera lens on) for raising it manually - it flipping to attention with a satisfying 'clunk'. To the left of this a familiar porthole housing the AF assist/self time lamp, whilst the curved handgrip features leather effect rubber padding to prevent finger slippage. There's sufficient room between lens barrel and handgrip to avoid the knuckles of your fingers scraping against it, whilst your thumb comes to rest on a small matching pad to the left of a video record button on the backplate. The square-ish boxy design of the main camera body doesn't make it the most comfortable to hold with battery and card inserted, but in operation the zoom power available at your fingertip helps you forget about that.
A press of the small, lozenge shaped power button inset into the chrome strip on the AZ521's top plate and the unit powers up ready for action in just a couple of seconds, lens extending to maximum wide angle setting and the rear 3-inch, 460k dot resolution LCD blinking into life. As on any compact camera, control of the zoom is automatic and governed by a lever sat at the forefront of the hand grip, which encircles the raised shutter release button. Give this a nudge and the zoom travels throughout its entire range in just over four seconds.
A half squeeze of the shutter release button and, if we have an initial grumble about the AZ521 it's that auto focus is a tad sluggish, the image on screen visibly adjusting before it snaps back into sharpness, a process taking a good second or more. We found sometimes when presented with busier scenes this 'zero-ing in' time would be further extended. A deal breaker for some is that this is a JPEG-only camera - but then what else would you expect at this price?
Behind the zoom lever and shutter release are located two identically sized buttons - the one on the left for the camera's drive modes, providing the ability to switch between single shot capture and continuous bursts, and the one on the right for adjusting exposure compensation, with a range of +/- 3EV.
| | |
| --- | --- |
| | |
| Pop-up Flash | Top |
Tucked behind the above we find a raised bottle top-style shooting mode wheel that locks into each of its 10 settings with a definite action. The ridged edge to the dial engages with the thumb of the right hand, enabling it to be easily edged clockwise or anticlockwise from one setting on to the next. Ranged around this dial are the usual suspects of program, aperture priority, shutter priority and manual, along with a dedicated 'face beautifier' portrait mode, aforementioned panorama mode which allows the user to select one of four directions to shot it (starting from left to right or vice versa, or pointing up or pointing down. Next up on the dial is scene mode, with handheld night mode alongside a pet mode, sunset mode, and further pre-optimised settings for capturing fireworks, sporting action, night portraits, landscape, day time portraits, snow, children and parties. Perhaps most interestingly among the 12 scene modes, annotated with familiar on-screen icons, is a multi exposure mode - something that is also creeping onto camera phone handsets such as the Samsung S4 as an option.
Moving anti clockwise around the dial the next setting is a dedicated video mode. Full HD clips up to 30fps are achievable with this model, and you don't need the dial set to the video setting to begin filming - just hit the red record button on the backplate and a second or so's wait later, away you go, as with any standard digital compact. As in stills mode, in movie mode the user can swap metering modes, switch image stabilization on or off, plus change resolution and capture speed (with up to 2.3fps continuous shooting), with a high-speed movie taken at 120fps alongside Full HD, HD and standard resolution capture options. A toolbar is provided on the left hand side of the LCD screen for this purpose.
Surprisingly, given that this is a mass-market super zoom, we also get a custom settings ('CS') option on the AZ521's top plate dial. As well as the ability to use this as a shortcut to your favourite scene mode in particular, we're also presented here with a sliding menu of all the other settings on the physical dial, which feels slightly superfluous, given that it's just as easy to twist the dial to these other settings anyway. With lugs provided for a shoulder strap left and right of the top plate, a speaker to one side and a plastic pop-open flap shielding separate mini HDMI and standard AV output ports to the other, the backplate of this Kodak resembles that of any other compact snapshot, with the 4:3 aspect ratio LCD taking up most of the real estate.
As previously mentioned, top right at the back we find a video record button that readily falls under the thumb. Give this a press and the image of the backscreen immediately narrows to present the view in 16:9 aspect ratio, black bands cropping the top and the bottom if shooting in Full HD mode. Unsurprisingly the action of the lens slows in video mode, taking double the time to travel through its zoom range if recording has commenced - going from extreme wide angle to maximum telephoto in 8-9 seconds.
Sitting beneath video record are two identically sized buttons; in fact these are mirrored below the four-way control/command pad that sits in the middle of the space to the right of the LCD screen. Whilst a press of the button marked 'I' when in auto mode on the top plate dial appears to achieve nothing, press it again when in Program mode and we get access to a range of digital filters, 20 in number. These range from a 'vivid' option through the curiously described colour tone altering Japan style, French style and Italian style - which is a first for us and we're still not quite sure what it means - to the more readily identifiable and familiar fish eye, vignetting, sketch and partial colour choices. Also you have got to love a camera that, as found among the Magic Filters on Olympus point and shoot compacts, offers a 'punk' filter - reducing subjects to heavy black outlines with an eyeball popping violet/purple wash over the entire image. Bravo JK Imaging.
| | |
| --- | --- |
| | |
| Memory Card Slot | Battery Compartment |
Build quality is generally good too and the AZ521 feels solid in the hand. What's missing on the AZ521's camera back is any obvious 'menu' button, though there is one marked with a bullet point graphical motif that does the same job. Press this and we're given a sparsely detailed toolbar running down the left hand side of the LCD. In the likes of Program mode this menu strip governs the camera's metering options, resolution of images, ability to activate or deactivate built-in anti shake, turn a High Dynamic Range (HDR) option on or off, or enter further set up menus. The latter expands a few screens more on these brief options - allowing image quality to be set, for example, not just resolution, or a digital zoom option to be turned on or off. There's also the ability to adjust screen brightness, alter the sound settings and format the SD/SDHC card in use - all pretty standard stuff.
The command pad just below these two buttons if moving clockwise around it allows the governing of the drive mode, the flash settings, which include both slow sync and red eye reduction options alongside forced flash, plus self timer/delete option and finally, close up/macro mode.
Underneath this again, and very near the camera base, we have two further and final buttons, one for playback and the other for display. Subsequent presses of the latter summon up a nine zone compositional grid and a histogram to the screen, or divest it entirely of any possibly distracting icons.
In playback mode meanwhile there's the ability to apply an HDR treatment retrospectively, or give the touch up treatment to people pictures - including lightning eyes, enlarging eyes, smoothing skin and correcting for red eyes; all automatically applied. Less surprisingly, shots can also be rotated or re-sized.
The base of the camera meanwhile features a slightly off-centre screw thread for a tripod and naturally a sliding plastic panel in the base of the handgrip which houses the battery, offering a 240-shot power duration when fully charged, and a slot for optional SD/SDHC card.
So, a fairly straightforward camera to use by any estimation, the main selling points of which are really that whopper of a zoom range plus the relatively inexpensive £250 asking price for the privilege. But what of the pictures it produces? Do they transcend its relatively humble trappings or are they pretty much exactly what you'd expect of a snapshot in this price range? Read on to find out.