Nikon Coolpix L820 Review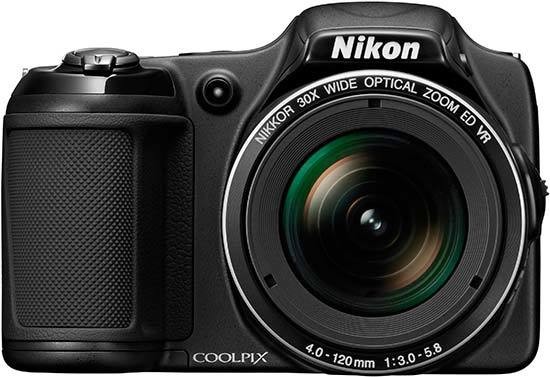 Introduction
The Nikon Coolpix L820 is a high-zoom digital compact camera featuring a 30x optical zoom, back-illuminated 16 megapixel CMOS sensor, 1080p FullHD video and EXPEED C2 processor. Nikon cite the L820 as being clever with images by utilising the zoom, user friendly interface and back-illuminated sensor for low light picture taking. In this test, we'll see if it's just as clever as they predict. The Nikon Coolpix L820 costs around £219.99 / $279.95 and is available in black, rose, blue and plum.
Ease of Use
Straight from the large zoom stable of Nikon's L series cameras, the Coolpix L820 is the top of the range model. It's host to an array of forward thinking technology, such as ED glass, stereo sound, FullHD video and a back-illuminated CMOS sensor. However, being in the Lifestyle section of Nikon's range also means that it's incredibly easy to use.
The immediate external design of the Nikon Coolpix L820 hasn't been altered to reflect any of the easiness. The top and back – where all the buttons are – is much the same as any compact camera that's designed for a more adept photographer. The usual amount of buttons are present and in the typical locations. On the top plate, the small power button nestles slightly into the body to prevent itself getting pressed accidentally. The large shutter release sits on the edge of the grip with the zoom rocker wrapped around it. However, the L820 is a large zoom camera and will need some steady holding. You can help the steadiness of the camera by placing a hand under the lens as a support. When you do this, your thumb will land on a lens based zoom switch.
The L820 has a huge zoom range. It's a 30x optical zoom which starts at 22.5 and goes out to a teeth aching 675mm. That's the distanced in 35mm terms, which is what we normally base our scale on. The actual zoom range is 4mm to 120mm and this all correlates to the size of the sensor. The 35mm version is simply a "scaled up" comparison, but is much easier to understand. The lens incorporates ED (Extra low Dispersion) lenses to keep images as sharp as possible. The Vibration Reduction (image stabiliser) is lens based which is good news. It's always good to get a hardware option over software. The L820 uses a lens-shift system which moves the lens in real time to counteract any movement while the picture is being taken.
| | |
| --- | --- |
| | |
| Front | Rear |
The Nikon Coolpix L820's 16 megapixel sensor is a CMOS (Complementary Metal Oxide Semi-conductor) over a CCD (Charge-Coupled Device) which is more fuel efficient. Great for when you're using regular AA batteries instead of rechargeables. However, a CMOS sensor renowned for being less sharp than a CCD. But why is it called back-illuminated? Well, traditionally, sensors are an array of photosites (pixels) that are responsive to light. Each photosite is surrounded with the circuitry necessary to take the information to the processor but because of this, they tend to block out some light. A back-illuminated sensor has the circuitry placed on the rear, so to look at it, it looks like it's on backwards. Therefore if light were hitting a backwards sensor, it would be illuminated at the back.
As part of the L series, the Nikon Coolpix L820 is at – by comparison – the lower end of the scale. What this means is that while all Nikon cameras are built to a good standard, it's not got anything advanced in it such as magnesium alloy. It's a plastic outer casing while the chassis will be – we assume – a mixture of metal and plastic. There are a few little nuggets on the L820 that set it apart from the herd. For example, it boasts a metal tripod bush which is great for long exposures or using the camera at full zoom. The long zoom will likely drive the user to use a tripod more often, making the tripod bush a high traffic area. A metal version will last a lot longer than a typical plastic type. The battery compartment has a locking switch on it, which is great considering the camera takes AA batteries. They tend to have built up pressure on the panel and can spring out if the door is caught.
| | |
| --- | --- |
| | |
| Top | Flash |
There are two menus to use on the L820. The Function menu is a quick access menu system to choose shooting styles without having to to delve into full menus. You can choose from a few preset easy styles such as portrait, landscape, sports or party. There's also more advanced modes such as back-lighting, panoramic and 3D photography. The L820 also features six digital filters. You can choose from; soft focus, sepia, high contrast black & white, high key, low key or selective colour.
The Main menu has three simple sections to deal with. The margins are a darker grey than the centre so you can tell when you're moving through sub-sections. The camera has allocated the three tabs to shooting, video and the main set-up. Nikon have kept everything simple in the menu systems. The main shooting menu only has five options to it, for example.
Start up time on the Nikon Coolpix L820 is fast. This is a camera that you can use around children when they do funny, candid stuff. From being powered down, the L820 will start up, focus and take a picture in just over two seconds. That's roughly half a second faster than the average speed of a digital compact camera. Now, although half a second is negligible in the grand scheme of things, when it comes to taking a picture of the kids, it's everything.
| | |
| --- | --- |
| | |
| Memory Card Slot | Battery Compartment |
There's several continuous and burst modes on the Nikon L820. There are two high speed modes offering 120 or 60fps (frames per second) as well as a Best Shot Selector (BSS) and Multi-Shot 16. The more interesting ones are the two Continuous modes. One is faster than the other, but we were surprised with just how fast the High speed one is. We tested it over a ten second period, but there's really no need. It takes six photos before it fills the buffer and it does those in about three quarters of a second. The first three shots were taken before the clock moved off of the zero setting, but we took our own reactions into consideration (around half a second) and added that to the total. Once the pictures are taken, it takes around nine more seconds to get them on the card and ready to shoot again. In the Low Continuous test, the camera starts off fast enough taking around three pictures each second. It slows though and gets a rough average of 1.9fps.
Playback can be operated whether the camera is on or off. If it's off, simply hold the button down for a few seconds to activate the camera. The most recently taken picture will be shown first and will display some basic information but that disappears after a few seconds. In the playback menu, you can edit pictures to add the digital effects. That's useful if you've taken a picture in a rush or change your mind about editing. You can add D-Lighting which is Nikon's dynamic range boost. Put simply, it adds detail to shadow areas and caps burn out on highlights.
The great thing about superzooms is that they're larger, so the accessories are upgraded. You get a lens cap and instead of the wrist strap, it comes with a neck strap. You also get a USB cable and television leads. Nikon supply 4x AA batteries to get you started, but it's up to you to get rechargeable versions. The documentation consists of a Quick Start guide. It looks quite big but is, in fact, in multiple languages. The full manual is on the enclosed CD along with Nikon View NX2 – a basic editing and tagging software program.