Fujifilm FinePix S8500 Review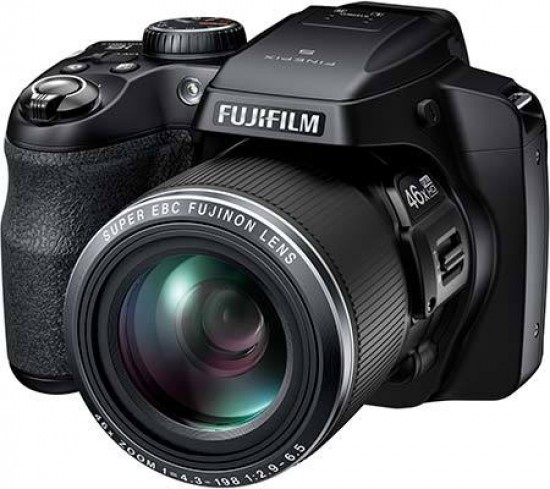 Image Quality
All of the sample images in this review were taken using the 16 megapixe Fine JPEG setting, which gives an average image size of around 7Mb.
Noise
The Fujifilm FinePix S8500 has a sensitivity range from ISO 100 to 12,800. That's a very high setting for a compact camera with a small sensor, even if it is back-illuminated. Looking at the pictures at normal viewing size, they don't get visibly troubled from noise until around the ISO 1600 setting. That's not bad going. The pictures do get a cast which disappears at ISO 6400 but then comes back with a vengeance at ISO 12800.
Zoom in closer and you'll see that ISO 100 shots are pretty much noise free. Being picky, there's a slight smudging of the darker areas which suggests that noise reduction software is at work, but colours are good, edges are sharp and there's pots of detail. As soon as we move up to ISO 200, the image quality starts to degrade. Now, to be fair to the camera we're being very picky and it's hardly noticeable, but it is there. ISO 400 is where the trouble really starts with a distinct loss of detail in darker areas and coloured blobs of green scatter blacks and shadows. There's also a slight loss of detail and while JPEG sharpening is increased to compensate for the noise issue, it can't cope.
ISO 800 sees the coloured noise suppressed by noise reduction software built into the camera but it's replaced with black & white noise. It looks like the white noise you'd find on your television, just blended with the picture. The speckles of this noise begin to group and join together at ISO 1600. Colour is suppressed to lessen the impact of noise and edge definition is in tatters.
By ISO 3200 a cast is starting to appear but noise reduction seems to fix this for the ISO 6400 setting. By this stage there's little point in taking a picture as noise is simply drowning out any detail while noise reduction is aggressively suppressing colours in order to prevent colour noise taking over. The final setting of ISO 12800 is redundant. There's no point in using it as you won't get anywhere near a decent image from it. It's an "emergency only" setting.
| | |
| --- | --- |
| ISO 64 (100% Crop) | ISO 100 (100% Crop) |
| | |
|   |   |
| ISO 200 (100% Crop) | ISO 400 (100% Crop) |
| | |
|   |   |
| ISO 800 (100% Crop) | ISO 1600 (100% Crop) |
| | |
|   |   |
| ISO 3200 (100% Crop) | ISO 6400 (100% Crop) |
| | |
|   |   |
| ISO 12800 (100% Crop) |   |
| |   |
Focal Range
The Fujifilm FinePix S8500 has a 46x optical zoom which ranges from 24mm to a whopping 1104mm (in 35mm terms). The wide-angle setting will cause some image distortion on straight lines. For general use of landscapes and the like, you shouldn't run into too many problems. The image stabiliser works well in bright light and the camera will raise the ISO as it gets darker so take a look at the ISO test to see what levels you'd be happy with.
| | |
| --- | --- |
| 24mm | 1104mm |
| | |
Sharpening
While on the whole we're satisfied with the sharpness of the pictures from the Fujifilm FinePix S8500, we did discover that adding a basic sharpen in an editing suite such as Adobe Photoshop tended to increase the sharpness to a more pleasing level.
| | |
| --- | --- |
| Original (100% Crop) | Sharpened (100% Crop) |
| | |
File Quality
There are two compression settings on the Fujifilm FinePix S8500. They both record at full resolution, but the normal setting will lose information in order to make a smaller file size. Images taken at Fine will record at around 6.5-7Mb while at Normal compression they're nearer 3.7-4Mb. That's a big difference in space availability on your memory card, but can also lead to less chance of enlarging images due to lack of detail. We did see a little smoothness in JPEG images indicating a lack of detail in otherwise detailed areas.
| | |
| --- | --- |
| Fine | Normal |
| | |
Chromatic Aberrations
We did find chromatic aberration in a few photographs. It didn't just happen at the edges of the frame or on high contrast lines. We found it in numerous areas on varying photographs.
| | |
| --- | --- |
| Chromatic Aberrations 1 (100% Crop) | Chromatic Aberrations 2 (100% Crop) |
| | |
|   |   |
| Chromatic Aberrations 1 (100% Crop) | Chromatic Aberrations 2 (100% Crop) |
| | |
Macro
Looking at a big, bulky camera, you'd expect the Fujifilm FinePix S8500 to barge clumsily around, knocking things over, yet despite it's size, the S8500 can get in as close as 2cm. There's a degree of image drop off from quite close in to the centre sweet spot.
| | |
| --- | --- |
| Macro | Macro (100% Crop) |
| | |
Flash
With the flash turned off, the Fujifilm FinePix S8500 does show slight vignetting at wide-angle as well as full zoom. With the flash on, the problem is accelerated and causes a lot of problems at wide-angle. It's a similar response at full zoom to the image without flash, but the light is noticeably centralised with the flash on.
| | |
| --- | --- |
| Flash Off - Wide Angle (24mm) | Flash On - Wide Angle (24mm) |
| | |
|   |   |
| Flash Off - Wide Angle (1104mm) | Flash On - Wide Angle (1104mm) |
| | |
And here are some portrait shots. The Auto setting caused a small amount of red-eye which was removed by the Red-eye reduction mode.
| | |
| --- | --- |
| Flash On | Flash On (100% Crop) |
| | |
|   |   |
| Red Eye Reduction | Red Eye Reduction (100% Crop) |
| | |
Night
There's a Night setting for taking images in low light, but more experienced – or anyone keen to learn the ins and outs of photography – may want to opt for the S setting on the command dial. It allows you to manually select the shutter speed, while the camera will handle the aperture. You can choose the ISO and the camera will tell you if you can't get a decent exposure.
Because of the manual input allowed in shutter priority, we got a nicer result from the camera in that setting. The Night scene mode (even with the Tripod setting) will use a higher ISO and with longer exposures will create various types of noise.
| | |
| --- | --- |
| Night Scene | Night Scene (100% Crop) |
| | |
|   |   |
| Night Shutter Priority | Night Shutter Priority (100% Crop) |
| | |