Fujifilm XC 50-230mm F4.5-6.7 OIS II Review

Introduction
The Fujifilm XC 50-230mm f/4.5-6.7 OIS II is a follow-up to the original lightweight, affordable telephoto lens which has been designed for the X-system. The XC in its name, as opposed to XF of other Fuji lenses, denotes that is intended to be more affordable, particularly for users of Fuji's cheaper models, such as the recent X-A10.

Mounted on an APS-C sized sensor, the equivalent focal length of the lens is 76-350mm, making it ideal for wildlife, sports or anything where the subject is some distance away.

Compared to the older model, Fuji says that this version offers better build quality, smoother operation and an improvement in optical image stabilisation. It now offers up to 3.5 stops of exposure compensation, compared with 3 for the previous model.

The lens features 13 all-glass elements in 10 groups, including 1 aspherical lens and 1 ED element.

Although it is likely to appeal to XA users, it can also be used on any of Fuji's other X-series cameras, such as the X-E2S, XPro2 or X-T2.

The Fujifilm XC 50-230mm F4.5-6.7 OIS II costs £329 / $399.
Ease of Use
Considering the focal length this lens offers, it's very lightweight, and not too oversized. When using it with one of the smaller cameras in Fuji's line-up, such as the X-A3, it manages to stay reasonably well balanced - although you may find you need to use your free hand to secure it for the best experience.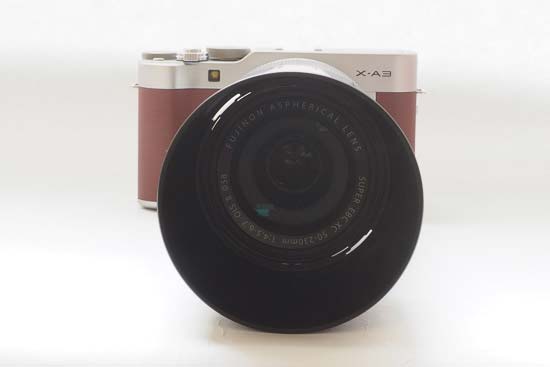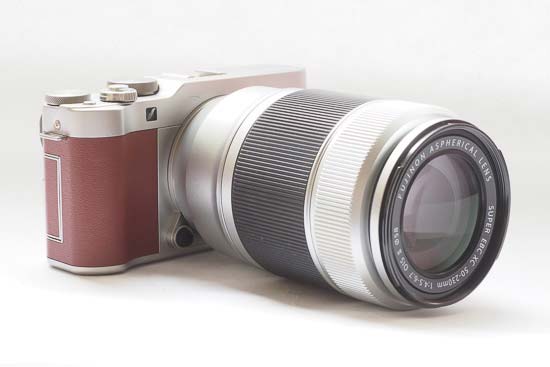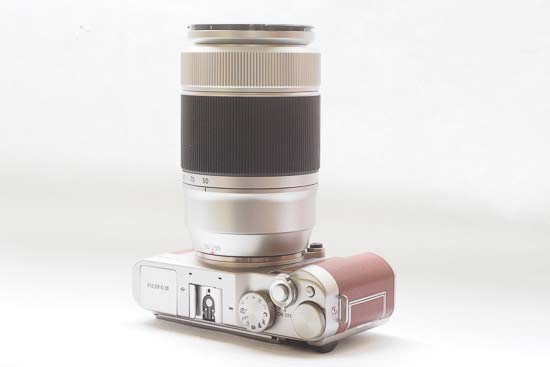 Cameras like the X-A3 don't have an inbuilt viewfinder, so you will have to use the screen to compose your images. This can be a little trickier when you're using a long telephoto length lens on a small body, but the image stabilisation does a good job of helping to keep the subject steady enough for you to compose your shot, even at the furthest 230mm reach.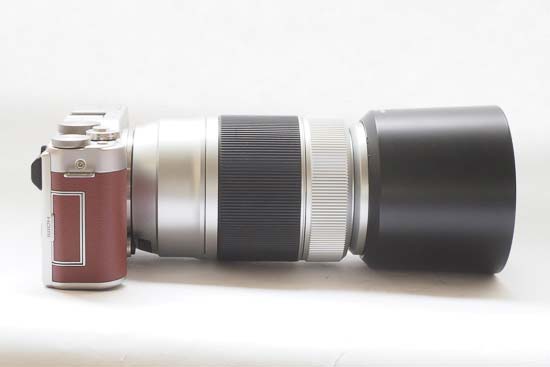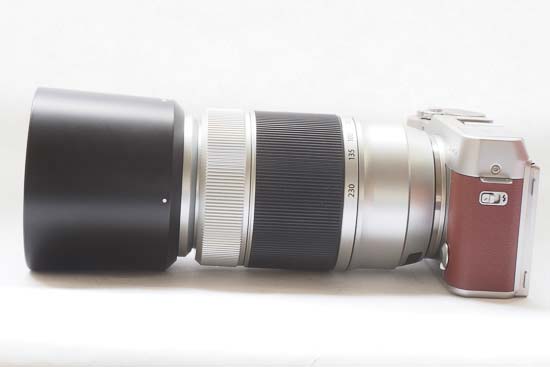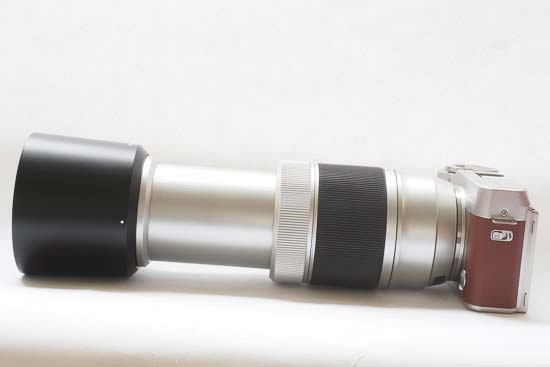 The lens itself is very minimalist in approach. There are no buttons or switches on the lens. Unlike some XF lenses, there's no aperture ring either, so you'll need to make any adjustments on the body of whichever camera you're using. On some older models, you may need to perform a firmware upgrade to be able to use the command dial on the camera to adjust aperture.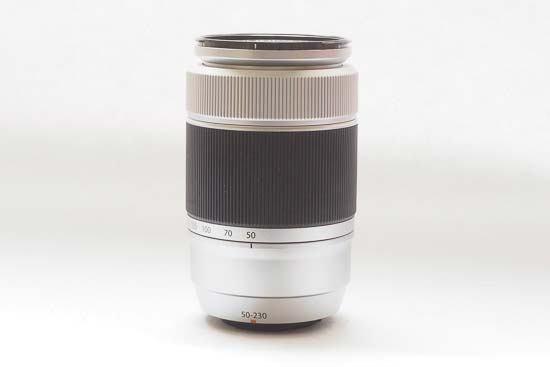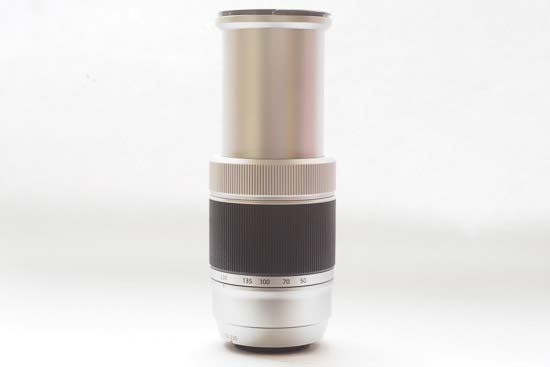 Despite being one of Fuji's cheaper models, the build quality still feels well put together, although it doesn't match the highest quality of Fuji's XF lenses. The lens has a plastic mount and barrel, but the silver finish of the sample we were provided with looks stylish enough.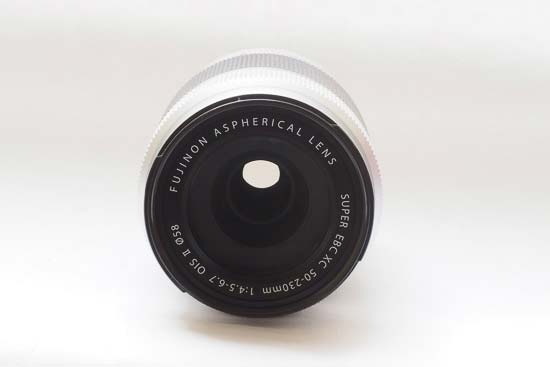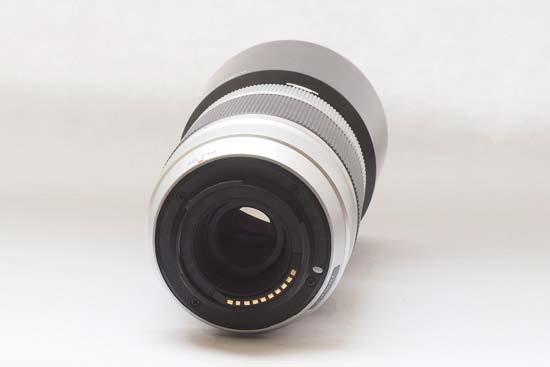 In the middle of the lens is the zoom ring, which is fairly wide and has a ridged, rubberised grip. Just behind this you'll see markings for different focal lengths throughout the range to help guide you to the focal length you want. Zooming is not internal, so the lens will extend as you zoom in - the lens reaches its longest point at 230mm, but compacts away relatively well when in the 50mm position.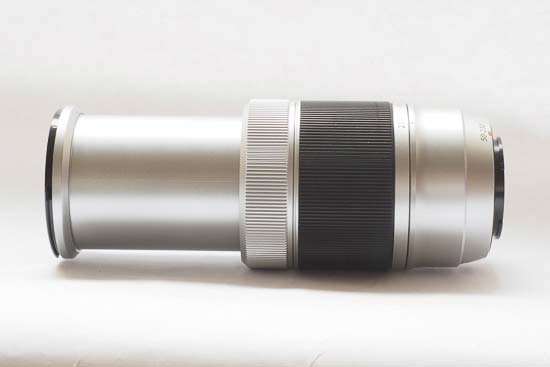 Just in front of the zoom ring is a manual focusing ring. It is ridged, but it doesn't feature the rubberised coating. Its movement is fairly smooth and fluid, but with just enough give to make precise autofocus adjustments easy. There are no hard stops at either end of the focusing ring.
Optical image stabilisation needs to be turned off in-camera, as there's no switch or button on the lens itself.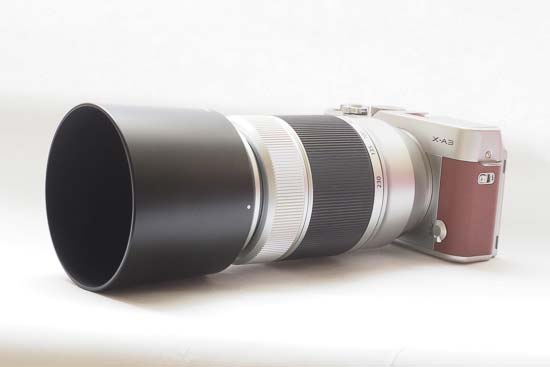 The Fujifilm XC 50-230mm f/4.5-6.7 OIS II comes with a supplied plastic bayonet hood to be used to prevent flare in bright sunlight. You also get the front and rear caps.
Auto-focus
For focusing, the Fujifilm XC 50-230mm f/4.5-6.7 OIS II uses a high-precision stepping motor. Most of the time, the lens locked onto the target quickly, efficiently and quietly. Some hunting took place at the full 230mm focal length, especially if the subject was low contrast or erratically movement. The front of the lens does not move when focusing, which makes it suitable for use with various filters.
Focal Range
At the 50mm end of the zoom range, the Fujifilm XC 50-230mm f/4.5-6.7 OIS II has an angle of view of 31.7 degrees. The 35mm equivalent focal length is 76mm.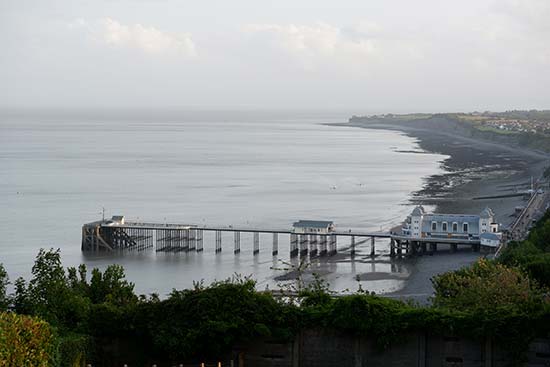 50mm
At the 230mm end, the angle of view is 7.1 degrees. The 35mm equivalent focal length is 350mm.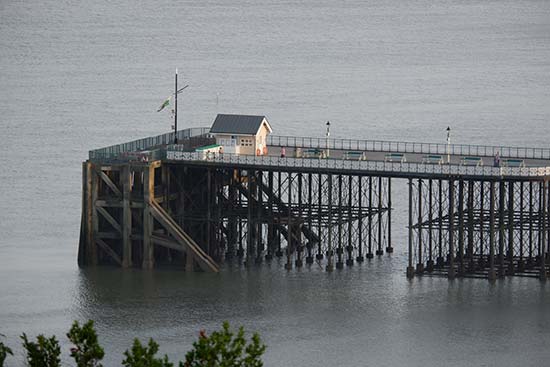 230mm
Chromatic Aberrations
Typically seen as purple or blue fringes along high-contrast edges, chromatic aberration can be an issue for some lenses. It doesn't seem to be particularly prevalent with the Fujifilm XC 50-230mm f/4.5-6.7 OIS II lens. There is some light fringing along some areas of high-contrast, if you examine at 100% and are scrutinising the shot - it's generally unlikely to be noticeable at normal printing and web sizes.
Light Fall-off
At the widest focal length of 50mm, and at the widest aperture available at this point (f/4.5) it's possible to see some light shading in the corners of the image. This is likely to be less noticeable when photographing an ordinary subject, and not a white wall. By the time you shoot at f/5.6, the drop-off has pretty much vanished, while at f/8 there's no perceptible drop off. The widest aperture available at the full 230mm focal length is f/6.7. At this point, light drop off is almost  unnoticeable, and completely fine by f/8.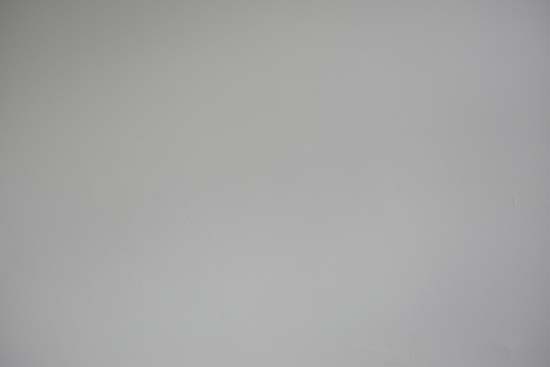 50mm 230mm
Distortion
At the 50mm end of the lens, there is some ever so slight distortion, but it's unlikely to be noticeable in most shooting scenarios.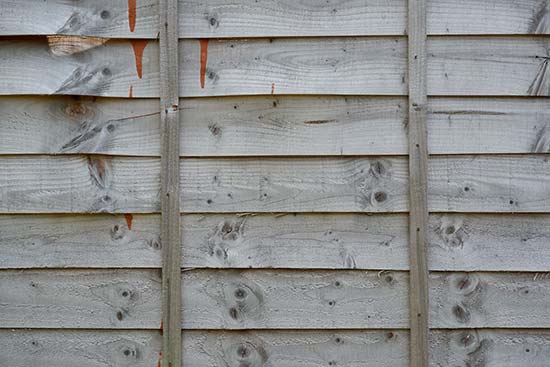 50mm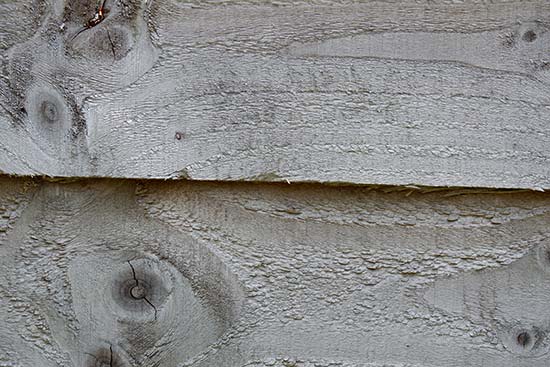 230mm
Macro
The Fujifilm XC 50-230mm f/4.5-6.7 OIS II is not designed as a macro lens, but its focal length does make it suitable for some typical macro subjects, such as flowers. The closest focusing distance is a relatively long 1.1 metres, with the maximum magnification (at 230mm) is 0.2x.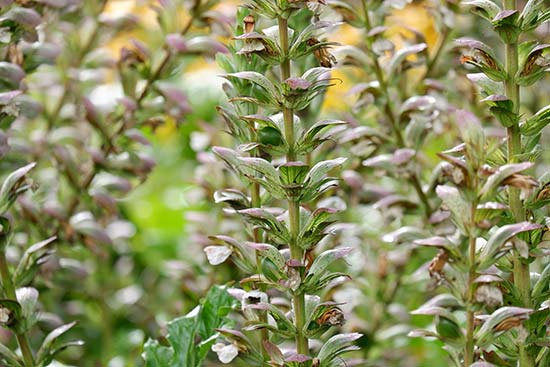 Close-up performance
Bokeh
Bokeh is a word which is used to describe the out-of-focus areas in an image. It is usually described in qualitative terms which could include smooth, creamy, harsh and so on. This lens uses a 7-blade rounded diaphragm, which results in an overall pleasing bokeh. Recognising that the quality of bokeh is very subjective, we have provided a few samples for you to see for yourself.
Sharpness
In order to show you how sharp this lens is, we are providing 100% crops on the following pages.