Laowa 12mm f/2.8 Zero-D Review

Introduction
The Laowa 12mm f/2.8 Zero-D is a manual focus, ultra-wide angle lens designed for full-frame cameras and available in Canon, Nikon, Sony A, Sony E and Pentax mounts.
'Zero-D' means no distortions. Yes, this is a rectilinear lens and not a fish-eye lens, with a 121.96° angle of view. Laowa claims distortions are as little as 0.2%, which if true is massively impressive.
It's billed as the widest rectilinear full-frame lens with f/2.8 aperture. There are similar options out there, including the Sigma 14mm f/1.8, Samyang 14mm f/2.4, a handful of 14mm f/2.8 lenses and various wide angle zoom lenses. Those that are as wide as the Laowa lens are not as fast, being f/4 lenses.
At £899 (inc VAT), the new Laowa manual focus lens costs less than the autofocus wide angle lenses from Sigma, Canon and Nikon that range between £1,400 and £2,700 (street price). There is a Samyang 14mm f/2.4 AE XP lens at £899, making it the most obvious alternative. In addition there is a manual focus Samyang 14mm f/2.8 lens at £330.
The Laowa 12mm f/2.8 Zero-D lens is available now on Laowa's UK website.
We see landscape, architecture and astro photographers in particular licking their lips at this lens, but can it deliver? Read on to find out.
Ease of Use
Ease of Use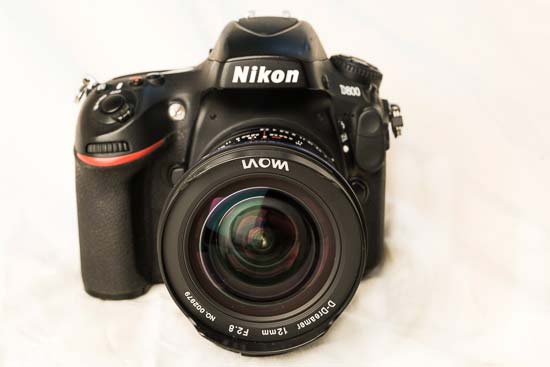 First impressions are good. The Laowa 12mm f/2.8 is solid and weighty all metal lens. It's not weather-sealed, but fits securely onto the camera.
Size wise, the lens is 82.8mm long and weighs 609g. This is a typical size and weight for a prime ultra-wide angle lens, if a little lighter than most. The wide-angle zoom lenses are notably larger and heavier.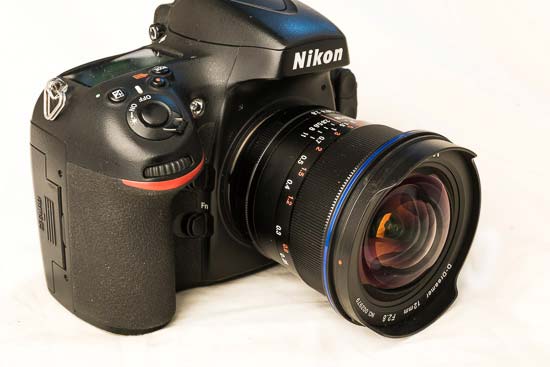 When mounted to a full frame DSLR - in our case the Nikon D800 - the lens balances really well. We'd say it will feel right at home on any full-frame DSLR. 
The lens is fully manual. It does not feature electronic contacts, meaning it is manual focus only, there is no aperture data, while metering is the stop down method. So long as you use an automatic shooting mode like aperture priority, the camera's metering will still work.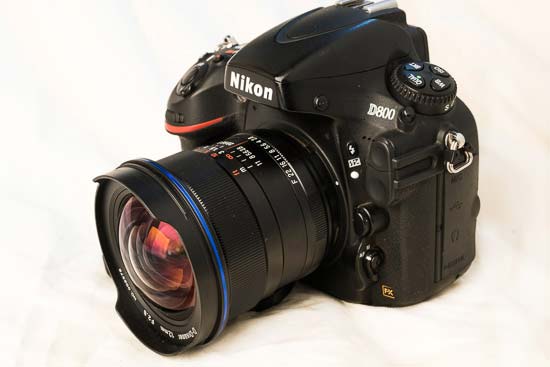 Grab any of the front half of the lens barrel and you'll have a grip on the focus ring. It has a lovely smooth rotation that spans almost 180° from infinity to the close focus distance of 0.18m. In use, that's a lengthy four comfortable turns with the hand. 
A distance scale is clearly marked and a helpful guide for depth of field. However, for critical focusing - especially for close subjects at wide apertures - bringing up focus magnification using the camera's live view is the quickest and most accurate focusing method.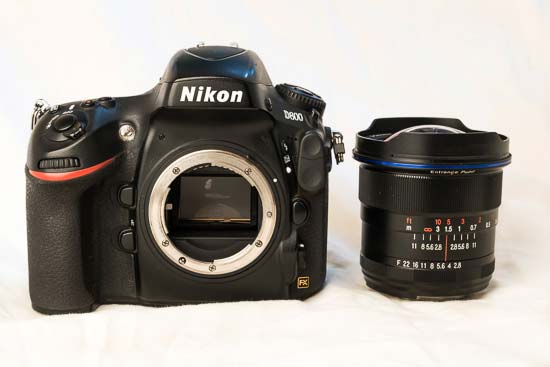 The aperture ring has clicked stops in equally spaced whole stop values, with a seven stop range from f/2.8 to f/22. Note that f/8 is the middle aperture that will provide the sharpest possible detail. 
At f/8, everything beyond four feet will be sharp when the focus distance is set to infinity. With the lens set up this way, for most situations you can be sure virtually everything will be in focus. It's one less thing to think about - you can shoot away without needing to mess around with the lens settings.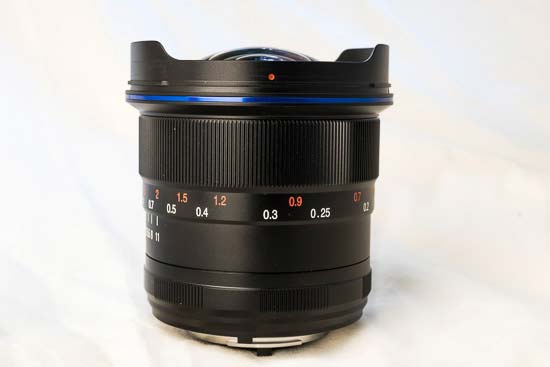 As mentioned, we used the Laowa 12mm f/2.8 Zero-D lens with a Nikon D800. The aperture display in camera begins at f/0 for f/2.8, all the way through the seven stops to f/6 for f/22. 
In short, the aperture displayed is incorrect, but provides a useful guide depending how good your memory is. For example, we know that when the camera displays f/3 we're shooting at f/8, without needing to check the lens.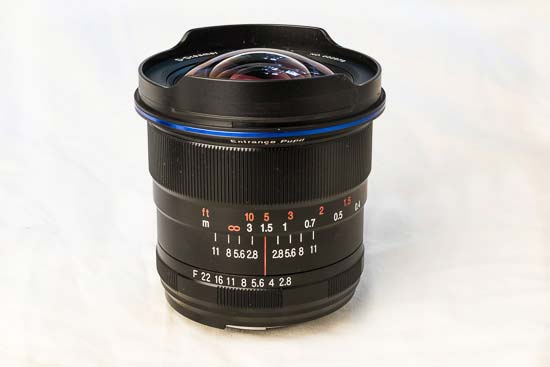 However, the aperture information remains blank on the image metadata, so you'll have to take notes if knowing the aperture of an image is important to you.
There are two lens hoods - the smaller inner one is fixed and the larger outer one can be removed. The inner lens hood provides an extra bit of protection to the protruding front lens element. The supplied lens cap does not feature a pinch lock of any kind but slots securely inside the inner lens hood.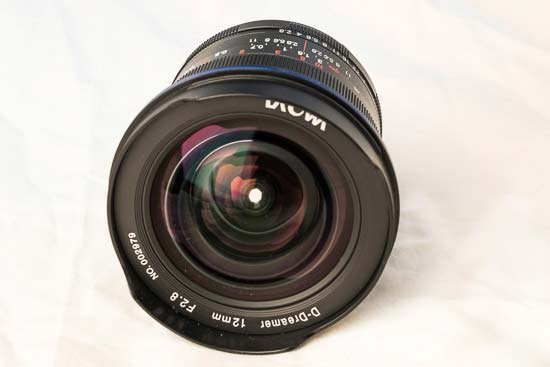 Like most ultra-wide angle lenses, the front lens element protrudes beyond where a lens filter thread would be, so it is not possible to attach lens filters directly. However, Laowa offers optional lens filter accessories designed specifically for the 12mm f/2.8 Zero-D lens.
There is the 95mm filter adaptor filter adaptor (£24.90) that accepts threaded filters, though the filter must be slimline to avoid vignetting.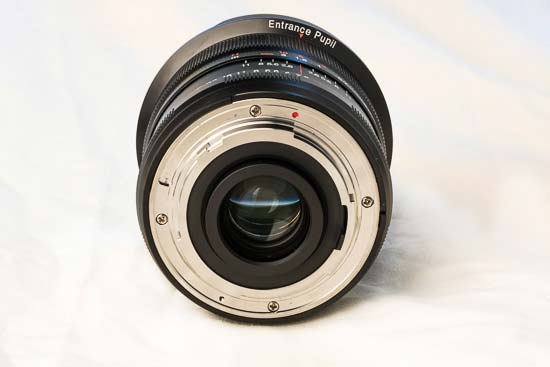 Then there are two of Laowa's own 100mm filter holders, again designed specifically for this lens and both accept up to two 100mm square filters simultaneously. The Lite version is £69.90 while the original version is £79.90 (filters are not included). All these accessories are available on the Laowa website.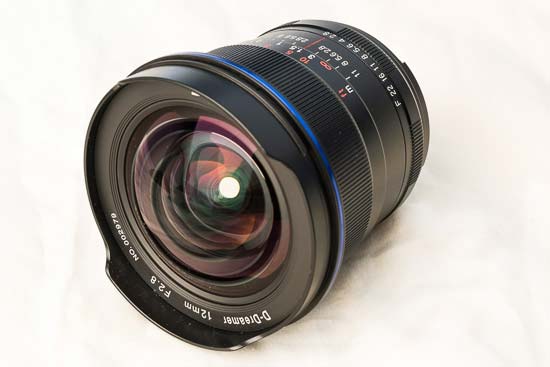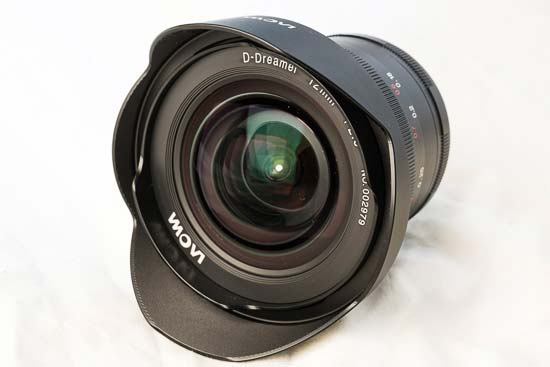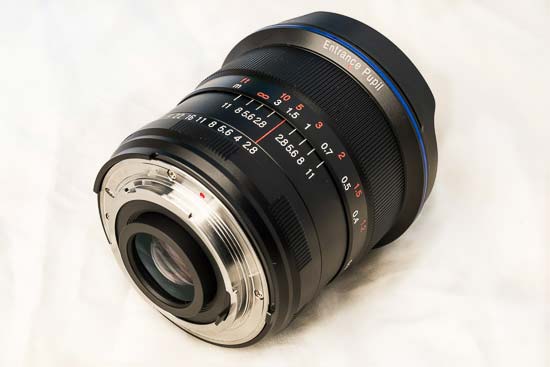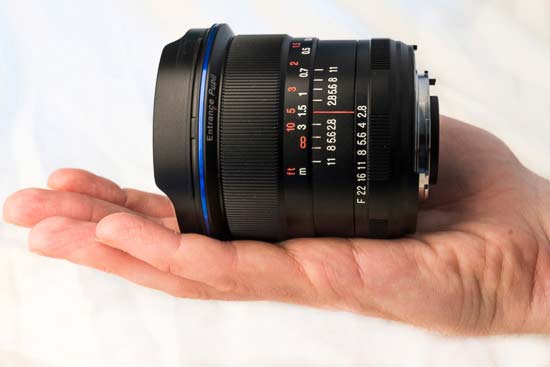 Focal Range
The 12mm focal length gives an angle of view of 121.96° on a full-frame sensor.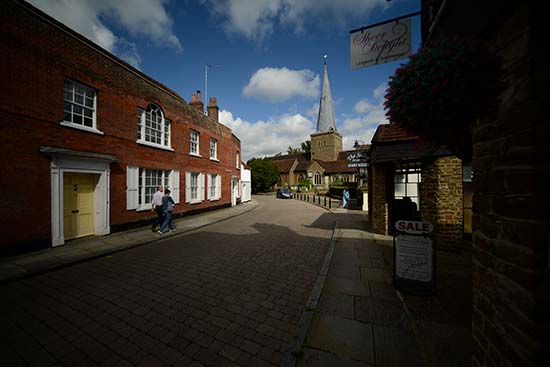 Field of view at 12mm
Chromatic Aberrations
We have looked and looked for signs of chromatic aberrations in our images and struggled to find any. Where we could find them, CA was minimal and the fringing disappeared with corrections set to the lowest correction of 1 in Lightroom CC. 
This excellent performance is no doubt thanks to the quality and unusually high complexity of the glass used in the lens - consisting 16 lens elements in 10 groups. Impressive stuff. 
Astigmatism
We've used the lens quite a lot for astrophotography, making the most of its wide f/2.8 aperture. Ultra-wide angle lenses are particularly susceptible to astigmatism when used at their widest apertures. Astigmatism is where light points (e.g. stars) appear to become stretched in a line.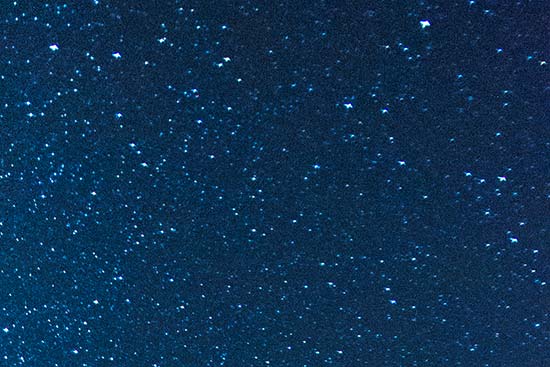 In this case in the corner of our pictures, astigmatism is also known as 'batwing coma'. Lens reviews report this as a common lens distortion present in virtually all ultra-wide angle lenses, even ones twice the price of the Laowa 12mm f/2.8.
Light Fall-off and Distortion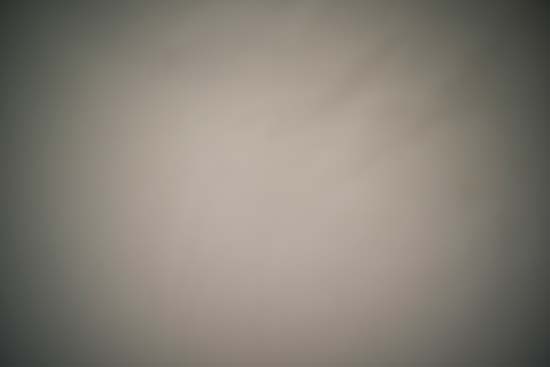 Vignetting at f/2.8
Light fall-off (vignetting) is noticeable wide open at f/2.8, though this is to be expected in an ultra-wide angle lens and can be corrected easily post capture. Currently there are no profiles for Laowa lenses in software such as Adobe Lightroom CC, so corrections have to be made manually. 
Stop down to f/5.6 and vignetting is significantly less prominent and it's all but gone by f/8.
Barrel and pincushion distortion is quoted by Laowa as being 0.2%. This is notably less distortion that other ultra-wide angle lenses. Is it true? Well, in our images when the lens is positioned horizontal at 0° (level) to its subjects, straight lines are indeed straight. 
You'll see in our architectural images that there is no observable curvature in straight lines, even in the corners of the frame. It's a massively impressive performance for a 12mm lens, especially when you consider just how close we are to the subjects. 
Of course, point the camera upwards and tall structures lean in. This is unavoidable with any lens.
This lens is not suited for portraiture - no ultra-wide angle lens is. Lens corrections can be applied to make portraits more flattering, though straight lines then become curved. You can't have flattering portraits and straight lines simultaneously with an ultra-wide angle lens!
Macro
With a 18cm / 0.59ft minimum focus distance, it is physically possible to get very close to subjects, though the wide field of field means a lot will still be in the frame. This uncropped image show how close you can get to a CF card.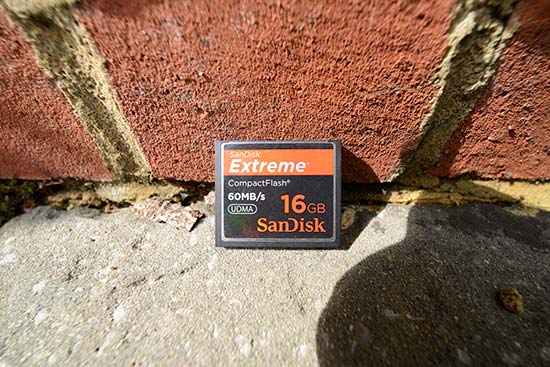 Sharpness
In order to show you how sharp this lens is, we are providing 100% crops on the following page.