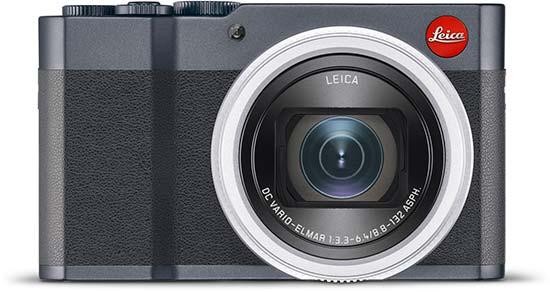 Introduction
The new Leica C-Lux travel-zoom digital compact camera is a rebranded version of the slightly cheaper Panasonic Lumix ZS200 / TZ200 model. The Leica C-Lux features a 15x zoom lens (equivalent 24-360 in 35mm format), 20-megapixel sensor, maximum ISO sensitivity of 25,600, a 3-inch touchscreen LCD, a built-in electronic viewfinder, 10fps continuous shooting, Wi-Fi and Bluetooth connectivity, and 4K video recording. The Leica C-Lux is available in Light Gold and Midnight Blue priced at £875 / $1,050.
Ease of Use
Closely (and clearly) modeled on Panasonic's TZ-series travel zooms, but with, alternatively, that covetous red logo and the knowledge it's been put together by hand, is Leica's new C-Lux compact. As you'd expect, this is a premium snapshot model eminently suitable for those holiday breaks – and moreover any time you don't want to lug around that DSLR or compact system camera.
Obviously, being a Leica, this is at the luxury end of the market when it comes to pocket sized snappers (part indicated by the 'Lux' in its name). Then there's the fact the new C-Lux will set you back £875 if bought in the UK, as opposed to, say, around £730 for Panasonic's nigh identical TZ200 model. Neither is inexpensive.
For that outlay, the Leica badged version feels well built and solid when held in the palm; the gunmetal grey in appearance and black of our review sample – in fact, officially, it's the 'Midnight Blue' option - additionally marking this one out as a serious proposition, even if the size and looks ape what we'd normally view as a £300-£400 snapshot.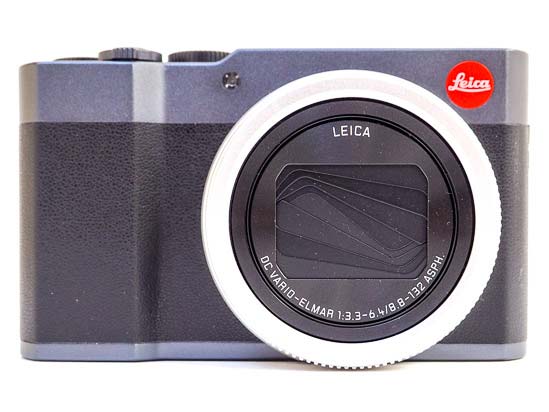 Front of the Leica C-Lux
The alternative colour option to choose is Light Gold, while body pouches and wrist straps are available as optional extras. We prefer the look and feel of the Leica version overall, when compared to the TZ200, particularly as regards the handgrip. Indeed, the front of the Leica C-Lux has a nice leatherette type finish, while a raised rubberized pad at the back provides a steady purchase point for the thumb of the right hand. Both help enable a firm hold when shooting handheld, particularly at the extremities of the zoom range where image detail tends to soften.
Speaking of which, helping the C-Lux market itself as a one-size-fits-all solution is the lens reach here. Its retracting 15x optical zoom stretches from an ultra wide angle 24mm to a respectable 360mm at the telephoto end (exactly the same as the Panasonic TZ200). Attendant features tick the boxes for what we'd expect from a contemporary camera, too: namely a maximum 4K video capture at up to 30fps (from which 8 megapixel stills can be retrieved), 3-inch touch screen (non articulating) plus very respectable 10fps maximum capture rate. What will be bringing imaging enthusiasts to the party here however is the camera's larger than average for its compact class one-inch sensor which boasts a resolution of 20 megapixels – also going someway to justifying the price tag.
From the front the Leica C-Lux looks reasonably stylish if completely conventional, that bright red Leica logo being the first thing you notice, apart from the lens itself, which is encircled by a ridged control ring. As this is a Leica camera, unsurprisingly we get Leica optics too, here offering an aperture range stretching between f/3.3 and f/6.4. Lens and logo aside, on the faceplate we also get a small porthole of a window for the camera's AF assist/self timer lamp.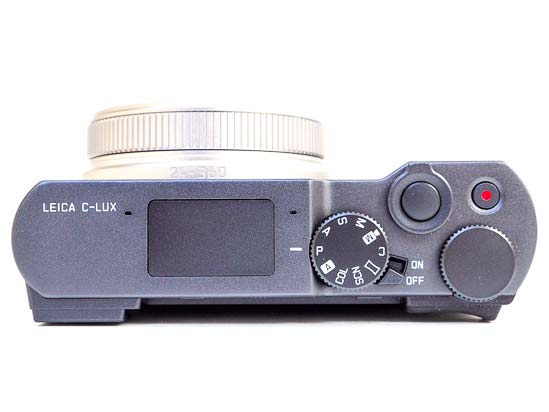 Top of the Leica C-Lux
Switch the Leica C-Lux on via the top plate lever that sits beneath the bottle top style shooting mode dial, and the camera powers up ready for the first shot in just under two seconds, being the time it takes for the lens to extend from its dormant state to maximum wide angle setting. With the lever for adjusting the zoom handily encircling the raised shutter release button, the camera takes around four seconds to glide from extreme wideangle to maximum telephoto. The other 'button' on the top plate is in fact a rotating control wheel for tabbing through onscreen menu settings, plus, with a flick of the thumb, providing a way to whizz through captured images in batches rather than one at a time. The fact that we have three circular controls on the right hand side of the camera's top plate (when viewed from the rear) – or four controls if you count the recessed button dedicated to shooting video clips – makes for a slightly busy control panel – and one that momentarily throws people as to which one is the shutter release button if you subsequently hand the camera to them to take your portrait.
The five pence piece sized shooting mode dial has 10 selectable settings. Alongside the familiar P,A,S,M modes, we get an Auto mode, a Colour effects mode, scene modes, a panorama mode, a custom mode and a manual video mode – though whatever setting you're in, a press of the dedicated video button on the top plate will nonetheless instantaneously commence filming.
When auto focusing, the Leica C-Lux is quick to lock on target too, thanks to 49 AF points – while there is the added opportunity to bias focus to a particular area in the frame, by simply tapping the rear touch screen, which displays the selectable points. As one would expect, there is the inherent ability here to shoot Raw files as well as JPEGs, or both in tandem, which across the two weeks of our test period didn't appear to noticeably slow the camera's performance down at all (though, as we were, you might be wanting to use a fast, as well as high capacity, SD card).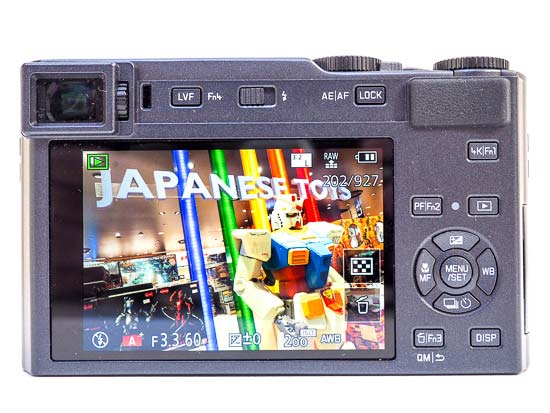 Rear of the Leica C-Lux
In terms of the C-Lux's core light sensitivity range and what advantages it offers for low light photography, this stretches from the standard ISO100 up to a manually selectable ISO12500, with both Auto and 'intelligent Auto' as alternatives, though if you delve into the camera menus there is the ability to extend this to an equivalent of ISO25600, should you ever wish to do so. With results predictably resembling a crude colour photocopy when this highest setting is deployed, it's debatable why you'd want to push the camera beyond its core range however.
The back plate buttons, as usual on a pocket compact, are a little small – the fact that they are inlaid too means that, while it isn't easy to activate them accidentally, they have to be pressed with a finger or thumbnail to implement their various settings, which makes operation a little fiddly. Yes, there is touch screen access too, but here also icons are obviously tiny with it, so it can take a couple of presses to arrive where you want to. If you want a pocket camera, it is not without compromise, obviously, yet equally obviously the positives of convenience and performance largely outweigh any gripes.
Apart from the 3-inch 3:2 ratio rear plate LCD screen, the most noticeable aspect of the back plate is the eye level electronic viewfinder with 2.33 million dot resolution and 100% frame coverage, which, equally unusually for a pocket camera, has a built-in eye sensor alongside it. We're even spoilt by a dioptric adjustment wheel alongside it for spectacle wearers.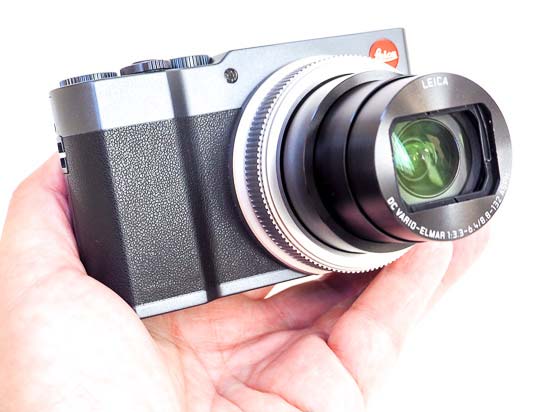 The Leica C-Lux In-hand
That said, because in most instances apart from very strong sunlight the larger (sadly non tilting) LCD screen is perfectly useable and adequate, in practice it's easy to forget the eye level viewfinder is there – or at least you find yourself intuitively switching between one and the other with barely a second thought. What's pleasing here also is the fact that the camera's LCD features what's described as a special repellent coating that helps prevent fingerprints and smears (while not actually eradicating them entirely) so you're not constantly feeling you have to wipe the screen clean. In other words there's less distracting you from your subject – and the reason you want to take a photograph in the first place.
Despite having an eye level sensor we're also provided with a dedicated Live Viewfinder 'LVF' activation button, next to which is one for raising the pop up flash otherwise sunk into the Leica C-Lux's top plate – wherein it is flanked by two pin prick sized holes housing the camera's stereo microphones. It is only when the flash is raised that obviously the available flash settings – including red eye reduction as well as slow synchro flash – become active. Similarly, if the flash is already raised, the camera won't power off without it first being returned to its 'hidden' (off) position within the camera's top plate.
The other function buttons on the Leica C-Lux back are otherwise set up to take us straight to 4K photo mode – with the option of shooting in bursts or single shots – plus (Panasonic's) Post Focus mode – where the options here are merely mode on or mode off. A third function button provides a short cut to the camera's key settings – a 'quick' menu if you like. In playback mode, this button also multi tasks as a delete button. Pressing this button takes us straight to ISO options, white balance settings, photo styles (including the popular vivid and two monochrome modes), along with auto focus mode, drive modes, exposure compensation (+ or – 3EV) and even the ability to call up a live histogram on screen. All are very useful, as is the short cut route to find them. We further get a dedicated 'display' button, a press of which either calls up or turns off all the on-screen information, including a level gauge to ensure our horizons are straight, or deactivates the screen itself altogether. Despite the small buttons, operation is therefore intuitive.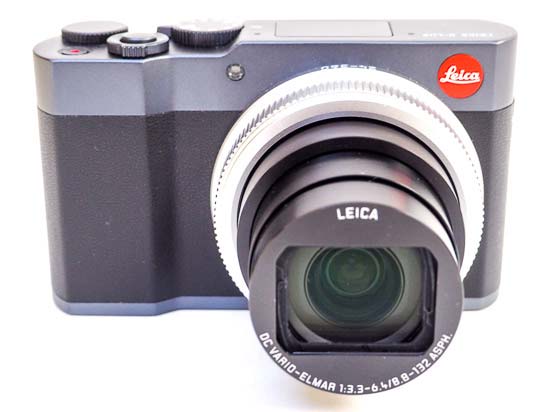 Front of the Leica C-Lux
The other buttons on the backplate are a self-explanatory playback button, plus then a familiar quartet of buttons – governing self-timer, exposure, white balance, manual focus/macro mode – surrounding a central menu/set button, rather than the usual scroll wheel or toggle pad.
The base of the Leica C-Lux meanwhile is where its lithium battery is stored – which can be charged in camera with the aid of a provided USB lead. No standalone charger came with our review sample. The same compartment also features a slot for access to removable media – here the common use SD card format. Battery life is good for up to 370 shots per charge – more than acceptable for its class, if not an absolute 'wow'.
With the Leica C-Lux however being as quick to power up, find focus and actually take the shot as we'd hope given the price being asked – this is a premium model after all – there is little to find fault with when it comes to the Leica C-Lux, apart from small buttons and a rather cramped top plate control layout. But these are relatively minor niggles. The question is, can a comparatively small camera match the performance of the big boys from competing brands – or a compact system camera that you might otherwise buy for this price – when it comes to image quality? Also, does the on-paper advantage of that one-inch sensor noticeably better the performance of a 1/2.3-inch chip that formerly used to feature in a camera of this size and specification? In other words are we getting what we're being asked to pay for? Read on to find out…