Introduction
The Leica M10-R rangefinder camera has a newly developed 40 megapixel sensor that represents a big increase from the 24 megapixels of the previous M10 model.
Other new features include an expanded ISO range of 100 to 50000, 16 minute maximum exposure time, dynamic range equivalent of 13.5 stops, an on-screen level gauge, and super quiet mechanical shutter and touch screen operation (both inherited from the M10-P).
Available in black chrome or silver chrome finishes, the new Leica M10-R is priced at £7100 / $8295 body only.
Ease of Use

Front of the Leica M10-R
With a robust, tank-like build and whisper quiet operation, the new full frame CMOS sensor incorporating Leica M10-R feels reassuringly solid when held in the palm, while its minimal features and clean layout make sure your subject is the focus of your attention, rather than the camera itself.
Indeed, the 'R' – which stands for 'Resolution' – feels like a solid block of metal that would make for a very expensive doorstop indeed (at a manufacturer's suggested £7,100) if it weren't for the enticement of the 40 megapixel, full frame sensor at its heart.
It's as beautifully made and as well finished as you'd expect from something that claims to have been constructed by hand in Germany, with the automatic price premium that commands. It's a camera that should in theory last you years and years of service.
We had the all-black version of the Leica M10-R in for scrutiny on the Photography Blog test slab, though a rather natty looking silver chrome plated version is alternatively available. Both feature die-cast magnesium bodies with a brass top panel and base, including off-centre stainless steel tripod thread. With battery inserted the camera weighs a chunky 660g.

Rear of the Leica M10-R
If you've read our original news report, or are a keen Leica watcher, you'll already know that the M10-R is a close cousin of its maker's M10-P – in featuring the latter's silent mechanical shutter operation (with no electronic shutter alternative and, it's claimed, minimal vibration to reduce the effects of camera shake), rear panel touch screen, identical processor, relatively slim profile and rangefinder type styling – pared back to the essentials as Leica would have it. Other cameras in the present system line up include the original M10, the M10-D and the black and white-only shooting M10 Monochrom.
But the main talking point and focus of the Leica M10-R is of course the fact it delivers 40.89 megapixel JPEG and Leica DNG (Raw) files, and that such a sensor has been shoehorned into this camera's chassis, making it one of the most compact full frame models on the market, even if it's a bit of a squeeze to get it into a jacket pocket.
The manufacturer claims this particular sensor has been uniquely designed for this particular camera, with equally unique pixel architecture. Of course, considering it's intended for street photographers and portraiture in the main, it's arguable whether such a huge resolution is actually needed for the M10-R; although Leica itself argues that 40MP resolutions are now something of the norm and indeed that's what's now 'expected' by photographers prepared to shell out £5000+.
It also believes that huge resolution should open up the M system to possible new markets – something that every camera manufacturer is looking for right now. Of course the huge resolution also allows for creative cropping of an image after it's been shot, if you didn't get the framing spot-on the first time around – or for fine art and landscape work.

Top of the Leica M10-R
Videographers will want to look elsewhere however, as the Leica M10-R is a dedicated stills camera without any facility for filming whatsoever; leading some commentators to opine that it feels like a camera from the 1950s. But perhaps, the 'modern' advantage of digital innovation aside, that's largely the point.
Despite the large sensor, the light sensitivity range is 'sensible' without it actually pushing the envelope, with settings ranging at 1/3 increments from ISO100 up to an equivalent ISO50,000 (as per Leica's SL2), and accessed via a ridged dial at the far left hand side of the top plate. This boasts a pull-up-and-twist action and dedicated settings for ISO100, 200, 400, 80, 1600, 3200, 6400, as well as fully auto and manual settings.
As the model name indicates, potential purchasers of the M10-R get to avail themselves of around 50 directly compatible lenses in Leica's current M range – which it believes should allow photographers to fully exploit the potential for detail denoted by that 40MP chip – plus many more from the past besides; thanks to the M-mount having been around since 1954. Leica's R series lenses can further be used with the camera – albeit via an adapter accessory. So there's a lot of very high 'quality' glass that can be married to the sensor provided, should you already own some or your budget can stretch to it.
Our manual focus only Leica M10-R review unit came with a compact Leica Summicron 35mm f/2 lens – which, in providing a view similar to that of the human eye, the manufacturer classifies as an ideal prime lens for reportage photography – while its relatively slim profile also ensures the camera itself doesn't take up more space than it needs to.

The Leica M10-R In-hand
That said, with lens affixed to body, it does look like a professional bit of kit, leading to inevitable questions and queries from passers-by if you're actually attempting street photography. The 35mm lens means that you inevitably have to get up quite close to subjects if it's detail you're after, and the fact that the focal length is fixed means composition is a case of taking a step forward or back as necessary – thus engaging in a little Cartier-Bresson-style 'dance' of sorts.
Luckily, when using the rear 3-inch 1,036,800 pixels LCD screen of the Leica M10-R for composition, there is a focus assist feature whereby the edges of a subject will glow red to indicate that focus has been achieved – thereby acting as further reassurance if you don't quite trust your own eyes or skills 100%.
While some may grumble that there is just one SD card slot nestled next to the large lithium ion battery at the base, when the camera offers both a huge resolution and costs what it does – putting it firmly into professional territory – there will inevitably have been trade offs made to squeeze as much into this chassis as Leica has done.
Like most cameras from this manufacturer, the M10-R's operation promotes a more considered, reflective and generally slower approach; it's not about 'bamn, bamn, bamn'. That said, squeeze down on the shutter release and the camera is as quick to capture an image as the best mirrorless, with, if you so desire to shoot in bursts, up to 4.5 fps achievable.

Memory Card Slot
As we noted earlier, this is a Leica camera reduced down to the essentials, most starkly illustrated by the backplate merely featuring an unmarked four way control pad to the right of the LCD screen and then just three buttons on its left for, variously, activating Live View, playback and calling up its on-screen menus. Simple as.
Exposure compensation settings run the modest gamut +/- 3EV, and, while due to the 'pared back' ethos on display there's no flash built in here, one can obviously be added via the vacant hotshoe on the top plate.
Of course we also get a porthole shaped window housing the optical viewfinder and then a partially recessed DSLR-alike command wheel, atop of what we'd rather loosely call a thumb rest at the rear of the camera.
The front and back of the Leica M10-R features a leatherette style surface affording a degree of purchase for fingers in lieu of a more pronounced grip, with the tank-like weight and heft of the camera also going someway to ensuring this one can be held steady for image capture and won't accidentally slip from your palm either.

Battery Compartment
The weight means that while it's not the most portable option for photography in the outdoors, it is slightly less bulky and obvious than the alternative option of a full frame DSLR. That said, we were thankful for the thick rope-like strap that Leica provided for our review sample, which saved our shoulders even if we did notice said strap had very lightly scuffed the paintwork on the flanks of the camera itself.
Talking of the optical viewfinder, we found it easy to smear the front glass when gripping the Leica M10-R in both hands, as it is positioned right at the topper-most corner of the faceplate. Thus we kept a little lens cloth close to hand to give it a wipe when we wanted to make use of it, though to be honest the live view provided by the larger LCD proved more than adequate in most shooting scenarios.
The LCD is a fairly conventional 3-inches in size, and, in offering a 100% field of view and a resolution that at 1,036,800 dots is close enough to being 'life like', it's a pretty good indicator you're getting the shot you intended. The LCD glass is claimed as being scratch resistant, which again is something you'd hope for from a premium camera in this price bracket.
Switching the Leica M10-R to Live View mode via a press of the small 'LV' button adjacent to the LCD makes for an easier route to achieve critical manual focus – or at least zero-ing focus in on a particular subject in the width of your frame, with a portion of the image enlarged. This again does encourage you to slow down and scrutinize what you're doing.

Front of the Leica M10-R
Being constructed in the rangefinder style, as well as the aforementioned dime-sized dial for controlling light sensitivity on the fly, a second larger dial atop the Leica M10-R is included here for manual adjustment of shutter speed – though leaving it on 'auto' setting is also an, as it proves, reliable option. Uses can manually adjust through the gamut of 8 seconds up to 1/4000 sec in half steps.
Next to this on the top plate is a smaller but higher control: the responsively springy shutter release button, which reminded us of the feel under the forefinger of a cable release. This sits within a second dial that acts as the on/off switch, so users can activate the camera with a thumb flick and more or less instantaneously be loosing off their first shot. The camera only froze on us once during our week-long test period – and on a very warm day. Fortunately, the old failsafe of removing and re-inserting the battery put things right again.
Like its external controls, both sides of the Leica M10-R are also pared back to the minimum, by which we mean both flanks feature a lug for attaching a strap… a continuation of the leather effect surface to aid grip… and nothing mode. You won't find USB, HDMI out or microphone or headphone ports under a flap at the side of this camera – on this model they simply don't exist and, barring a USB port, would be superfluous anyway.

Front of the Leica M10-R
Though we managed a couple of hundred test shots in 30°+ weather conditions before the Leica M10-R was showing signs of a low battery, the official shot count per charge is a measly 210 images. We therefore reckon this is Leica erring on the conservative side. But it's obviously an Achilles heel for what is otherwise a well-constructed and impressive camera for those who like to luxuriate in their photographic choices, rather than rushing things.
Battery and SD card compartment are accessed by twisting open the lock on the metal baseplate and removing it entirely, which may seem like something of a pain at first but quickly becomes second nature. Just make sure you have a fast, high capacity SD card loaded first. The metal baseplate also ensures both these compartments are very well protected indeed. In short, the rock solid build reassures that this camera is going to keep delivering the goods for quite some time.
But, once you have actually captured a bunch of images, how do they stack up? Is paying £177.50 for each one million of the 40 million pixels that the Leica M10-R offers actually good value? Read on to find out...
Image Quality
All of the sample images in this review were taken using the 40 megapixel Fine JPEG setting, which gives an average image size of around 16Mb.
Whopping 40 megapixel resolutions have become the norm, reasons Leica, making the M10-R a camera that has possibilities far beyond the street photography that its maker intends it to be used for.
As we mentioned in our intro, the shots we managed to get out of the Leica M10-R's sensor, when combined with our 35mm f/2 maximum aperture prime lens, we felt were very impressive in terms of detail and richness, with the maximum aperture delivering particularly shallow depth of field effects. The price and the build here had our expectations (and imaginations) raised, but we were able to achieve images with this camera, even handheld in low light the likes of which we don't often see.
Upon launch, Leica had claimed that the M10-R delivers less noise at higher settings, while dynamic range had also been improved to somewhere around the equivalent of 13.5 stops. Wanting to test its mettle, we of course shot at night with the M10-R and, as long as there was a steady surface to hand, were almost able to drag more detail out of the darkness than even our eyes could deliver. Even at top whack ISO50000 equivalent setting on this camera, we got results that, while admittedly soft around the edges and grainy, displayed fine grain, rather than big painterly blobs destroying the outline of objects, while colour fidelity was also faithfully retained.
If you're looking for a camera and lens line up that puts quality above all else, then, provided you're prepared to put hand fairly deeply into pocket, then you can't go far wrong with the Leica M10-R.
Noise
ISO sensitivity can be set between ISO 100 and ISO 50000 in full-stop increments. Here are some 100% crops which show the noise levels for each ISO setting, with JPEG on the left and RAW on the right.
| | |
| --- | --- |
| JPEG | RAW |
| ISO 100 (100% Crop) | ISO 100 (100% Crop) |
| | |
| | |
| ISO 200 (100% Crop) | ISO 200 (100% Crop) |
| | |
| | |
| ISO 400 (100% Crop) | ISO 400 (100% Crop) |
| | |
| | |
| ISO 800 (100% Crop) | ISO 800 (100% Crop) |
| | |
| | |
| ISO 1600 (100% Crop) | ISO 1600 (100% Crop) |
| | |
| | |
| ISO 3200 (100% Crop) | ISO 3200 (100% Crop) |
| | |
| | |
| ISO 6400 (100% Crop) | ISO 6400 (100% Crop) |
| | |
| | |
| ISO 12500 (100% Crop) | ISO 12500 (100% Crop) |
| | |
| | |
| ISO 25000 (100% Crop) | ISO 25000 (100% Crop) |
| | |
| | |
| ISO 50000 (100% Crop) | ISO 50000 (100% Crop) |
| | |
Night
The Leica M10-R's maximum shutter speed is 30 seconds and there's a Bulb mode for even longer exposures (up to 16 minutes), which is excellent news if you're seriously interested in low light photography.



Sample Images
This is a selection of sample images from the Leica M10-R camera, which were all taken using the 40 megapixel Fine JPEG setting. The thumbnails below link to the full-sized versions, which have not been altered in any way.
Sample RAW Images
The Leica M10-R enables users to capture RAW and JPEG format files. We've provided some Leica RAW (DNG) samples for you to download (thumbnail images shown below are not 100% representative).
Product Images























Conclusion
For us, the Leica M10-R is all about the company finding that 'sweet spot' where a large full frame sensor – uniquely designed for this model – finds a fit with a comparatively svelte body. That's undoubtedly as big a contributing factor to the M10-R's success as the medium format camera-like resolution, which gives this rangefinder-styled model its memorable 'R' suffix.
With its classic styling and operation despite the digital innovation at its heart (which enables it to respond as quick as you'd expect a latest generation mirrorless or DSLR to), the handling of the camera inevitably feels like something of a throwback. There's no video facility at all on the M10-R, for example, so there will be those jack-of-all-trades photographers who may feel they're better off with a well built, full frame Sony A7 series camera as a result; even if that brand will never bestow the personal kudos that that familiar Leica red dot logo does. This one's all about extremely high-resolution sills photography – pure and simple.
Yes, a manufacturer's asking price of £7,100 for a compact camera is indeed a lot of money – though one could argue that compared with a medium format camera that at one time would be the only way to achieve the 40 megapixel resolution on offer here, it's actually much more affordable. We appreciate not everyone will take that view – in fact a very small minority will. But that very small minority is exactly who the Leica M10-R is aimed at.
Ratings (out of 5)
Design
4
Features
4
Ease-of-use
3.5
Image quality
5
Value for money
3
Main Rivals
Listed below are some of the rivals of the Leica M10-R.
The Leica M10 Monochrom is a manual focus rangefinder camera that only shoots in black and white and costs a whopping £7250 / $8295 for the body only. Does this super-niche version of the M10 offer the best ever b&w image quality? Find out now by reading our in-depth Leica M10 Monochrom review, complete with full-size JPEG and Raw sample images.
The Leica M10 is a new digital rangefinder camera, offering a 24 megapixel full-frame sensor, Maestro II Processor, optical viewfinder, built-in wi-fi connectivity and 5fps burst shooting. Is this the best ever digital M camera? Find out now by reading our in-depth Leica M10 review now...
The Leica M10-D is a simplified version of the M10 and M10-P digital rangefinder cameras, replacing the rear LCD screen with an exposure compensation dial. Why on earth would you consider buying a digital camera without an LCD screen?! Find out now by reading our in-depth Leica M10-D review...
The Leica M10-P is a stealthier, quieter version of the existing M10 digital rangefinder camera, offering a 24 megapixel full-frame sensor, Maestro II Processor, touchscreen control, optical viewfinder, built-in spirit level and 5fps burst shooting. Is the quietest M camera also the best ever digital M camera? Find out now by reading our in-depth Leica M10-P review...
Review Roundup
Reviews of the Leica M10-R from around the web.
Back in January, Leica introduced the M10 Monochrom, a rangefinder camera that shoots only in black and white. At the time, the big surprise lay in its sensor, which unlike the firm's previous mono models, clearly wasn't based on an existing colour design. Now the M10-R (for 'Resolution') explains why. It sports what is in effect a colour version of the same 40.9MP full-frame sensor, which has been custom-built for use with M mount lenses.
Read the full review »
The Leica M10-R puts a brand-new, 40MP image sensor into an absolutely classic body design, resulting in a compelling camera for rangefinder devotees.
Read the full review »
I ran headfirst into my refrigerator when Leica's new camera, the M10-R, arrived at my doorstep. Or, more specifically, I slipped on a cat toy, fell onto a dining chair, and pulled that chair down on top of me as I slid forward into the fridge. I got back up, ignoring the pain so I could answer the door before UPS decided I wasn't home.
Read the full review »
Specifications
Camera
Type no.
6376
Camera type
Compact digital view and rangefinder system camera
Lens attachment
Leica M bayonet with additional sensor for 6-bit coding
Lens system
Leica M lenses, Leica R lenses with an optional adapter (available accessory)
Sensor
CMOS chip, active area approx. 24x36 mm, without low-pass filter
Resolution
DNG™: 7864 x 5200 pixels (40,89 MP),



JPEG: 7840 x 5184 pixels (40,64 MP), 5472 x 3648 pixels (20 MP), 2976 x 1984 pixels (6MP)
Data formats
DNG™ (raw data, 14 bit, compressed loss-free), JPEG (8 bit)
File size
DNG™: 40-60 MB, JPEG (40MP)10-20 MB: Depending on resolution and picture content
Buffer memory
2GB / 10 pictures in series
Storage media
SD cards up to 2GB/SDHC cards up to 32GB/SDXC cards up to 512GB
Menu languages
German, English, French, Spanish, Italian, Portuguese, Japanese, Traditional Chinese, Simplified Chinese, Russian, Korean
Exposure metering
Exposure metering through the lens (TTL), with working aperture
Metering method
Light reflected by the blades of the 1 shutter curtain onto measuring cell
Metering range
At room temperature and normal humidity for ISO 200, at aperture 1.0 EV-2 to EV19 at aperture 32. Flashing of the left triangular LED in the viewfinder indicates values below the metering range
Sensitivity range
ISO 100 to ISO 50.000, adjustable in 1/3 ISO increments, choice of automatic control or manual setting
Exposure modes
Choice of automatic shutter speed control with manual aperture preselection - aperture priority A, or manual shutter speed and aperture setting
Flash exposure control
Flash unit attachment
Via accessory shoe with central and control contacts
Synchronisation
Optionally triggered at the 1st or 2nd shutter curtain
Flash sync time
1/180 s; slower shutter speeds can be used, if working below sync speed: Automatic changeover to TTL linear flash mode with HSS-compatible Leica system flash units
Flash exposure metering
Using centre-weighted TTL pre-flash metering with Leica flash units (SF40, SF64, SF26), or flash units compatible with the system with SCA3502 M5 adapter
Flash measurement cell
2 silicon photo diodes with collection lens on the camera base
Flash exposure compensation
±3EV in1⁄3EV increments
Displays in flash mode (in viewfinder only)
Using flash symbol LED
Viewfinder
Construction principle
Large, bright line frame viewfinder with automatic parallax compensation
Eye piece
Calibrated to -0.5 dpt.; corrective lenses from -3 to +3 diopter available
Image field limiter
By activating two bright lines each: For 35 and 135mm, or for 28 and 90mm, or for 50 and 75mm; automatic switching when lens is attached.
Parallax compensation
The horizontal and vertical difference between the viewfinder and the lens is automatically compensated according to the relevant distance setting, i.e. the viewfinder bright-line automatically aligns with the subject detail recorded by the lens.
Matching viewfinder and actual image
At a range setting of 2m, the bright-line frame size corresponds exactly to the sensor size of approx. 23.9 x 35.8mm; at infinity setting, depending on the focal length, approx. 7.3% (28mm) to 18% (135mm) more is recorded by the sensor than indicated by the corresponding bright line frame and slightly less for shorter distance settings than 2m
Magnification
(For all lenses) 0.73 x
Long-base rangefinder
Split or superimposed image range finder shown as a bright field in the centre of the viewfinder image
Effective metering base
50.6mm (mechanical measurement basis 69.31mm x viewfinder magnification 0.73x)
Displays
In the viewfinder
Four-digit digital display with exposure alerts above and below
On back
3" colour TFT LCD monitor with 16 million colours and 1,036,800 pixels, approx. 100 % image field, glass cover of extremely hard, scratch-resistant Gorilla® glass, colour space: sRGB, for Live-View and review mode, displays
Shutter and shutter release
Shutter
Metal blade focal plane shutter with vertical movement
Shutter speeds
For aperture priority: (A) continuous from 16min to 1⁄4000s.,



for manual adjustment: 8s to 1⁄4000s in half steps, from 8s to 16min in half steps, B: For long exposures up to maximum 16min (in conjunction with self-timer T function, i.e. 1st release = shutter opens, 2nd release = shutter closes),



(1⁄180s): Fastest shutter speed for flash synchronization, HSS linear flash mode possible with all shutter speeds faster than 1⁄180s (with HSS-compatible Leica system flash units)
Picture series
Approx. 4.5 pictures/s
Shutter release button
Two-stage, 1st step: Activation of the camera electronics including exposure metering and exposure lock (in aperture priority mode), 2nd step: Shutter release; standard thread for cable release integrated
Self-timer
Delay optionally 2s (aperture priority and manual exposure setting) or 12s, set in menu, indicated by flashing LED on front of camera and corresponding display in monitor
Turning the camera on/off
Using main switch on top of camera; optional automatic shutdown of camera electronics after approx. 2/5/10 minutes; reactivated by tapping the shutter release
Power supply
1 Lithium-ion rechargeable battery, nominal voltage 7.4V, capacity 1100mAh.; maximum charging current/voltage: DC 1000mA, 7.4V; Model No.: BP-SCL5; Manufacturer: PT. VARTA Microbattery, Made in Indonesia, Operating conditions (in camera): 0°C - + 40°C
Charger
Inputs: 100-240V AC, 50/60Hz, 300mA, automatic switching, or 12V DC, 1.3A; Output: DC 7.4V, 1000mA/max. 8.25V, 1100mA; Model No.: BC-SCL5; Manufacturer: Guangdong PISEN Electronics Co., Ltd., Made in China, Operating conditions: 0°C - + 35°C
GPS (only with Leica Visoflex viewfinder attached, available as an accessory)
Optional (not available everywhere due to country-specific legislation, i.e. enforced automatic shutdown in those countries), data are written to EXIF header in picture files
Wi-Fi
Complies with IEEE 802.11b/g/n standard (standard Wifi protocol), channel 1-11, encryption method: Wifi-compatible WPA™/WPA2™ encryption, access method: Infrastructure mode
Camera body
Material
All-metal die cast magnesium body, synthetic leather covering. Brass top panel and base, black chrome plated finish
Image field selector
Allows the bright-line pairs to be manually activated at any time (e.g. to compare detail)
Tripod thread
A ¼ (¼") DIN stainless steel in bottom
Operating conditions
0–40 °C
Interfaces
ISO accessory shoe with additional contacts for Leica Visoflex viewfinder (available as an accessory
Dimensions (width x depth x height)
approx. 139 x 38.5 x 80mm
Weight
approx. 660g (with battery)
Scope of Delivery
Charger 100-240V with 2 mains cables (Euro, USA, varies in some export markets) and 1 car charging cable, lithium ion battery, carrying strap, body bayonet cover, cover for accessory shoe
First Impressions
Leica puts an 'M' in the month with the unveiling of its newest high-end 40 megapixel camera, the M10-R, available in black or silver.
Leica has launched the new pro photographer targeted M10-R in a choice of two body colours: black chrome or silver chrome. As the model name suggests, its compatible with Leica M lenses, plus, if using an adapter, Leica R lenses too – though the manufacturer tells us the 'R' actually stands for 'resolution'. Capable of delivering both JPEGs and Leica DNG (Raw) files up to 40.89 megapixels, unsurprisingly the camera apes the rangefinder type styling and operation of previous models for a more considered approach to image taking and creation.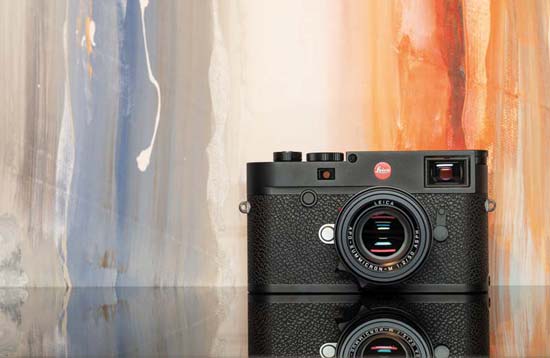 The newly developed high-resolution sensor shoehorned into such a comparatively compact camera "opens up the M system to new customers," believes Leica UK Head of Marketing Lydia Beagleman.
Its UK MD Jason Heyward adds: "The 'M' is at the heart of Leica, so is a significant product for us, with a surprisingly large share of the £5,000+ camera market. In light of the effects of Covid-19, which has resulted in probably two-thirds the sales of where we would have been last year, the Leica M 10-R is going to help turbo charge recovery for the company."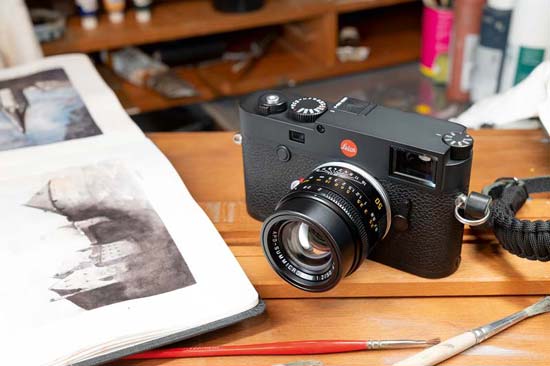 With Leica Akademie tutor Robin Sinha reminding us that the original Leica M was launched 60+ years ago, with the first digital 'M' in the Leica M8 following in 2006, the new 40.89 megapixel sensor is very much the beating heart of the new M10-R. He adds that: "this is a unique sensor built specifically for this camera," going on to explain that "light hits it very precisely."
Furthermore, he believes: "This is a Leica camera reduced down to the essentials, with three simple to use buttons at the back. At the same time we've increased the ISO performance – which here runs ISO100 up to ISO50,000 – with less colour noise at higher settings." The dynamic range is claimed to have likewise been improved, up to the equivalent of 13.5 stops, and we were told: "Leica has come up with a unique pixel 'architecture' to achieve these results." Meanwhile an ISO dial at the top left hand side of the camera ensures that such settings are literally always at the user's fingertips.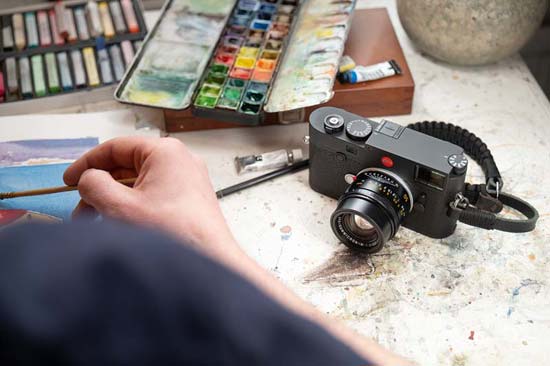 Existing Leica owners may be pleased to learn that the new Leica M10-R includes the silent shutter and touch screen operation of the earlier M10-P camera, ensuring that it's ideal for candid street photography. It also retains the thin body design. Should photographers want to try out long exposures, then on this model they'll be able to do so for up to 16 minutes.
Needless to say, the new camera also offers compatibility with the Leica Fotos smartphone app, originally described as like having 'a gallery in your pocket'.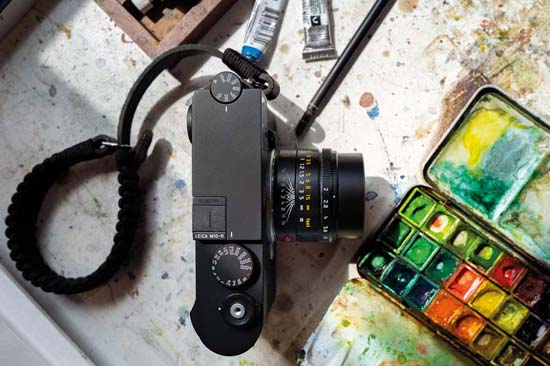 Headline features of the M10-R then, are that this is a camera hand made in Germany and offering a state of the art low light performance. It has the ability to exploit the full potential of Leica M lenses because of the high resolution of the sensor provided. The manufacturer notes that there are over 50 lenses in its current 'M' range, but in fact it has been making compatible lenses since 1954, as the M lens mount hasn't changed in all that time. It also advises that using aspherical lenses with the camera will open up even more resolution.
"The new high resolution sensor opens up cropping potential for photographers," notes Robin, underlining once again that, new sensor aside, "this is the most basic camera that Leica makes – but that is the point of the range. It's one of the most compact full frame system cameras on the market."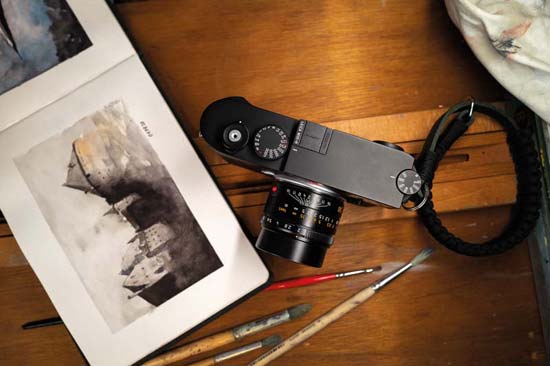 Again, the fact that it is both compact and features a near silent mechanical shutter (there's no electronic shutter) should ensure that "street photographers flock to this camera". Added bonuses include the fact that there is no shutter black out with this full frame model, it offers precise focusing in low light conditions, there are possibilities for pre-focusing, and visibility outside frame lines when composing a shot is a distinct advantage. The M10-R further features the same processor as the M10-P, Leica confirmed.
"We've managed to maintain the quality of the M10 but boost the resolution," Robin Sinha concludes. "Lots of pros now need that higher resolution – whether for bigger prints, or cropping so that the image is still usable for lots of different purposes. The higher pixel count has now become the norm."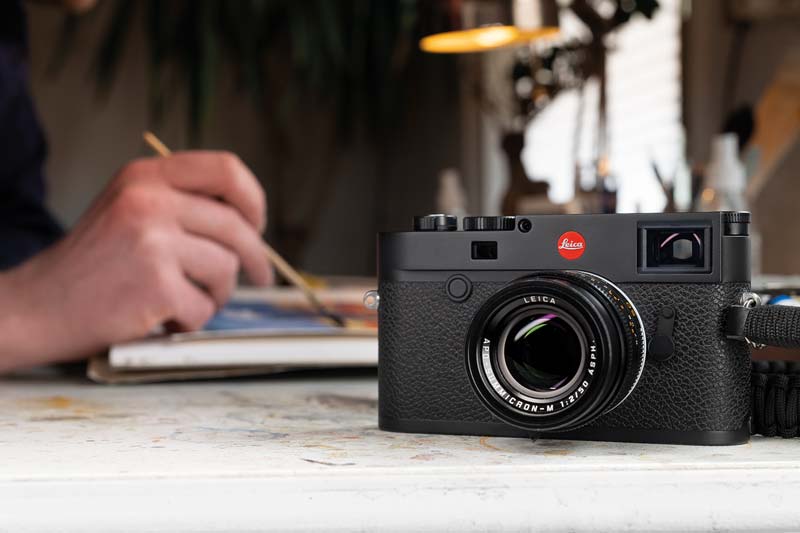 A case in point – we were treated to a virtual Q&A session with Cornwall-based Leica photographer ambassador Lucy Laucht who told us she considered the 40MP Leica M10-R's huge sensor to be "a game changer for me. The camera is so light; it has a super sharp and clear LCD display and the dynamic range keeps details in the highlights.
"You can shoot commercial and fine at projects on this camera; so I've moved away from traditional SLRs. Largely shooting Raw, I always get the colours exactly as I want them out of a Leica. Battery life seems good and I don't feel constrained by the fact that there's only one SD card slot.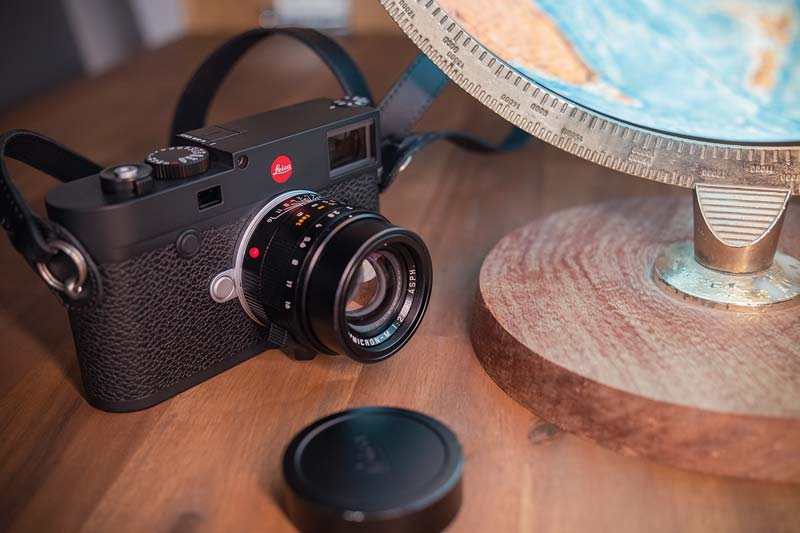 "But what I most love about the camera is the size of it. I love how small the camera is and I now don't have to pack two Peli cases full of kit when I travel."
Availability for the Leica M10-R is from Monday July 20th at 2pm. Once again, potential owners will need deep pockets as the camera costs a manufacturer suggested £7,100. Should you want to check it out for yourself and are in London, we've been told that Leica UK Mayfair and Harrods stores are now open again, albeit with reduced hours, while its City Of London showroom presently remains closed.
Leica Press Release
Leica Camera introduces a new high-resolution version of the company's legendary rangefinder camera, expanding vivid creative possibilities from the most human moments in street photography to the most epic landscapes. With its unique 40 megapixel color sensor, the new Leica M10-R delivers enhanced rendition of details to fully explore the optical excellence of the legendary Leica M lenses. This new flagship expands the M10 family, which includes the M10, M10-P, M10-D and M10 Monochrom, and achieves maximum image output without compromising the tenets of M photography.

The M10-R's newly developed 40 megapixel sensor represents a considerable increase from the 24 megapixels of the M10, and yet the M10-R offers significantly reduced image noise as well as a wider dynamic range. The sensitivity range of this new sensor, from ISO 100 to 50000, ensures it can be used in any situation a photographer may need. That base ISO of 100 helps allow bright light photos where the aperture can be kept wide-open for better background blur and bokeh, while on the other side of the spectrum the maximum exposure time has been increased to 16 minutes for more creative freedom with long exposures in the darkest light. Complementing the Leica M10-R's imaging prowess and handling is its super quiet mechanical shutter, inherited from the M10-P. Its whisper-quiet operation helps the user be stealthy, when capturing that decisive moment requires the utmost discretion, and its minimal vibrations reduce the risk of camera shake to help yield sharper pictures.

As with all of Leica's rangefinder cameras, the construction of the M10-R involves a large amount of hand assembly utilizing the best quality materials by highly trained specialists, carried out at the company's production plant in Wetzlar, Germany. This ensures that the large number of components – such as the complex rangefinder mechanism – not only perform with the utmost precision but are also particularly robust and long-lasting. A Leica M is synonymous with reliability and durability, making it a valuable long-term investment.

The Leica M10-R reaches its full potential when paired with its native Leica M lenses. The camera has the capacity to fully utilize the outstanding imaging performance of this legendary, longstanding lens range. The M10-R truly sings when paired with the newest generation of Leica's technical marvels of optics, such as the APO-Summicron-M 50 f/2 ASPH., capturing photographs of a truly exceptional quality. Concurrently, the M10-R's newfound heights of image quality and resolution also emphasizes the distinct characteristics of older M lenses, many of which are still cherished by vintage photography enthusiasts to this day.

The Leica M10-R will be available end of July at Leica Stores, Boutiques and Dealers for $8,295.00 in black chrome and silver chrome finishes.
Image Gallery
Click on a thumbnail to see the full version.
Your Comments