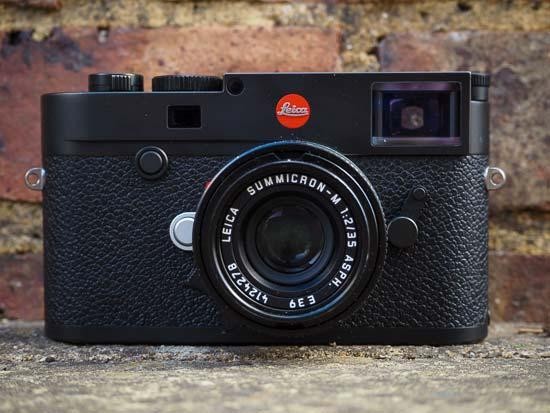 Introduction
The Leica M10-R rangefinder camera has a newly developed 40 megapixel sensor that represents a big increase from the 24 megapixels of the previous M10 model.

Other new features include an expanded ISO range of 100 to 50000, 16 minute maximum exposure time, dynamic range equivalent of 13.5 stops, an on-screen level gauge, and super quiet mechanical shutter and touch screen operation (both inherited from the M10-P).

Available in black chrome or silver chrome finishes, the new Leica M10-R is priced at £7100 / $8295 body only.
Ease of Use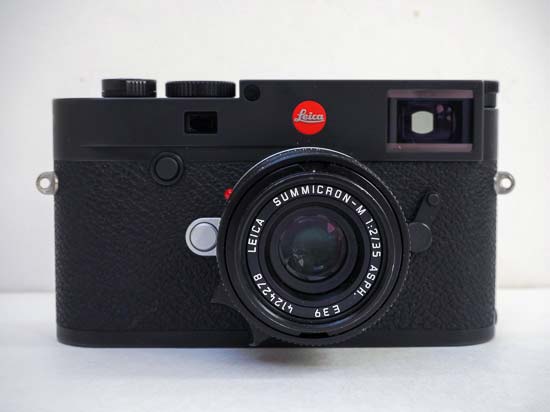 Front of the Leica M10-R
With a robust, tank-like build and whisper quiet operation, the new full frame CMOS sensor incorporating Leica M10-R feels reassuringly solid when held in the palm, while its minimal features and clean layout make sure your subject is the focus of your attention, rather than the camera itself.
Indeed, the 'R' – which stands for 'Resolution' – feels like a solid block of metal that would make for a very expensive doorstop indeed (at a manufacturer's suggested £7,100) if it weren't for the enticement of the 40 megapixel, full frame sensor at its heart.
It's as beautifully made and as well finished as you'd expect from something that claims to have been constructed by hand in Germany, with the automatic price premium that commands. It's a camera that should in theory last you years and years of service.
We had the all-black version of the Leica M10-R in for scrutiny on the Photography Blog test slab, though a rather natty looking silver chrome plated version is alternatively available. Both feature die-cast magnesium bodies with a brass top panel and base, including off-centre stainless steel tripod thread. With battery inserted the camera weighs a chunky 660g.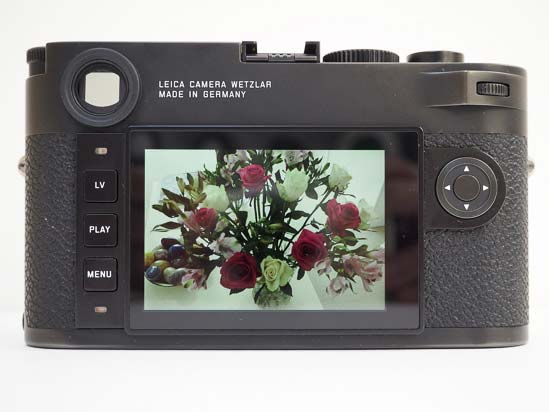 Rear of the Leica M10-R
If you've read our original news report, or are a keen Leica watcher, you'll already know that the M10-R is a close cousin of its maker's M10-P – in featuring the latter's silent mechanical shutter operation (with no electronic shutter alternative and, it's claimed, minimal vibration to reduce the effects of camera shake), rear panel touch screen, identical processor, relatively slim profile and rangefinder type styling – pared back to the essentials as Leica would have it. Other cameras in the present system line up include the original M10, the M10-D and the black and white-only shooting M10 Monochrom.
But the main talking point and focus of the Leica M10-R is of course the fact it delivers 40.89 megapixel JPEG and Leica DNG (Raw) files, and that such a sensor has been shoehorned into this camera's chassis, making it one of the most compact full frame models on the market, even if it's a bit of a squeeze to get it into a jacket pocket.
The manufacturer claims this particular sensor has been uniquely designed for this particular camera, with equally unique pixel architecture. Of course, considering it's intended for street photographers and portraiture in the main, it's arguable whether such a huge resolution is actually needed for the M10-R; although Leica itself argues that 40MP resolutions are now something of the norm and indeed that's what's now 'expected' by photographers prepared to shell out £5000+.
It also believes that huge resolution should open up the M system to possible new markets – something that every camera manufacturer is looking for right now. Of course the huge resolution also allows for creative cropping of an image after it's been shot, if you didn't get the framing spot-on the first time around – or for fine art and landscape work.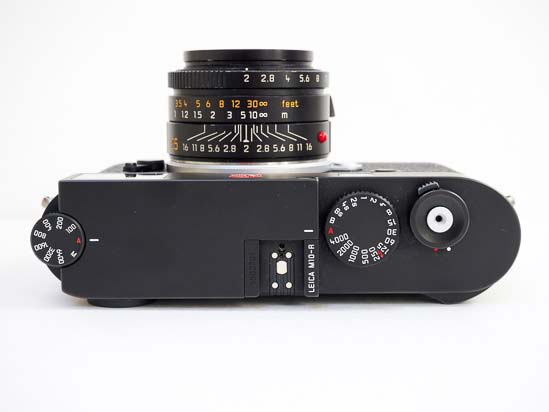 Top of the Leica M10-R
Videographers will want to look elsewhere however, as the Leica M10-R is a dedicated stills camera without any facility for filming whatsoever; leading some commentators to opine that it feels like a camera from the 1950s. But perhaps, the 'modern' advantage of digital innovation aside, that's largely the point.
Despite the large sensor, the light sensitivity range is 'sensible' without it actually pushing the envelope, with settings ranging at 1/3 increments from ISO100 up to an equivalent ISO50,000 (as per Leica's SL2), and accessed via a ridged dial at the far left hand side of the top plate. This boasts a pull-up-and-twist action and dedicated settings for ISO100, 200, 400, 80, 1600, 3200, 6400, as well as fully auto and manual settings.
As the model name indicates, potential purchasers of the M10-R get to avail themselves of around 50 directly compatible lenses in Leica's current M range – which it believes should allow photographers to fully exploit the potential for detail denoted by that 40MP chip – plus many more from the past besides; thanks to the M-mount having been around since 1954. Leica's R series lenses can further be used with the camera – albeit via an adapter accessory. So there's a lot of very high 'quality' glass that can be married to the sensor provided, should you already own some or your budget can stretch to it.
Our manual focus only Leica M10-R review unit came with a compact Leica Summicron 35mm f/2 lens – which, in providing a view similar to that of the human eye, the manufacturer classifies as an ideal prime lens for reportage photography – while its relatively slim profile also ensures the camera itself doesn't take up more space than it needs to.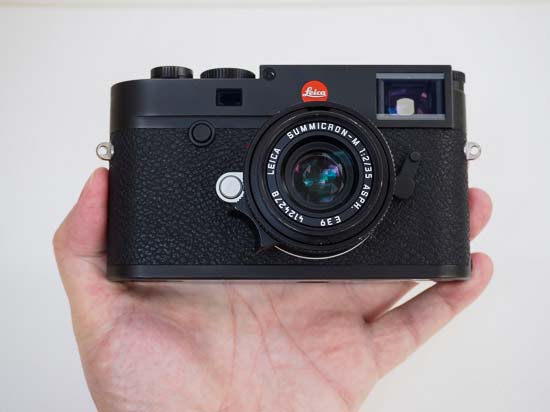 The Leica M10-R In-hand
That said, with lens affixed to body, it does look like a professional bit of kit, leading to inevitable questions and queries from passers-by if you're actually attempting street photography. The 35mm lens means that you inevitably have to get up quite close to subjects if it's detail you're after, and the fact that the focal length is fixed means composition is a case of taking a step forward or back as necessary – thus engaging in a little Cartier-Bresson-style 'dance' of sorts.
Luckily, when using the rear 3-inch 1,036,800 pixels LCD screen of the Leica M10-R for composition, there is a focus assist feature whereby the edges of a subject will glow red to indicate that focus has been achieved – thereby acting as further reassurance if you don't quite trust your own eyes or skills 100%.
While some may grumble that there is just one SD card slot nestled next to the large lithium ion battery at the base, when the camera offers both a huge resolution and costs what it does – putting it firmly into professional territory – there will inevitably have been trade offs made to squeeze as much into this chassis as Leica has done.
Like most cameras from this manufacturer, the M10-R's operation promotes a more considered, reflective and generally slower approach; it's not about 'bamn, bamn, bamn'. That said, squeeze down on the shutter release and the camera is as quick to capture an image as the best mirrorless, with, if you so desire to shoot in bursts, up to 4.5 fps achievable.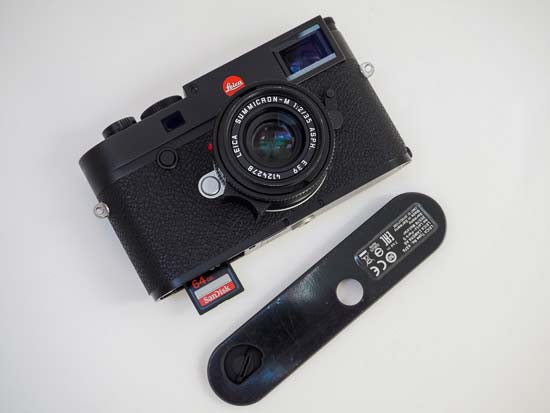 Memory Card Slot
As we noted earlier, this is a Leica camera reduced down to the essentials, most starkly illustrated by the backplate merely featuring an unmarked four way control pad to the right of the LCD screen and then just three buttons on its left for, variously, activating Live View, playback and calling up its on-screen menus. Simple as.
Exposure compensation settings run the modest gamut +/- 3EV, and, while due to the 'pared back' ethos on display there's no flash built in here, one can obviously be added via the vacant hotshoe on the top plate.
Of course we also get a porthole shaped window housing the optical viewfinder and then a partially recessed DSLR-alike command wheel, atop of what we'd rather loosely call a thumb rest at the rear of the camera.
The front and back of the Leica M10-R features a leatherette style surface affording a degree of purchase for fingers in lieu of a more pronounced grip, with the tank-like weight and heft of the camera also going someway to ensuring this one can be held steady for image capture and won't accidentally slip from your palm either.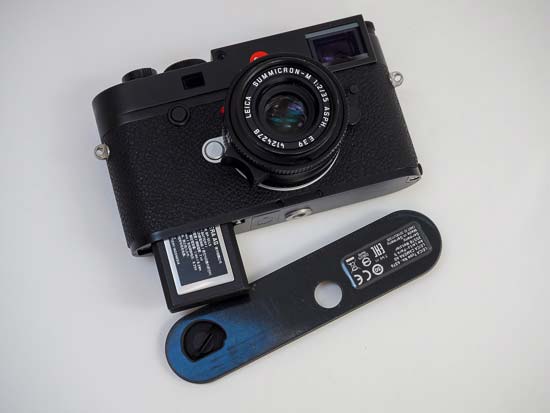 Battery Compartment
The weight means that while it's not the most portable option for photography in the outdoors, it is slightly less bulky and obvious than the alternative option of a full frame DSLR. That said, we were thankful for the thick rope-like strap that Leica provided for our review sample, which saved our shoulders even if we did notice said strap had very lightly scuffed the paintwork on the flanks of the camera itself.
Talking of the optical viewfinder, we found it easy to smear the front glass when gripping the Leica M10-R in both hands, as it is positioned right at the topper-most corner of the faceplate. Thus we kept a little lens cloth close to hand to give it a wipe when we wanted to make use of it, though to be honest the live view provided by the larger LCD proved more than adequate in most shooting scenarios.
The LCD is a fairly conventional 3-inches in size, and, in offering a 100% field of view and a resolution that at 1,036,800 dots is close enough to being 'life like', it's a pretty good indicator you're getting the shot you intended. The LCD glass is claimed as being scratch resistant, which again is something you'd hope for from a premium camera in this price bracket.
Switching the Leica M10-R to Live View mode via a press of the small 'LV' button adjacent to the LCD makes for an easier route to achieve critical manual focus – or at least zero-ing focus in on a particular subject in the width of your frame, with a portion of the image enlarged. This again does encourage you to slow down and scrutinize what you're doing.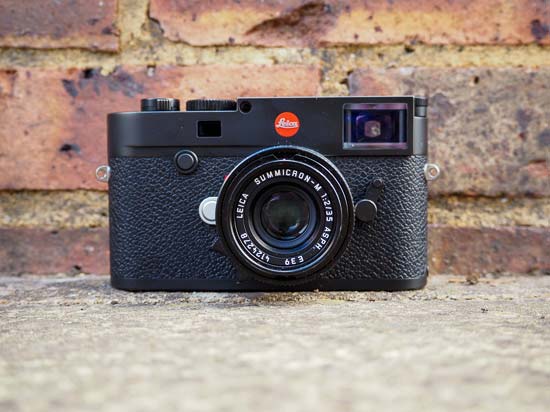 Front of the Leica M10-R
Being constructed in the rangefinder style, as well as the aforementioned dime-sized dial for controlling light sensitivity on the fly, a second larger dial atop the Leica M10-R is included here for manual adjustment of shutter speed – though leaving it on 'auto' setting is also an, as it proves, reliable option. Uses can manually adjust through the gamut of 8 seconds up to 1/4000 sec in half steps.
Next to this on the top plate is a smaller but higher control: the responsively springy shutter release button, which reminded us of the feel under the forefinger of a cable release. This sits within a second dial that acts as the on/off switch, so users can activate the camera with a thumb flick and more or less instantaneously be loosing off their first shot. The camera only froze on us once during our week-long test period – and on a very warm day. Fortunately, the old failsafe of removing and re-inserting the battery put things right again.
Like its external controls, both sides of the Leica M10-R are also pared back to the minimum, by which we mean both flanks feature a lug for attaching a strap… a continuation of the leather effect surface to aid grip… and nothing mode. You won't find USB, HDMI out or microphone or headphone ports under a flap at the side of this camera – on this model they simply don't exist and, barring a USB port, would be superfluous anyway.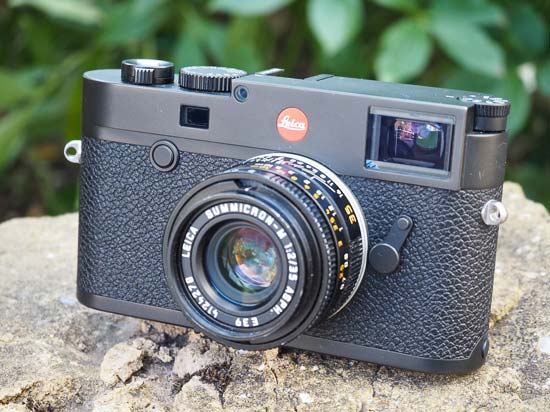 Front of the Leica M10-R
Though we managed a couple of hundred test shots in 30°+ weather conditions before the Leica M10-R was showing signs of a low battery, the official shot count per charge is a measly 210 images. We therefore reckon this is Leica erring on the conservative side. But it's obviously an Achilles heel for what is otherwise a well-constructed and impressive camera for those who like to luxuriate in their photographic choices, rather than rushing things.
Battery and SD card compartment are accessed by twisting open the lock on the metal baseplate and removing it entirely, which may seem like something of a pain at first but quickly becomes second nature. Just make sure you have a fast, high capacity SD card loaded first. The metal baseplate also ensures both these compartments are very well protected indeed. In short, the rock solid build reassures that this camera is going to keep delivering the goods for quite some time.
But, once you have actually captured a bunch of images, how do they stack up? Is paying £177.50 for each one million of the 40 million pixels that the Leica M10-R offers actually good value? Read on to find out...