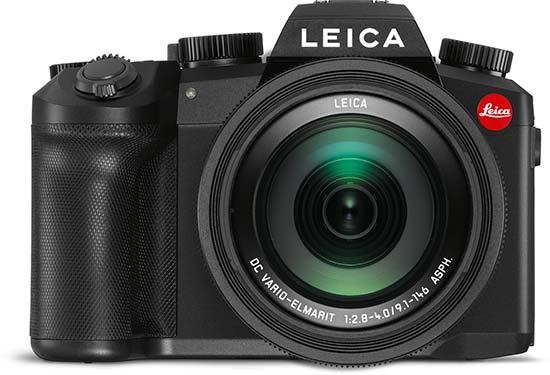 Introduction
The Leica V-Lux 5 is a new super-zoom camera featuring a 1-inch, 20 megapixel sensor and a 16x optical zoom lens offering an equivalent focal range of 25-400mm and f/2.8-4 maximum apertures.

Other key features include a 2.36 megapixel OLED electronic viewfinder with 0.74x magnification, touch-sensitive LCD screen, high-speed auto-focusing, 12fps continuous burst shooting, 4K/30p video recording, 4K photo modes, and Wi-Fi and Bluetooth connectivity via the Leica FOTOS app. Zoom Compose Assist has been added to help when shooting with longer focal lengths and the button layout has been revised since the previous model.

At the time of writing, the Leica V Lux 5 retails for around £1050 / $1250 in the UK and US respectively.
Ease of Use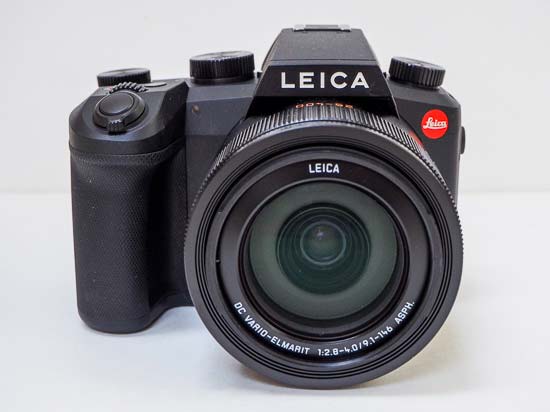 Front of the Leica V-Lux 5
Partly because its price tag, at a not inexpensive £1,050, is nevertheless one of the cheaper routes to owning a Leica-badged camera – and partly because the standard-issue bridge model layout and design makes for more intuitive handling than we're used to from this manufacturer – Leica is pitching the V Lux 5 as a perfect camera for 'all' photographers.
We'd refine that further as a camera suitable for most shooting scenarios, without needing to swap out the lens in use (here, you can't), or take a step forward or back to fit your subject into the frame. In short, versatility is the selling point.
The V-Lux 5 feels familiar when held in the palm. Its plastic (yet not overly plastic-y feeling) frame, as opposed to Leica's more usual metal build, suggests a deliberately budget-conscious approach this time around – and, more obviously, another collaboration with Panasonic, whose own original Lumix FZ1000 and its more recent Mark II successor this most closely resembles in terms of core lens and sensor specification.
As usual, we're paying a premium for that Leica badging here – around £280 more compared with the electronics manufacturer's equivalent model at the time of writing. The above being said, the Leica V Lux 5 feels well built enough that it wouldn't fall apart with a couple of accidental knocks.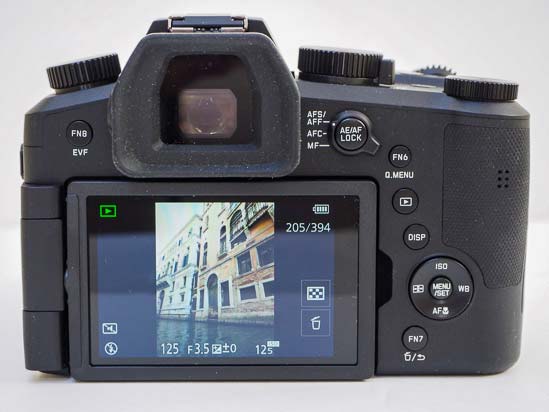 Rear of the Leica V-Lux 5
While the Leica V-Lux 5's suggested audience includes travel photographers, the camera is as bulky as you'd expect a bridge model or all-in-one to be. In other words it's almost as big as a consumer level DSLR or premium compact system camera – meaning that it won't fit even in a roomy jacket pocket. This is one for attaching the shoulder strap – provided with our review sample.
The industrial-feel chunkiness, which, admittedly, we do quite like, is partly due to the Leica-crafted 16x optical zoom lens bolted on the front of this camera, providing a focal range the 35mm film equivalent of 24-400mm on the front, with a maximum f/2.8 aperture at the optic's widest setting. This is twinned with a one-inch sensor that we'd expect at this price, along with the ability to capture 4K video up to a respectable rate of 30 frames per second (with a built-in stereo microphone, plus the ability to add an external microphone, provided).
As we know this chip is physically bigger than the 1/2.3-inch sensor formerly found in most compacts, albeit here providing a standard-for-its-class but perfectly usable 20-megapixel resolution. This is also the first model in Leica's bridge camera series that is compatible with Leica's much-trumpeted Leica Fotos smartphone application, described as being 'like a gallery in your pocket'.
Like the Panasonic near doppelganger, the standard-sized 3-inch LCD screen on the Leica V Lux 5 is articulated, meaning that it can be swung out from the body so that it faces the subject, camcorder-style. With a clear resolution of 1,240,000 dots and 100% filed of view provided, it's also a touch screen. The alternative, of course, for those who prefer compositing images in a more traditional manner, is to utilise the OLED electronic viewfinder ranged above, which provides an even more life-like 2.36 million-dot resolution and, again, 100% field of view. The manufacturer suggests that said EVF has been newly developed.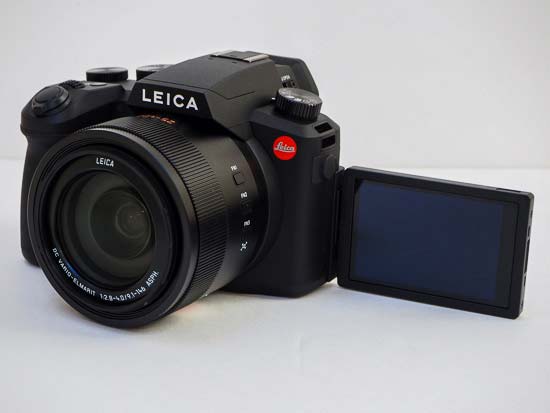 Tilting LCD Screen
A one-inch sensor has enabled Leica (or partner Panasonic) to provide a maximum sensitivity of ISO12800 to help avoid camera blur resulting from slower shutter speeds in low light conditions, while there is responsiveness here too – courtesy of a 0.1-second AF acquisition. Panasonic specific technology such as 'Post focusing' mode is also included on this model, while there's a vacant hotshoe for accessory flash even while there's a built-in, spring-loaded pop-up variety sitting just in front.
Leica provided our V Lux 5 review sample out of the box with just a spare USB lead in lieu of a standalone mains charger. No matter. Luckily you can, of course, connect this to the plug you use to charge your smartphone.
Although undoubtedly a cost saving exercise, the manufacturer would also doubtless suggest it was more 'convenient' for users this way. What we do also get provided however is a removable lens hood – useful for reducing any possible chances of lens flare or ghosting.
The lens can be operated one of two ways – either via a twist of the lens ring that encircles the lens barrel itself – a mode of operation that will be immediately familiar to existing DSLR or CSC users – or, alternatively, via a left or right flick of the lens lever that encircles the shutter release button, which will be more familiar to standard compact camera users, trading up from a point and shoot.
For anyone wanting greater accuracy via more incremental adjustments, the lens ring is probably the better bet, as an on-screen distance bar is provided along the bottom of the LCD by way of broad guidance. Focusing range is the expected 30cm to infinity.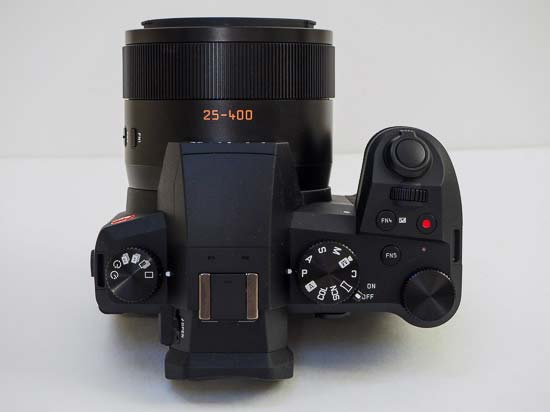 Top of the Leica V-Lux 5
Given the lens reach on offer here and the potential for hand wobble and resultant camera shake towards the telephoto end of the zoom, thankfully Leica has provided a large and rounded handgrip, around which it's possible to squeeze four fingers, with the thumb left to hover at the back. Although there's a rubberized and slightly rugged-ised rear to the grip, there's not an obvious indentation to rest the thumb – it naturally falling into place over the 'Q.Menu' (or Quick Menu) button, which is a regular feature of Panasonic compacts and has been for quite some time.
Naturally, with this being a camera aimed both at travelling types and photo enthusiasts combined, the ability to shoot Raw files alongside or in tandem with standard, Fine quality JPEGs is provided. There's barely any noticeable slow down if you choose to shoot Raw and JPEG together, rather than just the latter separately.
Operationally, the Leica V-Lux 5 handles very much like the consumer level DSLR it outwardly resembles. The front is dominated by its aforementioned lens, above which sits a recessed flash, an activation switch for which is provided just in front of the camera's EVF, meaning that this falls under the thumb of the left hand when holding the camera and shooting with it.
Nestled to the side of the lens, looking at the camera front on, is that covetable red Leica logo we're paying a premium for, while on the lens barrel itself we have not only a lens ring, but three dedicated function buttons.
Actually, it feels as though the Leica V Lux 5 is festooned with non-function specific (and so, non obvious) function buttons, and they have been crammed into every nook and cranny not otherwise featuring more obvious switches and dials. We get eight pinhead sized user selectable function buttons in total.
Rather more familiar are the camera's top plate dials, the larger one of which is festooned with the camera's shooting modes (10 in total, including the familiar P,A,S,M, scene and custom settings), while the second features its drive modes (single, burst, 4K capture and post focusing settings, plus two self timer options). Both are reassuringly stiff in operation, thereby preventing accidental jogging from one option to the next, with their ridged edges providing plenty of purchase between forefinger and thumb.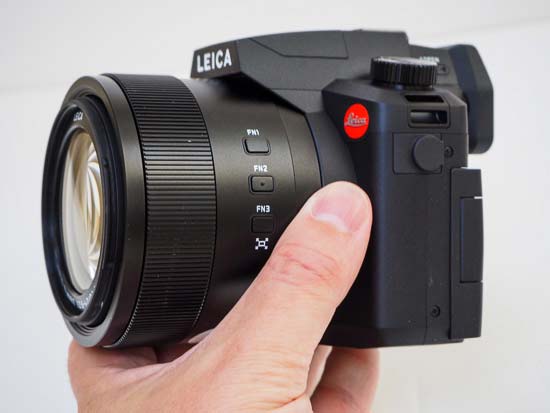 The Leica V-Lux 5 In-hand
The shooting mode dial is the one you'll find conveniently encircled by the on/off lever, with the shutter release button, as on a DSLR, located on the forward slope of the handgrip. While there is not quite room for a small LCD function window on the top plate, as we'd find on a semi pro DLSR, we do get two command wheels for scrolling through options in conjunction with the larger back plate LCD, one just behind the shutter release button where it falls under the forefinger, and one further back on the grip where it can be spun by the thumb. In short, then, the layout feels ergonomically designed and therefore intuitive to use.
The nearest function button allows us to, in conjunction with said control wheel, adjust exposure compensation on the fly. Here the range is a very impressive +/- 5EV. The function button just behind this again allows the adjustment of ISO and white balance.
To be honest, it would be much more useful to have these settings displayed via a small plate LCD than to have them 'hidden' behind unmarked function buttons providing short cuts. That said, we do get the alternative option of selecting ISO and white balance with a press of the four-way control dial on the camera back, seeing the options available on the larger LCD.
The camera's back is, inevitably, where we see most of the action happening with the Leica V-Lux 5. With its electronic viewfinder jutting out proudly, enveloped by a comfortable eye cup, the most natural way of handling the camera feels to be to press your eye up against it, as one would do with a DSLR.
Expectedly, we have a dioptric adjustment wheel nestling to the left of it for adjustment by spectacle wearers, just above which is a slider switch for activating the pop up flash. We would have liked a dedicated control governing flash settings by way of a time saver – as it is, you have to drill down into the camera's menu system to find them if you want to make any manual adjustments.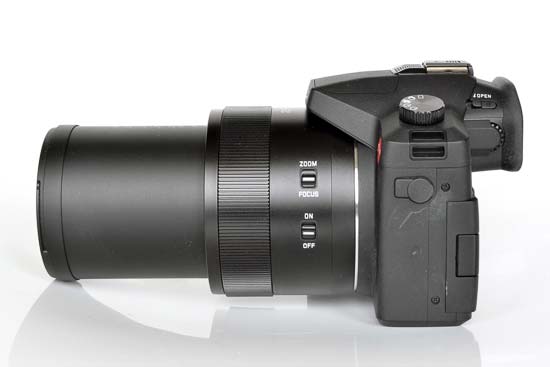 The Leica V-Lux 5 Zoomed Out
The other buttons at the camera's rear are split between what you'd expect to find on a premium compact and that of a DSLR – namely we get the familiar four-way control pad which here has settings around it governing ISO, white balance, macro and AF mode. But we also get the opportunity to lock auto exposure and AF, as well as switch between single shot or continuous AF, or indeed manual focus.
In manual focus mode the adjustment ring on the lens that formerly controlled the zoom now controls focus, with a distance slider newly called up on screen and a central portion of your frame enlarged so that accurate focus can be more keenly determined – with the areas of the image in focus highlighted with a purplish blue colour, looking for all the world like an effect beloved of TV vision mixers in the 1970s.
The base of the Leica V Lux 5 meanwhile offers up a screw thread for a tripod, and a compartment that houses both your optional media card (high capacity and high speed SD card required) and the removable lithium ion battery. As mentioned earlier no separate mains charger came supplied with our review unit. A full charge of the battery requires around 180 minutes, while the amount of captures achievable according to CIPA standards is up to a maximum 440 shots or 220 minutes of video, which, again, is a very respectable showing.
So, with the above in mind, how does the Leica V-Lux 5 fare when it comes to the quality of the images themselves? Read on to find out...