Leica V-Lux (Typ 114) Review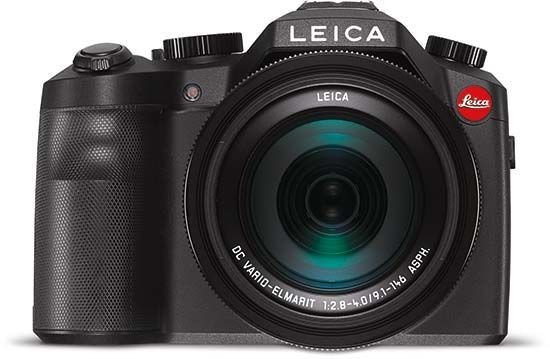 Introduction
The Leica V-Lux (Typ 114) is a new superzoom bridge camera with a larger than average 1", 20.1MP sensor and a maximum sensitivity of ISO25,000. Its 16x optical zoom range translates to a relatively modest 25-400mm (in 35mm camera terms), but you do get an unusually large f/2.8 maximum wide-angle aperture, shrinking to a respectable f/4 at the telephoto end of the zoom. The V-Lux (Typ 114) also comes with a 2,359k-dot OLED electronic viewfinder, as well as a 3", 921k-dot flip-out LCD monitor. It's not short on extra features either, boasting 4K UltraHD and 100fps FullHD video recording, RAW capture, 12fps continuous shooting and Wi-Fi connectivity with NFC pairing. Leica bundles the camera with a full copy of Adobe Lightroom to help organise and edit your images, plus you get a three year warranty. All this doesn't come cheap though, as the new V-Lux (Typ 114) will set you back around £925/$1350.
Ease of Use
Dear readers, there's a rather large elephant in the room that needs to be addressed before we continue. The V-Lux (Typ 114), as with many of Leica's sub-four-figure-price-tag cameras, hides a bit of a secret. Now that Leica makes the lenses for many Panasonic cameras, Panasonic returns the favour and lets Leica rebrand and restyle many of its cameras. Hence the V-Lux (Typ 114) Typ 114 is actually a Panasonic DMC-FZ1000, albeit with a slightly sharper look and that all important Leica logo. The jury is out as to what changes are made under the skin, but it's safe to say that apart from subtle software tweaks, the two cameras are identical.
However, in this instance that's no bad thing. Where many bridge cameras follow the ethos of 'the bigger the zoom range, the better', the FZ1000/V-Lux (Typ 114) Typ 114 offers just a 16x range. That still gives you a decent 25mm wide-angle coverage, but the 400mm-equivalent telephoto range is more modest. But unless you're an avid wildlife photographer, this zoom reach will cover the vast majority of shooting scenarios, so it needn't put you off.
Leica (ahem, Panasonic. How does 'Leicasonic' sound? ) hasn't kept the zoom range low for the sake of it though. Having a gargantuan telephoto reach usually requires a lens the size of a cruise missile. The only way your average bridge camera can achieve this without resorting to such bag-busting bulk is by scaling down the sensor size in line with the lens, so a bridge camera of DSLR-dimensions is usually built around a tiny 1/2.3" sensor, such as you'd find in a regular compact camera, or even a high-end smartphone. The V-Lux (Typ 114)'s lens is the same physical size – if not slightly larger – than the 60x optics on many bridge cameras, but its restricted zoom range allows for a much larger 1" sensor. That's almost four times the surface area of a 1/2.3" chip, but it also gives a native 3:2 aspect ratio that matches a DSLR image format, resulting in slightly wider images than the 4:3 output of a 1/2.3" sensor. But the main advantage with a larger sensor is image quality, as four times the sensor area means four-times larger pixels (compared to a 20MP 1/2.3" camera), in turn resulting in better light sensitivity and reduced image noise.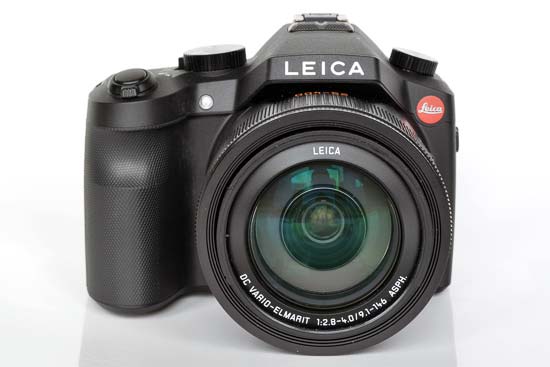 Front of the Leica V-Lux (Typ 114)
Clearly Leica has built the V-Lux (Typ 114) with the right ingredients, but its recipe is slightly different than Panasonic's. The V-Lux (Typ 114) is arguably a marginally more attractive camera thanks to more defined lines and slicker padding around the hand grip. Predictably this does compromise grip levels though, but given there's so much camera to hold on to, that's not a deal-breaker. The V-Lux (Typ 114) shares the FZ1000's high-quality build, but it also inherits its bulk. At 136.8 x 98.5 x 130.7mm, it's larger than the majority of bridge cameras, whilst its 831g ready-to-shoot weight is also heavier than many.
Control-wise, the V-Lux (Typ 114) Typ 114 is a dead ringer for its Panasonic twin. That means you get nice touches like a rotating lens barrel ring which can be used as a zoom control that offers more focal length accuracy than the zoom rocker around the shutter release. Flick a nearby switch and the same ring will also manually focus the lens, which is a far more ergonomic manual focussing solution than the button or dial-based systems used by many bridge cameras. The lens barrel is also home to a switch that'll turn image stabilisation on or off, so again, no messing about in menus.
The V-Lux (Typ 114) is clearly designed to replicate a DSLR experience more convincingly than many bridge cameras do, and this extends to the twin dials atop the body. In addition to the conventional mode dial is a drive mode dial, where you can choose between single and continuous shooting, as well as activating the self-timer, exposure bracketing feature and an intervalometer setting that'll capture multiple images over a pre-set duration to create a time-lapse.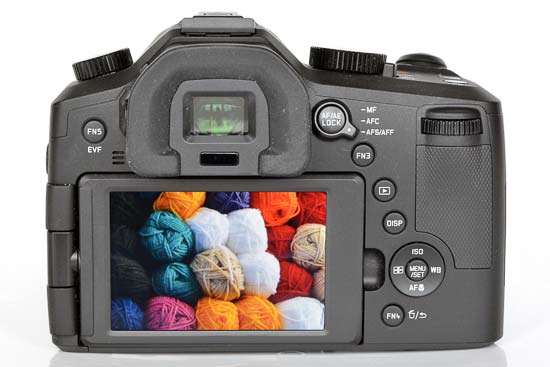 Rear of the Leica V-Lux (Typ 114)
Moving across the top of the camera, we find a proper hot shoe mount for attaching an external flashgun. The V-Lux (Typ 114)'s own pop-up flash is manually ejected using a small switch by the electronic viewfinder, so if the flash is down, it won't fire unexpectedly.
On the other side of the flash is the main mode dial. The default automatic mode has two sub-options: Snapshot, and Snapshot Plus. Both facilitate the camera's Defocus Control feature that allows you to artificially blur the background behind an isolated foreground subject to mimic the shallow depth of field of a larger aperture lens. But in Snapshot Plus mode the camera will automatically adjust the brightness and colour temperature of an image, resulting in more attractive but less accurate colour reproduction.
If you'd rather take more control over your photography, the V-Lux (Typ 114) has a Program auto mode that'll let you adjust ISO sensitivity and white balance settings. It also opens up autofocus options, which include face detection, subject tracking, and a useful AF area selection setting. Raw capture is also revealed when in Program mode, as is RAW+JPEG recording. Naturally there are aperture and shutter priority modes too, plus a full manual mode. These work well, although with a minimum aperture of f/8, there isn't much scope for smoothing water in daylight with long exposures.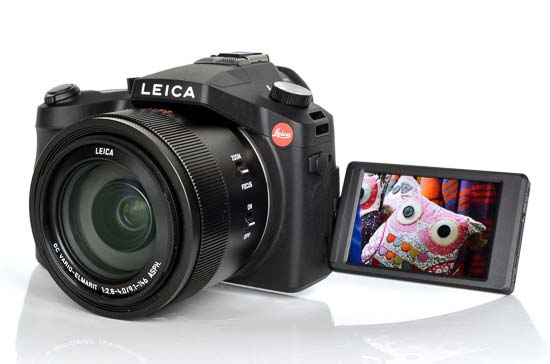 Tilting LCD Screen
The mode dial is also home to a dedicated movie setting, and you'll need to select this in order to activate the maximum 4K resolution. Recording is limited to 1080p FullHD when in other modes, and can be started immediately using the record button next to the mode dial. Panasonic's FZ1000 was the first bridge camera to offer 4K video recording, and with a 3840x2160 resolution, you're assured superb clarity with a frame size equal to an 8.3MP still. However, a 100Mb/s data rate means a 16GB SD card will only be large enough for 20 minutes of 4K video, plus you'll need fast memory rated at UHS Class 3 or higher to maintain a smooth frame rate. Strangely, the V-Lux (Typ 114) only records in the MP4 video format, whereas the FZ1000 also offers the AVCHD standard. This isn't necessarily a problem though, as the MP4 file format has comparable video and sound quality to AVCHD, yet is more compatible with computer playback software and smart TVs.
The final four positions on the mode dial include a pair of user-customisable pre-set modes, plus a Creative Control mode containing 22 different filter effects (see the image quality section of this review for examples). You also get a scene mode setting which includes an automatic panorama function and a long exposure mode for shooting night-time light trails.
Customisation is a key aspect of the V-Lux (Typ 114) Typ 114, hence you'll find five customisable function buttons dotted around the camera. These can be configured to operate many different camera settings, but weirdly exposure compensation isn't one of them, and there's seemingly no dedicated button to adjust this either. That's because the unlabelled dial on the back of the camera is used for this function. Press it to activate exposure compensation, and turn either way to adjust. It's an ergonomic system that works well, once you're aware of it. Next to this dial is a DSLR-like lever for switching between manual focus, locked and continuous autofocus, and within this is an autofocus lock button.
Top of the Leica V-Lux (Typ 114)
Dominating the back of the camera isn't so much the LCD monitor, but the pronounced electronic viewfinder. This is a high resolution 2.36MP OLED device and it features an eye detection system that'll automatically activate the EVF, as well as automatically focussing the camera. But it's the quality of the viewfinder that impresses most. It's significantly crisper and offers noticeably better colour accuracy than the EVFs on many bridge cameras, making it a genuine alternative to using the LCD monitor, not just a last resort for use in bright conditions.
The LCD is also excellent, and whilst its 921k-dot resolution is matched by many bridge cameras, its wide viewing angles and reliable contrast and colour accuracy are more comparable to a DSLR's monitor. The screen also flips to face forward and gives 270° of vertical rotation for easy shooting from high or low angles. It's a pity the screen isn't touch-sensitive, but at least it nails the essentials.
One feature you do get is Wi-Fi connectivity. This works in conjunction with Leica's Image Shuttle mobile app to allow image sharing and remote camera control. Connection is simple with an NFC-enabled smartphone – just tap it to the camera. Once connected, the system operates smoothly with minimal lag.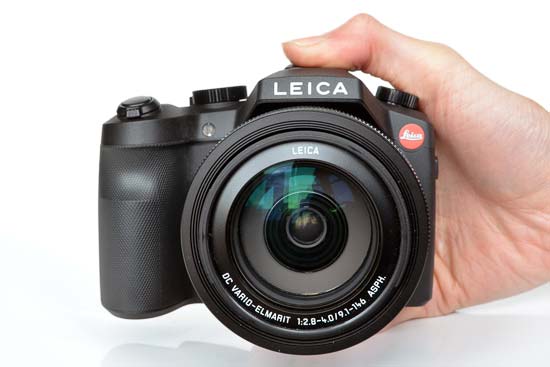 The Leica V-Lux (Typ 114) In-hand
The Wi-Fi system's simplicity also owes a lot to the camera's clear menu interface. The crispness of the LCD screen sets off the simple menu style well, and together they make navigating the V-Lux (Typ 114)'s vast array of settings a much less intimidating task than it could be. Fortunately, setting the camera to automatic mode hides many advanced settings from the menus, making the camera less daunting to novice photographers. If you do want to have a good old root around as to what's possible, take the camera out of auto mode and delve into the custom settings menu tab. Included on the eight pages of options are features like Zebra Pattern that positions lines over image areas prone to overexposure, and a focus peaking setting to illustrate which image portions are in focus. These are just a couple of functions that make the V-Lux (Typ 114) perform like a DSLR, and if you're ever in doubt as to what something does, a scrolling info panel at the top of the menu describes it.
When it comes to shooting the V-Lux (Typ 114), it'll switch on and fire a shot in under one second. That's providing the lens extends to its minimum focal length though. Activate the Zoom Resume feature and your last-used focal length will be restored on start-up, which will add a delay if this was toward the telephoto end of the zoom range. But you'll soon win back time with the camera's Light Speed autofocussing. This is claimed to be 300% faster than the system used by the old Leica V-Lux (Typ 114) 4, enabling 0.08-second focussing times. Sounds good, and it works. Focussing is instantaneous in good light and only slows fractionally in dimmer conditions. Only in the darkest of scenarios will you have to wait up to a second for the camera to focus, but this is still a very impressive performance indeed.
Battery life is slightly less outstanding, but still respectable, with a CIPA-rated capacity of 360 shots. That's 20 more than the comparable Sony Cyber-shot DSC-RX10 can manage, despite it having the advantage of only having an 8.3x optical zoom range to power through. Our non-scientific testing found that after around 150 shots and plenty of menu navigation and set-up, the battery had lost just one of three bars, indicating the official capacity claims should easily be achievable in general use.