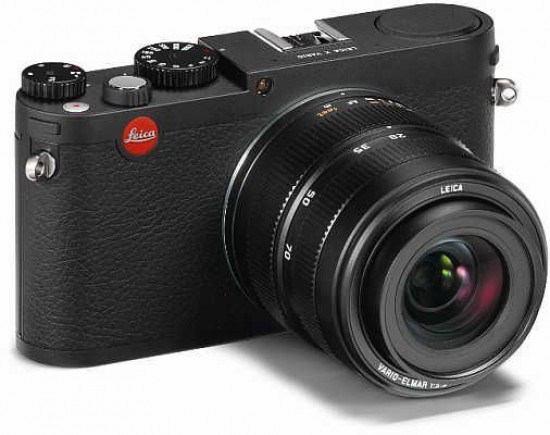 Introduction
The Leica X Vario is a 16 megapixel prosumer compact camera with an image-stabilized 28-70mm (eq.) f/3.5-6.4 zoom lens. The X Vario has an APS-C sized 16.1 megapixel CMOS sensor with a 3:2 aspect ratio which promises to deliver similar image quality to a DSLR camera. The Leica X Vario also offers a pop-up flash and hot shoe, 3-inch LCD screen with 920k-dot resolution, 1080p Full HD videos, 11-point AF system, full range of advanced controls from manual exposure to manual focus, sensitivity range of ISO 100-12,500, maximum shutter speed of 1/2000th of a second, JPEG and DNG RAW file support, and a continuous shooting rate of up to 5 frames per second. The recommended retail price of the Leica X Vario is £2150 / $2850.
Ease of Use
From the get-go the Leica X Vario immediately seduces you, looking rather minimalist and purposeful in its matt black form. Still, this does mean that the (in)famous red Leica badge and logo very much stands out due its position top left of the lens, a hard plastic clip-on cap provided as protection for that renowned glass.
Just right of the badge, if viewing the camera front-on, and nudging closer to the lens, is a small porthole containing the traditional AF assist/self timer lamp. Between top and bottom of the faceplate there is also a wide band of leather effect padding that is largely there for show than serving as a practical form of grip. In fact there is nothing resembling a traditional handgrip provided with the camera at all, though there is an optional accessory grip. Having said that, the solidity and weight of the X Vario's build - a much heavier than average for a compact 628g with battery - means that it didn't feel like the Leica X Vario would suddenly slip from our grasp at any point.
The X Vario has a zoom lens complete with manual zoom and focus rings, which go a long way towards making it feel like a "proper" camera, rather than a humble compact. At 28mm and 70mm the lens protrudes a little way from the front of the housing, only being fully enclosed at the 50mm focal length. We were disappointed by the maximum apertures though - f/3.5 at the wide end and f/6.4 at telephoto are certainly nothing to write home about, limiting its use somewhat in low-light environments. The focus ring cleverly has settings for both auto and manual focusing - simply set it to AF for, you guessed it, autofocusing, or turn it to the left to disengage AF and switch to manual focusing instead. A very neat solution.
| | |
| --- | --- |
| | |
| Front | Rear |
The X Vario's top plate features the pop up flash, a hotshoe offering full compatibility with the Leica SF 24D and SF 58 system flash units, aperture and shutter speed dials, plus the on/off switch that ergonomically encircles the shutter release button. This isn't just a power switch however as the two 'on' settings provided here directly alternate between single shot ('S') and continuous shooting ('C') options (3fps or 5fps to a maximum 10 shots) - so you've always got these drive modes literally at the tip of your forefinger. New to the X Vario is a one-touch movie record button, with 1080p recording at 30fps on offerin the MP4 format, complete with stereo sound recording, a big advance on the similar X2 camera.
Flick the switch to 'S' or 'C' setting and the Leica impressively readies itself for action in about 1 second. Squeeze the shutter release button in single shot mode to take a maximum resolution 'Super Fine' JPEG and the camera takes around five seconds to write the file to memory, although thankfully you can take another picture at the same time. Take a top quality JPEG and Leica's 'DNG' file version of Raw and the camera isn't any noticeably slower however, plus the advantage of the DNG format is that it can be opened directly by Photoshop without specialist conversion software required. Though the auto-focus system occasionally hunts to find a target, overall the X Vario is quick enough to lock onto and determine focus and exposure at both ends of the zoom range.
The back of the Leica X Vario features a switch for raising the flash over at the left hand side, whilst a command dial sits over at the top right. This is used for setting the aperture and/or shutter speed, while a clockwise turn enlarges a portion of a captured image and an anti-clockwise spin presents up to 16 thumbnails on screen at a time.
| | |
| --- | --- |
| | |
| Front | Pop-up Flash |
With the 3-inch LCD screen taking up a little less than two thirds of the back plate, this has left room for a row of five function buttons ranged vertically down the left hand side of the screen, whilst over at the right hand side sits a familiar cross key/command pad style arrangement.
The buttons at the left of the LCD are both clearly marked and instantly comprehended. From the top we have a 'play' button for reviewing previously captured images, whilst next up is a combined delete/focus button. The 'focus' element comes into play once the user has switched from default auto focus to manual focus simply by turning the Focus ring on the lens from AF to one of the distance settings - very intuitive; whereby a central portion of the image is enlarged - as when using live view on a DSLR for manual focus - and a sliding scale of between 0.3 metres and infinity (and the same distance given in feet) provided to adjust the focus range accordingly. With the smaller screen scale and lower resolution plus no focus peaking feature, we found it trickier to accurately determine pin sharpness than we might have liked, but at least the function is there.
Alternatively if leaving the camera to its own auto-focus devices the user has a choice of a single point AF, a DSLR-like 11-point AF, spot or face detection AF settings. In addition, it's worth mentioning that a press of the delete button immediately brings up the option to delete one image or all, with your choice highlighted by a black overlay on an otherwise dark grey background. As conventional wisdom usually has it that a lighter colour highlights the menu option in play - rather than black, as here - we were brought to the threshold of accidentally deleting all images on several occasions until we got used to this bucking of tradition.
| | |
| --- | --- |
| | |
| Top | Side |
The next button down on the backplate strip of five is for manual white balance adjustments, and here, in addition to automatic, the usual suspects are provided: tungsten, fluorescent, flash, (daylight) cloudy, (daylight) shady, along with the ability to take your own white balance setting. The button directly beneath governs ISO settings, with the range going from ISO 100 to a top end ISO 12500, presented as with the previous setting as a toolbar overlaying the right hand side of the screen.
The bottom button of the row of five on the X Vario is the menu button. As we'd expect this is where the nitty gritty of the camera's operation is decided and acted upon. Naturally enough it's here that we choose the camera's resolution, with options ranging from 1.8 megapixels all the way up to 16 megapixels, plus opt for a level of compression. The JPEG options are either JPEG fine or the optimum 'super fine'. Then there's the chance to pair a super fine JPEG with a DNG file, or a fine JPEG with a DNG file. We don't then get the opportunity to shoot Leica's version of Raw on its own. Also via the menu screens we can select the camera's metering modes, with multi field metering, centre weighted metering and spot metering all offered up. Further options include the ability to turn image stabilization on or off, individually adjust sharpening, saturation and contrast in camera - with the default setting being 'standard' and the other alternatives ranging from 'low' to 'high'.
| | |
| --- | --- |
| | |
| Memory Card Slot | Battery Compartment |
Moving to the rather cheap-feeling set of cross keys on the right of the screen, at twelve o'clock we find an exposure compensation button, with adjustable settings ranging from a standard -3EV to + 3EV. Subsequent presses call up a further exposure bracketing option across the same incremental steps, plus flash exposure compensation. Moving clock wise through the cross keys, and at three o'clock we find a button governing the more comprehensive than usual flash settings. These cover: auto, auto with red eye reduction, forced flash on, forced on with red eye reduction, slow sync, slow sync with red eye reduction, plus a fairly blinding (yet effective) studio flash option for triggering external slave flash units. The next button that comes into play is at nine o'clock for the self-timer control. This throws up an option of two seconds or 12 seconds, and that's it - rather strangely the 6 o'clock position doesn't actually have a setting.
At the centre of the cross keys is a self-explanatory button labeled 'info', though in truth it's function is closer to that of a standard 'display' button rather than providing the on-board manual its name might suggest. A press of this in capture mode removes icons for the shooting mode in play, number of shots remaining, battery life, focus and metering mode from the screen to provide a clear view of the subject, whilst a further press brings up a nine zone compositional grid for which to practice our Rule of Thirds.
Whilst the left hand flank of the X Vario is devoid of features save for a protruding metal lug for attaching the strap, the right flank features a second lug and a flip open door protecting two ports: one a five pin mini USB socket and the second for HDMI output. The base of the camera meanwhile features a marginally off-centre screw thread, with a large catch protected compartment housing both the supplied BP-DC8 lithium ion battery and port for optional removable SD media alongside it. Media of choice is the expected 'all varieties of SD card' whilst the unit also comes with 110MB of internal memory out of the box. The battery is good for around 350 shots according to claimed CIPA standards from a full 200-minute charge.