Nikon AF-S DX Nikkor 18-105mm f/3.5-5.6G ED VR Review

Introduction
The Nikon AF-S DX Nikkor 18-105mm f/3.5-5.6G ED VR is a 5.8x standard zoom lens for Nikon's cropped-sensor DSLR cameras. First introduced with the Nikon D90, the 18-105mm VR is now available separately or bundled with a high-resolution Nikon D5100 or D7000 digital SLR camera body. Featuring VR (Vibration Reduction) and SWM (Silent Wave Motor) technologies, Super Integrated Coating, extra-low-dispersion and aspherical lens elements, and an iris diaphragm with seven rounded blades; the Nikon 18-105mm DX lens offers a very versatile focal range equivalent to that of an imaginary 27-157.5mm zoom in a 35mm system. Currently, the lens retails for £230-£260 in the UK and $320-$400 in the US, when bought on its own.
Ease of Use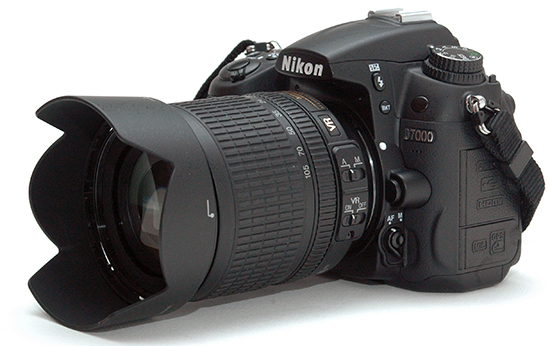 The Nikon 18-105mm f3.5-5.6 VR lens mounted to a Nikon D7000 body
In terms of its size, proportions and styling, the AF-S DX Nikkor 18-105mm f3.5-5.6G ED VR is just about a perfect match for the Nikon D7000 digital SLR camera we used for this test. It's also fully compatible with every Nikon DX camera ever made, including entry-level offerings such as the Nikon D40 or D3100.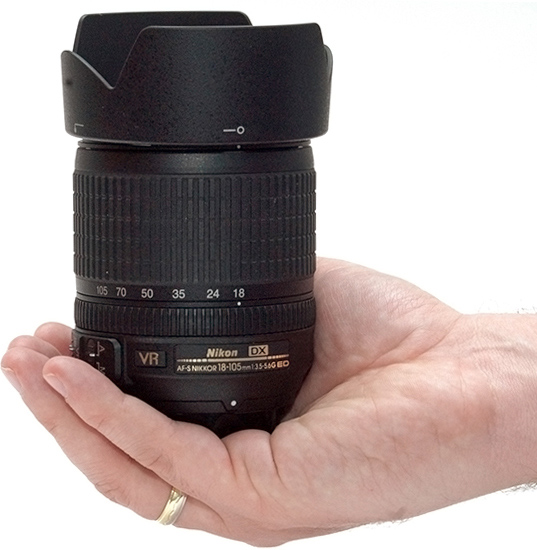 Weighing in at 442 grams with the included hood – as seen in the photo above –, the lens isn't exactly featherweight but it's not particularly heavy, either. Fit it to a D7000 camera body complete with battery, dual SD cards and neck strap, and you're dealing with a combo that weighs 1,287 grams. This may sound like a lot, but actually, the lens balances very well on the camera.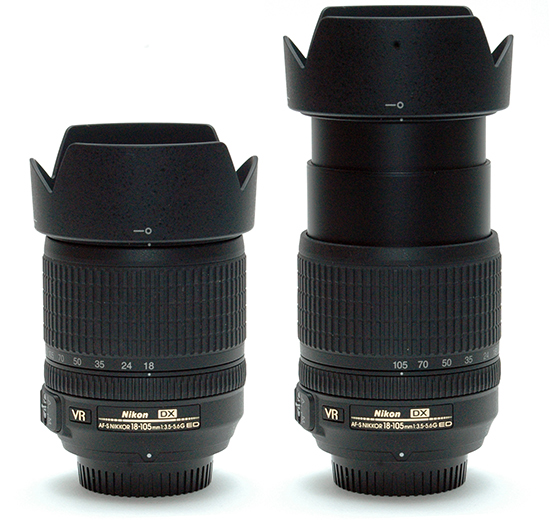 Zoomed out and zoomed in

Zooming is not internal – as you can see, the lens extends about 5cm when zoomed to 105mm. The ribbed zoom ring is plenty wide for a comfortable grip, while the zooming action is nice and smooth. Zoom creep is not an issue.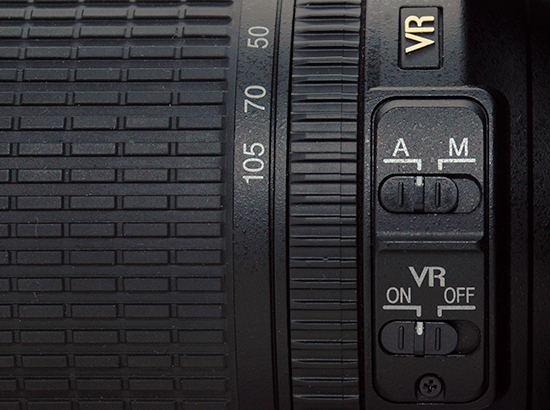 The Nikon AF-S DX Nikkor 18-105mm f/3.5-5.6G ED VR offers an Internal Focus (IF) mechanism complete with a Silent Wave Motor that enables whisper-quiet auto focus. And although it only has an "old-school" M-A (manual-auto) focus switch instead of the M/A-M switch found on most other modern AF-S Nikkors, it also allows you to simply grab the focus ring and make manual adjustments even when you're in AF mode. It additionally features Vibration Reduction (VR), Nikon's proprietary lens-based image stabilisation technology, albeit without the Active mode found on some of the more expensive VR lenses. As far as other features go, the lens has little else to offer. There's no distance scale, hence no DoF marks or infrared focus index, either. It also lacks a focus limiter, but we'll hasten to add that we didn't really miss that feature on this particular lens. Finally, being a G series lens means you won't find a traditional aperture ring on the lens barrel, which isn't a problem given that all compatible (DX) bodies allow you to set the desired f-stop using a body-integral command dial.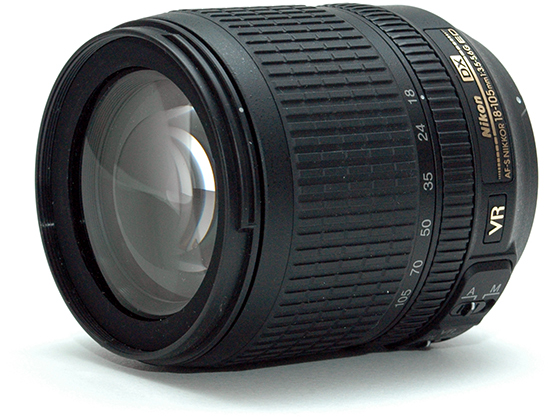 Front of lens, isometric view
Thanks to the IF mechanism, the 67mm filter thread does not rotate on focus. As you can see above, there's also a plastic bayonet mount for the included HB-32 hood, the latter of which can also be reversed for storage.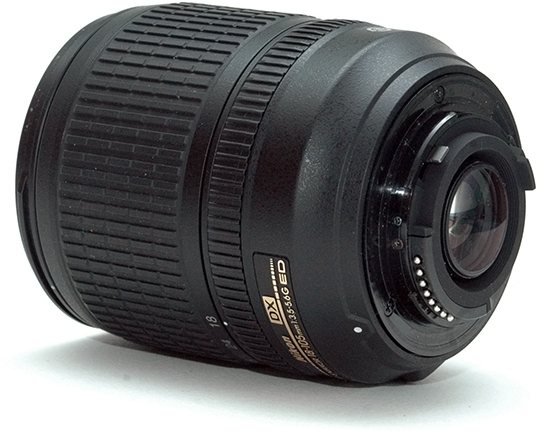 Rear of lens, isometric view
The lens mount is made of hard plastic rather than metal. While this may not inspire confidence in the longevity of the lens, my long-term experience with other plastic-mount Nikkors has been that it usually makes no real-world difference. Do note however that there's no rubber gasket around the lens mount – your D7000 may be weather sealed but this lens is not, so think twice before taking it to rainy or dusty locales.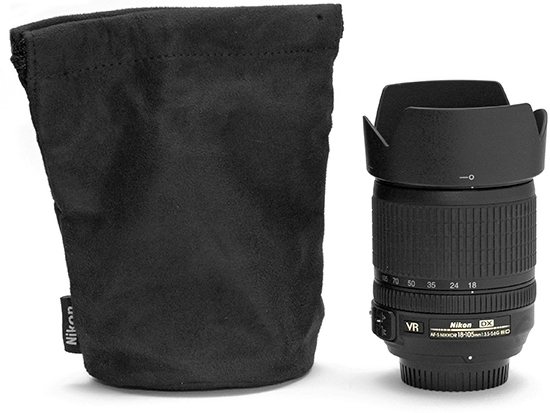 The lens ships with a soft pouch and a petal shaped hood, as seen in the photo above.
Focal Range
One of the main attractions of this lens is a useful and versatile focal range that goes from true wide angle to true telephoto.
At the 18mm end of the zoom range, the angle of view is 76 degrees, which is equivalent to that of a 27mm lens on an FX digital (or 35mm film) camera.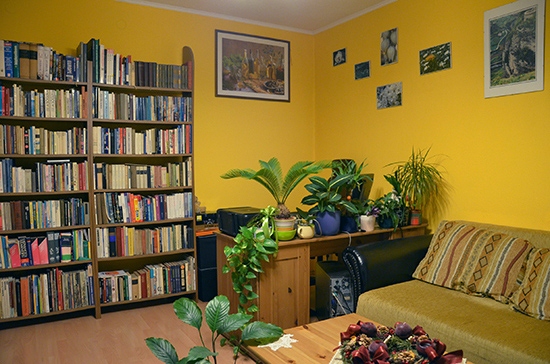 Field of view at 18mm
At the 105mm end, the angle of view narrows to 15°20'.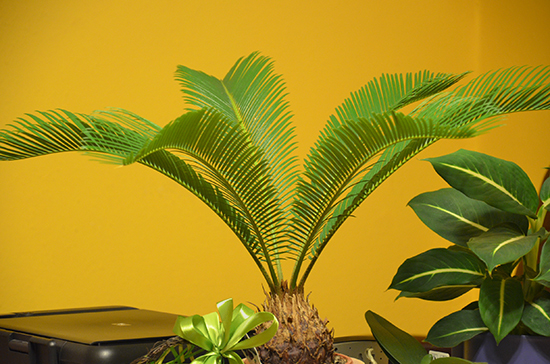 Field of view at 105mm
Focusing
As mentioned above, the AF-S Nikkor 18-105mm f3.5-5.6 VR lens has a Silent Wave Motor that allows for nearly silent auto focus operation. AF-S lenses are also often associated with high focus speeds, but the Nikon 18-105mm VR isn't a particularly fast-focusing lens. It's not slow either; just don't expect it to lock focus instantly as you half-press the shutter release, especially if it has to go from its close-focus point to infinity or vice versa. "Hunting" isn't a common experience with this lens but it may occur in very low light, particularly at the telephoto end.
Manual focusing is possible even when the focus mode switch is in the "A" position, but generally speaking, this lens just isn't made for MF aficionados. The focus ring is narrow and has very little "travel", making it rather difficult to nail focus perfectly, even when using Live View and a tripod. Most of the time, the AF system will produce more accurate results.
Distortion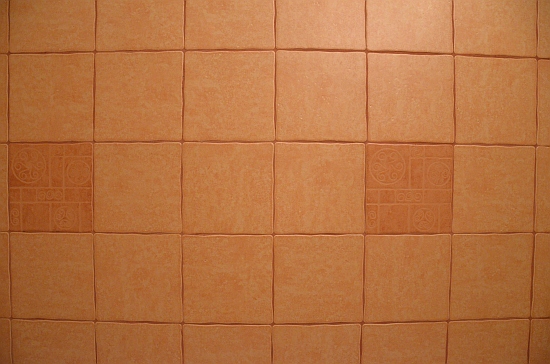 A zoom lens that goes out to 18mm is bound to suffer from noticeable barrel distortion at the wide end, and the Nikon AF-S 18-105mm f/3.5-5.6G is no exception. Do note however that the effect is less dramatic when the lens is focused at or close to infinity.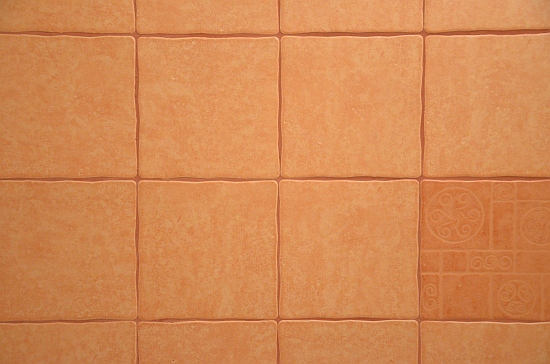 The barrelling seen at the wide end quickly turns to pincushion distortion as you zoom in. It's less pronounced but still easily visible.
Chromatic Aberrations
Chromatic aberrations, typically seen as purple fringes along contrasty edges, are a bit of a problem with the AF-S 18-105mm VR lens, but if you're using a recent Nikon camera body, you'll only see them in the raw image files as the JPEG processing engines of these cameras are smart enough to detect and remove most CAs automatically.
Light Fall-off
With the lens set to its maximum aperture, some light fall-off can be seen in the image corners at all focal lengths, with the two extremes of 18mm and 105mm being the worst. Stopping down the lens by one to two stops cures the problem. The example below was taken at f/5.6 at the telephoto end.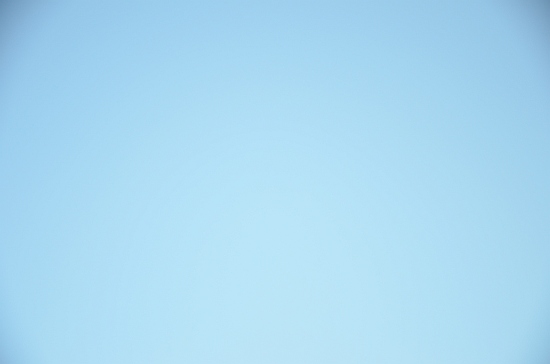 Macro
The  Nikon AF-S DX Nikkor 18-105mm f/3.5-5.6G ED VR isn't a macro lens. Nikon quotes a maximum reproduction ratio of 1:5 at the telephoto end – we have found it to be slightly higher at about 1:4.7, allowing you to fill the frame with a subject that measures slightly less than 112mmx75mm. The following example, taken at the 105mm focal length and aperture of f/5.6, demonstrates how close you can get to the subject; in this case, a Compact Flash memory card. (It also shows visible light fall-off in the corners, underpinning our findings laid out in the previous section.)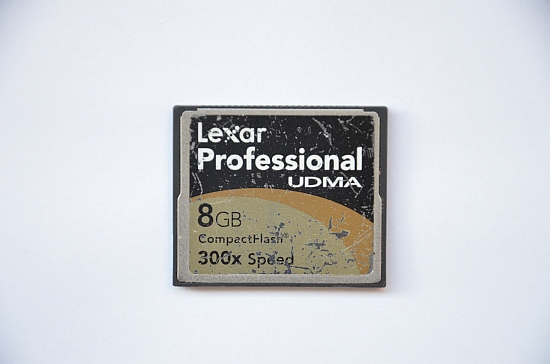 Close-up performance
Bokeh
Bokeh is a word used for the out-of-focus areas of a photograph, and is usually described in qualitative terms, such as smooth / creamy / harsh etc. In the  AF-S Nikkor 18-105mm f3.5-5.6 ED VR, Nikon employed an iris diaphragm with 7 rounded blades for a pleasing rendering of the out-of-focus areas. Based on what we're seeing in our sample images, their efforts have been largely successful.
Sharpness
In order to show you how sharp this lens is, we are providing 100% crops on the following pages.