Nikon AF-S Nikkor 18-35mm f/3.5-4.5G ED Review

Introduction
The Nikon AF-S Nikkor 18-35mm f/3.5-4.5G ED is a full-frame ultrawide-to-wide zoom for Nikon FX digital and film SLR cameras. The newly designed optical formula comprises a dozen elements in eight groups, including two ED glass and three aspherical elements and Nikon's Super Integrated Coating. The AF-S Nikkor 18–35mm f/3.5-4.5G ED lens features a Silent Wave Motor for quiet auto focus operation, and takes standard 77mm filters. The lens is currently available for £519.00/$749.99 in the UK and US, respectively.
Ease of Use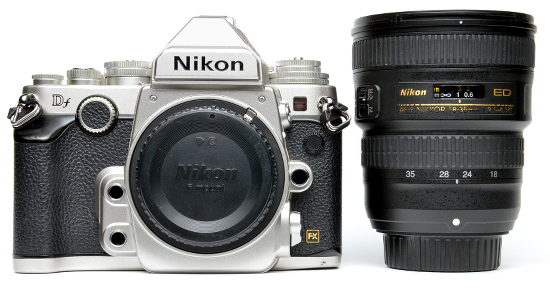 The Nikon 18-35mm AF-S lens attached to a Nikon Df digital SLR camera
Weighing in at 385 grams, the Nikon 18-35mm f/3.5-4.5G ED AF-S is surprisingly lightweight for an FX lens, and balances well on any full-frame Nikon camera. The lens ships with a petal-shaped hood, which is made of plastic.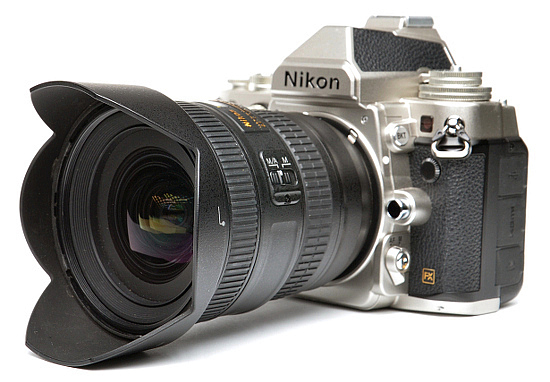 The Nikon 18-35mm AF-S lens attached to a Nikon Df digital SLR camera
The overall build quality is decent but not outstanding. Most parts are made of plastic, which contributes a lot to the light weight of the lens. The ribbed, rubberised zoom ring is sufficiently wide and requires only a minimal amount of force to move Zooming is essentially internal, meaning the lens' inner tube and optics adjust within the constraints of its outer barrel, so the length of the lens remains the same irrespective of zoom and focus settings. Being a G lens, the Nikon AF-S Nikkor 18-35mm f/3.5-4.5G ED has no aperture ring.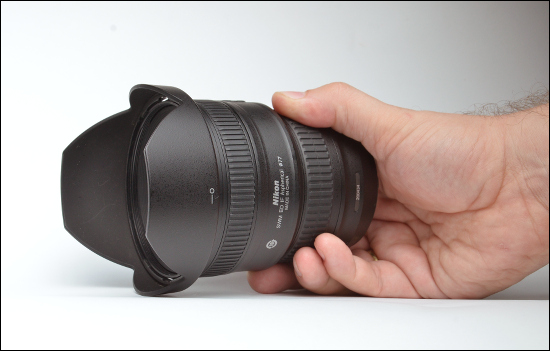 In your hand, the lens feels surprisingly lightweight
In terms of features, the lens has little to offer. There is a distance scale sheltered behind a window and a focus mode selector switch, but that's it. Thanks to the lens' construction, manual-focus override is always possible, even when the focus switch is in the M/A position; although with this particular lens I did not really feel a huge need for this feature.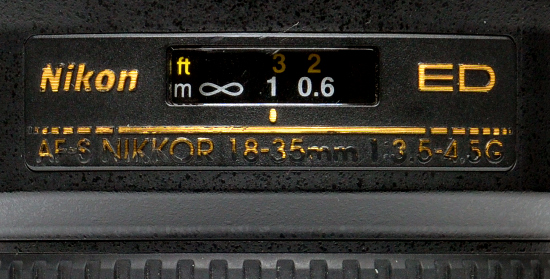 The ridged focus ring is located on the front of the lens. Both the zoom and the focus rings are smooth in action without being loose. The lens accepts 77mm filters.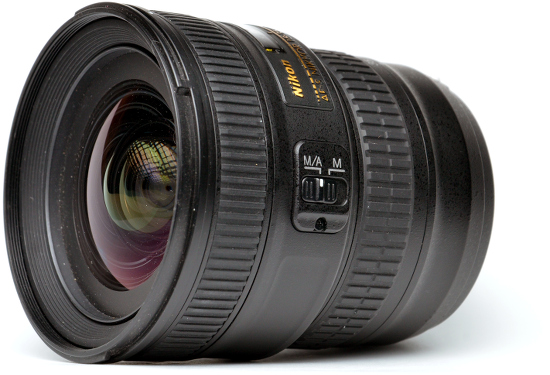 Front of the lens, isometric view
The lens mount is, thankfully, made of metal, and features a rubber gasket that provides a degree of protection against dust and moisture - even though the lens is not fully weather sealed.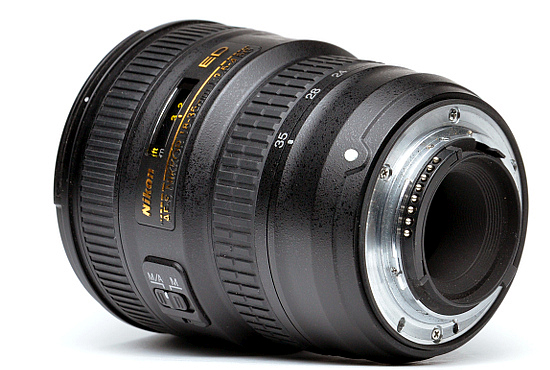 Rear of the lens, isometric view
Focal Range
At the 18mm end of the zoom range, the lens has a diagonal angle of view of 100 degrees.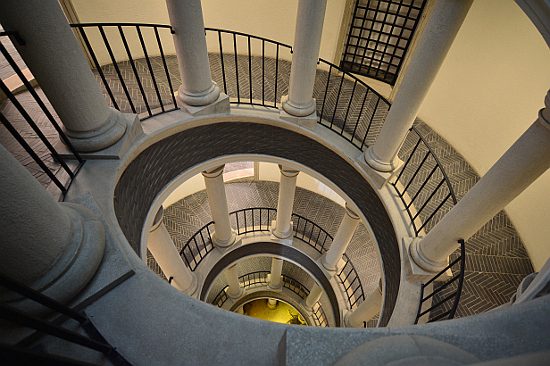 Field of view at 18mm
At the 35mm end, the angle of view narrows to 63°.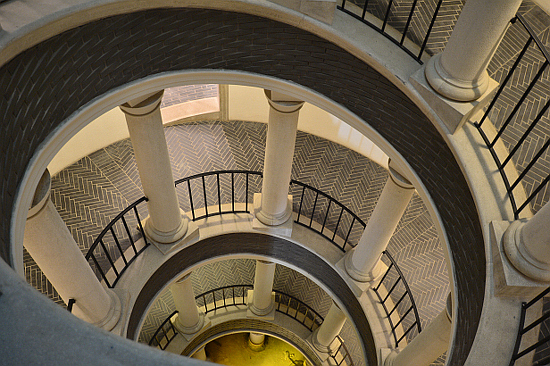 Field of view at 35mm
Distortion
At the 18mm setting, the lens suffers from a rather high degree of barrel distortion – as seen in the photo below.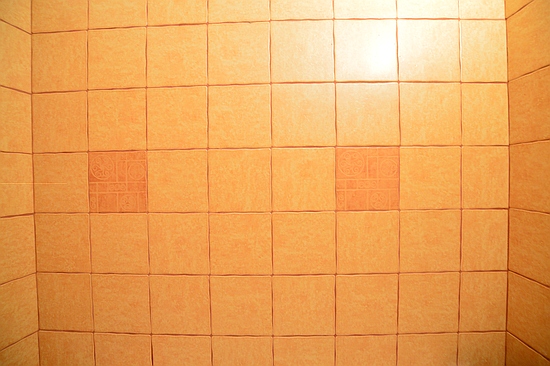 At the 35mm end of the zoom range, the effect is a lot less pronounced, but still visible.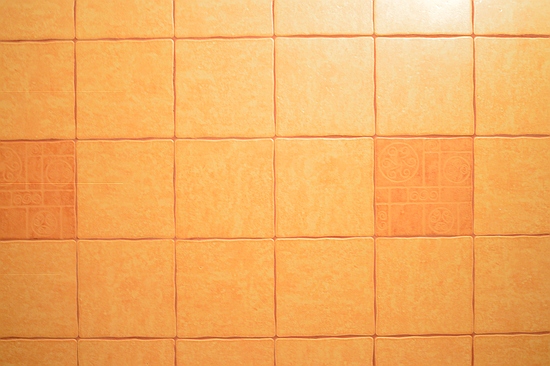 Auto-Focus
The Nikon 18-35mm AF-S lens features a Silent Wave Motor (SWM) that promises fast and quiet auto focus operation. In use, we have found it to be a reasonably quick performer. Thankfully, we didn't experience too much "hunting", either in good or bad light, with the lens accurately focusing almost all of the time.
The focus ring is 15mm wide, which means it's a mere 4mm narrower than the zoom ring. There are no hard stops at either ends of the range, making it more difficult to set focus at infinity. Manual override of the autofocusing system is available at any time. Polariser users should be pleased that the 77mm filter thread doesn't rotate on focus.
Flare
Ghosting is well under control, but veiling flare can be an issue in certain circumstances.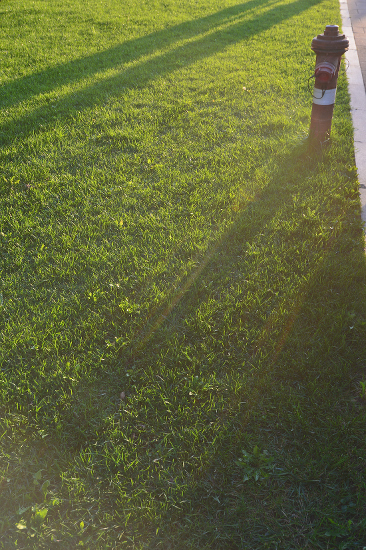 Chromatic Aberrations
Chromatic aberrations, typically seen as purple or blue fringes along contrasty edges, are  very well controlled – an excellent performance for an ultrawide lens.
Light fall-off
For a full-frame ultrawide lens, the Nikon 18-35mm f/3.5-4.5G ED AF-S Nikkor exhibits fairly low levels of light fall-off in the corners, even wide open at 18mm.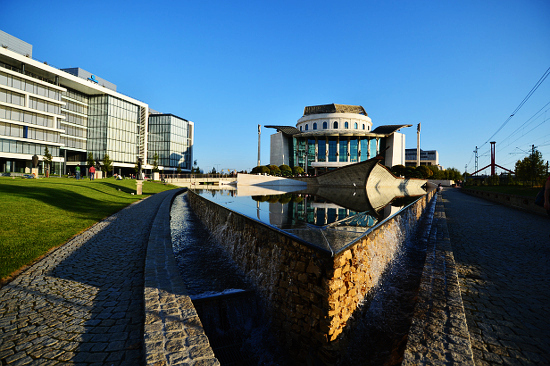 Macro
The Nikon AF-S Nikkor 18-35mm f3.5-4.5G is not a macro lens. The close-focus point is at 28cm from the sensor plane, and the maximum reproduction ratio is 1:5 (1:4.8 according to our own measurements). The photo below illustrates how close you can get to the subject, in this case a CompactFlash memory card.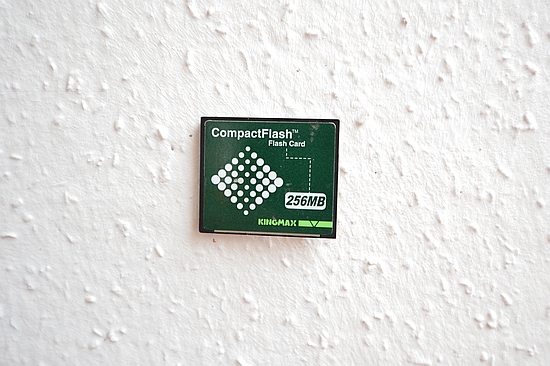 Close-up performance
Bokeh
Bokeh is a word used for the out-of-focus areas of a photograph, and is usually described in qualitative terms, such as smooth / creamy / harsh etc. With an ultrawide-to-wide zoom, having anything substantially out of focus is bound to be a rare occurrence, requiring you to make a conscious effort to zoom in, focus close and use a wide aperture. That said, Nikon paid attention to this aspect of lens use too, employing a 7-segment diaphragm with rounded blades. To be honest, we have still found this lens' bokeh to be somewhat "nervous" looking.
Sharpness
In order to show you how sharp this lens is, we are providing 100% crops on the following pages.