Nikon AF-S Nikkor 24-120mm f/4G ED VR Review

Introduction
The Nikon AF-S Nikkor 24-120mm f/4G ED VR is Nikon's third 24-120mm lens, and the second one with Vibration Reduction. Its immediate predecessor, the AF-S Nikkor 24-120mm f/3.5-5.6G ED VR, was introduced back in 2003, and intended mainly for use with Nikon's film SLRs. Later, it was often offered in a bundle with the Nikon D700 – however, with a lot of users and reviewers complaining about its mediocre sharpness, pressure was mounting on Nikon to release a better lens with the same focal range. Finally, in the run-up to Photokina 2010, the company announced the constant-aperture AF-S Nikkor 24-120mm f/4G ED VR with two ED and three aspherical lens elements, Nano Crystal Coat and an updated VR II image stabilisation system. The lens is available now, priced at around £840 in the UK and $1290 in the USA.
Ease of Use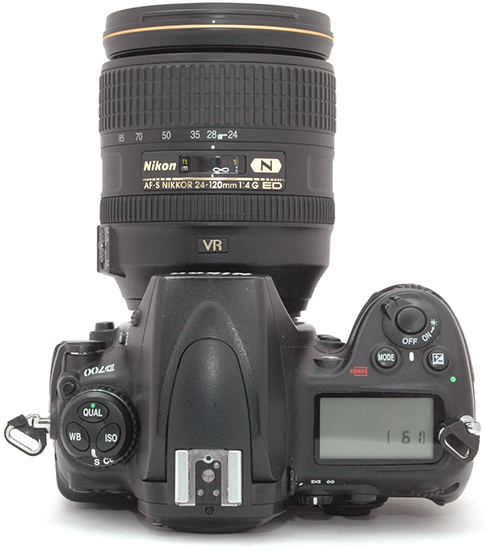 The Nikon 24-120mm f4 VR lens mounted to a Nikon D700 body
Weighing about 25% more than its predecessor, the AF-S Nikkor 24-120mm f/4G ED VR is still lighter and more compact than Nikon's other current all-purpose zoom lens, the AF-S Nikkor 28-300mm f/3.5-5.6G ED VR, which was announced on the same day and recently reviewed by us. Indeed we found that it balanced better on the Nikon D700 body and proved less of a burden when used all day long.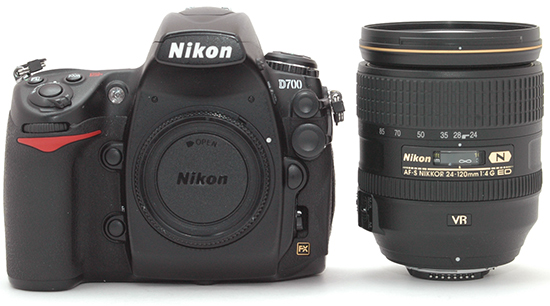 Build quality is similar to the majority of Nikon lenses we have tested so far. Most exterior parts are made of plastic, but that doesn't stop the lens from feeling solid and substantial in the hand.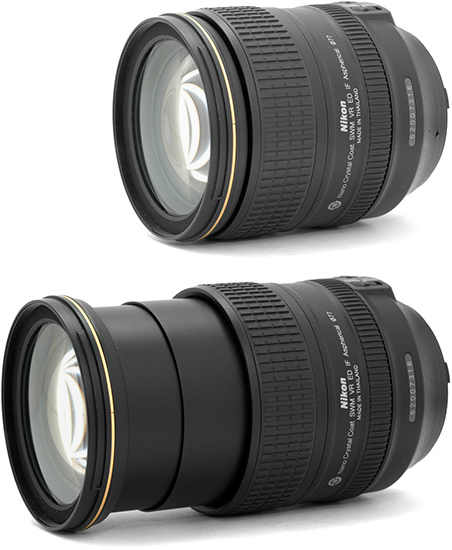 Zoomed out and zoomed in

Zooming is not internal – as you can see, the front extends somewhat upon zooming to 120mm. The ribbed zoom ring is sufficiently wide and neither too stiff nor too loose. Zoom creep is not an issue. The lens accepts filters via a standard 77mm thread around the – non-rotating – front lens element, which is great news for those who like to use polarisers or ND grads, for example. The Nikon 24-120mm f4 VR ships with the HB-53 bayonet hood, but it wasn't provided to us for this review.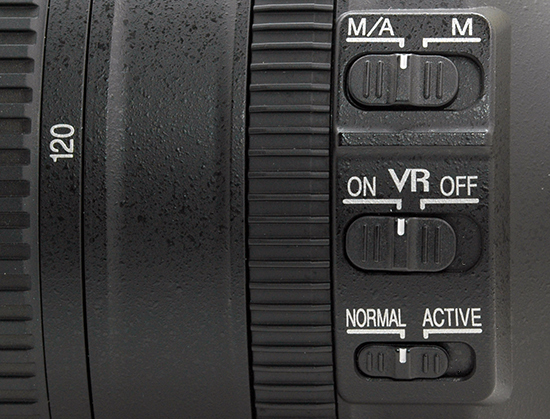 In terms of features, the Nikon 24-120mm f/4 VR has quite a lot to offer. It has an internal focus (IF) mechanism and a Silent Wave Motor, allowing you to use manual focus even when you are in auto-focus mode (denoted with the usual M/A sign on the lens barrel). It also features two forms of Vibration Reduction (VR), Normal and Active. Normal VR compensates for quick and small vibrations resulting from shaky hands, but ignores slow and wide movements to allow you to use e.g. the focus-recompose technique or panning. Active VR tries to compensate for every movement, fast and slow, large and small, and is therefore better if you are shooting from a moving vehicle, for example. The stabilising effect can be seen through the viewfinder in both VR modes.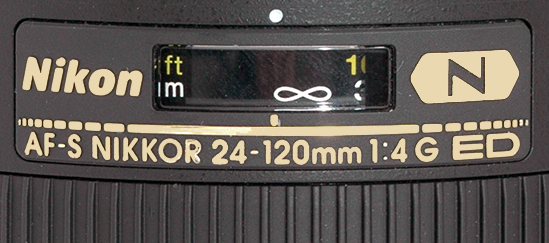 There is a distance scale sheltered behind a window, but there are no depth-of-field marks and no infrared focus index either.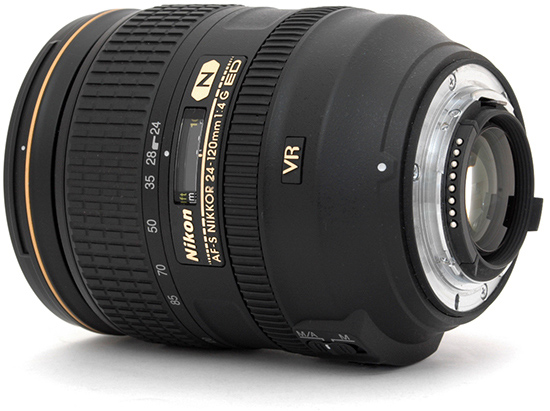 Rear of lens, isometric view
The lens is not claimed to be weatherproof, but there is a rubber seal around the lens mount that should provide basic dust protection.
Focal Range
One of the main attractions of this lens is an immensely useful and versatile focal range that goes from ultra-wideangle to true telephoto.
At the 24mm end of the zoom range, the angle of view is 84 degrees.
Field of view at 24mm
At the 120mm end, the angle of view narrows to 20° 30'.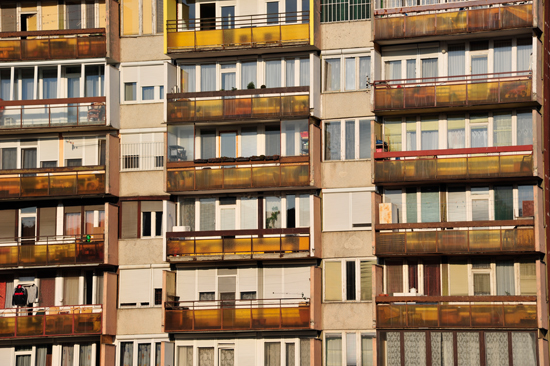 Field of view at 120mm
Focusing
In Spot AF mode, the lens focuses fairly quickly but not instantly. Switch your camera to Continuous AF though, and you'll be surprised at how well it copes with fast-moving subjects. With the Nikon D700 set to Focus Priority in C-AF mode, I was able to successfully photograph a young and energetic herding dog running at me at full speed, with my keeper rate being a lot higher than I had expected from a lens of this class (see one of our sample images for an example). Thanks to a Silent Wave Motor, auto focus operation is very quiet, and instant manual-focus override is available at all times. The ridged focus ring is quite slim but is entirely adequate for the job. It requires an approximately 90° turn to get from the close-focus point to infinity. Note that there is no hard stop at either end of the range.
Distortion
A zoom lens that goes out to 24mm is bound to suffer from noticeable barrel distortion at the wide end, and the Nikon AF-S 24-120mm f/4 VR is no exception.
The good news is that this barrelling rapidly decreases upon zooming in a little, becoming essentially imperceptible once you get past the 28mm mark. The bad news is that it quickly turns into heavy pin-cushioning, which you will easily notice at around 50mm the latest. The pincushion distortion remains strong across the rest of the zoom range – the example below was taken at a focal length of 112mm.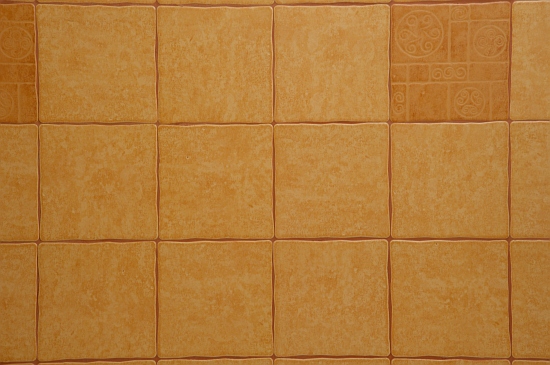 Fortunately, both types of distortion are fairly easy to correct in post-processing.
Chromatic Aberrations
Chromatic aberrations, typically seen as purple or blue fringes along contrasty edges, can be noticed in photos taken at maximum aperture but they aren't too excessive, and tend to go away upon stopping down.
Light Fall-off
With the lens set to its maximum aperture, you can see some heavy light fall off in the corners at all focal lengths, and especially at the extremes of the zoom range (see the macro shot below for an example). Stopping down reduces the phenomenon, especially at the long end.
Macro
The  Nikon AF-S 24-120mm f4G ED VR lens has a close-focus point of 45cm throughout its zoom range (measured from the sensor plane rather than the front lens element). Nikon claims a maximum magnification of 0.24x at the telephoto end – we have found it to be slightly more at about 0.26x.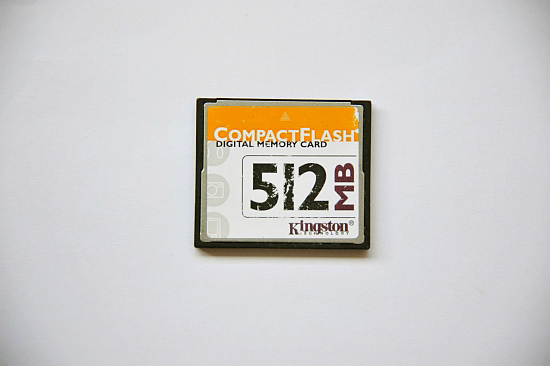 Close-up performance
Bokeh
Bokeh is a word used for the out-of-focus areas of a photograph, and is usually described in qualitative terms, such as smooth / creamy / harsh etc. In the  AF-S Nikkor 24-120mm f4G ED VR lens, Nikon employed an iris diaphragm with 9 rounded blades for a pleasing rendering of the out-of-focus areas – however, they succeeded only partially, as we have found the bokeh to be quite "nervous" at times.
Sharpness
In order to show you how sharp this lens is, we are providing 100% crops on the following pages.