Nikon Coolpix A300 Review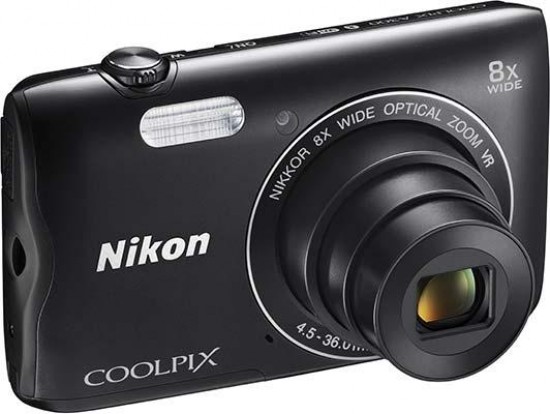 Introduction
The Nikon Coolpix A300 is one of the company's more recent budget compact cameras, launched in April 2016. It features a 20.1MP CCD sensor and an 8x optical zoom range of 4.5-36mm, which is equivalent to 25-200mm. 

As part of the camera market that has seen the most rapid decline, the Coolpix A300 has its work cut out. In its favour, the A300 is light and small, low-cost, offers that 8x optical zoom range with lens-shift vibration reduction for a claimed 3 f-stops. It's also got Bluetooth and Wi-Fi wireless connections built-in.

Several stores stock the Coolpix A300 in a variety of colours, including red, pink, silver and black. At the time of writing the typical price is around £129. For more information about the camera, please visit the Nikon Europe website. 
Ease of Use
The first thing you'll notice about the Nikon Coolpix A300 is just how small and light it is. At 119g with card and battery, this is feather-weight and lighter than many smartphones.
It's dimensions are around the size of a small smartphone, while being twice as thick. This is a camera that will slip easily into a trouser pocket. (Or get lost in a bag.)
Compact cameras like this are meant to be easy to use. Yes, you even get a sticker on the front of the Nikon A300 stating to this very effect. It will not take long to work your way around the camera.
On the top is the on/off button (that needs a firm push) and the lens zoom control (that provides a single-speed zoom). Inside the zoom sits the shutter button. That 8x optical zoom can be digitally extended to 16x. 
Move to the rear and there is a 2.7in fixed LCD screen, a standard control pad, selection button (OK) plus four other buttons (menu, scene, playback and image delete). If you've used any camera before this will all be very familiar.
A video record button sits in the top right. We'll mention at this point that the CCD sensor limits the Nikon A300 to shooting videos with a maximum resolution of 720p. If video is your thing, the A300 probably isn't for you.
Being such a small camera, there isn't much need for a grip to obtain a firm hold. There are six raised dots on the rear that provide a tactile/ non-slip surface where your thumb naturally rests. Otherwise the front has a smooth and slippery finish.
Front of the Nikon Coolpix A300
Underneath is a tripod mount (centrally placed therefore off-centre from the lens), plus the battery door. Inside you'll find an EN-EL19 battery pack that has a 700mAH capacity and provides up to 240-single-shots from a full charge. The camera accepts all SD memory cards.
There is a USB port on the side of the A300 camera which can be used for charging and as an A/V out. This is not a universal micro-USB type, so you'll rely on the cable supplied with the camera. 
That's the body. So what is the Coolpix A300's handling like? Well, startup is a reasonable 2 seconds. That's not particularly quick, but is fairly snappy for a camera like this. 
Like all cameras, the Nikon A300's shutter is on the top and is much more comfortable to operate single-handed than a smartphone. Obviously, a tap of a smartphone screen can be very fiddly single-handed, especially when trying to shoot with larger models. It is a breeze to operate any of the A300's controls with one hand. 
The 2.7in LCD screen is truly underwhelming. Perhaps more could have been made of the camera's real estate - a slightly larger screen could be squeezed in. The resolution is a bigger problem though. It is a mere 230k dots, so detail is not as sharp as it could be. The pictures produced by the camera are better quality than they appear on screen.  
The screen is fixed and its viewing angle is particularly limited when trying to view from high or low angles. Also, it is hard to gauge if a picture is too bright or too dark, simply by looking at the screen in playback mode.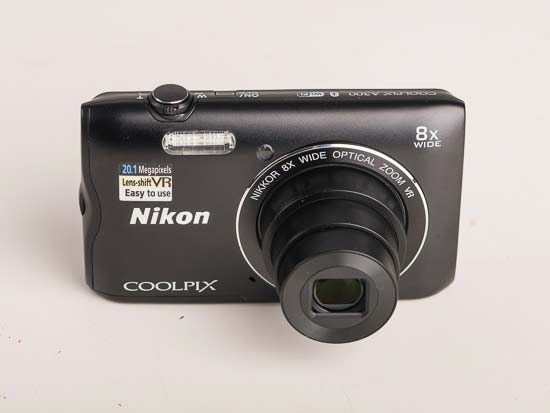 Front of the Nikon Coolpix A300
Nor is the screen touch sensitive (not that that we would expect this feature). Nope, all controls are handled by the camera buttons (or wirelessly via SnapBridge). The best thing going for the screen is that it is relatively bright. 
By default the camera is set to is Scene Auto Selector mode where the camera detects the scenarios and takes control of the exposure settings. Shooting mode is changed using that Scene button. 
In this menu, there is another Scene mode where the user can manually select the scene settings, which includes a Close Up, Night Landscape and a basic Panorama Assist. 
In Panorama Assist, a partial ghost image of the previous shot is displayed in a panorama sequence to assist the user lining up the next overlapping photo. The stitch is limited to three photos and it is tough to get satisfactory results. 
There is also a Smart Portrait mode. In this mode, skin smoothing is automatically applied, plus image softening and adjustments to colour saturation and brightness. In all, this mode is designed to make flattering portraits straight out of the camera. 
For close up and well lit portraits, Smart Portrait mode works quite well. If you'd rather do this sort of editing afterwards, there is further in-camera editing available that includes Glamour Retouch.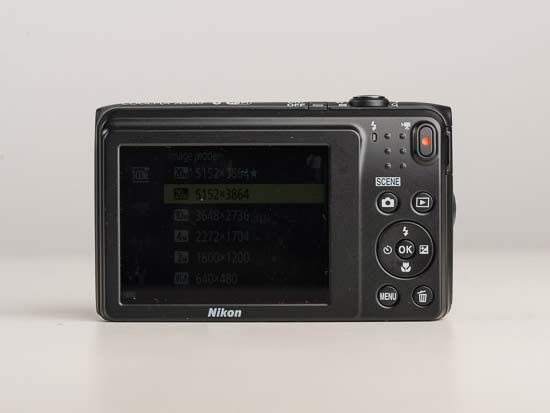 Rear of the Nikon Coolpix A300
More experienced photographers will probably be drawn to the Program Auto mode, where it is possible to manually select the white balance and ISO sensitivity settings. Shutter speed and aperture are automatically chosen by the camera. 
Further manual control in this mode includes the Autofocus mode, for single or full time AF, with face priority, subject tracking, target finding, centre or manual point selection. 
Other manual control is found on the control pad. The macro mode button activates the 2cm minimum focusing distance, plus there is a 2, 5 (self portrait) or 10 second self timer. You also get exposure compensation which works up to ±2EV. This is a saving grace with the unreliable automatic exposure selection in some of the shooting modes.
Really though, the Coolpix A300 is a camera that is designed to take full control. 
Hit the menu button and you are greeted with a basic, easy to navigate menu divided into Shooting (photo), Movie (video), Network (wireless) and Set Up.
A novelty for a camera at this price point is the inclusion of wireless connectivity to a smart device. Through Bluetooth, the A300 connects to Nikon's SnapBridge app. The app can automatically download pictures after they are taken at 2MP resolution.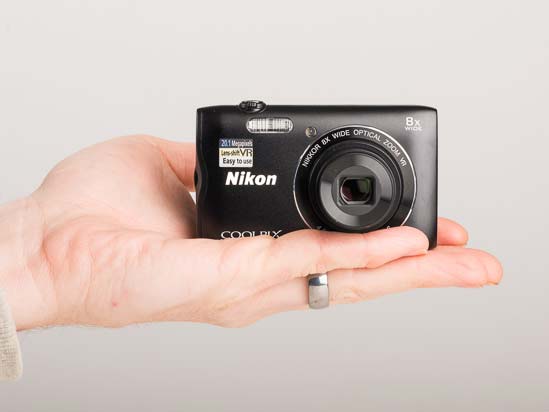 The Nikon Coolpix A300 In-hand
It is also possible to take remote control of the camera via your smart device. Really it's only the optical zoom feature of the A300 that makes sense, because the image quality coming from the camera is no better than the smartphone you are controlling it with (more on this later)! 
We think there are better functioning and more comprehensive camera remote apps out there than Nikon SnapBridge. None-the-less, the function certainly makes getting your camera pictures onto your smartphone that much easier. 
As for the overall speed of the camera, it's all a little disappointing. Start up is reasonable, but menu selection and playback response lags. 
Autofocus is not the most responsive either. In good light it's fine like most cameras (though even then not always reliable), but in low contrast light one can expect plenty of focusing hunting. 
Macro focusing is even slower and less reliable, too. This camera may offer macro focusing, but in practice you'll need much patience to get the results you want. 
Overall, the good things going for the Nikon Coolpix A300 is its size, weight and easy navigation. Against it are the poor LCD screen and overall slow response.