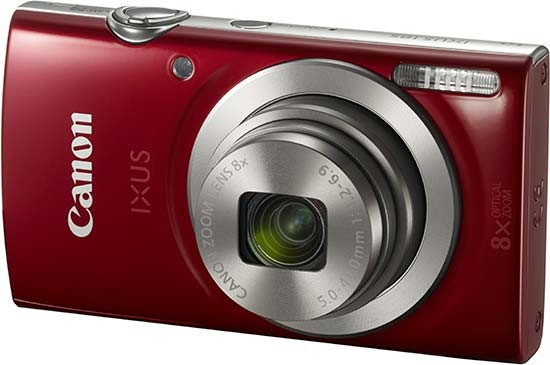 Introduction
The Canon IXUS 185 is a new budget compact camera. The Canon 185 features a 20 megapixel 1/2.3-inch CCD sensor and a 10x optical zoom lens which is equivalent to 28-224mm in 35mm terms, 720p movie recording, and Intelligent Image Stabilisation for stills and movies. The Canon IXUS 185 retails for £119.99 / €149.99.
Ease of Use
Having been selling digital IXUS cameras for the past 15 years – and at one time selling them in droves – Canon as a manufacturer has taken an 'if it ain't broke, don't fix it' approach to 2017's latest iteration of the long running series. Many might suggest the market has moved on – thanks to smartphone and tablet integrated cameras largely killing off the dedicated compact point-and-shoot category that the IXUS very much falls into. But, it appears this particular attractively stylish and slim-line camera family is still standing, with the IXUS 185 and its equally sibling 190 announced back in February this year. The former is the model we have on our test slab for today, in a maroon red-ish livery. Its headline features include a large-ish 20-megapixel effective resolution from a small-ish 1/2.3-inch CCD sensor.
So, what could convincingly entice someone to buy a digital IXUS in 2017? Well, if the manufacturer's pitch is to be believed, the Canon IXUS 185 is not just about looking stylish (which it does) but having 'fun' with photography. Switch it on and this feels like a beginners' model – the camera automatically operating in a dedicated 'easy auto' mode when you first switch it on, meaning there isn't really anything one can do apart from point and shoot. We therefore quickly navigated our way to finding the Program mode on our own model, so we could exert some control over light sensitivity/ISO settings and the integral flashgun – i.e fire the latter when we wanted to, not just when the camera deemed flash was warranted, and then 'compensate' by bumping up the ISO if needed.
To be fair, even with Program shooting mode implemented, operation is still pretty much point-and-shoot all the way… even if the IXUS does have some creative shooting/digital filter options lurking within its menu screens if you want to get ever so slightly more hands on. Rather like a smartphone in other words. At least that means operation is a cinch, and any one more used to a camera phone than dedicated camera won't be thrown.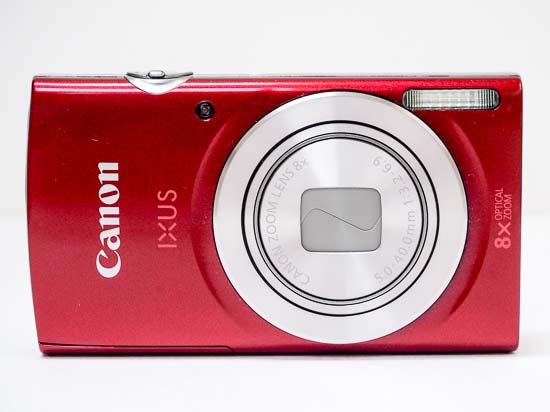 Front of the Canon IXUS 185
Positively, the IXUS 185 also manages to squeeze an 8x optical zoom lens in, providing a 28-224mm equivalent focal range, despite the camera's depth being only roughly the width of an adult finger. There's the further option to digitally/artificially extend this reach to the equivalent of 16x if so desired – this simply runs on after the extremity of the 8x optical zoom has been reached.
'Movies' are offered here too, albeit at HD 1280x720 pixels quality – a fact this IXUS proudly displays via a logo on its top plate - as opposed to the now more common Full HD or 4K-video found in pricier options. At a manufacturer's suggested £119.99 the cost of this model already felt fair, though inevitably most major UK retailers had dropped it lower and were selling the 185 at under £100 at the time of writing. It's been a long time since we reviewed a digital camera under £100 and, it feels, a good while since any one of the major players actually made one.
Specification here is as basic as one might expect in this 'beginner' market segment. User selectable light sensitivity options range from ISO100 through ISO1600, though the Canon IXUS 185 will choose between a more restricted ISO100 to ISO800 range if left on auto setting. Thus, whilst one may avoid image noise/grain, it's not always possible to avoid blur when shooting handheld. That said, we found the images the IXUS 185 delivered to be well exposed under normal daylight shooting conditions – if anything we found brighter conditions occasionally resulted in over exposure; luckily there is the option to dial down (or dial up) exposure settings within the camera's function menu displayed at the left hand side of the screen, where the available range available to the photographer is +/- 2 EV. What did impress us is the camera's ability to achieve well-defined macro shots as close as 1cm from a subject. Thus we were able to capture a bee collecting pollen from a flower, to give but one example, which might be beyond what most may assume a compact camera in this price range is capable of.
As we've come to expect from the IXUS family over the last decade plus, the design of the Canon IXUS 185 is sleek and minimalist in appearance, its glossy shell sitting comfortably in the palm of the hand. At the front we have the lens dominating proceedings, although in its dormant state it is retracted within the camera, with automatic lens cover slid shut. Top right of this is a familiar lozenge shaped window housing the built-in flash – its location meaning that we needed to be careful that a stray finger didn't partially obscure it when holding the camera in both hands to take a shot. Flash settings run the usual gamut of auto, manual flash on/off, plus a further slow synchro setting and red eye reduction that needs to be separately implemented within the camera menus. Flash range is from 50cm to three metres.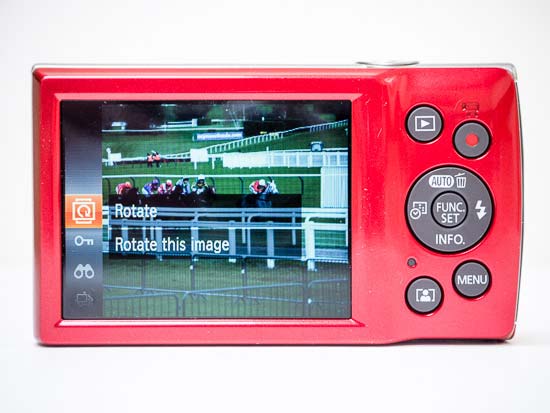 Rear of the Canon IXUS 185
Top left of the lens is a small porthole housing the AF assist and self-timer lamp. And, in terms of features, that's it for the camera front. It's on the top plate that we discover the largest control – sensibly this is the shutter release button, which is encircled by a lever for operating the zoom. A raised lip at the front of the lever provides just enough of a purchase point for it to be operated by the forefinger, allowing a shot to subsequently be captured in one fluid movement.
With a couple of pin pricks housing the Canon IXUS 185's built-in microphone for recording video clips, and a separate speaker, for playing them back, the only other control on the top plate is the on/off power button. To differentiate it to newbies, or those feeling gingerly around on the top plate as their eyes are otherwise focused on their subject, this control is smaller than the shutter release and also slightly set into the metalwork – both helping to avoid accidental activation. Press it and the camera powers up quickly – our estimate is just under two seconds as the rear LCD screens blinks into life and the retracted zoom lens extends outward from the body to arrive at its widest-angle setting, ready for action.
With the right hand flank of the Canon IXUS 185 – if viewing it from the back - housing a lug for the attachment of a wrist strap, and said lug sunk within a rubber pad that can be peeled back to reveal a hidden joint AV out / USB port, the opposite side of the camera is clear of any features whatsoever. The back of the IXUS 185 is obviously its 'business end', housing the LCD screen for composing and reviewing stills and video. Given that this camera is a budget offering, it's no surprise to find the screen isn't a touch screen, and to be honest as said monitor is only 2.7-inches in size, sporting a so-so resolution of 230K dots yet with brightness adjustment on board too, that's not a great loss.
Still, with 100% frame coverage provided, what you see is at least what you get, and resolution is sufficient to check whether your shot's in focus, at least if you enlarge a portion to check – which means the crucial bit is sorted.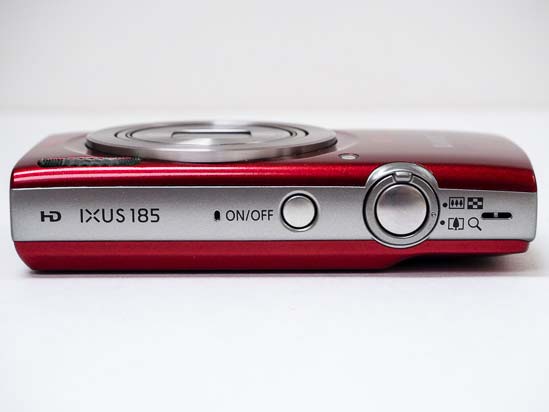 Top of the Canon IXUS 185
The Canon IXUS 185's back plate function buttons, ranged to the right of the screen, are exactly as we'd have expected to find on any digital compact camera from a decade or so back. And so we get marginally recessed buttons for playback and video record too, with a circular four-sided control pad sitting just below – with the familiar function/set button located at its epicentre.
Beneath this are a menu button and one next to it for, curiously, implementing an auto zoom function for photographing people – press this and the camera's lens will zoom in without the user physically having to activate the zoom lever on the top plate. This option isn't available in Program mode however – but merely in the 'Easy Auto' shooting mode, i.e the mode the camera is in when you first power it up out of the box.
Hold down the upper edge of the control pad where it is marked 'Auto' however to cancel and you can quit this mode and go into regular auto settings, where you'll find the more wider creatively ranging 'Program' mode selectable from the function menu displayed down the left hand side of the LCD screen.
Program mode lets us alter the metering setting – the choice here being evaluative, centre weighted or spot – along with the power to exert control over the likes of white balance, ISO, shutter speed, exposure compensation (+/- 2EV in 1/3 increments), and focus modes (infinity, macro and 'normal' settings). We also get the option to alter the shooting mode from Program to a dedicated pre-optimised portrait mode, Low Light mode (whereby resolution drops to 5MP to limit image noise), monochrome mode, perspective warping fish eye effect, toy camera effect, 'super vivid'/ extra saturation option, poster effect, fireworks plus long shutter setting – the latter being the one we deployed for our night time image examples (along with self timer mode, in order to prevent our pressing of the shutter release button otherwise introducing camera wobble and unintended blur).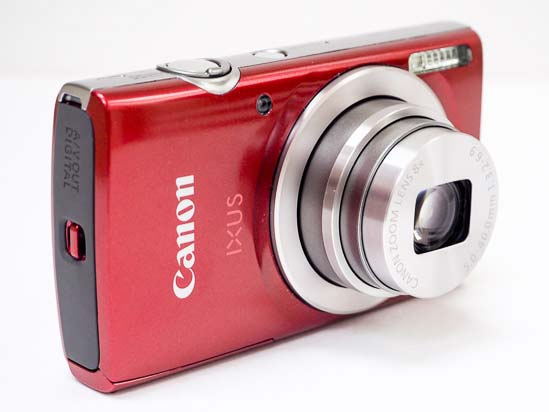 Side of the Canon IXUS 185
Otherwise, with the Canon IXUS 185 stuck in Auto, all we're left having control over is the aforementioned self-timer (choose from off, two or ten seconds), drive mode (i.e single shot or continuous shooting, the latter a hardly pulse racing 0.8 shots per second) and image resolution. Here we get the choice of 'L' or large files – i.e the maximum 20 megapixel resolution - or of dropping down to 10 megapixel, 3 megapixel or 640x480 pixels VGA resolution options. The IXUS 185 interesting adds a further 'widescreen' option – effectively cropping the shot so it will more closely resemble the format of a widescreen TV set – should that be the way you plan to view your images later on a bigger screen. The last option on the left-of-screen function menu affords the exerting of control over video clips – and whether the user chooses to shoot in HD or drop down to VGA resolution…which is certainly a blast from the past!
Squeeze the shutter release button half way to line up a photograph and you'll see a familiar green square pop up on screen detailing that the Canon IXUS 185 has found something to focus on – hopefully the subject intended. Press down fully to take the shot and, with the camera responding instantly, a 20 megapixel resolution JPEG is speedily committed to memory in, again, just under two seconds. We can't really fault the IXUS 185's response times. If a dedicated digital device that pares operation back to purely pointing and shooting is what you want, buy this camera and that's what you'll get. If you want a bigger zoom range but most of the features already described here, including ease of use, also seek out Canon's diminutive PowerShot SX430 IS. It's not as stylish, but it does feature a whopping focal range.
Lastly, the base of the Canon IXUS 185 features a centrally positioned screw thread for attaching the camera to a tripod – we'd recommend an equally pocket-sized Gorillapod for this particular camera. Next to this, we have a slide-open-and-lift cover protecting the compartment shared by the camera's battery and a slot for optional, but essential SD media card in whichever variety you choose. Battery life is good for 210 shots via the rechargeable lithium ion battery provided, which is fair if no great shakes obviously. We were able to use the camera over a period of a couple of days before the battery icon displayed on screen started showing a third depleted, which was fine for its class.
So far, so 'so-so'. But what of the images the Canon IXUS 185 delivers? Do they single it out as a veritable pocket rocket, or cause it to fizzle out prematurely and fall short of target? Read on to discover more…