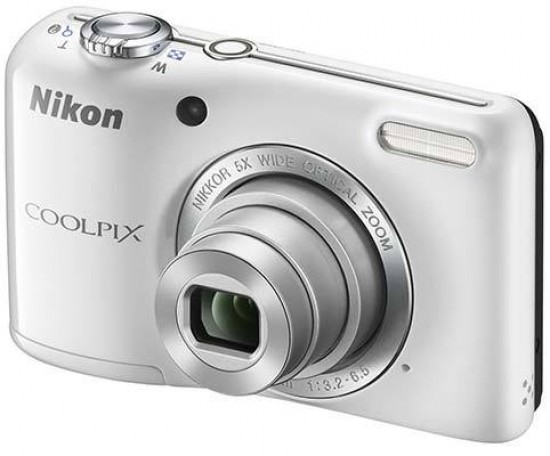 Image Quality
All images were taken at full resolution in the test with the exception of the resolution test shot. At full resolution (denoted on the camera as 16M*) the Nikon Coolpix L27 churns out files around 6.5Mb in size. Knock it down to 16 megapixel with only a normal compression rate and the file size is just over 3.4Mb. This is great if you're low on memory, but have a while before you can download. You can retain resolution while freeing up space. Just be aware that if you then want to print it to a large size and there's a lot of fine detail, the normal compression file will lose more of the information in order to retain it's small size. This is called a lossy file. JPEGs are lossy, but the star resolution loses less information than the resolution without the star.
Noise
There's no manual control of the ISO sensitivity on the Nikon Coolpix L27 so we couldn't perform an effective test. We tried to force the ISO up by reducing the amount of light available but could only get from ISO 80 to ISO 200. The images are lovely and sharp at the lowest setting and we couldn't detect any noise at that level. Of course to use this effectively, you need to have a lot of light.
Move up to ISO 100 and while the image is still sharp enough, we noticed a little degradation on the sharp edges. There's also a small amount of salt & pepper noise in the darker areas. Disappointingly, image quality starts to get compromised at ISO 200. It means that as the settings go higher the image quality will get even worse and try to be neutralised by noise reduction software.
| | |
| --- | --- |
| ISO 80 (100% Crop) | ISO 100 (100% Crop) |
| | |
|   |   |
| ISO 200 (100% Crop) |   |
| |   |
Focal Range
The Nikon Coolpix L27 has a 5x optical zoom. The camera denotes this as a 4.6-23mm zoom lens although usually refer to it in a 35mm equivalent which is 26-130mm. There's a slight amount of barrel distortion at the wide-angle setting although it shouldn't detract too much from your viewing pleasure.
| | |
| --- | --- |
| 26mm | 130mm |
| | |
Sharpening
Set at a low ISO setting, using a sharpening tool in an editing suite such as Adobe Photoshop should improve the images. However, going too high in the sensitivity scale will simply exacerbate any existing noise and make it look worse.
| | |
| --- | --- |
| Original (100% Crop) | Sharpened (100% Crop) |
| | |
|   |   |
| | |
|   |   |
File Quality
The Nikon Coolpix L27 has two compression ratings at full resolution. The highest quality has a star designation next to the image size in the main menu. A typical image at this size is around 8Mb while knocking it down to the normal setting without the star will shave off roughly 3Mb of information.
| | |
| --- | --- |
| High (6.59Mb) (100% Crop) | Normal (3.39Mb) (100% Crop) |
| | |
Chromatic Aberrations
One of the areas that we're really disappointed with is the chromatic aberration. It's really bad on the Nikon Coolpix L27 which is a shame because other areas of the picture taking are pretty good. It's noticeable mostly towards the edges of the frame but can also be seen creeping into the centre.
| | |
| --- | --- |
| Chromatic Aberrations 1 (100% Crop) | Chromatic Aberrations 2 (100% Crop) |
| | |
Macro
The close focusing of the Nikon Coolpix L27 is 10cm, or 4 inches. That's certainly nothing special in terms of digital compact cameras, but it depends on whether you'll use it or not. The centre of the frame is sharp enough and - as expected - it starts to degrade towards the edges.
| | |
| --- | --- |
| Macro | Macro (100% Crop) |
| | |
Flash
At wide-angle without the flash switched on, there's a slight amount of vignetting. Using flash doesn't get rid of this, but it stabilises the spread over the frame. By full zoom, the vignetting has gone.
| | |
| --- | --- |
| Flash Off - Wide Angle (26mm) | Flash On - Wide Angle (26mm) |
| | |
|   |   |
| Flash Off - Telephoto (130mm) | Flash On - Telephoto (130mm) |
| | |
There's no red-eye mode to switch on in the Main menu. It's on the flash settings. There's only one red-eye function on auto flash. Because of this, it wouldn't fire during our test period as it was too light. However, we couldn't detect any red-eye on the shot without it, so it seems unnecessary to need it in most cases.
| | |
| --- | --- |
| Flash On | Flash On (100% Crop) |
| | |
Night
In Auto, the Nikon Coolpix L27 is more restricted when taking night shots. The best thing would be to take one shot in Auto and another in the Night scene mode. The Auto mode did use a lower ISO setting which will end up in a less noisy picture. However, the difference on our test shots is negligible, so if you're in a similar situation, use the Night scene mode and get a better exposure.
| | |
| --- | --- |
| Night Auto | Night Auto (100% Crop) |
| | |
|   |   |
| Nigh Scene | Night Scene (100% Crop) |
| | |