Nikon Coolpix P610 Review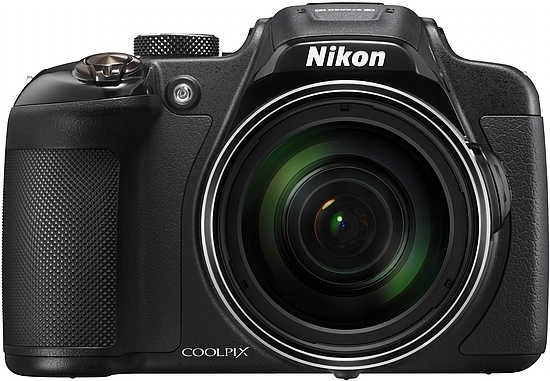 Introduction
The Nikon Coolpix P610 is a bridge camera with a 60x optical zoom range, giving it the status of an 'ultrazoom' camera. It replaces the Coolpix P600, though the P610 retains the same optically stabilised lens and also inherits its predecessor's back-illuminated 16MP CMOS sensor for clearer image quality and less noise. The P610 isn't short on extra features, boasting Wi-Fi connectivity with NFC pairing for easy image sharing and remote camera control. GPS & GLONASS geolocation tagging is also present, so you can map where your photos were taken and discover local points of interest. There's also a flip-out screen, and if that ever proves difficult to see, the P610's high resolution 921k-dot electronic viewfinder is a useful alternative. Add Full HD video capture, a time-lapse movie mode, 1cm macro ability, plus a high level of control customisation, and the P610's £340/$500 RRP seems well justified. Let's see how it performs…
Ease of Use
The Nikon Coolpix P610's similarities to its predecessor aren't confined to within. Externally the two cameras are almost identical, apart from a few subtle differences we'll get to shortly. Otherwise the P610 is of typical bridge camera dimensions, measuring a chunky 125.0 x 85.0 x 106.5mm and weighing in at 565g, ready to shoot. That's around the size of a small DSLR equipped with a kit lens, so unless you've got very large coat pockets, you're going to need to carry the P610 in a camera bag.
However, this amount of bulk does improve ergonomics. The large rubberised grip sits well in the hand, and on the back the generously sized thumb rest ensures the camera stays secure when shooting one-handed. If you do need to use your left hand to keep things steady when zoomed in, there's also a useful rubber coated section on the opposite side of the camera.
Back to the rear thumb rest and we find a button alongside it that's new to the Nikon Coolpix P610. This instantly activates the internal Wi-Fi feature, so all you have to do is connect to the camera's hotspot from your smart device. If you have an NFC-enabled smartphone, the process is even easier as you'll only need to tap it against the camera to create a connection. Then you're able to transfer photos from the P610 to share them, or control the camera remotely from your phone or tablet. Just download Nikon's Wireless Mobile Utility app for Apple or Android to start the fun.
Connectivity continues with the P610's built-in GPS; a feature absent from the old P600. This needs to be activated via the camera's main menu, but will then tag each photo you take with precise longitude, latitude and altitude coordinates. Upload these shots to a web gallery site like Flickr and it'll automatically read this location data and plot your image locations on a world map. The P610's system also features Points of Interest, whereby the nearest attraction to your current location will be displayed on screen, however there's no navigation aids help to you find it. It's also worth remembering that activating GPS location recording will drain the camera's battery faster, as the P610 keeps tracking your location for up to six hours after it's been turned off. Also, expect the system to take a minute or so to find a satellite link, and you'll probably need to be outdoors in open space to maintain a reliable signal.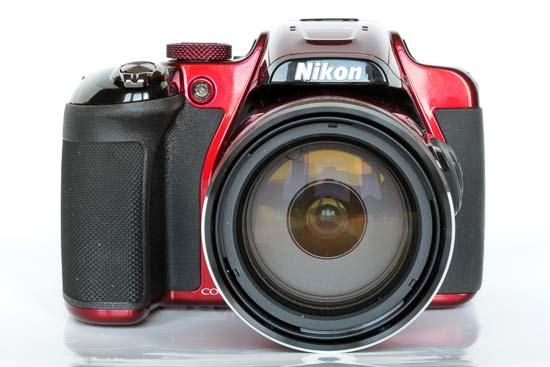 Front of the Nikon Coolpix P610
Another new feature on the Nikon Coolpix P610 is its electronic viewfinder. Whilst the P600 had one too, the new model's 921,000-dot resolution is a huge improvement over the P600's mediocre 201,000-dot device. Nikon has also added automatic eye detection for the P610, so there's no longer a need to manually switch between EVF and LCD, although there is a switching button directly alongside the EVF if you'd rather stick to the old ways. It all helps make the EVF a genuinely useful alternative to the LCD screen and not just a last resort for use under bright sunlight.
Not that the 3" 921,000-dot LCD is too shabby itself. The screen's colour accuracy and viewing angles are excellent, and six brightness levels make it easily visible in most conditions. It's a pity there's no automatic brightness adjustment, and the screen still lacks touch sensitivity. It is a flip-out display though, so you'll have no trouble composing high or low angle shots, and it'll rotate to face forwards, making it easy to snap a selfie. Nikon still hasn't attempted to design the screen unit to sit flush with the rest of the rear panel, so it does look a bit like it's been tacked on as an afterthought.
Although the screen isn't touch sensitive, the Nikon Coolpix P610 is still easy to use thanks to Nikon's tried and tested menu design that splits settings into five key groups accessed by pressing the Menu button: Image; Video; Wi-Fi; GPS, and; other settings. The amount of controllable image and video options depends heavily on which mode you're in, with only image size and quality settings adjustable when using Auto mode.
The mode dial also includes the typical PASM settings. P – programmable auto – lets you alter options like ISO sensitivity and white balance, whilst the camera still maintains control over shutter speed and aperture. You'll also need to switch to the P setting if you want to exploit the P610's continuous shooting mode of 7fps for a 7-shot burst. The camera can shoot at up to 120fps for 60 shots, but only at VGA 640x480 resolution.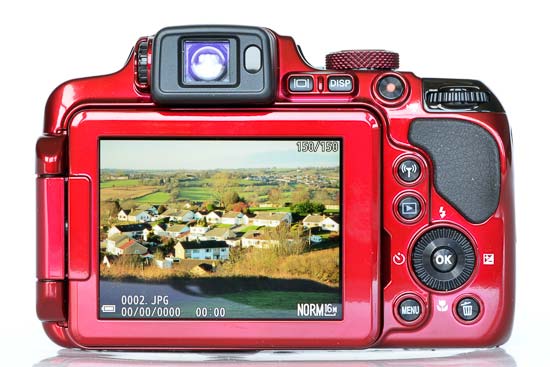 Rear of the Nikon Coolpix P610
Programmable auto also reveals options for the amount of noise reduction processing that the camera applies to images, as well as scope to adjust Nikon's dynamic range-enhancing Active D-Lighting feature. It's certainly nice to have this level of control, however you can't disable all image processing as the P610 won't record raw files.
Aperture and shutter priority modes add more shooting control, but don't expect the same level of aperture flexibility as a DSLR setup can provide, as the P610's lens only has a total aperture range of f/3.3 to f/8.2. Switching to full manual mode allows full shooting control, with the main command dial above the thumb rest adjusting shutter speed, whilst the rotating directional dial on the rear panel adjusts aperture. If you hit upon an ideal shooting setup for a certain scenario, this can be saved to the User Settings mode, accessed from the U position on the mode dial.
You also get dedicated mode dial positions for Landscape, Night Landscape and Night Portrait modes, plus a Scene setting containing all available scene modes, including automatic panorama capture. Just press the Menu button whilst the mode dial is set to Scene to access the available modes. Finally, there's the Effects setting on the mode dial, which contains eight different filter effects to add some creativity to your shots.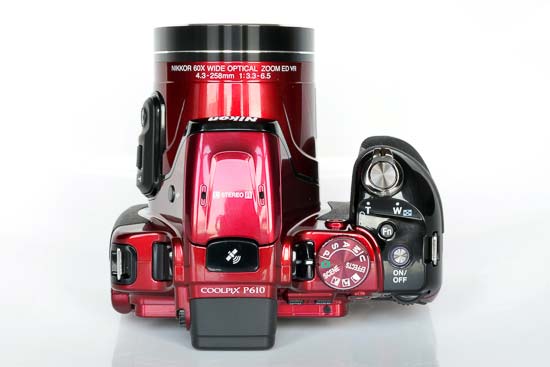 Top of the Nikon Coolpix P610
Next to the mode dial you'll a button labelled Fn. This customisable function button allows you to quickly alter options like the drive mode, ISO sensitivity or metering mode without having to go via the main menu. Customising which shooting option the Function button controls by default is done by scrolling down to the bottom of the menu it currently displays, where there's an option to select an alternative function.
Another useful control you won't find on every camera is located on the left-hand side of the lens barrel, alongside the secondary zoom rocker switch. If you've ever used a camera with a lens as long as the Nikon Coolpix P610's 60x optic, you'll know how easy it is to lose track of a subject when zoomed in to the max. By pressing and holding this 'Snap-back' button, the camera zooms out slightly, allowing you to see a larger field of view to help find your subject again. Release the button and the lens automatically zooms back in to its previous focal length.
Fortunately with a lens with such a massive focal length range (24-1440mm, in 35mm-camera terms), the lens has two zooming speeds, so you can make subtle compositional adjustments by nudging the zoom ring, or zoom in fast by yanking the control. If this speed separation gets a bit fiddly, then the zoom rocker on the side of the lens only zooms at the slower speed. Or, if that seems a bit pointless, the switch can be reprogrammed to manually focus the lens instead.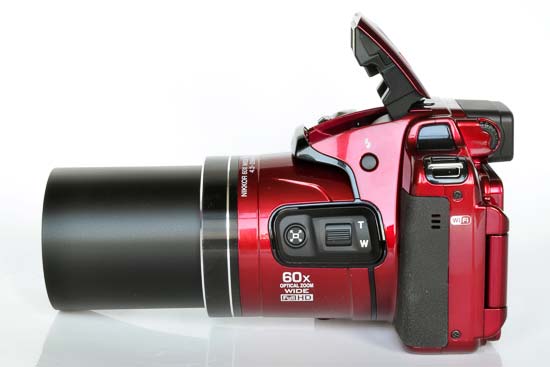 Side of the Nikon Coolpix P610
You can also control which focal lengths the lens zooms between. By default you have infinite focal length adjustment when zooming, but if you'd prefer to snap instantly to a selection of key focal lengths when you rotate the zoom ring, these can be set in the Zoom Memory section of the main menu. The extent to which the lens automatically zooms when you first power up the camera can also by defined, so if you're out on a wildlife shoot, you won't need to manually zoom in to your subject every time you turn the camera off and on again.
Keep this set to the default 24mm start-up positon and the P610 powers up and fires a shot in an impressive 1.1 seconds. From then on the autofocus system maintains this speed, focussing almost instantly in bright conditions and only slowing fractionally when things get darker. In really dim environments where the AF assist lamp is required, you may have to wait a second or so for the camera to focus, but there's rarely any frustrating focus hunting whereby the camera makes repeated attempts to find focus.
Of course, all this tech isn't much use if you don't have the batter power to run it, but here the Nikon Coolpix P610 improves on its predecessor by delivering 360 shots-per-charge, where the P600 could only manage 330. That's enough to beat the Canon SX60 HS's 340-shot lifespan (although this can be eked out to 450 shots using Canon's Eco mode), and the P610 will still be going strong long after the 300-shot-capacity Sony Cyber-shot DSC-HX400V gives up the ghost. However, the standard 400-shot rating of the Panasonic Lumix DMC-FZ72 still reigns supreme in this sector.