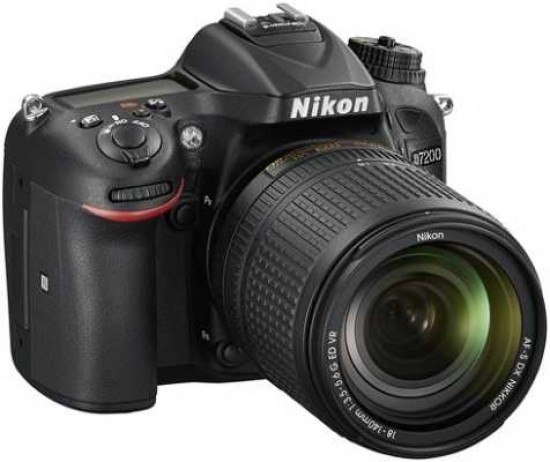 Introduction
Nikon's new D7200 is aimed at enthusiast photographers, and sits in the middle of the company's line-up. It features a 24.2 million pixel APS-C sized (DX format) CMOS sensor. Arguably it's Nikon's best offering for enthusiasts as Nikon has yet to replace the D300S, which technically sits at the top of its APS-C camera range.

The company has used the same body, with the same weight and dimensions, as the D7200's predecessor (the D7100) - it's also got an identical viewfinder and screen. The camera's sensor has no anti-aliasing filter, which helps to get the most detailed images.

Although much of the D7200 has stayed the same, Nikon has made a couple of notable improvements which should mean it produces better quality images. The latest version of Expeed processor - an EXPEED 4 - has been included. This helps to increase the camera's burst depth, which is useful when you're shooting at a fast frame rate. It also means that the camera's native sensitivity range now has a top value of ISO 25600, while new Hi1 and Hi2 modes take that all the way up to ISO 102400 (equivalent).

Another improvement has been made to the autofocusing system. The D7200 now has the same Multi-CAM 3500-II 51-point autofocusing system which is also found in some of Nikon's full-frame models, such as the D750.

Both Wi-Fi and NFC connectivity are included on the D7200 - the latter being a first for a Nikon DSLR. Other features include full HD video recording at a variety of frame rates, and a battery life which is claimed to last for 1,100 shots.

In the US, the Nikon D7200 is available either body only or kitted with the AF-S DX NIKKOR 18-140mm f/3.5-5.6G ED VR for suggested retail prices of $1,199.95 and $1,699.95, respectively. In the UK and Ireland, the D7200 will retail for £939.99 / €1,199 (body only), and £1,119.99 / €1,449 (camera bundled with the18-105 VR lens).
Ease of Use
As the Nikon D7200 uses the same body as its predecessor, it's fair to say that using it feels pretty the same as using the D7100. In fact, using the D7200 also feels quite similar to using something higher up in Nikon's range, such as the D750 and the D610. A moulded and textured grip gives the camera a nice high quality feel.
Sitting on the top left of the Nikon D7200 is a mode dial which allows you to quickly switch between the different exposure modes on offer. As this is an advanced camera, you won't find lots of scene modes clogging up the mode dial, and instead there's just a few options to choose from. You have the usual Program, Aperture Priority, Shutter Priority and Manual modes, along with an Automatic Mode, auto no flash, Scene, Effects and two spaces for groups of custom settings - useful if you often find yourself shooting one particular scene (for example low light).
Front of the Nikon D7200
In the middle of the dial, there's a lock button which must be held down before you can rotate the dial. This proves useful for avoiding accidental settings changes when you don't want to make them - such as when taking the camera in and out of your bag. Underneath the mode dial is a second one for changing drive mode. Here you can choose between single, continuous low, continuous high, quiet, timer, and mirror up shooting modes. There's another lock button found here, which is slightly trickier to hold down than the mode dial lock button, but it's likely you want need to use it very frequently anyway.
As we would expect from an enthusiast camera, there's a large number of dials and buttons on the Nikon D7200 for you to get acquainted with. Unlike the D5500, which sits lower down in Nikon's line-up, the screen is both fixed and not touch sensitive. That's a shame as an articulating screen can be really useful when composing from awkward angles, which a touchscreen can help to speed up some key settings changes. The latter is less frustrating when you have plenty of buttons to use like you do here on the D7200 though.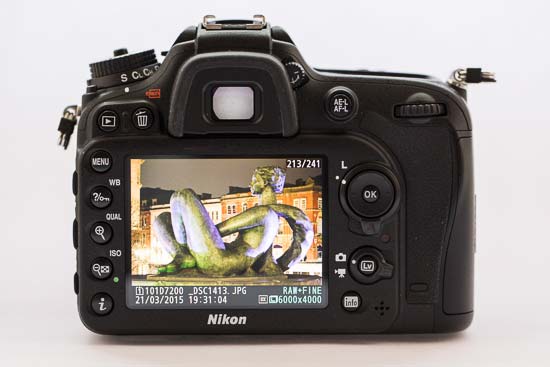 Rear of the Nikon D7200
To go through a few of the buttons on offer here, you'll find all of them tend to be grouped either on the left hand side of the Nikon D7200, or the right hand side. This makes them pretty easy to reach with either of your thumbs, but it does mean it's not really a camera you can expect to use one-handed.
Down the left hand side of the back of the Nikon D7200, you'll find buttons including the Menu button, and those which give you direct access to white balance and ISO. There's also a button marked with an "i" which can be pressed to access a sort of quick menu. Here you'll find a number of different options, including Picture Control, but there's some things that you might normally expect to find here which aren't - such as metering or ISO - but these are catered for by direct access buttons elsewhere on the camera. Regardless, it would be nice if you could customise this menu.
On the front of the Nikon D7200, just underneath the lens mount, there is a customisable function button which can be assigned to one of 18 different settings. There's quite a few useful ones to choose from here.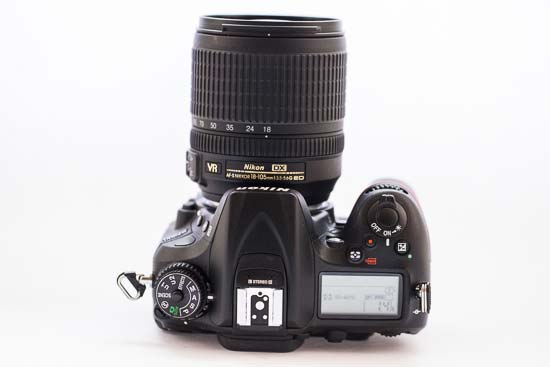 Top of the Nikon D7200
Other notable buttons include the AF/M switch and focusing mode button which is found just behind the lens mount on front of the Nikon D7200. The camera's Live View button is found on the back of the camera, with a switch which allows you to choose between stills and video shooting. Just near the shutter release button, there is a button which you need to hold down to change exposure compensation, and a metering mode access button.
Two scrolling dials can be found on the front and rear of the grip. The front dial controls aperture, while the rear controls shutter speed. You can use both if you're shooting in manual mode, but if you're in semi-automatic modes, only one or the other will work. These dials sit comfortably underneath you're fingers when you're holding the camera, making for a natural and comfortable experience when using it.
If you've ever used a Nikon camera before - not just the D7100 - then you should be pretty much at home with the D7200 as it uses a very similar layout and control system. The main menu is pretty sensibly arranged and it doesn't take too much time to get used to it.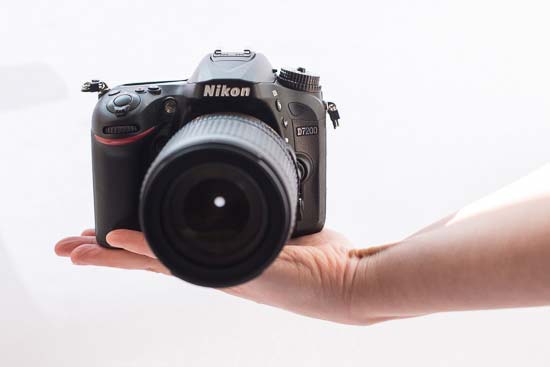 The Nikon D7200 In-hand
The Nikon D7200 offers a 100% field of view viewfinder, which is reasonably unusual for an enthusiast level camera but means that when you're composing you can be confident that you'll capture everything you're looking at. It is an optical viewfinder though, so unlike the electronic versions you'll find in a compact system camera, you won't be able to see any effects that making changes to settings has until after you've taken your shot.
You can connect your smartphone (or tablet) to the D7200 via the inbuilt Wi-Fi. This is pretty easy to do, albeit a little hidden away in the camera's main menu. It would have been good if Nikon had included a direct access Wi-Fi button somewhere on the camera's body to speed up this process - even if it was just a customisable function button. To activate the Wi-Fi, you need to scroll to the settings portion of the main menu, find the Wi-Fi option and set it to enable. You'll then be able to connect your phone or tablet to the network that the camera has created.
Once the connection has been established, you load Nikon's Wireless Mobile Utility App where there's a disappointing lack of control to be afforded over the Nikon D7200's settings. All you can do is change the autofocus point and fire off the shutter release. It's particularly disappointing not to be able to do more with a camera that is aimed at enthusiasts that otherwise gives you lots of scope to change settings. Still, it's useful for group or self-portraits.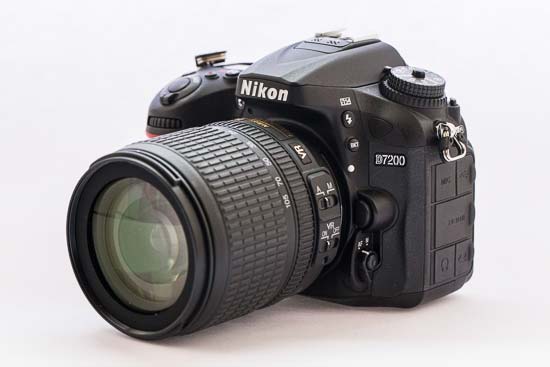 Side of the Nikon D7200
The NFC function is supposed to allow you to touch the D7200's NFC chip to the NFC chip in your Android phone to start up the connection. However, despite several attempts, I haven't been able to make this work with a Sony Xperia Z2.
Adding an EXPEED 4 processor to the Nikon D7200 means that it is quick to use, but more interestingly for those that like to shoot wildlife or sport, the burst depth has been improved. This basically means how long the camera can keep shooting for when you're shooting a burst of images, and it was one of the biggest drawbacks of the D7100 - the D7200's predecessor. If you set the JPEG to shoot in JPEGs only (Fine quality), you can expect roughly 40-50 shots in one burst before the buffer fills and the camera can no longer shoot. This equates to approximately 10-12 seconds of shooting time - more than enough to capture the action in most scenarios. You can increase this even further if you shoot in the Normal or Basic JPEG settings, but of course, you're also reducing the quality of the images by doing that. If you want to shoot in raw format - you have two options, 12-bit raw files, or higher quality 14-bit files. If you choose to shoot in the latter, you'll get around 2-3 seconds of shooting time, which if you're careful with your timing should still be enough to freeze the action.
The new autofocusing module means the Nikon D7200 is great at focusing, even in lower light conditions. It's only in near pitch black that the camera struggles, most of the time locking on quickly and easily without too much back and forth. If you're shooting in darker conditions, it's helpful to use one of the 15 cross-type AF points, with the central point the most sensitive at all.