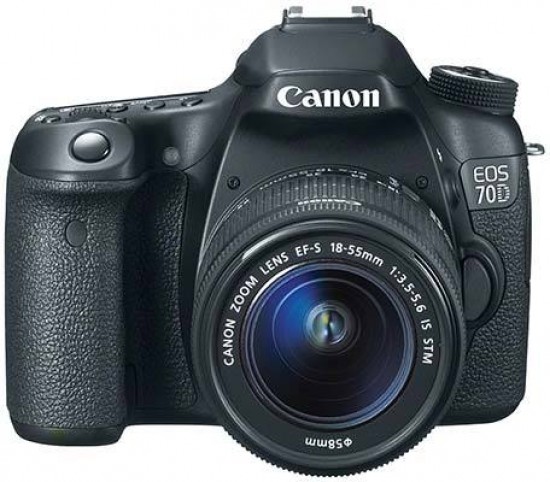 Introduction
The Canon EOS 70D is a new prosumer digital SLR camera. Successor to the four year old 60D, the EOS 70D offers a number of key highlights, including a 20 megapixel CMOS sensor, innovative Dual-Pixel CMOS AF system which provides quiet and fast focusing in Live View and video shooting, a 3-inch vari-angle LCD touchscreen, 1080p Full HD video up to 30 fps in either ALL-I or IPB codecs with optional embedded time code and full manual control, 7fps burst shooting, a 19-point all cross-type autofocus AF system (including a high-precision f/2.8 dual cross-type AF centre point), DIGIC 5+ image processor, 63-zone iFCL metering system, built-in wi-fi, and an ISO range of 100-25600. Positioned above the EOS 700D / Rebel T5i and below the EOS 7D, the new Canon EOS 70D is available priced at £1079.99 / €1399.99 / $1199.00 for the body only.
Ease of Use
The Canon EOS 70D is a new addition to the EOS line-up, rather than a direct replacement for the venerable 60D, which will continue in the Canon range for the forseeable future. Measuring 139.0 x 104.3 x 78.5mm, it's ever so slightly smaller than the 60D, but exactly the same weight at 755g including the battery and memory card. There's a textured area on both the deep hand-grip on the front and around the thumb-rest on the rear of the 70D, and unlike the smaller and cheaper EOS 700D / Rebel T3i model, this camera is well-suited to everyone with normal to large-sized hands. The 70D continues to use a metal chassis covered with a plastic outer, as employed by the cheaper EOS 700D / Rebel T3i, with Canon claiming that the 70D is as weatherproof as its predecessor.
On more basic SLRs, adjustments are usually made using a combination of buttons and a single control wheel. This is fine for novices, but awkward for more experienced photographers who want to be able to quickly adjust a combination of exposure, shutter speed or aperture. Like Canon's other semi-pro cameras, the Canon EOS 70D offers two control wheels; a small one on the top of the handgrip, and a large, spinning dial on the back of the camera. This rear quick control dial is characteristic of all high-end Canon EOS cameras. It's a bit of an acquired taste compared to more conventional control dials, but you quickly get used to it and it is easy to spin.
The 70D also has a conventional four-way controller set within the quick control dial, rather than the joystick that higher-end Canon DSLRs use, making it better suited to upgraders from the more consumer-orientated 700D / Rebel T3i. Less understandable is the controller's design - sitting slightly proud of the circular dial that surrounds it and looking more like a wheel itself, it takes some time to get used to this less elegant arrangement. The quick control dial features a lock switch positioned directly underneath which helps to prevent unintentional changes to your settings.
The 70D has a handy dedicated Q button on the rear which which opens the Quick Control screen. Depending on which shooting mode you're using, this lets you set various parameters via the LCD screen, using either the four-way controller or the touch-screen to move around the various options. Similar to the system that Sony Alpha DSLRs have used for a while, the Quick Control screen is particularly well-suited to beginners and tripod work.
The Canon EOS 70D features built-in wi-fi connectivity, which allows you to share images during playback via the Wi-Fi menu option. Enable the Wi-Fi menu option and the Wi-Fi Function option appears underneath, which contains six icons. The 70D can connect to another camera, a smartphone, a computer, a printer, the internet and a DNLA device respectively. Setup is long-winded but relatively straight-forward for each scenario, although you'll need a basic understanding of the protocols involved (or consult the supplied User Guide). Note that you need to install the dedicated and free EOS Remote app to connect the 70D to the world's most popular smartphone, or the Apple iPad, iPad 2 and fourth-generation iPod Touch, or an Android device. You can then use your smartphone or tablet to remotely control almost every aspect of the camera's operation, review images on a larger, more detailed screen and to transfer images between devices.
The 70D can tag your images with GPS data (latitude, longitude, altitude and shooting time) just like many of the company's compact cameras. We prefer having GPS built into the camera rather than having to sync it with an additional device, although it does consequently suffer from the issue of negatively affecting battery life. The EOS 70D does not have built-in NFC, though, as incorrectly stated in some reports.
On top of the Canon EOS 70D, positioned above the status LCD display, are four buttons, each of which has a single function rather than the dual-function buttons of some Canon DSLRs. While this makes it simpler to understand and easier to operate with the camera held up to your eye, it does inevitably lead to more scrolling through the menu system. There are two LCD displays on the EOS 70D, the 3-inch colour LCD on the rear and the smaller status panel on the top. On cheaper cameras, the LCD on the rear usually has to do both jobs, but on this model most of the key settings are visible from above on the smaller panel. This can make the Canon EOS 70D quicker to use and it may also extend the battery life, depending on how extensively you use the LCD screen.
| | |
| --- | --- |
| | |
| Front | Rear |
The main LCD screen offers a fantastic resolution with 1,040K dots, so you may find yourself using it more often than you thought. It allows you to judge the critical sharpness of your photos using the LCD screen, which has been a long-standing issue on Canon's entry- and mid-range DSLRs. The screen also has an aspect ratio of 3:2 - i.e. identical to that of the sensor - so that the photos fill the screen completely, with no black stripes along the top and bottom.
The EOS 70D has an articulated screen, which helps to realise the full potential of Live View and video shooting. In terms of flexibility, Canon's left-hinged, free-angle monitor is on a par with those offered by Olympus and Panasonic, and significantly more flexible with those found on Sony and Nikon DSLRs. The high-res, free-angle LCD screen is much more than just a novelty - it's a lot more versatile than the usual combination of optical viewfinder and fixed LCD, providing new angles of view and enhancing your overall creativity. Above all, it's a fun way of composing your images.
The 700D is the latest EOS camera to feature a touch-screen. It supports a variety of multi-touch gestures, such as pinching and swiping, for choosing shooting modes, changing settings, tracking faces, selecting auto-focus points, and focusing and taking a picture in Live View mode. In playback you can swipe to move from image to image and pinch to zoom in and out, just like on an iPad or other tablet device. The ability to focus and take the shot with a single press of your finger on the screen makes it quick and easy to capture the moment.
The EOS 70D's built-in pop-up flash features a built-in Integrated Speedlite Transmitter for controlling up to two groups of off-camera Speedlites without the need for an external transmitter. Note that the 70D still doesn't have a PC Sync port for connecting the camera to external lights, limiting its use in studio environments. There's also the expected hotshoe for use with one of Canon's external flashguns.
Like most DSLRs aimed at beginners and amateurs, the EOS 70D provides a number of auto shooting modes aimed at beginners, including portrait, landscape, close-up, sports, night portrait, hand-held night scene, and HDR backlight control, now grouped under the SCN option on the Mode dial on the top-left of the camera, which comes complete with a central lock button to prevent accidental movement. HDR Backlight takes three shots at different exposures and combines them into one with greater shadow and highlight detail, and the Hand-held Night scene mode takes multiple images at fast shutter speeds and blends them together for a sharp result. The fully-automatic Scene Intelligent Auto mode analyses the scene in front of you and automatically picking the best settings, much like the systems used by lot of digital compacts.
There are, of course, manual and semi-automatic modes for users who want more advanced exposure control. Canon refers to these advanced operations as the 'creative zone' and provides all the normal settings including Program, Aperture and Shutter Priority and the full manual mode. Additionally, the Creative Auto mode is targeted at beginners who have grown out of using the Full Auto mode, allowing you to change a few key settings using the LCD screen via a simple slider system for changing the aperture and exposure compensation, or Background and Exposure as the camera refers to them.
Reflecting its more consumer-friendly nature, the 70D now offers seven creative filters, which are only available when shooting in Live View mode and for JPEGs, not RAW files. These include Soft Focus, which dramatizes an image and smooths over any shiny reflections, Grainy Black and White creates that timeless look, Toy Camera adds vignetting and color shift, and Miniature Effect makes a scene appear like a small-scale model, simulating the look from a tilt-shift lens.
| | |
| --- | --- |
| | |
| Front | Tilting LCD Screen |
In addition a feature called Basic+ applies a creative ambience to images when shooting in the Basic modes. Essentially a more extreme version of the well-established Picture Styles, Basic+ enhancements that can be applied to the scene modes include Vivid, Soft, Warm, Intense, Cool and Brighter. There's also some control over what is essentially the white balance via the Shoot by Lighting effect, with the options being Daylight, Shade, Cloudy, Tungsten, Flourescent and Sunset.
Once the EOS 70D is in the 'creative zone', users can adjust the ISO setting to one of nine positions from 100 to 25600 (you need to enable the ISO 25600 mode via the 'ISO expansion' custom function option), which is more than adequate for most lighting conditions. The EOS 70D offers a range of three Auto focus modes (One Shot, AI Focus and AI Servo), and there are six preset, auto, kelvin and custom white balance options. The so-called Intelligent Viewfinder, which offers 98% scene coverage, displays key exposure information including ISO speed AF mode selection and metering, and the 70D now uses the same 19-point all cross-type autofocus AF system as the more expensive 7D. The 70D's metering system has also been inherited from the 7D, with the 63-zone dual layer metering sensor analyzing focus, colour and luminance information to produce the exposure. There are four metering modes including a 4% Spot metering mode, useful in tricky lighting conditions as an alternative to the excellent and consistent Evaluative metering system.
The menu system is the same in design as on the EOS 700D and 7D, which in turn borrowed the design from the professional range of EOS cameras. There's a simplified tab structure that does away completely with scrolling, with 15 colour-coded horizontal tabs (dependant upon the shooting mode) and up to 7 options in each one, providing quick and easy access to the various options. You can even setup your own customised menu page for instant access to frequently used settings via the My Menu tab. Only the complex Custom Functions menu detracts a little from the overall usability.
We tested the EOS 70D with the EF-S 18-135mm f/3.5-5.6 IS STM kit lens, which offers a versatile focal range and crucially includes image stabilisation. This is important for Canon, as competitors like Sony, Olympus and Pentax all offer image stabilisation in their DSLRs. The difference between Canon (and Nikon) and the others is that Sony, Olympus and Pentax have opted for stabilisation via the camera body, rather than the lens, which therefore works with their entire range of lenses. Canon's system is obviously limited by which lenses you choose, but it does offer the slight advantage of showing the stabilising effect through the viewfinder. Canon and Nikon also claim that a lens-based anti-shake system is inherently better too, but the jury's out on that one.
The Canon EOS 70D offers fast, positive autofocus, which can track moving subjects very well and which is also near-silent. The EF-S 18-135mm f/3.5-5.6 IS STM is also a very quiet performer, thanks to the built-in STM (Stepping Motor), which makes this lens well-suited to video recording and more candid photography. If you're upgrading from an older or cheaper digital EOS model and already have a lens or lenses, you can buy the 70D body-only.
The EOS 70D features the DIGIC 5+ processor, which produces noticeably faster image processing, start-up and image review times, and better noise reduction in high-ISO images than older EOS cameras (jump to the Image Quality page for ISO samples). Despite the increase to 20 megapixels, the 70D actually shoots more quickly in the fastest Continuous mode than the previous 60D model, obtaining a speed of 7fps for up to 65 full-sized JPEGs or 16 RAW images.
| | |
| --- | --- |
| | |
| Pop-up Flash | Top |
The 70D has a very similar Live View system to the 60D and 700D, with one important change to the autofocusing system which makes it a lot quicker. If you're new to DSLRs and don't understand the terminology, basically Live View allows you to view the scene in front of you live on the LCD screen, rather than through the traditional optical viewfinder. This is an obvious attraction for compact camera users, who are familiar with holding the camera at arm's length and composing via the LCD screen. It's also appealing to macro shooters, for example, as it's often easier to view the screen than look through the viewfinder when the camera is mounted on a tripod at an awkward angle.
Live View is now easier to actually turn on than it was on the 60D. There's a dedicated Live View button on the rear of the camera to the right of the viewfinder, surrounded by a switch to choose between Movie or Stills shooting. A horizontal Electronic Level and very useful live histogram can be enabled to help with composition and exposure, and you can zoom in by up to 10x magnification of the image displayed on the LCD screen. Focusing is achieved either via the AF-On Lock button or more conventionally by half-pressing the shutter-button. Live View can also be controlled remotely using the supplied EOS utility software, which allows you to adjust settings and capture the image from a PC.
Live View attempts to satisfy both the consumer and more technical user, with four types of focusing system on offer. Quick AF works by physically flipping the camera mirror to engage the auto-focus sensor, which then momentarily blanks the LCD screen and causes a physical sound, before the image is displayed after about 1/2 second. The other methods, Flexizone Single, Flexizone Multi and AF + Tracking with Face Detection, now use an image contrast auto-focus system, much like that used by point-and shoot compacts, the main benefits being the complete lack of noise during operation, and no LCD blackout, and additionally a phase-detection system that's cleverly employed directly on the camera's image sensor plane. All of the effective pixels on the EOS 70D's CMOS sensor are able to perform both still imaging and phase-detection AF simultaneously (dubbed "Dual Pixel CMOS AF"), which makes the three Live View modes almost as quick as the Quick AF mode, especially the Flexizone Single mode, taking a less than a second to focus on a clearly-defined subject in bright light, which is much quicker than the 3 seconds that the 60D took. You can also move the AF point anywhere around the middle 80% of the frame, and the 70D successfully and quickly detected faces in most situations.
Live View and Dual Pixel CMOS AF are also used for the Canon EOS 70D movie mode. If you turn the Live View switch to the position denoted by the movie camera icon, the camera will enter the Movie Live View mode automatically. Before you start filming, you need to focus on the subject either manually or using auto focus as described above, and optionally set exposure and ISO. To be able to do this, you first need to set the shooting mode dial to Manual. Now you can set aperture, shutter speed (within limits) and ISO manually (note that even if you do not enable manual exposure for movies, you can still use functions like AE lock and exposure compensation if you feel a need for it). Once everything is set up, you can start filming by hitting the Live View Start/Stop button on the back of the camera.
The EOS 70D offers a choice of 24, 25 or 30fps when recording Full 1920x1080 HD video clips in either ALL-I or IPB codecs with optional embedded time code, 50/60fps when shooting at 720p, and 25 or 30fps at VGA resolution. Note however that the available frame rates are also dependent on what you have set in the menu under "Video system": NTSC or PAL. Another novelty of the 70D is that if you shoot a standard-definition clip, you can use a function called "Movie Crop". This means that you can tell the camera to use only the central 640×480 pixels on the sensor to record video, which effectively gives you 7x magnification. This can come in handy when you do not have the necessary telephoto reach to film something that is happening at a distance.
The EOS 70D will automatically adjust focus during filming, and you can initiate auto-focus at any time while recording a clip. However, be warned that this can do more harm than good, as, depending on the lens, the microphone can pick up the sound of the focus motor, and the subject might even go out of focus for a second or two. Setting a small aperture and relying on depth of field for focus is a better idea. Of course you may wish to utilise the DSLR's ability to produce footage with a shallow depth of field, but in that case, it might be a wise idea to purchase a couple of third-party accessories that make manual focusing and focus pulling easier.
| | |
| --- | --- |
| | |
| Memory Card Slot | Battery Compartment |
Basic in-camera movie editing allows you to shorten a video file by clipping segments from the beginning or the end. There is a built-in microphone for stereo recording, and you can connect an external microphone equipped with a stereo mini plug to the camera's external microphone IN terminal. Note that there's no headphone jack for audio monitoring though. You can also manually adjust the sound recording level in 64 steps to help ensure that the audio track matches the visual quality of the video, and there's also an electronic Wind Filter.
The EOS 70D uses the same dust-removal technology as previous models, where the sensor is shaken briefly at high frequency to dislodge any dust particles from its surface. This could delay the need for manual sensor cleaning, perhaps indefinitely, but it won't be able to remove 'sticky' deposits like salt spray, pollen or the smears left behind by careless sensor cleaning or the wrong kind of solvent. The 70D also inherits the internal Dust Delete Data system from the 60D, which can map the position of visible dust on the sensor. This can then be deleted automatically after the shoot with the supplied Digital Photo Professional software.
Lens Aberration Correction is a feature that's actually a lot simpler that it initially sounds. Basically it corrects the unwanted effects of vignetting, typically seen in wide-angle photos in the corners of the frame, and chromatic aberrations, otherwise known as purple fringing. The 70D contains a database of correction data for many Canon lenses and, if Lens Aberration Correction is enabled, automatically applies it to JPEG images. For RAW images the correction is applied later in the Digital Photo Professional software. Up to 40 lenses can be programmed into the 70D, with over 80 currently available to choose from. Lens Aberration Correction is a useful and effective addition, particularly for JPEG shooters, and can safely be left turned on all of the time.
Once you have captured a photo, the Canon EOS 70D has an average range of options for playing, reviewing and managing your images. More information about a captured image can be seen on the LCD by pressing the Info button, which brings up an image histogram and all the shooting Exif data, including shutter speed and the time and date it was captured, with a second press displaying an additional RGB histogram. It is simple to get a closer look at an image as users can zoom in up to 15 times, and it is also possible to view pictures in a set of nine contact sheet. You can also delete an image, rotate an image, view a slideshow, protect images so that they cannot be deleted, and set various printing options. A rating of 1 to 5 can be assigned to your images in-camera, and these tags can also be viewed on a computer using Canon's DPP software and some third-party image editing programs.
For RAW shooters, the EOS 70D features in-camera RAW image processing. The following adjustments can be applied to any RAW image that you have taken - Brightness, Quality, White Balance, Color Space, Picture Style, Peripheral Illumination Correction, Auto Lighting Optimizer, Distortion Correction, High-ISO Noise Reduction, and Chromatic Aberration Correction. The image is then saved as an additional new JPEG file without affecting the original RAW data.
The documentation that comes with the 70D is very good, as it is with all Canon cameras, with a detailed manual that includes everything you need to know about the camera's operation. Unfortunately Canon have decided to cut their costs by only including it on the supplied CD-ROM, which isn't much use when you're out shooting with the camera.