Nikon KeyMission 360 Review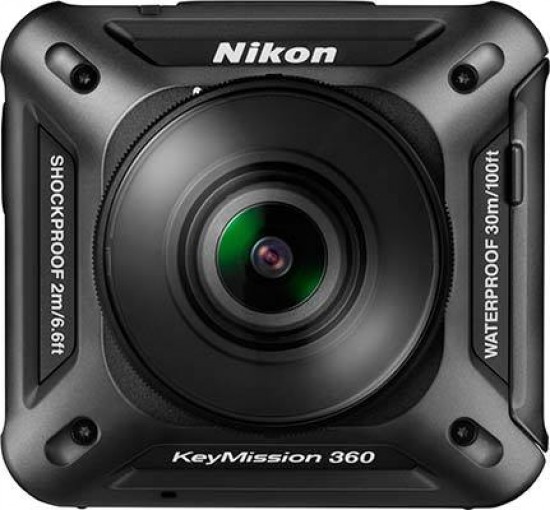 Specifications
Inside the box:
- Camera
- Charging AC Adapter EH-73P
- Rechargeable Li-ion battery EN-EL12
- USB Cable UC-E21
- Base Adapter AA-1A
- Lens Protector AA-14A
- Underwater Lens Protector AA-15A
- Black Silicone Jacket CF-AA1
- Flat Base Mount AA-2
- Curved Base Mount AA-3
- Documentation
Dimensions (W × H × D)
Approx. 65.7 x 60.6 x 61.1 mm (2.6 x 2.4 x 2.5 in.) (including lens protectors)
Operating environment
Temperature
-10°C to +40°C (14°F to 104°F) (for land use) 0°C to 40°C (32°F to 104°F) (for underwater use)
Humidity
85% or less (no condensation)
Dustproof performance
JIS/IEC protection class 6 (IP6X) equivalent (under our testing conditions)
Bluetooth
Communication protocols
Bluetooth Specification Version 4.1
Weight
Approx. 198 g (7 oz) (including lens protectors, battery and memory card)
Waterproof performance 2
JIS/IEC protection class 8 (IPX8) equivalent (under our testing conditions)
Capacity to record images and movies underwater up to a depth of 30 m (98 ft) and for 60 minutes
Shockproof performance 3
Cleared our testing conditions4 compliant with MIL-STD 810F Method 516.5-Shock
Wi-Fi (Wireless LAN)
Standards
IEEE 802.11b/g (standard wireless LAN protocol)
Operating frequency
2412–2462 MHz (1–11 channels)
Security
Authentication: Open system, WPA2-PSK
Number of effective pixels
23.9 million (Image processing may reduce the number of effective pixels.)
Image size (pixels)
• 30 M 7744x3872
• 7 M 3872x1936
Lens
NIKKOR lens ×2
Focal length
1.6 mm (angle of view equivalent to that of 8.2 mm lens in 35mm [135] format)
f/-number
f/2
Construction
7 elements in 7 groups
Focus
Fixed focus
Focus range
Approx. 30 cm (1 ft) to ∞ (distance measured from center of front surface of lens)
ISO sensitivity (Standard output sensitivity)
ISO 100–1600
Exposure
Metering mode
Matrix
Exposure control
Programmed auto exposure, exposure compensation (–2.0 – +2.0 EV in steps of 1/3 EV)
Power sources
One EN-EL12 Rechargeable Li-ion Battery (included), EH-62F AC Adapter (available separately)
Charging time
Approx. 2 h 20 min (when using EH-73P/EH-73PCH Charging AC Adapter and when no charge remains)
Image sensor
1/2.3-in. type CMOS; approx. 21.14 million total pixels ×2
Storage
Media
microSD/microSDHC/microSDXC memory card
File system
DCF and Exif 2.3 compliant
File formats
Still images: JPEG
Movies: MP4 (Video: H.264/MPEG-4 AVC, Audio: AAC stereo)
Resolution/frame rate (movie options)
• When NTSC/PAL is set to NTSC 2160/24p, 1920/24p, 960/30p, 640/120p, 320/240p
• When NTSC/PAL is set to PAL 2160/24p, 1920/24p, 960/25p, 640/100p, 320/200p
Shutter
CMOS electronic shutter
Speed
1/8000 -1 s
Self-timer
Can be selected from 10 s and 2 s
Interface
USB connector
Micro-USB connector (Do not use any USB cable other than the included UC-E21 USB Cable.), Hi-Speed USB
HDMI output connector
HDMI micro connector (Type D)
Battery life 1
Still images
Approx. 230 shots when using EN-EL12
Movie recording (actual battery life for recording)
Approx. 1 h 10 min when using EN-EL12
Tripod socket
1/4 (ISO 1222)
All measurements are performed in conformity with Camera and Imaging Products Association (CIPA) standards or guidelines.
1. Battery life does not reflect the use of SnapBridge 360/170 and may vary with the conditions of use, including temperature, the interval between shots, and the length of time that menus and images are displayed.
2. The camera can be used up to a water depth of about 20 m (65 ft) when the lens protectors are attached.
3. When the lens protectors or underwater lens protectors are attached.
4. Dropped from a height of 200 cm (6 ft 6 in.) onto a surface of 5 cm (2 in.) thick plywood (changes in appearance, such as paint peeling off and deformation of the drop shock portion and waterproof performance are not subject to the test). These tests do not guarantee that the camera will be free from damage or trouble under all conditions.