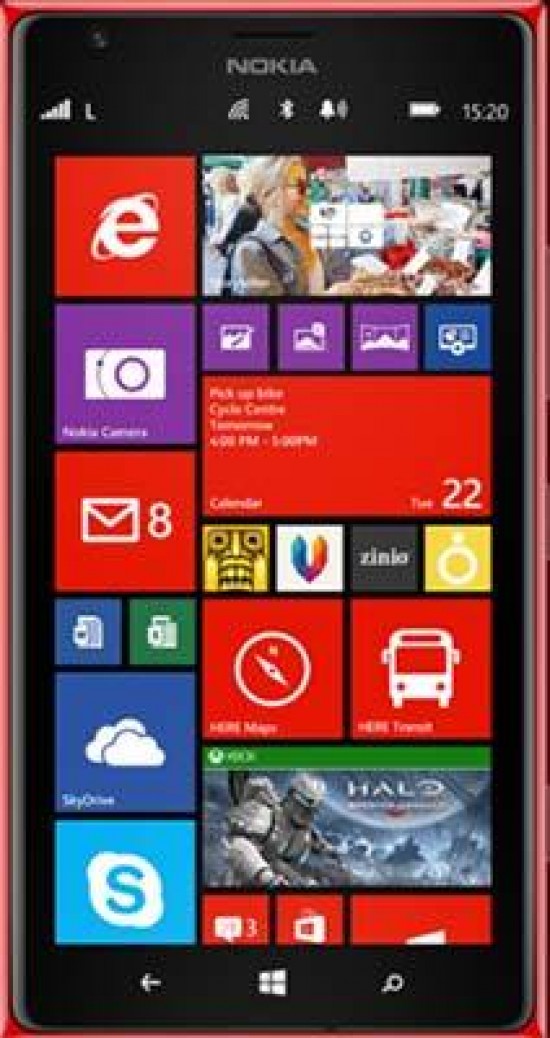 Introduction
The Nokia Lumia 1520 is a new 6-inch Windows Phone 8 smartphone with a 20-megapixel 1/2.5-type sensor and a 26mm equivalent Carl Zeiss lens with a fast maximum aperture of f/2.4 and optical image stabilization. The Nokia Lumia 1520 also features a 6-inch Full HD display with a resolution of 368ppi and Touch AF, Qualcomm Snapdragon 800 processor, built-in dual LED flash, geotagging, 32GB internal storage plus MicroSD format support, wireless charging, and can capture Full 1080p HD videos at 30fps. It can also simultaneously take a high resolution 20 megapixel image and a smaller 5 megapixel picture that is easier to share on social networks. The Nokia Lumia 1520 is available now in yellow, white, red or black for around £600 / $750.
Ease of Use
The Nokia Lumia 1520 is a very large yet not too heavy smartphone that just about fits into a trouser or jacket pocket, weighing 209g and measuring 162.8x85.4x8.7mm. It has a solidly built unibody design that feels like it should withstand the odd knock or two. The lens is a 26mm equivalent optic with a fast maximum aperture of f/2.4, above which is a thin lozenge-shaped dual-LED flash that's not particularly powerful, offering an operating range of 3m.
The Nokia Lumia 1520 offers both 32Gb of built-in memory and an external memory slot that accepts MicroSD cards. There's a small physical shutter release button on the side, which can be used to jump straight into the Lumia 1520's camera mode by holding it down for a couple of seconds, speeding up the picture-taking process, although the 2 second start-up time is a little slow. The shot-to-shot time is about the same at around 2 seconds , a big improvement Lumia 1020 that we previously tested which suffered from a 4-second lag.
The combination of the wide-angle lens, f/2.4 aperture, very effective built-in image stabilizer and maximum ISO speed of 4000 makes this smartphone better suited to hand-held low-light photography than most other comparable devices. The Lumia 1520 offers a built-in, lens-based image stabilisation system that Nokia claims offers a 3-stop advantage compared to smartphones with no anti-shake. In practice we could hand-hold the Lumia 1520 in fairly dark conditions and still get sharp results for both stills and video without resorting to using the rather ineffective built-in flash.
| | |
| --- | --- |
| | |
| Front | Camera |
You can digitally zoom the lens by 3x by swiping up and down on the screen - we'd recommend that you forget this feature, though, as zooming in does degrade the picture quality slightly, despite the claims that it's a lossless zoom, and its also only applied to the image at 5 megapixels, rather than the highest resolution of 20 megapixels. The lens has a minimum focus range of 10cm, just about good enough for modest macro shots.
There's no means of gripping the Nokia Lumia 1520 either at the front or rear, making it a little difficult to get to grips with, especially since its unibody design is very smooth. The lens is close to the center of the body's width, so you don't have to be too careful not to let your left forefinger stray into the frame.
By default the Nokia Lumia 1520 uses the Auto shooting mode. The other available modes are Close-up, Night, Night Portrait, Sports and Backlight. All of the modes provide the full range of camera options, allowing you to change settings which include the ISP speed (Auto, 100-3200), Exposure Value (+2EV to -2EV), White Balance (Auto, Cloudy, Daylight, Flourescent, Incandescent), Aspect Ratio (16:9, 4:3), and the Focus Assist Light (On, Off).
| | |
| --- | --- |
| | |
| Image Displayed | Playback Menu |
In addition, the Nokia Lumia 1520 offers the Nokia Pro Camera app for more experienced photographers. Although it doesn't offer any more settings options than the regular Camera app, it does at least provide a useful horizontal row of icons across the top of the screen which provides easy access to flash, white balance, focus, ISO (up to ISO 4000), shutter speed and exposure compensation. Although we're puzzled by the inability to set the aperture, being able to choose the shutter speed, only available in the Nokia Pro Camera app, does at least allow for more creativity.
Other apps of note inclue the Nokia Smart Cam, which takes a sequence of photos and allows you to combine them into one image, choose the best one from the sequence, remove unwanted objects, make a strobe effect to emphasize motion and even choose the best faces for great group shots. The Panorama app automatically stitches up to 5 images into a wide-angle shot, with an on-screen guide helping the composition of the panorama.
You can take a photo on the Nokia Lumia 1520 either by half-pressing the conventional shutter button to focus then full-pressing it to fire the shutter, or by simply tapping on the LCD screen, which quickly focuses and takes the photo with a single tap. The 20 megapixel JPEG images are quickly committed to memory in a single second, the screen momentarily blanking out and then displaying the captured image before the user can go on to take a second shot. Note that you can't take a burst of images on the Lumia 1520, just a single-shot.
| | |
| --- | --- |
| | |
| Photo Settings Menu | Video Settings Menu |
The Nokia Lumia 1520 can shoot High Definition video clips at full 1080p or 720p HD at 30fps in the MP4 format, complete with with stereo sound with the ability to change the white balance (Cloudy, Fluorescent, Incandescent, Automatic, Daylight) and continuous focus mode. You can also zoom in by 6x if you wish. Note that you can't take a still image during video recording.
The small icon in the top-left corner is for playing back your images. You can browse through your photos by flicking them from side-to-side, view them as thumbnails in the Camera Roll, by date or in albums, share, delete and favourite images, and rotate, crop, change the aspect ration and optimise each image.
From a photography point of view, the Nokia Lumia 1520 offers a rather restricted array of camera options by compact camera standards, but it is a responsive device with a massive touch-screen interface. Now let's take a closer look at its image quality...