Olympus 15mm f/8 Body Cap Review

Introduction
The 30mm equivalent Olympus BCL 15mm f/8 Body Cap Lens is a funky little fixed-aperture, manual-focus Micro Four Thirds lens that's barely bigger than a regular body cap. The ultra-slim, featherweight lens features only 3 elements in 3 groups, and a plastic focus lever. Like the recently reviewed 9mm f/8 Fisheye, the Olympus 15mm f/8 Body Cap Lens has no electrical contacts and makes do without an iris diaphragm. The lens offers a diagonal angle of view of 72 degrees, which is only minimally tighter than that of a typical 28mm lens on a 35mm full-frame camera, and a minimum focus distance of 0.3m / 0.98ft. The Olympus 15mm f/8 Body Cap Lens is currently available for £60 / $49 in the UK and the US, respectively.
Ease of Use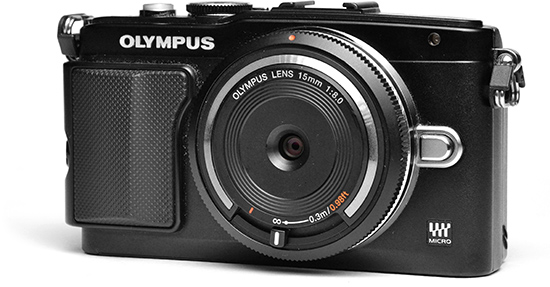 The Olympus 15mm f8 Body Cap Lens mounted to an Olympus E-PL5 camera
As seen in the photo above, the Olympus 15mm f8 Body Cap Lens is extremely tiny –  it's easily smaller than a typical pancake lens, and not much thicker than a regular Micro Four Thirds body cap (such as Olympus's own BC-1).

The 15mm body cap lens is extremely thin
The ultra-ultra-slim lens is only 9mm "thick," and weighs in at a mere 22 grams.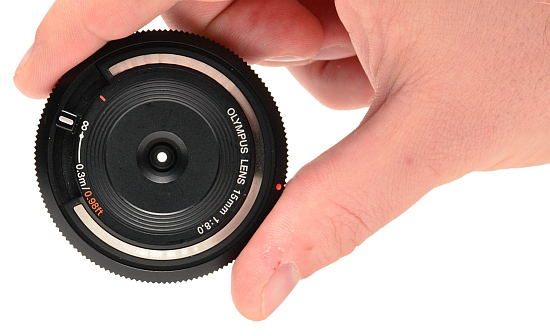 In terms of features, the lens has little to offer. There are no electrical contacts to facilitate communication with the camera, and the lens lacks an iris diaphragm, meaning its aperture is fixed at f/8. There's no AF motor, either, but you can focus the lens manually using a small plastic lever, which has click-stops at the closest focus distance of 0.3m, the hyperfocal distance and infinity. By sliding it all the way past the infinity setting, you can engage the built-in lens cover that protects the front element against abrasions, bumps and dust.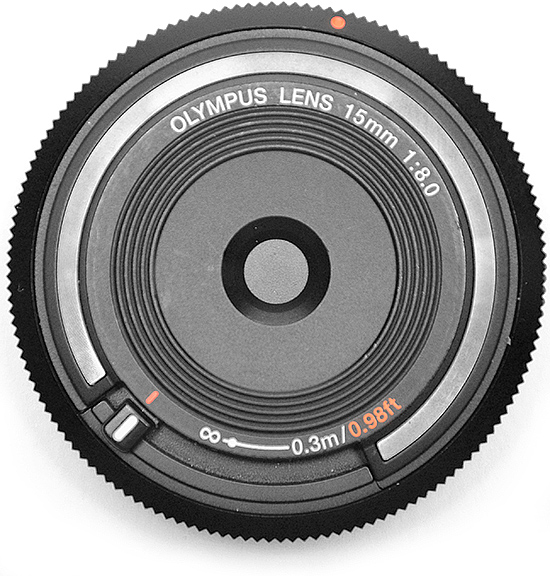 The body cap lens has a built-in lens protector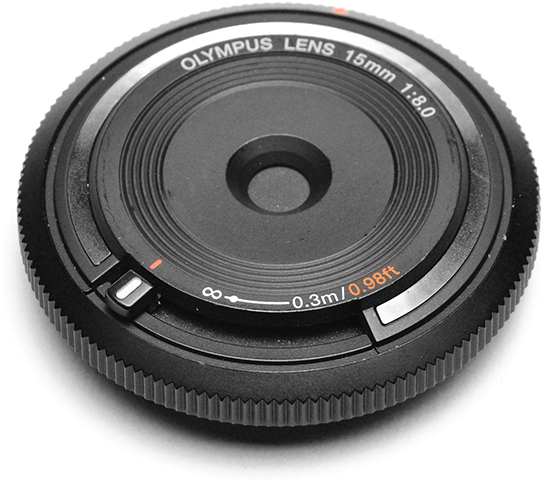 Front of the lens
The Olympus 15mm f/8 Body Cap Lens does not take filters, and you cannot mount a lens shade, either.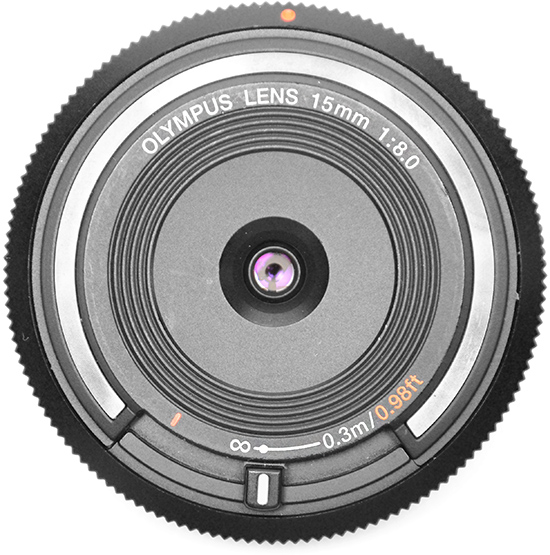 The focusing lever set to the hyperfocal distance
In our understanding, the core idea behind the Olympus BCL 15mm f/8 Body Cap Lens is that for most shots – macro photography excepted – you should simply set the focus lever to the hyperfocal distance and shoot away. To that end, there is a dedicated click-stop at what should be the hyperfocal distance for this lens (1.89m / 6.2ft). Unfortunately, on our copy at least, this mark was at the wrong place (more like 1.2m / 4ft), meaning that subjects farther than about 11-12 feet were slightly out of focus at this setting. Therefore if you would like to shoot anything that's more than a few steps away, you ought to move the lever closer to the infinity mark. For close-up photography, you should of course move the focus lever in the other direction, toward the 0.3m / 0.98ft mark, and use magnified live view – or focus peaking if your camera offers this feature – to obtain perfect focus.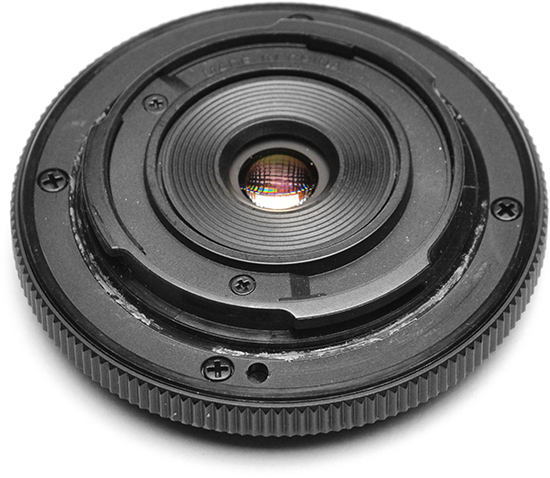 Rear of the lens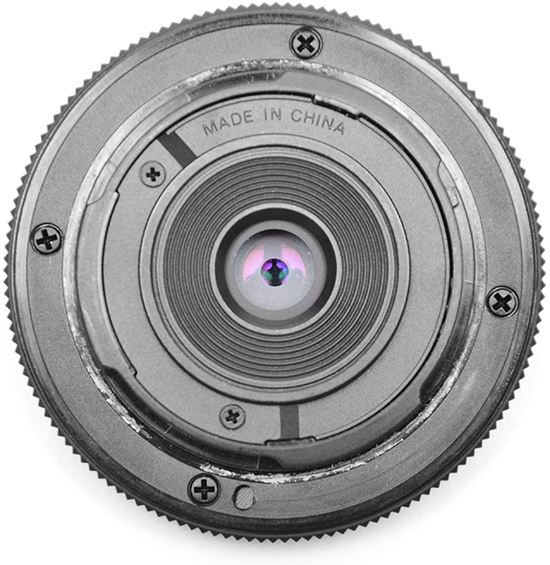 Rear of the lens
The Olympus 15mm f/8 body cap lens can be attached to any Micro Four Thirds body but it won't transmit any EXIF data – not even focal length or aperture – to the camera as it lacks the necessary electrical contacts. The lens mount – like pretty much everything else on this lens – is made of plastic. Needless to say, the Olympus 15mm f8 Body Cap Lens does not offer any degree of weatherproofing.
Angle of View and Distortion
The diagonal angle of view of the Olympus 15mm f/8 Body Cap Lens is approximately 72°, which is equivalent to that of a 30mm lens on a 35mm camera body.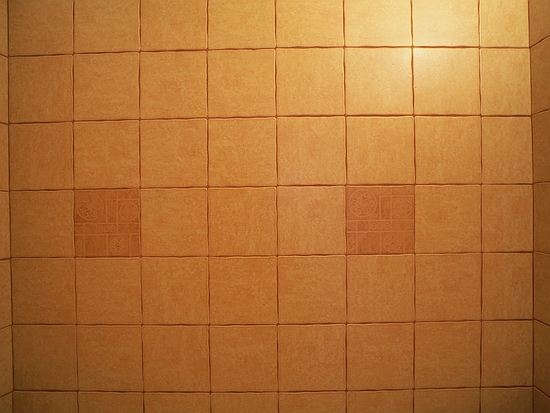 Field of view and geometric distortion of the Olympus 15mm body cap lens
As seen in the photo above, the lens exhibits a noticeable amount of barrel distortion, which is more or less in line with what you would expect from a lens this wide. Whereas Olympus cameras typically correct photos automatically for geometric distortion, this is not the case with the Olympus BCL 15mm f/8 Body Cap Lens, because – as mentioned above – the lack of electrical contacts means there's no communication between the lens and the camera body.
Focusing
Using the focus lever is quite straightforward but not terribly convenient, given its location.  The lever itself is a little bit flimsy, but it gets the job done – and that's what ultimately matters. For best results, you should use whatever manual-focus aid is available on your camera. Note that for reasons inherent in the lever's design, it is possible to focus beyond infinity, which will result in out-of-focus images – so make sure not to bump it by accident.
Flare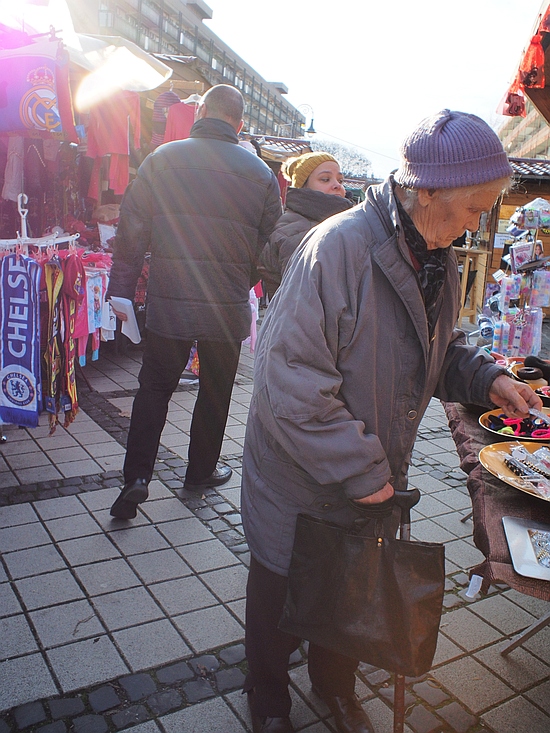 A wide-angle lens will always be susceptible to flare, especially if no lens hood can be attached to it, and the Olympus 15mm f/8 body cap lens is no exception.
Chromatic Aberrations
Chromatic aberrations, typically seen as purple or blue fringes along contrasty edges, are actually quite well controlled. The following 100% crops demonstrate what you should expect in the worst case. Suffice to say that we've seen far worse results from much more expensive lenses.
Light Fall-off
In real-world images, there's fairly little light fall-off in the corners. Some vignetting can be seen, but it's nothing to worry about really.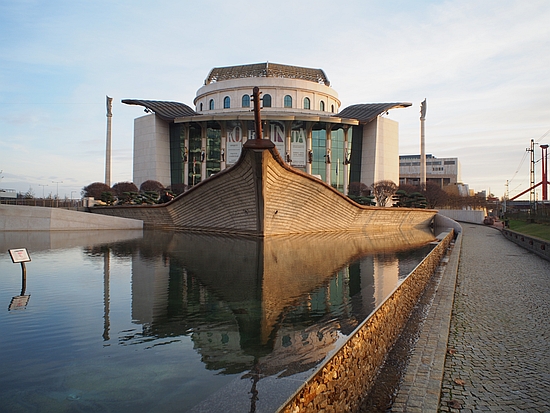 Macro
The Olympus 15mm f/8 Body Cap is not a macro lens. Even at its close-focus point of 0.3m, it captures a very wide area with a 0.06x maximum magnification. The photo below shows how "close" you can get to the subject – in this case, a weather-beaten CompactFlash memory card.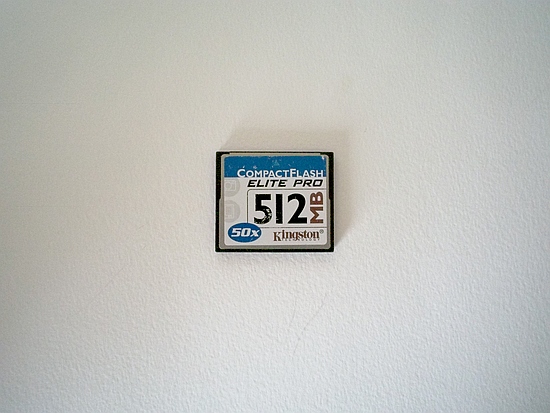 Close-up performance
Bokeh
Bokeh is a word used for the out-of-focus areas of a photograph, and is usually described in qualitative terms, such as smooth / creamy / harsh etc. With a 15mm f8 lens, it's rather difficult to throw anything completely out of focus – you pretty much need to set the focusing lever to the 0.3m position and use a background that is really far away to achieve a bokeh effect. The crops below demonstrate what you should expect in this case.
Sharpness
In our lens reviews we normally photograph the same scene across the lenses' entire f-stop range and provide centre and edge crops from each test shot to compare performance at various aperture settings. As the Olympus 15mm f8 Body Cap is a fixed-aperture lens with no iris diaphragm, such a test could not be conducted. Instead, we took two different real-world photos and prepared 100% crops from the centre, left and right border area and corner of each frame.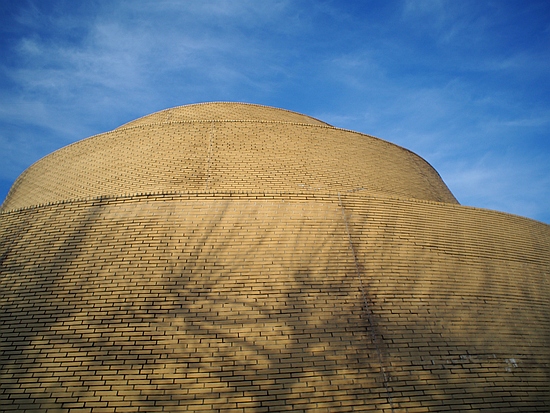 The first frame
Unlike the recently reviewed Olympus 9mm f/8 Fisheye lens, the BCL 15mm f/8 Body Cap Lens has failed to positively surprise us with its sharpness. The image centre is actually quite sharp but the image quality degrades quickly as we move toward the edges of the frame. Most of the image is rather soft.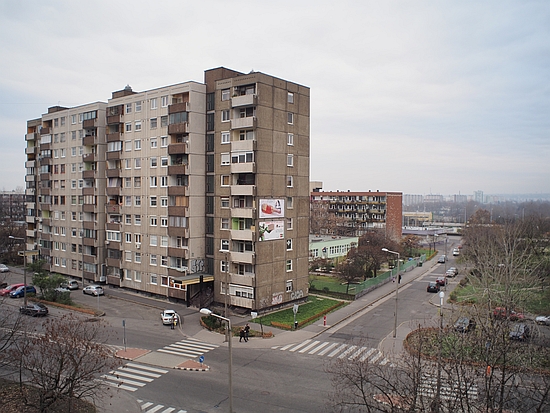 The second frame
 
The second photo indicates a similar performance – the middle of the frame is sharp but the off-centre areas are very soft.