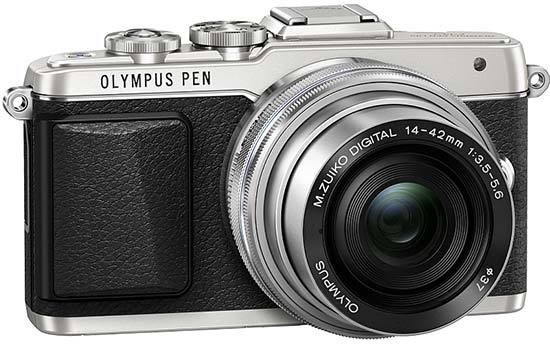 Introduction
The Olympus E-PL7 (also known as the Olympus PEN Lite) is a new mid-range compact system camera. The Olympus PEN E-PL7 is a Wi-Fi enabled, 16-megapixel compact system camera with a 180-degree downward tilting touchscreen, 8fps continuous shooting, 1080p HD video recording in mov format, a maximum sensitivity of ISO25600, 14 Art Filters, a Live Guide for real-time adjustment of manual settings, remote operation via the Olympus Image Share smartphone app, and a body-integral 3-axis image stabiliser. Other highlights include 14 Art Filters, a Live Guide for real-time adjustment of manual settings, and remote operation via the Olympus Image Share smartphone app. The Olympus PEN E-PL7 is available in white, vintage-style silver or classic black from early October 2014 for £499 / $699.99 including the 14-42mm 1:3.5-5.6 EZ lens. The body-only price is $599.99.
Ease of Use
Not being a woman, nor particularly fashion conscious, I'm seemingly the wrong demographic when it comes to the anticipated audience for the new Olympus E-PL7 – otherwise known as the Pen 'Lite'. This time around its manufacturer is being quite blatant in targeting a young, fashionable and moreover female audience across its web pages – at least as far as Europe goes. It's gone as far as labeling the E-PL7 'the ultimate fashion blogger's camera.' Having found that previous iterations have sold well to fashionable ladies in Finland, it's trying to spread that sex-specific success.
We doubt Olympus is suggesting that women are allergic to DSLRs in general, but the smaller, lighter, more portable styling of the Pen range certainly lends itself better to being transported in a hand bag – alternatively, we were able to fit camera body, lens and accessory flash in a jacket pocket. Plus, when it comes to families, research has suggested that it's the lady of the house more often with her finger on the shutter release, so why shouldn't the company try its luck with such a demographic?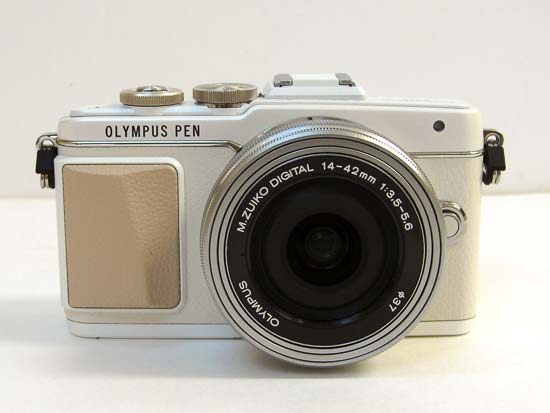 Front of the Olympus E-PL7
Available in a cool white finish, as well as the classic black and silver, the Olympus E-PL7 very much carries on its digital Pen predecessors' look and feel. Official measurements are 114.9x67x38.4mm and it weighs 357g with rechargeable lithium ion battery and memory card inserted. What's changed this time around however is that the rear plate LCD screen can be swung to face the subject in front of the lens for self portraiture; but the screen doesn't flip fully upwards to do so – it swings downwards instead through the 180°, and only 80° upwards. We can't imagine this alters things much in terms of usability, but it does at least prevent the LCD otherwise being partly obscured by top plate buttons and the hotshoe – not to mention any accessories you may care to add to the camera, such as a flash. It's worth mentioning that, as with previous Pen generations, the screen here is also a touch screen, providing the ability to direct focus and subsequently fire the shutter with a finger tap. Or as Olympus is pitching it to the female audience, it's also 'your 3-inch mirror'.
As well as users being provided with a dedicated 'selfie' mode on this latest model, the on-board digital effects palettes gets a couple of additions in a new partial colour Art Filter plus a 'Vintage' filter in order to achieve that Instagram look – adding up to a useful selection of 14 filters in total. It's worth noting that among the Art Filter options selectable with a turn of the dial, there is the ability to capture all options at once for the creatively indecisive – albeit as fistful (or rather two fistfuls) of JPEGs rather than the Raw file option selectable if shooting an individual filter one at a time.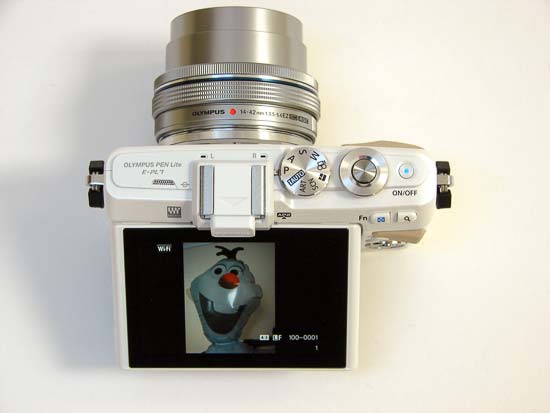 Rear of the Olympus E-PL7
Add to the mix a full metal body, Live Guide mode with settings adjusted on-screen with the use of a sliding scale (so you can 'dial in' how much background bur you require), three-axis image stabilization of the sensor shift variety (as opposed to the five axis anti shake of the OM-D range) and Wi-Fi for the ability to not only share images but also use a smartphone as a remote controller (one the free Image Share app has been downloaded and installed), and we have a model that seems well rounded enough to – on paper at least – satisfy most comers. Asking price for the UK market is £499, which includes the slim-line, pancake-style 14-42mm zoom lens bundled in the box of our review sample for maximum compactness. Twist the lens ring and it automatically zooms in or out – making for smoother transitions than most of us can manage handheld if attempting to re-frame the shot in the midst of filming video – and silently too.
Such a combination of body and lens also ensures that the combined bulk/weight won't put off an audience potentially more used to snaps on their smartphone or iPad than 'proper' camera. Since Olympus is majoring so much on the 'style' aspect of the product, it's a bit of a shame that our silver zoom didn't match the white bodied camera. Likewise there's no built-in flash, though we do get a clip-on mini flashgun in the box that attaches via a combination of the accessory port slot and the back plus vacant hotshoe; again this accessory is silver in colour, so doesn't quite match our white review sample as best it could. We normally would barely mention such things, but as the E-PL7 is being as much for its as features, as any fashion stylist will tell you, it's these little details that make all the difference.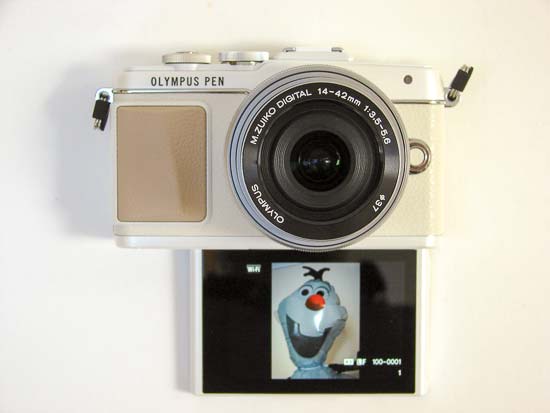 Front of the Olympus E-PL7
While on the whole though this all sounds great and near perfect for its intended audience, the Olympus E-PL7 presents us with an immediate feeling of déjà vu. Apart from that screen flipping forward in a different direction, there is little about this 16.1 effective megapixel, Four Thirds CMOS sensor Olympus that feels revolutionary, or like something we haven't seen before. It's more like a gentle evolution, or perhaps consolidation of the brand. Olympus UK admitted at the London launch we attended last month that it had taken its eye off the ball as regarded the Pen range a little, due to the success the OM-D was enjoying. It now sounds like it is looking to re-address that, more through marketing than any major product re-assessment. As some old duffer once said, if it ain't broke, don't fix it.
We've never been fans of the much-too-small buttons Olympus puts on the backplates of its Pen and OM-D cameras – and unfortunately the E-PL7 is no exception in this regard, with its own rear plate controls requiring fingernail precision to operate. And, to our mind, they slightly cheapen the look of what, from the front and top down is an impressively constructed camera. On a more positive note, the 'tan' grip on the faceplate white/cream camera is a classy feature, its inclusion mirrored at the back by an identically coloured and similarly leather effect thumb rest.
From the front of the Olympus E-PL7 we get some lovely white leather-effect padding across the whole of the faceplate, making it far less likely those well-manicured fingers will slip and slide around instead of gripping the unit firmly. This padding even extends to the lens release button – affirming what we said earlier about it being the little details that matter – which is a lovely touch. Otherwise we're basically looking at the lens mount and small porthole containing the AF illuminator/self timer lamp.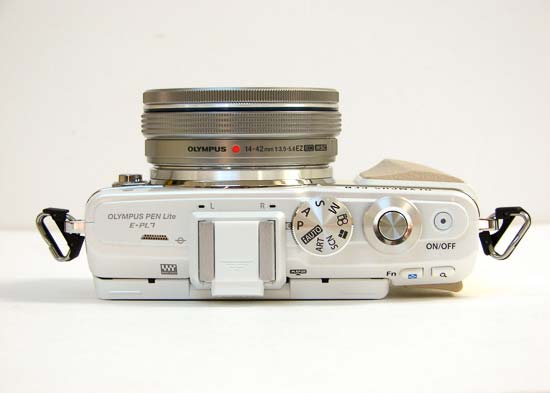 Tp of the Olympus E-PL7
The top plate of the Olympus E-PL7 meanwhile mixes minimalism with classicism, with a control ring (the edging of which is so rough-feeling it's almost like sandpaper) encircling the raised shutter release button and an almost identically sized shooting mode wheel sitting alongside it adjacent to the vacant hotshoe for attachment of accessories – such as the small flash provided in the box. As usual the bottle top type shooting mode dial offers the usual creative quartet of program, aperture priority, shutter priority and manual options, alongside video mode, and a 'Photo Story' option – a virtual, in-camera photobook style layout that lets you combine two or more images side by side. We also get intelligent auto mode for point and shoot reliability (iAuto), the aforementioned art filter options that perhaps might inspire you to attempt a shot you might not otherwise have bothered with, plus the usual smattering of portrait and landscape specific scene modes: sweet!
Just in front of the Olympus E-PL7's accessory shoe are handily placed stereo microphones with a speaker nearby, but it's the backplate of the camera where most of the action takes place. We've already mentioned that the rear plate buttons are small and they certainly hard – so it's in a way lucky that the LCD screen also affords some operational control. For what it's worth the buttons begin on the backplate with a pair of buttons top right for enlarging detail or calling up captured images as a series of thumbnails. The left button of the two is also marked 'Fn' for function; give this a press when in shooting mode and we get access to the familiar Live Guide settings presented as a toolbar on the right hand side of the screen. Here we can incrementally alter colour saturation, tweak image brightness, selectively blur the background or apply the enema sounding 'express motions' with our adjustments to the image displayed in real time. At the bottom of the toolbar Olympus has also provided some shooting tips, which can be tabbed through using the backplate control pad or scrolled through using the command wheel that encircles the shutter release button.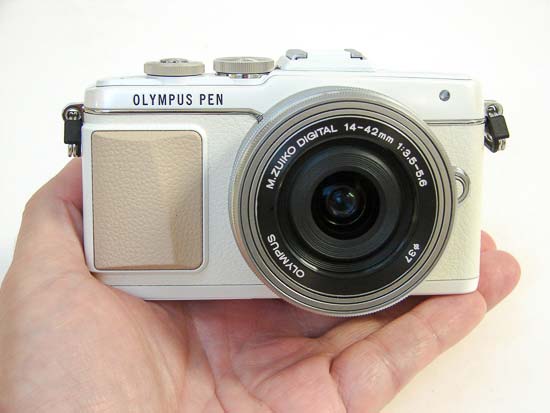 Front of the Olympus E-PL7
Just to the bottom left of the pad for resting the thumb at the back we also get a red video record button, which requires a deliberate press by your thumbnail to activate recording – which on the plus side at least ensures that it isn't too easy to activate recording accidentally in the process of retrieving the camera from a pocket or bag. Give this a press and after a moment's hesitation whereby the screen display ratio changes to 16:9, thereby cropping the image to show black bands top and bottom, we're away and filming. Though there is a dedicated video mode on the top plate shooting dial, the camera can be set to any shooting mode and video recording will still commence with a single press. As we've noted, because the zoom lens here is of the motorized rather than the completely manually operated variety, it's easier to achieve smooth and gradual transitions when altering our framing selection mid recording, which is a bonus.
Just below this on the Olympus E-PL7's back plate is a pair of buttons marked with the self-explanatory 'menu' and 'info'. A press of menu brings up two screen's worth of shooting options. Here we get the chance to select the picture mode we want to shoot in – with the 'natural' colour option being the default setting out of the box. Further choices are provided by vivid, portrait, muted and monochrome, while for each of these there is the option to adjust contrast and sharpness, or dial in to one of the 14 Art Filter options as already detailed. This menu is also where we select the settings we want from amongst stills and video capture options – whether we're looking to shoot JPEG and Raw stills separately or in tandem, plus also adjust video from HD to Full HD settings. An incrementally adjustable HDR mode can also be tweaked from within these menus, as can bracketing and time-lapse settings be implemented. As one might imagine the 'info' button is pretty much the same as a display button: press this and the information shown on screen is either removed, an exposure compensation adjustment option is shown with settings ranging between +/- 5EV, or graph showing image highlights presented. Settings are adjustable with a tab of the four-way control pad on the camera back, or a twist of the command wheel; so that much feels both straightforward and intuitive.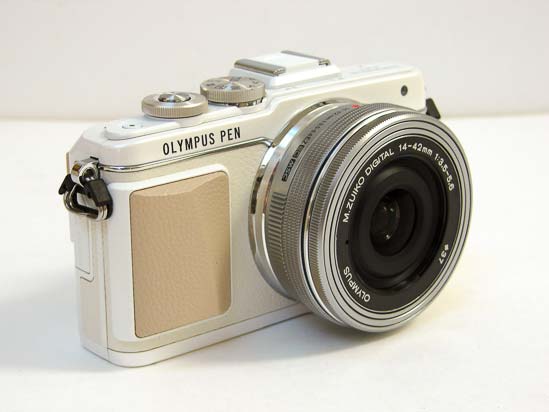 Side of the Olympus E-PL7
Indeed despite our moans about the tiny controls the Olympus E-PL7 is very useable once you get used to its quirks – such as, if you're searching for how to adjust the ISO settings, simply press the 'OK' button at the centre of the command pad and this brings up a L-shaped toolbar to the right and across the bottom of the screen. It's here that we can adjust the AF mode, select white balance and adjust ISO from the 'low' expanded setting that sits just below ISO200 on the scale, right up to ISO25600 maximum setting. The bottom two controls on the backplate meanwhile are for deletion of duff shots or videos, plus playback/review itself. Though anyone trading up from a smartphone to the E-PL7 might require a period of familiarisation, on the whole anyone who has used a point and shoot digital camera will be able to get to grips with it fairly soon.
With DSLR-like lugs for attaching a shoulder strap positioned at either end of the Olympus E-PL7's top plate, a pull-open plastic cover to one side protects a pair of ports for both USB and HDMI output. The base of the E-L7 meanwhile features a slightly off-centre screw thread for attaching the camera to a tripod, and to the right of this is a latch–protected compartment that houses both the battery (for which a proper standalone mains charger is thankfully provided). Battery here life is a respectable rather than exceptional 350 images from a full charge – but that is about average for a compact system camera in this suggested £499 price bracket.