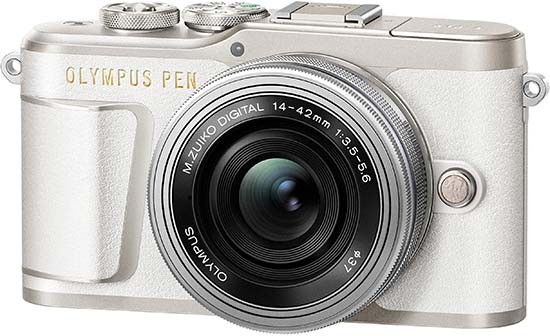 Introduction
Olympus replaces its entry-level mirrorless camera, the PEN E-PL8, with the latest version, the Olympus PEN E-PL9. 

The new camera is aimed at those looking to get a user-friendly interchangeable lens camera for the first time, especially smartphone users. However, this experienced reviewer found plenty to enjoy in the E-PL9. 

Any Olympus micro-four-thirds camera is part of a system that has more than 20 proprietary lenses, as well as twice as many third-party lenses. There is something for all skill levels and budgets. 

From the off we'll say that the improvements in the E-PL9 are on the modest side of what was an already a solid (if expensive) entry-level mirrorless camera. Frankly, history has taught us to expect modest changes between versions. So, what is new? 

Well, you get an improved set of video features. There is now 4K video recording up to 30fps (approx 100Mbps), with an option to extract still images from the video files. FHD videos are up to 60fps, whereas the E-PL8 is restricted to FHD up to 30fps. There is also 4k time-lapse plus slow motion videos up to 120fps, albeit at 720p resolution.

Video footage and still images can be stabilised with sensor-shift 3-axis stabilisation that provides up to 3.5EV compensation range. Of course, we'll share our experiences in this review.

There is also the most recent imaging TRUE PIC VIII processor, as found in the latest round of Olympus cameras like the OM-D E-M1 Mark II. 

Usually we'd hear about how a new processor improves JPEG handling and low light image quality. However, Olympus has been quiet on this front, so we expect a similar performance. We think this new processor primarily handles the improved video recording capabilities. 

The contrast detection auto-focus system has been enhanced to a 121-AF-point array that covers a wider area of the frame. Focus points can be individually selected using the touch pad on the rear of the camera or by touching the LCD screen.

Otherwise, a built-in flash is now included, the camera grip is more pronounced, there is Bluetooth and Wi-Fi connections, plus a new interface which includes the thoroughly enjoyable AP mode (Advanced Photo).

The Olympus PEN E-PL9 is available now in three colours; white, black and brown. It costs £579.99 body only or £649.99 with the 14-42mm f/3.5-5.6 power zoom kit lens. That's expensive for an entry-level CSC, but as you will find out in this review, the camera does offer a little more than most of its 'competitors'. 

Let's now take a closer look around the camera.
Ease of Use
Olympus has designed the PEN E-PL9 to provide advanced photography features in a simple-to-use, stylish and compact form. 
It may be positioned as an entry-level camera, but we say the E-PL9 will entertain photographers of all experience levels. You'll get more features in the E-PL9 than its competitors, but then again it is more expensive.
We used the 14-42mm kit lens as well as our own 17mm f/1.8 and 45mm f/1.8 lenses on the E-PL9, all of which are perfect size and weight match with the camera. Go for 'pro' lenses and the combination would be front-heavy. This is a camera best suited to Olympus's more compact and lightweight lenses.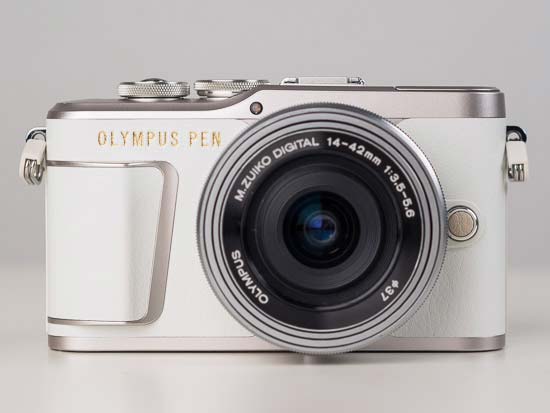 Front of the Olympus PEN E-PL9
The E-PL9 certainly is a stylish camera. It's plastic body is solid enough and panels with faux-leather finish look the part. The hand grip is now more pronounced, though in our opinion it's still not completely comfortable to hold. A few ridges for the fingers would help, but that would disturb its simple form factor.
This may be a plastic camera, but it's high quality. We've used other entry-level mirrorless cameras that feel more plasticky than the E-PL9. The buttons are dampened nicely and feel durable.
Body layout wise, there are a few tweaks in the E-PL9. For one, body dials are chunkier than before and they handle really well.  
The rear is dominated by the 3in fold-out-and-down design touchscreen. It can be tilted up 80° or down 180° and positioned underneath the camera for selfies. We'd prefer the screen to tilt above the camera rather than below it, because then it would be possible to flip it round when mounted to a tripod or gimbal.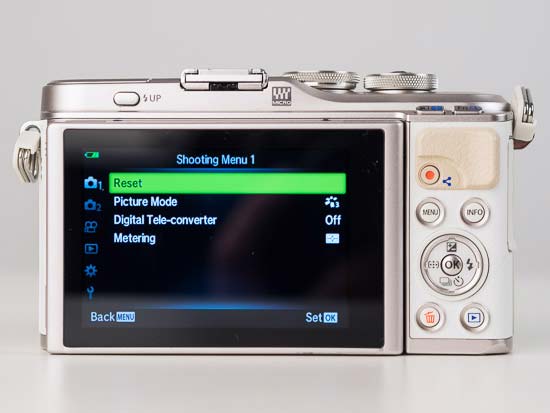 Rear of the Olympus PEN E-PL9
Plenty can be done through the touchscreen, including touch AF, shutter, menu navigation and image playback. We like how there is quick access to navigate Art Filters and the like, which is just as well given there are so many to choose from!
A versatile menu can be accessed by pushing the OK button inside the touchpad. For many functions this is the most direct access to them. 
There is now a built-in pop-up flash in the E-PL9, whereas a separate flash is bundled with the PEN E-PL8. The flash unit that comes with the E-PL8 is more powerful, though less convenient. With both you get a wide array of flash modes, including RC Mode (to trigger other flash units), fill-flash and flash compensation up to ±3EV. 
A hotshoe keeps the option open to attach an optional external flash gun. However, it is rather disappointing that the accessory port has been removed, so there is no option to attach an electronic viewfinder. Nope, you're totally relying on the LCD touchscreen here. The screen is great, but it doesn't hurt to have other options.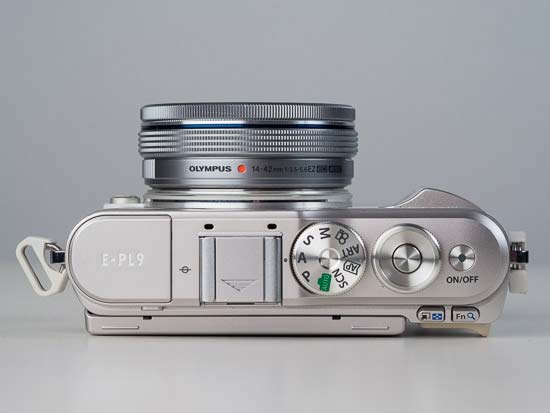 Top of the Olympus PEN E-PL9
In addition to wireless connection to a smart device by Wi-Fi, the E-PL9 becomes the first Olympus camera to offer an always-on Bluetooth connection. This is a much more power conserving method of wireless connection. 
Functionally, Olympus provides one of the most reliable and versatile wireless connections between camera and smart device. Using the remote control you can even manually focus the camera, in addition to controlling AF and a host of other camera settings.
It is possible to wake up the E-PL9 from your smart device via the Olympus O.I Image Share App, even when the camera is asleep. It's another example of how fun features can entertain photographers of all skills levels.
Advance Photo (AP) Mode is a new addition to the shooting mode dial. The creative shootings modes in this menu are presented in an eye-catching graphical interface and include Multiple Exposure, Live Composite, Silent, HDR, Sweep Panorama and Focus Bracketing. 
The AP Mode cuts a few corners to get to those creative modes more quickly - there's no trawling through menus. These modes put a degree of fun into photography and some are really useful tools too.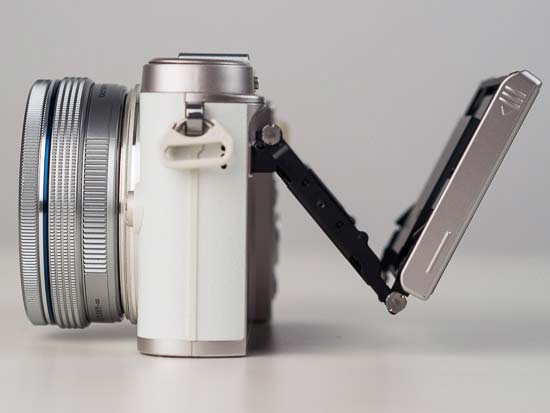 Tilting LCD Screen
Live Composite Mode offers either 1, 2 or 4 minute exposures and you can manually stop the exposure when it looks right on screen. This takes the guess work out of long exposure photography.
In Multiple Exposure Mode you can combine two pictures, with the first one overlaid on the live view display for composition of the second picture. These two pictures are not stored separately. You'll run into composition headaches with a Multiple Exposure image when mixing shots taken with the screen front and rear facing.
Sweep panorama is new and pictures can be taken with a 180° field of view - that is fairly limited for a sweep panorama shooting mode. Focus bracketing can shoot up to 999 shots at focus differentials from a 1 to 10 scale. These images can be stacked post capture, not in-camera. 
The E-PL9 has both mechanical and electronic shutters. The electronic shutter offers a faster 1/16,000sec minimum shutter speed to the 1/4000sec of the mechanical shutter. That silent shutter is a very welcome addition and is accessed via the AP Mode/ Scene menus.
Burst shooting using the mechanical shutter remains at a solid 8.6fps. Switch to the electronic shutter and the rate increases to 14fps approximately, though you are limited to around one-second of shooting time before the camera slows down. The frame rates sound good on paper, but in reality their use is rather limited.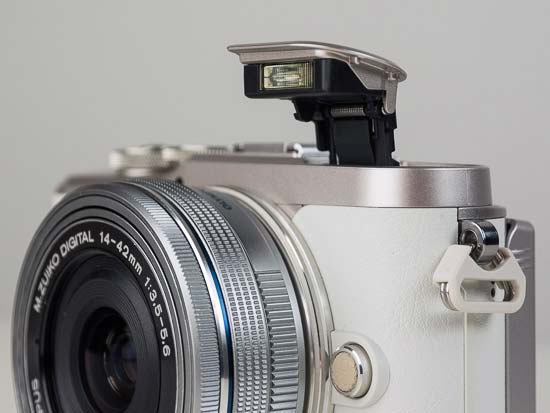 Pop-up Flash
Battery life is a little better now, at 350-single-shots. We should mention how the E-PL9 comes bundled with a charger unit. There are many other cameras at this level that only come with a USB cable for charging.
Autofocus now benefits from an increased 121-point-array that has a slightly wider frame coverage than the 81-point array in the E-PL8. There is the usual array of Olympus AF modes - we love the precision one can enjoy though selecting not only face and eye AF, but which eye you would like to ensure is in focus. 
We have a bugbear. By default the same button is used for focus magnification, zoom in image playback and for the digital teleconverter. On more than one occasion after checking images more closely on screen we have unknowingly snapped away with the teleconverter in play. So, unless you want interpolated and soft JPEGs at twice the focal length, you'll need to keep an eye on this or change the default setting. 
As before, in-body-image-stabiliston is Olmypus' entry-level 3-axis sensor-shift system. Using the 14-42mm kit lens we have been able to consistently get sharp handheld shots that match Olympus' claims of 3.5EV compensation range.
For example, where we might have needed 1/60sec to get a sharp handheld shot, a shutter speed of 1/8sec has done the trick. Depending on our steadiness we have found it possible to get some sharp shots with shutter speeds even slower, but we wouldn't be confident.