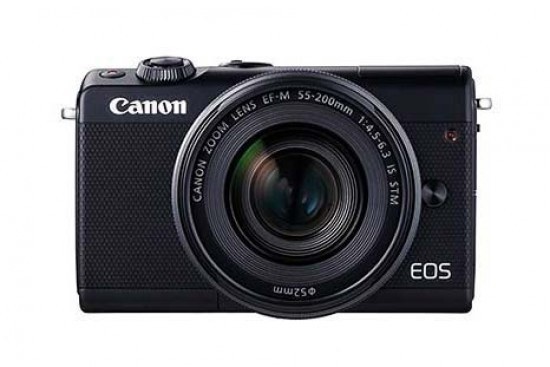 Introduction
Meet the Canon EOS M100. It's a new entry-level mirrorless camera in Canon's EOS M range, aimed squarely at those looking to find their first 'proper' camera for better pictures. In form and function, the camera represents a logical upgrade from using a smart phone. 

The Canon EOS M100 is dinky - without a lens attached it's essentially a compact camera. That's impressive because you'll get the same Canon DSLR image quality you would expect, in a much smaller package and with flip up LCD screen for those selfies and v-logs.

Simplicity appears to be the ethos behind the EOS M100, with pared down design and function. Scene Intelligent Auto takes full picture making control. Modes like Creative Assist avoid confusing camera terminology, providing a simple language for users to get the pictures they want. But there is the PASM control available too, once you find it.

Being part of the EOS M series, the EOS M100 is compatible with Canon's EF to EOS M adaptor, so it is possible to use any one of many Canon EF lenses. It seems like a miss match - all those pro lenses at your fingertips with such a small and simple camera. But hey, it's good to have the extra options. 

For this test of the EOS M100, we had our hands on the Canon EF-M 15-45mm f/3.5-6.3 kit lens, EF-M 22mm f/2 (pancake) lens. And yes, we went there and used the EF to EOS M adaptor with two of Canon's most popular EF lenses - the Canon EF 50mm f/1.8 and 24-105mm lenses.

The EOS M100 with EF-M 15-45mm lens, choice of colour 'Face jacket' and 50GB of irista storage space (iOS or Android) will set you back £569.99 / $599.99. Read on to find out how we got on with the camera. 
Ease of Use
For an interchangeable lens camera it is staggering how small the EOS M100 is. Its design and size is reminiscent of the Canon Powershot S range of compact cameras. The exterior is made from a smooth plastic, with a textured thumb grip.
Of course, once a lens is attached all is changed. Any lens sticks out, so you won't fit the combination in a trouser pocket. That said, for an APS-C format camera, the EOS M lenses are all impressively compact in size - being comparable to smaller format micro-four-thirds lenses. 
We had the EF-M 22mm f/2 pancake lens on the camera for a lot of this test - it's about the shortest EF-M lens. The combination is rather tiny, it'll slide into a jacket pocket no problems. 
There's not too much to be intimidated by in this camera. On the top you'll find the on/off button surrounded by a three-option automatic shooting mode dial with; intelligent auto, record mode and Movie Auto Exposure (video). 
Alongside the on/off is a shutter release, surrounded by dial that is used for navigation and changing camera settings, plus the video record button. 
Front of the Canon EOS M100
The camera rear is pared down too. It is dominated by the 3.0in tilt-up touchscreen and to the right of that is a four-way control pad. If you are a photo enthusiast it will take next to no time to work your way around the EOS M100. If you are a beginner, it won't take you much longer either.   
The EOS-M series of cameras are seen as an ideal second smaller camera for existing Canon DSLR users. The main menu has the same look and there is the Canon EF to EOS M lens adaptor.
For our test we used the adaptor and it works seemlessly - AF speed with the two EF lenses appears to be uncompromised. Yet, when it comes to size and ethos, there is a bit of a miss-match here. 
The Canon EF 24-105mm f/4 lens sits well with a Canon DSLR but positively dwarfs the EOS M100. Using this lens with such a tiny camera feels, well, wrong.  
It is fairly easy to operate the camera through its LCD touchscreen, which tilts all the way up to 180° for selfies and v-logging. There is a pop-up flash that erects in front of the screen and it does in part obstruct a view of the screen.
Rear of the Canon EOS M100
The LCD screen has a 1.04-million-dot resolution and is lovely and bright. Its touch function is both responsive and comprehensive. You can use touch shutter, touch AF, plus scroll and pinch-to-zoom in image playback. Nothing is lacking. 
The design of the LCD screen works well for selfies and you do of course benefit from the full range of angles between 0° and 180°. This means you can tilt the screen up for ground and waist-level shooting, but it won't tilt down for above the head shots.
We did not have to clean the screen too often despite all the touch use, which can otherwise leave marks. A dirty screen is increasingly harder to see when in bright daylight. In such conditions it can be worth manually dialling up the brightness of the screen to its maximum setting in order to maintain a clear view. 
There is no viewfinder in the EOS M100, nor an option to add one. No, this is not the camera for through-the-eye finder composition. It's all in the screen, which works perfectly well. 
This camera would not operate nearly as well were it not for the excellent dual-pixel AF. Even in low contrast light autofocusing is impressively quick. It's not as quick as the dedicated phase detection AF in Canon's DSLRs, but it will satisfy the users of the EOS M100. Video AF is excellent too.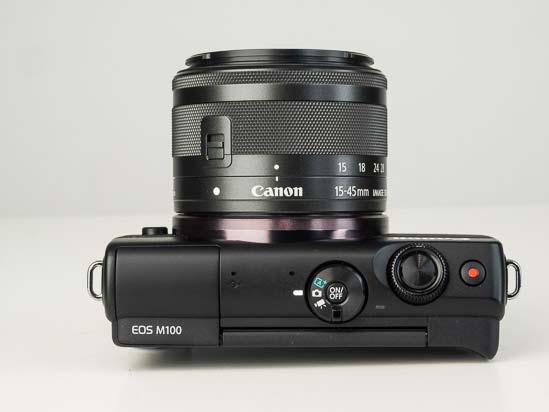 Top of the Canon EOS M100
There's nothing much new to say about the autofocus speed that hasn't already been said before in our EOS M6 review - it's snappy but definitely not class-leading. This is not a camera to take to the races, but it will cater for a family weekend break.
There are a few occasions for us when touch AF for a specific part of the frame has produced back-focused results. For example, we've had close up portraits with the ears sharp rather than eyes, plus sharp focusing beyond people walking in the distance through in a forest.
Back focusing happened a little too often for our liking, but if one is trigger happy then the accurate sharp images will be there. Generally, with the camera setup for face detection, those portraits will be sharp.
It is possible to shoot single images or select the high-speed continuous mode, where you can get 6.1fps for up to 89 JPEG images. That is a long sequence of action, although the focus is locked to the first picture.
Start up time is around 2 seconds, which is ok but we'd like to see that improved. Nor is there a silent shutter so it's hard to shoot discreetly given the camera's defined shutter clunk.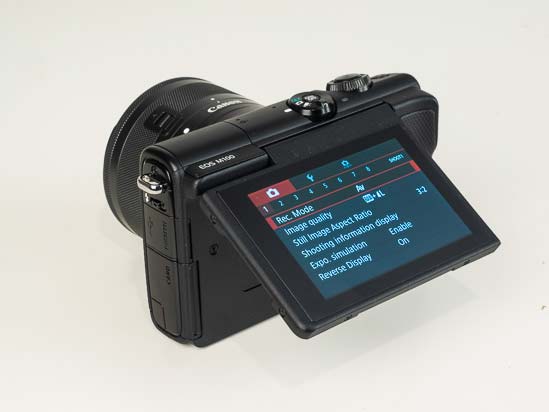 Tilting LCD Screen
You get three shooting mode choices; Scene Intelligent Auto, Record Mode and Movie Auto Exposure (Video).
In Scene Intelligent Auto there is absolutely no control over exposure settings. You can choose Image Quality (including raw), Movie record size, Drive mode (single or continuous high) self-timer and aspect ratio.
Next up is Record Mode. By default the camera is set to Creative Assist. This JPEG only mode provides some exposure control, but only within certain parameters and it is all communicated in a language for those that know nothing technical about cameras.
Rather than dials to switch between exposure settings, there are sliders. If you want the image darker or lighter, which to a photographer means exposure compensation, you move the Brightness slider towards 'Dark' or 'Light'. 
Likewise, 'aperture' control is gained through the Background slider with 'Blurred' and 'Sharp' at either end. It makes sense to an extent, but you don't get full control over these sliders. For example, the user can make the image background blurrier (a wider aperture), but cannot choose the exact aperture they want.
Root into the menu or tap the option on the top let of the LCD touchscreen and the camera Record Mode can be switched from Creative Assist. Here you will find the usual PASM exposure controls, as well as a host of picture effects, such as Hybrid Auto, Self Portrait and HDR. We can see how this whole area of other Record Modes could be overlooked. 
The Canon EOS M100 In-hand
With such few camera controls on the body, it is often necessary to use the touchscreen to navigate the various camera settings, which works well enough, though doesn't make for the quickest way of making several manual changes. 
In Movie Auto Exposure mode there are the same options as in Scene Intelligent Auto, but in addition there is exposure lock and exposure compensation, picture style (colour mode) and white balance control.  
As an entry-level camera it is a little surprising not to see the type of interface we have come to expect - those illustrations and real-world examples that demonstrate what each setting achieves when you change it.
Like other EOS-M cameras, the M100 has a battery life quoted at 295 shots, or 410 shots in Eco-mode. That's not too bad for the target crowd as it will handle moderate shooting over a weekend. 
A button on the rear initiates wireless connection between camera and smart device. Once the smartphone or tablet is connected to the EOS M100, a push of this button will automatically link the two devices. After setup, a wireless connection is as easy and quick as one could hope for.
Users can shoot remotely via live view on their smart device and load images that are already on the memory card. The EOS M100 is about as simple and effective as it gets for paring with a smart device.