Olympus M.ZUIKO Digital 17mm f/2.8 Review

Introduction
The Olympus M.ZUIKO Digital 17mm f/2.8 is a moderate wide-angle "pancake" lens for the Micro Four Thirds system. Offering a 17mm focal length that's equivalent to 34mm in 35mm terms and a relatively bright maximum aperture of f/2.8, the M.ZUIKO Digital 17mm f/2.8 is well suited to unobtrusive street photography, and is also a good candidate for a general-purpose walk-around lens. Comprising 6 elements in 4 groups – including one aspherical element – and boasting an iris diaphragm with 5 rounded blades for a smooth bokeh, the Olympus 17mm f/2.8 also takes pride in being one of the smallest interchangeable lenses in the world. The lens currently retails at around £240 / $299 in the UK and the US, respectively.
Ease of Use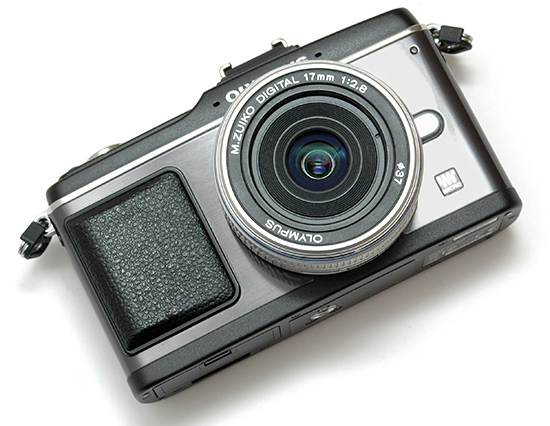 The Olympus M.ZUIKO Digital 17mm f/2.8 lens attached to an Olympus E-P2
Tipping the scales at only 71 grams, the Olympus 17mm f2.8 is one of the lightest interchangeable lenses in the world (the recently tested Panasonic Lumix G 14mm f/2.5 is lighter still at a mere 55 grams, while the ultrawide Sony E 16mm f/2.8 weighs almost exactly as much as the Olympus).  As  seen in the photo above, it complements the Olympus E-P2 camera body very well.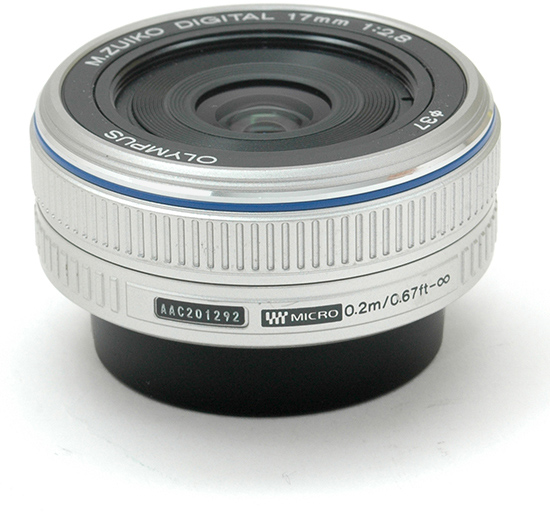 Front of the lens
Being only 22mm "long" and measuring 57mm in diameter, there is no wonder the Olympus 17mm f2.8 is called a "pancake" lens.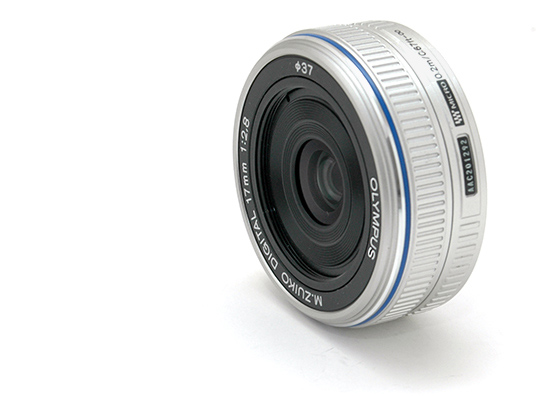 Front of lens, isometric view
In terms of features, the lens has little to offer. There is no distance scale, and therefore no DOF scale either – which is a bit of a sad news for street photographers, who will not be able to use zone focusing techniques as easily as with a lens featuring a proper distance scale complete with depth-of-field markings. The lens offers no focus limiter and no image stabilisation, either. The latter is no big deal really, given that this is a pretty fast wide-angle lens that allows hand-held photography in  fairly low light without IS (not to mention that Olympus bodies offer in-body image stabilisation).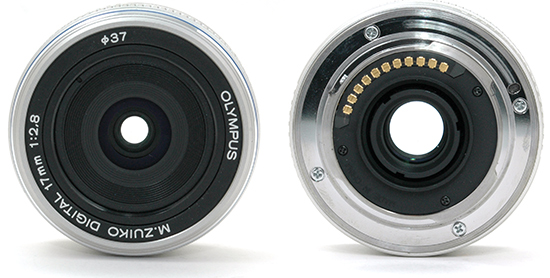 The Olympus 17mm f2.8 lens takes tiny 37mm filters, and comes with a standard Micro Four Thirds mount that is, thankfully, made of metal. This is good news given that the lens construction is predominantly plastic. Olympus does not claim any sort of weather resistance for this lens, and indeed you cannot see a rubber seal around the mount (note that no current Micro Four Thirds camera is weather sealed anyway).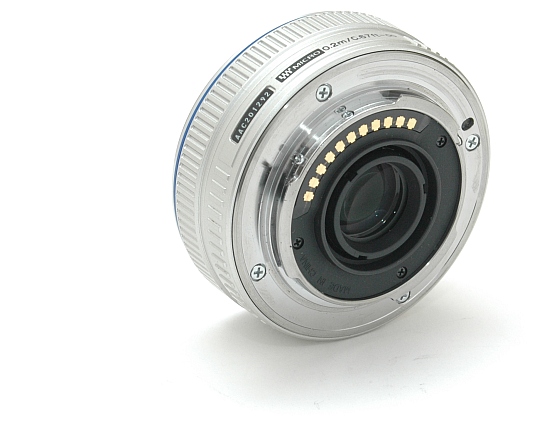 Rear of lens, isometric view

The lens ships without a hood, and it appears that Olympus does not even offer one as an optional extra. Third-party solutions are available, including metal camcorder hoods that attach via the filter thread, although some of these may vignette on this particular lens.
Focusing
With the lens attached to an Olympus E-P2 camera body, focusing is fairly quick but by no means instantaneous. As long as you are photographing still or slowly moving subjects, you will find the focusing speed entirely adequate. Note: given that Micro Four Thirds cameras use contrast-detect autofocus, whose speed also depends on their sensors' read-out speed, the lens may perform better on a different or future MFT body. Upon focusing, you can notice a faintly audible noise – not enough to worry about, just a little bit more than the newer and virtually silent MSC (Movie and Still Compatible) lenses.
Manual focusing is possible in a focus-by-wire fashion. This should not put you off using it as it feels pretty natural in use, and actually enables the camera to display a magnified view of the subject automatically, i.e. without your having to press a dedicated button or enter the menu. The focus ring is understandably slim given the overall dimensions of the lens, but is adequate for the job.
Distortion
Olympus and Panasonic bodies – as well as most raw converters – correct geometric distortion automatically. Even the live image seen on the LCD screen or through the electronic viewfinder – if your camera has one – is auto-corrected for distortion. In the case of the 17mm Olympus pancake lens, the correction is fairly successful, with only a minimum of "residual" barrel distortion seen in the photos.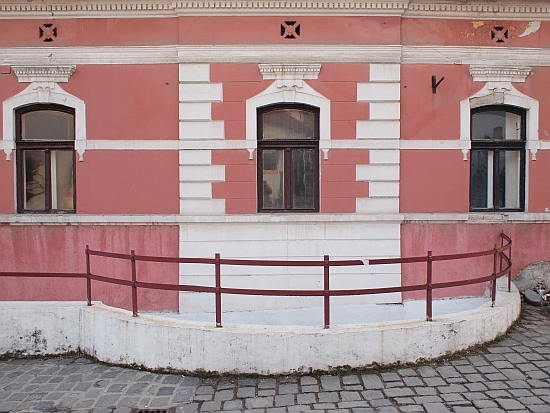 Some raw converters – such as Raw Therapee – can show you the uncorrected image which, in the case of this particular lens, tends to have a lot more distortion to it.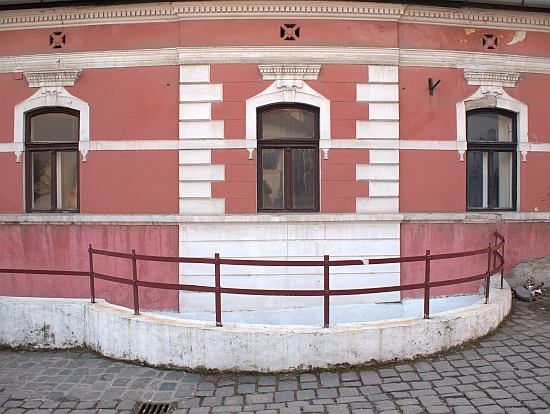 Strictly speaking, the Olympus M.ZUIKO Digital 17mm f2.8 exhibits an appalling amount of barrelling. On the other hand, you would have to be very naïve to expect otherwise from a wide-angle lens of such tiny dimensions and (relatively) simple construction. Well-corrected lenses tend to be bigger and  more complex due to the use of – usually – one or more extra, special lens elements that reduce distortions. Doing it in software helps keep things simple, and allows lenses to be smaller, lighter and cheaper. And as you can see from the pair of images above, it works pretty well.
Flare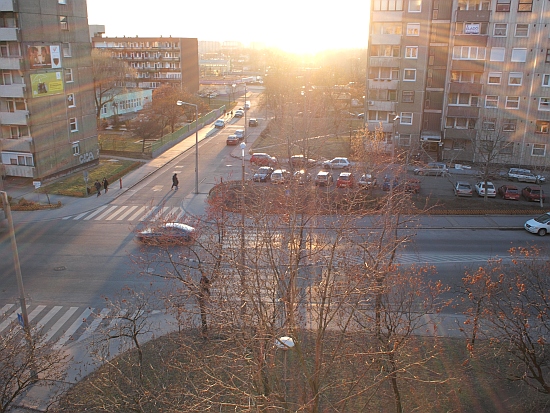 A wide-angle lens without a hood will always be susceptible to flare, and the Olympus 17mm f/2.8 is no exception. If you include the sun – or any other strong light source – in the frame, the lens may create rainbow streaks like the ones seen in the examples below.
Chromatic Aberrations
Chromatic aberrations, typically seen as purple or green fringes along contrasty edges, are a bit of an issue with this lens, although I would not call it a serious problem.
Light Fall-off
With the lens wide open, you can see some light fall-off in the corners, but it's not too excessive, as you can see in the macro example below. Stopping down to f/4 cures this problem almost entirely.
Macro
This is not a macro lens, although its close-up performance is not too bad for a wide-angle optic. The following example illustrates how close you can get to the subject, in this case a Compact Flash card.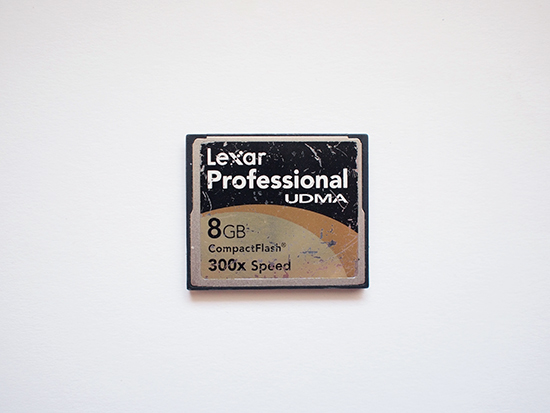 Close-up performance
Bokeh Examples
Bokeh is a word used for the out-of-focus areas of a photograph, and is usually described in qualitative terms, such as smooth / creamy / harsh etc. In the M:ZUIKO Digital 17mm f/2.8, Olympus employed an iris diaphragm with five rounded blades, which resulted in a pretty nice bokeh, at least in our opinion. However, recognising that bokeh evaluation is subjective, we have provided a few examples for your perusal.
Sharpness
In order to show you how sharp this lens is, we are providing 100% crops on the following page.